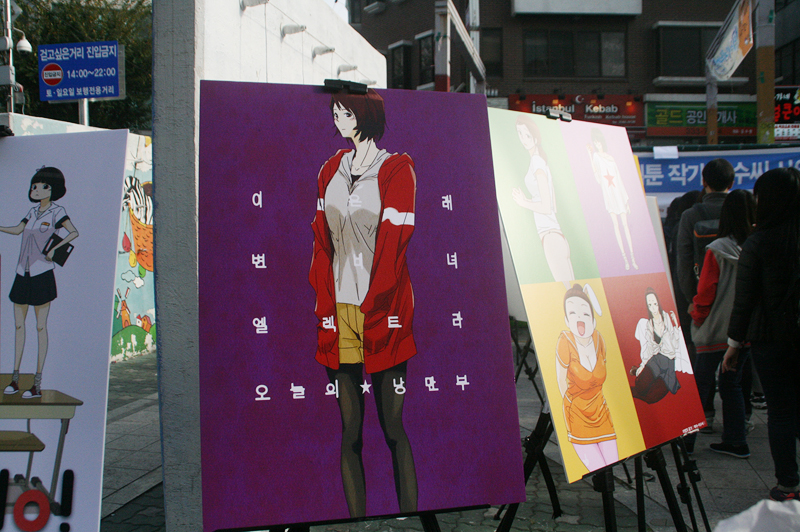 Buzzing with youthful activity all day and all night, Hongdae and Edae are two university neighborhoods that serve as great destinations when you're looking for something more laidback.
Despite staying in Hongdae during our visit to Seoul, we didn't spend a lot of time exploring the neighborhood. We had an hour or two everyday, but that's not enough to see all the corners of the quirky neighborhood.
Hongdae is the collective term for the neighborhood surrounding Hongik University. Here, you'll find all kinds of cafes, shops and restaurants. It's actually a pretty good alternative to Myeongdong when you want to go shopping. However, it's all the activities that make the place seem so alive. I thought it's just every Saturday, but apparently it's buzzing everyday with live bands and youth groups holding events.
On our fourth day, we went back to Hongdae after spending the morning at the Ihwa Mural Village. I was pretty excited because it was the first time I'd meet up with an online friend!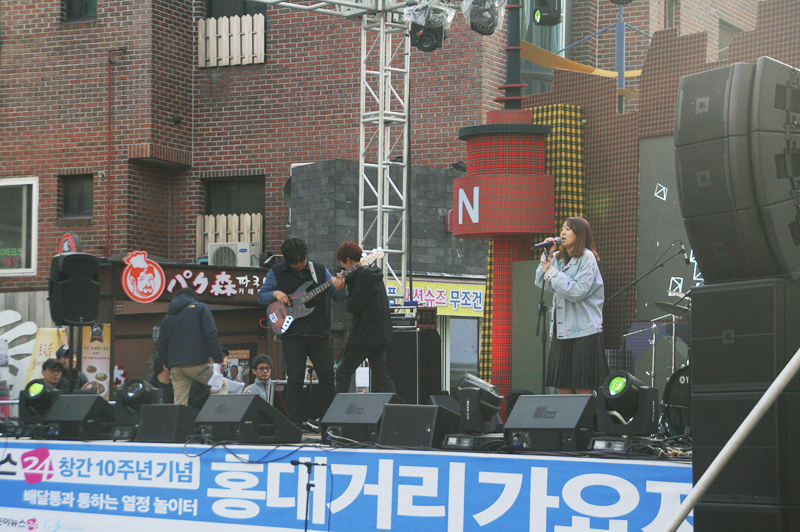 I met Eleanor through our same love for blogging about KPOP and Kdramas. When she moved to Korea to teach, I was so jealous! In the words of many drama fans, she's basically living the dream. Before the trip, I had the courage to message her and asked if we could meet up over lunch and dinner. I was ecstatic when she agreed!
We decided to meet up at The Frypan in Hongdae, which happens to be a really good chicken place. We ate Korean fried chicken thrice during the trip, and The Frypan's definitely the best. If you're looking for yummy Korean fried chicken in Seoul, I highly recommend this one. The servings were huge and served with chips. They have tons of locations around Seoul, so just pick one that's most convenient for you.
The entire time we talked about our favorite KPOP groups and exchanged stories about where we come from. Eleanor also introduced us to her friend Mindy, who happens to be pretty well-known in the KPOP fandom community through her MV Reaction videos on youtube. Hihi.
It's crazy listening to their stories because it really sounded like they've been everywhere! What I love most about being a fangirl is meeting people from different backgrounds and cultures, and how the differences are somehow blurred and overcame through our same interests. I am really glad to have met Eleanor and Mindy, and I hope I get to meet more online friends soon!
After lunch, we said goodbye to Eleanor and Mindy before walking around Hongdae. There were so many people!
We even saw this energetic group of students going around the park for a free back hug! The free hugs campaign started in 2006, and it still hasn't lost its steam in Korea. And now there's even a free back hug! We were too shy to join, though, and we had somewhere else to go.
After a quick shopping spree around Hongdae, we headed to Trick Eye Museum. I had been there in my previous trip last summer. But it was so much fun that I didn't mind going back. I took less photos this time, though, and let Jinky do all the picture-taking.
(READ: Seoul Day 3: Trick Eye Museum and Ice Museum in Hongdae)
Next time I visit, I think I'll opt to go to the Alive Museum in Namsan Park. There's also something like this in the Philippines, and I think I have to visit that some time soon.
It was already dark when we finished having fun at the museum, and our next destination was somewhere familiar, too!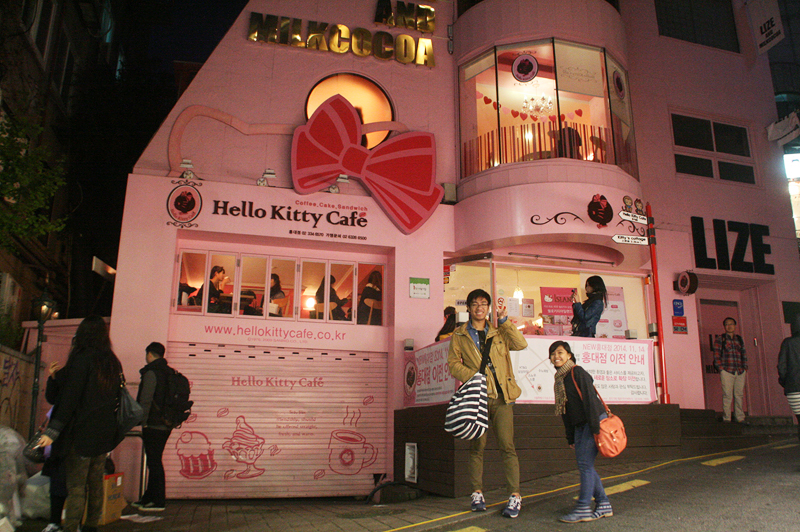 We aren't biggest fans of Hello Kitty, but come on how could we miss the Hello Kitty Cafe right there in Hongdae? Since we still hadn't have our dinner, we opted fore a small meal before heading to our next and last destination. We shared two slices of cake and two cups of coffee.
It was my third time visiting the cafe, and I guess it will no longer be a priority next time I go to Korea. And if I do come back, I'm going to the one in Shinchon!
Though Hongdae is already full to the brim with quaint clothing boutiques and discounted makeup stores, we decided to do our main shopping somewhere else. So after our quick stop-over at Hello Kitty Cafe, we dragged ourselves to the neighboring youthful neighborhood of Edae, short for Ewha Daekhayo (University).
We got there quite late so we thought the stores were closed already. We closely followed the directions found at Cute in Korea, and we successfully found it! Woohoo. But first, we filled our stomachs with street food! It was my first time to try soondae (blood sausage!), and I really liked it.
Myeongdong was my go-to spot for shopping in Seoul, but Edae shopping replaced that immediately. If you're like me who aren't really into branded clothes, Edae is heaven! It has trendy pieces for both boys and girls, so we definitely had a hard time knowing where to head first.
Clothes can be as cheap as 4,000 KRW to 7KRW, so I basically hoarded long-sleeved blouses and dress shirts. I think it'll be difficult to find clothes that cheap anywhere else in Korea. Well, maybe in Dongdaemun and Namdaemun, but it was a lot easier to shop in Edae. The area was small and condensed in one to two streets, so you can really explore every nook and cranny.
In one of the shoe stores, we found it interesting how the owner placed 1×1 and 2×2 photos of his clientele. I think he puts those photos there so he'll remember the people who repeatedly buy from him. He even asked us if we want our photos to be placed there so he'd remember us once we return. Sadly, I didn't have a 1×1 photo with me. Boo.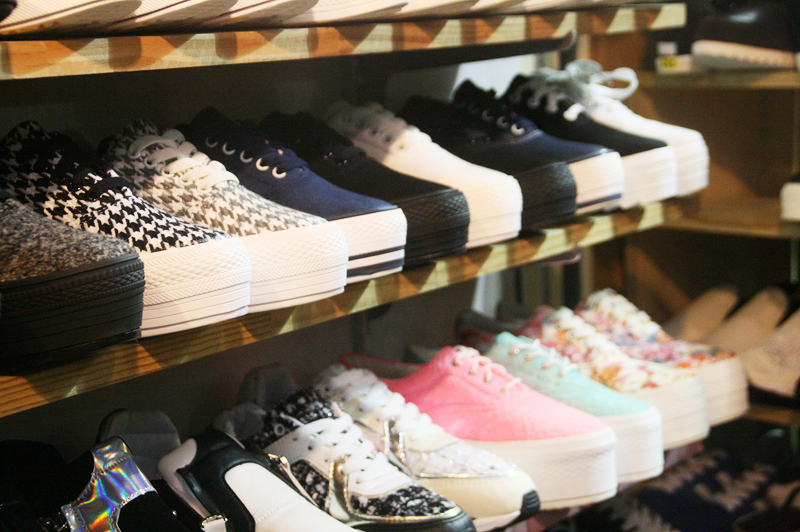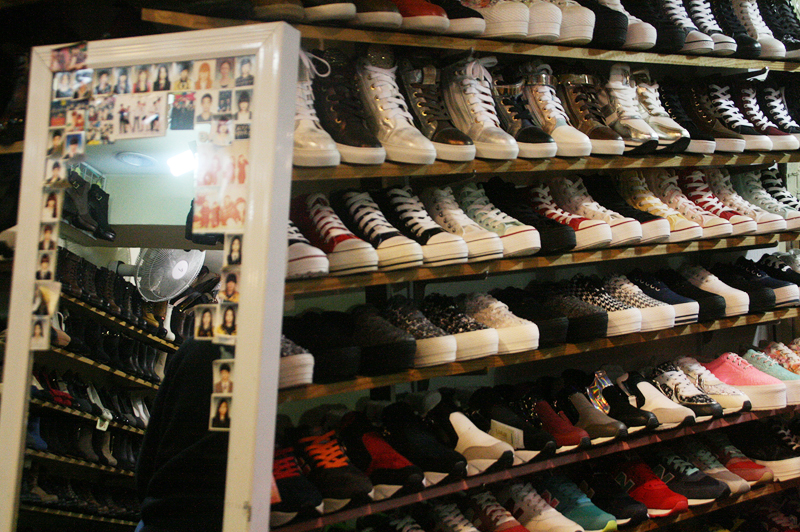 I'm really glad I discovered Edae, because from now on I'll definitely do all my shopping (both for personal and pasalubong shopping!) here. Too bad it was already night time when we went there. The university grounds itself look beautiful in photos. So I guess I just have to wish there'll be next time. /desperately crosses fingers