Our stay in Seoul may have been short, but our hostel made sure we felt at home every single day.
Our hostel falls under a couple of names, which we found odd! It's called Hongdae Family Housetel in Agoda and Hostel Hongdae in Facebook. It's also called Pencil Hotel 3! In the grand scheme of things, the name doesn't matter because the building was a welcoming site after every tiring day in Seoul.
It's one of the simplest hostels I've stayed in, but I must say that it still has its pros. Also, among the Seoul hostels, they seem to offer the most varied breakfast, which is always a plus.
What I love most is the host's kindnes. We did two bookings—first was for only night, then the second was for four nights—since we'd be staying in Busan for two days. Before going to Seoul, I corresponded with our host via email and they allowed us to leave our baggage in the hostel once we leave for Busan.
We were surprised when they said that we could leave our baggage and pretty much all our stuff in our room for two days and one night! Take note, we didn't pay for that night, but they saved us the hassle of moving our things from one room to another.
So from the very bottom of our hearts, thank you very kamsa!
We booked from Agoda and used my available points to get discount. To my surprise, they sent me an email about a day after to confirm the booking. Thankfully, they sent us a map and directions on how to get the hostel. And most importantly, they sent us a Youtube video that showed the way from the exit of Hongdae station to the hostel. Thanks to the video, we didn't get lost! We were watching the video while walking, heh. (I posted the video link below.)
Excuse the mess, I only remembered to take photos of the room during our last day. We had four to five bags each, which we carried from Hongdae to Incheon, and almost died upon arriving at the airport.
Anyway, we booked a family room for four, inclusive of breakfast. There were two double beds and we all had a comfy pillow and a comforter each! Every night, we slept in comfort thanks to the heater inside the room. Once we forgot to close the windows, we almost froze to death.
The room pretty much had everything we need. There were a washing machine, an electric stove, a water heater, a hair dryer, and a refrigerator. They also provided mugs and changed our towels everyday.
If you're thinking of preparing your own meal when in Seoul, I believe that staying in Hongdae Housetel can save you a lot of money.
They were very generous during breakfast. There were coffee, tea, orange juice and milk to be devoured by hungry guests. You have to cook the eggs yourself, though. Good thing Iris was kind enough to cook us sunny side-up eggs every morning.
As for the sandwich spread, there were variations to choose from! It was surprising because it's always just strawberry jam in other hostels, so thankfully, the houstel had chocolate spread and butter. Hehe.
I ate cereals more than the amount that should be allowed anywhere ever, I'm so sorry.
So in summary, staying in Hongdae Housetel is something I will definitely recommend.
What to love:
The hosts were very accommodating, especially when it comes to the baggage and helping guests find the hostel.
It's a five to ten-minute walk to the subway and bus stations.
You get more than what you pay for. And for $62.76 (PHP2,811.90), it's definitely a steal.
There are a lot of convenience stores and restaurants nearby. Also, a neighborhood grocery where we bought all our pasalubong! Peppero and banana milk were a lot cheaper in the grocery store than in convenience stores. They also sold fresh fruits!
Wifi accessible everywhere, and amazing internet connection!!!
Quirky art decorated the hostel.
Best breakfast I had in Seoul because there were eggs, bread and cereals!
It's quite near other Seoul attractions, too. There's a maximum of two subway transfers to any Seoul destination.
What not to love:
No elevators, but that's okay since hostels usually don't have one.
The common room is a bit small.
Dining tables are few, but it can be a pro since you will have more interaction with other backpackers when you share tables. 🙂
Here's a photo of the common room, which as you can see, is a bit crowded. It also serves as the dining room every breakfast. The dorm rooms are also located in this floor.
Hongdae Family Housetel
Address: 53-11, Worldcup buk ro 6gil  Mapo-Gu, Seoul
https://www.facebook.com/HostelHongdae
How to make a reservation:
Easily make reservation through Agoda. They don't have a website so I'm not sure if you can directly book from them.
If you want to contact them first, email me and I can share their email with you.
How to get there:
From the airport, take the airport limousine bus No. 6002 at 12A bus station.
Drop off at Hongdae station.
Follow the map below or this Youtube video.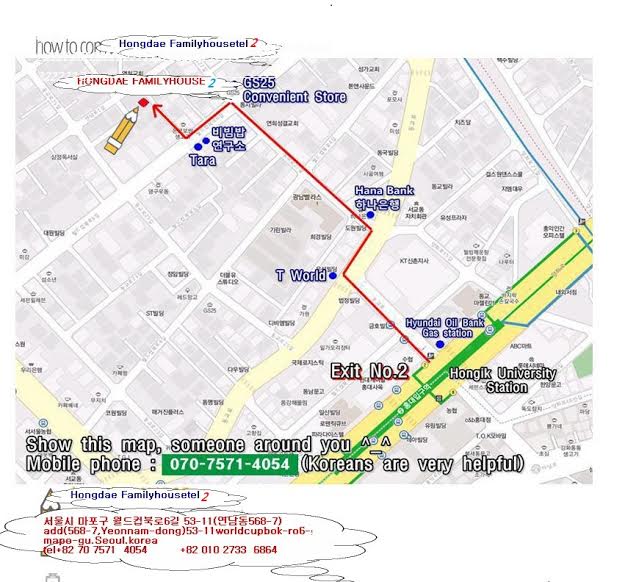 * They provided me this map.
Attractions near Hongdae Family Houstel:
Hongdae (Hongik University)
Ewha University (Only a couple of stations away) – Great place for shopping!