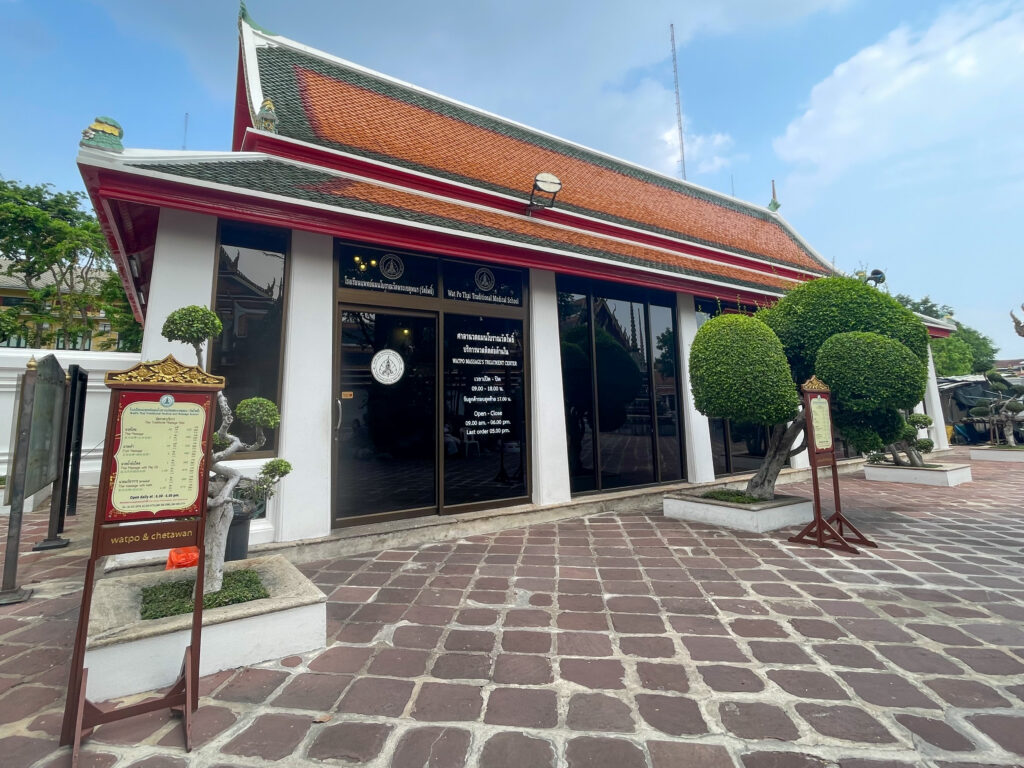 I recently went to Bangkok and planned to have a massage everyday while I was there. It was a plan unfulfilled as I didn't get to go for one on my first day.
However, I made sure to go to Wat Pho Massage School for a massage, because apparently this is where all the Thai massage magic started. It was like Hogwarts but for massages. Of course I had to try it!
I could barely find any decent or recent review of the massage school and the official website looks sketchy at best. In fact, I wanted to ask if they need a new website and I'm willing to do SEO for free in exchange for a lifetime supply of massages.
Happy to report that when I got there, it's actually a pretty great place to go for a massage after spending hours walking around Wat Pho under the scorching Bangkok sun. It's nothing fancy like other Bangkok spas, but it's definitely pricier than the massages you'd find in the street. The price is somewhere in between, but I'd like to think that I was not just paying for a one-hour Thai massage. I was also paying for the heritage, the history, the tradition. It was damn well worth it.
How it went down
Okay, so honestly I got a little lost inside Wat Pho just looking for the massage school, and when I got there, after almost dying from the heat outside, they informed me that I had to wait an hour and thirty minutes for my turn. Since I was already there anyway and I decided that I might just well wait. (I went outside to wait at a cafe and visited Ha Tien Cafe which ended up to be my favorite cafe in Bangkok!)
So Amateur Tip #1, if you plan to go for a massage at Wat Pho, go to the massage school first before you start touring so you can reserve your slot!
When I went back to the school, I was informed that it was my turn already. It's not allowed to take photos inside so I cannot share anything here.
Once you walk in, you'll see beds lined up next to each other, and each of the customers were dressed up wearing the Thai fisherman pants and loose top. So yes, they'll give you clothes to change into before your massage. You wouldn't have to worry about what to wear for your visit.
Depending on which service you'll get, you either get a bed or a chair. I got the bed since I opted for a one-hour Thai massage. Initially just wanted thirty minutes because I'm a cheapo, but I realized, I was already there so might as well go all out! (But still didn't go for a two-hour massage hehehe.)
It is honestly one of the best massages OF MY LIFE, and I had four massages during that trip alone. My masseuse was pretty good. It wasn't the first time I went for a Thai massage (I also tried before in Phuket), but this time felt very, very different. I really felt like she massaged all my illnesses away, exaggeration aside.
Seeing pretty much everyone else falling asleep despite the bone-cracking stretches and massages they were experiencing, I am pretty sure that they were feeling very happy with the massage, too.
No hot tea was served after the massage, but they did give me a bottle of mineral water after.
Some heads up…
I can think of a couple of things that can actually be cons, but I honestly didn't mind any of the cons. I knew what I was signing up for.
Say goodbye to your privacy because all beds are next to each other and there are no curtains whatsoever separating each one. The beds are spacious but you'd really be lying next to a stranger. The masseuse would be twisting and turning your body in all ways in front of everyone. Good news is pretty much everyone is half asleep and everyone would be minding their own business.
I paid 480 baht for a 1-hour massage but you can pay for the same service for as low as 200 baht elsewhere. But like what I said above, I felt it's not just the service itself I'm paying for.
The waiting time is quite long. So if you're

not

willing to play the waiting game, might as well go elsewhere. Massage parlours are a dime a dozen in Bangkok.
Wat Pho Massage School Prices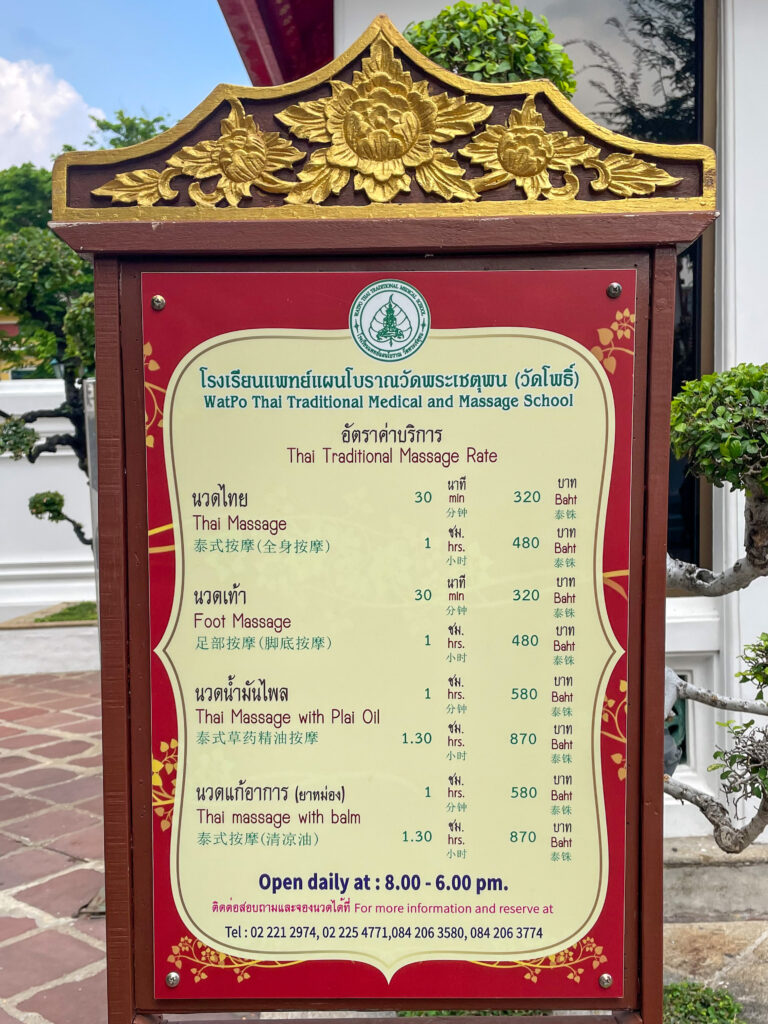 | | | |
| --- | --- | --- |
| Services | Duration | Price |
| Thai Massage | 30 mins / 1 hour | 320 Baht / 480 Baht |
| Foot Massage | 30 mins / 1 hour | 320 Baht / 480 Baht |
| Thai Massage with Plai Oil | 30 mins / 1.5 hour | 580 Baht / 870 Baht |
| Thai Massage with balm | 30 mins / 1.5 hour | 580 Baht / 870 Baht |
How to get to Wat Pho Massage School
The best way to reach Wat Pho Massage School is by taxi. There are also buses going to Wat Pho Massage School, but the nearest bus stop could be a bit of a walk.
I suggest hailing a ride through one of the ride-hailing apps, either Grab or Bolt. This is definitely the easiest way, and definitely what I recommend, too. Bolt only accepts cash, while Grab can be connected to your card.
Actually, I tried going there via bus (my chosen mode of transpo when I was in Bangkok!), but I got a little lost, gave up, and booked myself a bike ride via Grab. Hehe.
Where else to go for massage
I suggest walking around your hotel's neighborhood because I'm 100% sure that you'll find one that's conveniently near your hotel. Tourist spots also conveniently have fuss-free massage spas along the road. Just walk a bit you'll definitely find one!
Luckily for me, there are a lot of massage parlours near my hostel COZ Ratchathewi. I sadly forgot to note the name of the place I frequented twice. I foolishly thought I'd be able to find them on Google Maps, but nope, they're not there. 🙁
If you're looking something fancier, I highly recommend Let's Relax Onsen and Spa at Thonglor. It's a little out of the way, but definitely worth it. You can opt to have an all-day onsen access or just go for the massage. Whatever floats your boat! But really, since you're there already might as well have onsen access with your package, too.
Do I recommend going to Wat Pho Massage School for a Thai massage?
Absolutely! It was definitely a unique experience for me, and still quite different from the other massage services I went for in Bangkok. Honestly, I think it's the best one.
If you're on a budget, I suggest going elsewhere. Aside from the long wait, you can still experience massage services that are just as good for a fraction of a price.
But if you're like me who just have to try the massage at the place that started it all, then it's a loud, resounding yes.