Day 4 of our Korea trip may or may not be the most memorable one. It was still raining but we could no longer think (or research!) of a place where we could stay indoors the whole day. So we had no choice to brave the drizzle and the harsh, cold wind. I made sure to wrap up extremely well because the night before left my bones chilling. It's a really good memory. No, that's not sarcastic.
So, what do we have in store for day 4? The 1st Shop of Coffee Prince! We rode the subway to get there. I can no longer remember if we made a subway line transfer or if we rode directly from Hyehwa station to Hongdae (Honggik University) station.
At that point, I was getting used to riding the subway and even enjoying it. I don't think I'd feel the same way for our beloved MRT and LRT lines. Huhuhu.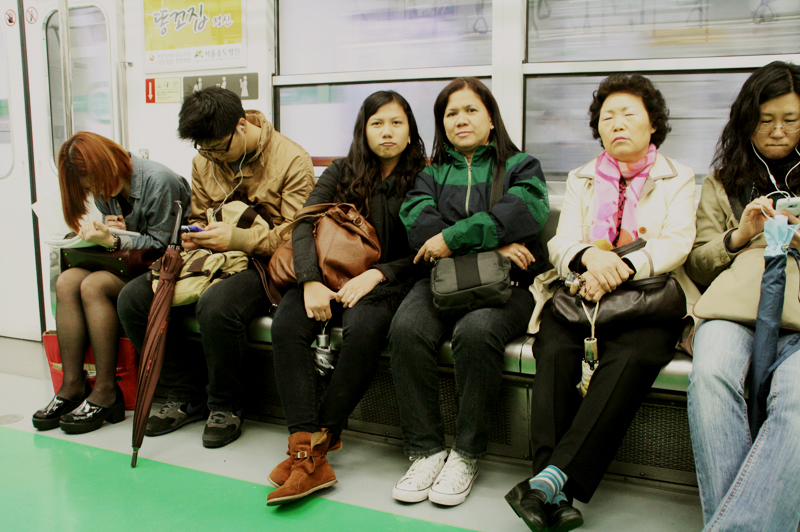 From a specific station exit (I cannot remember which! How's that for a frustrated travel blogger. Huhu), we walked to the coffee shop! It was so cold and there's barely anyone out and it was already 10:30 AM! The business establishments in Seoul certainly open later than I'm used to. Heh. Anyway, we were getting nervous since what if the shop was closed? We traveled so far! Well, not really that far but far enough. And that would totally ruin our itinerary.
We kept walking and walking and we thought we were lost. But when we saw the shop, there was no mistaking the tree in the front yard and the little platform outside. That's where they held the little concert! Also, there were some tourists outside. And yes, it was closed!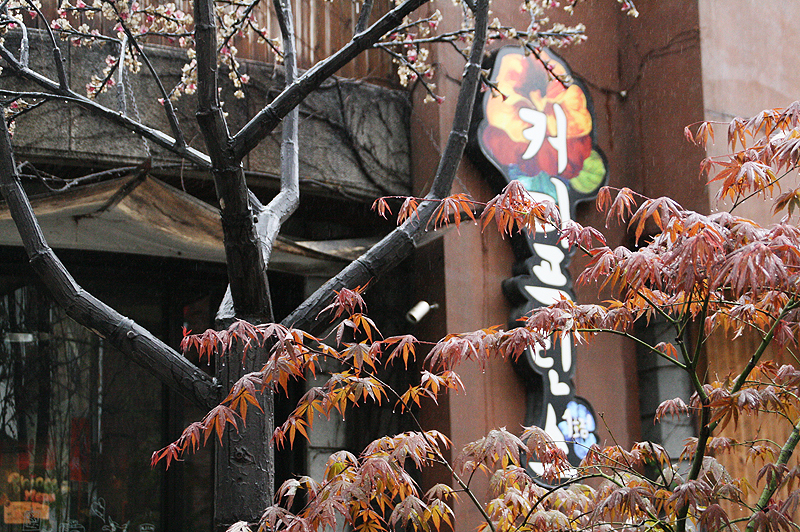 But we saw someone, a staff, sweeping outside so how could it be close? We had trouble accepting the fact that we braved the difficult weather but we couldn't even enter. So we took photos outside, so ready to cry. Then the guy sweeping outside started signaling something to us and we couldn't understand. We thought he was saying it was closed. Then another staff, someone inside, started signaling, too, and it was so hard to understand. HAHA. Then after a few more minutes of hand signals, we finally understood that they're about to open in 15-30 minutes.
We then kissed and hugged the Hallyu fairy.
Since we couldn't just stand outside (it was cold, remember?), we looked for a place we could stay. I suggested that we go to to Hongdae (the school) since it's a famous tourist spot, too. But they didn't want to do that so we went to the nearest 7-Eleven instead.
Daddy brought this glorious instant garlic soup. It was the first time I tried garlic soup and I never thought I'd love it so much. Then we also bought some bread that has the best texture ever. I do not know what it's called and we tried looking for it in other places but we couldn't find it. /sobs
After brunching, we went back to the coffee shop and to our surprise, there were already a handful of people inside, mostly tourists. If you're also planning to go to this coffee shop, then you must be prepared to shell out at least W6,000. Everyone who enters the coffee shop has to order you see. You even have to order first before looking for a seat. So if there are four of you, everyone has to order something. If you don't want coffee or tea, they offer cakes, too! The price is definitely not cheap (not even for Korean coffee shop standards!) but you know they set the price that high since people are willing to pay. Anyway, it was quite pricey but we didn't really have any choice since we're there already.
The place looked so amazing! They didn't even change anything from the original set, probably only added a few details and changed the menu. Also, the wall that Gong Chan and the rest of the cast painted was still there! The staff and actors also signed the wall! It was really pretty and I wanted to sit there but the table was too big.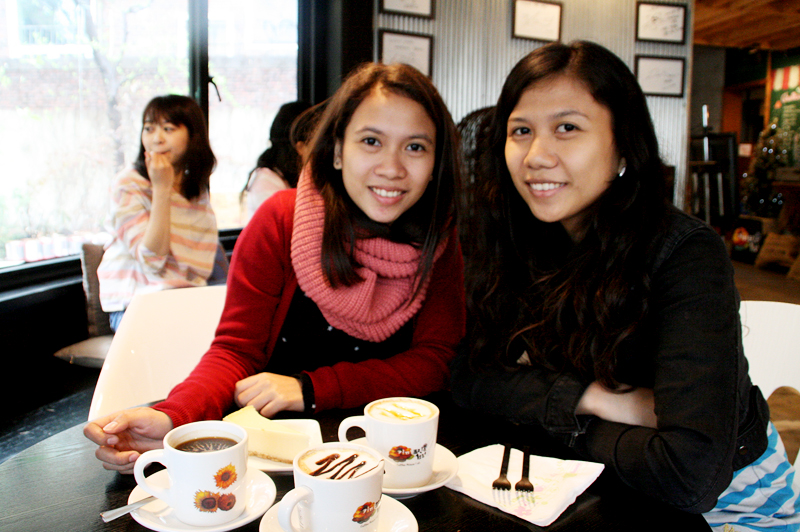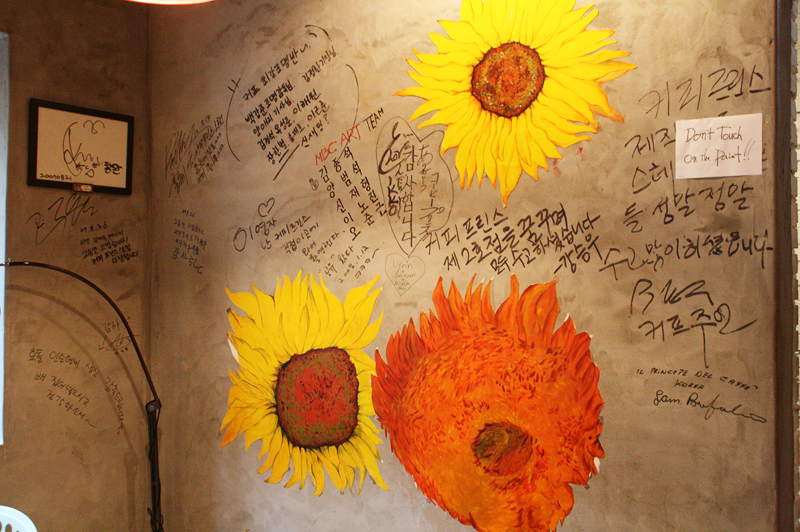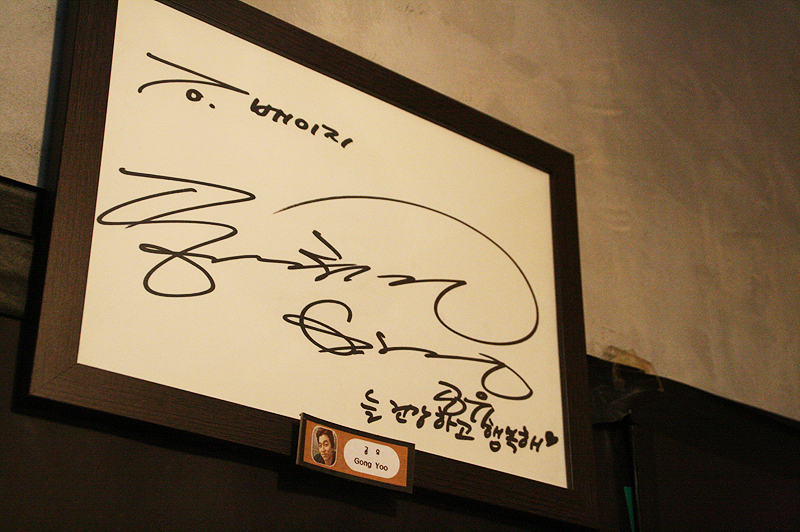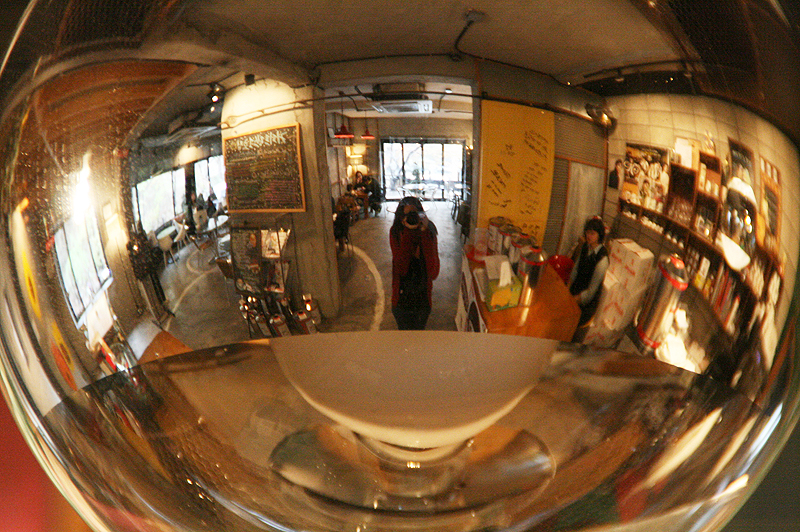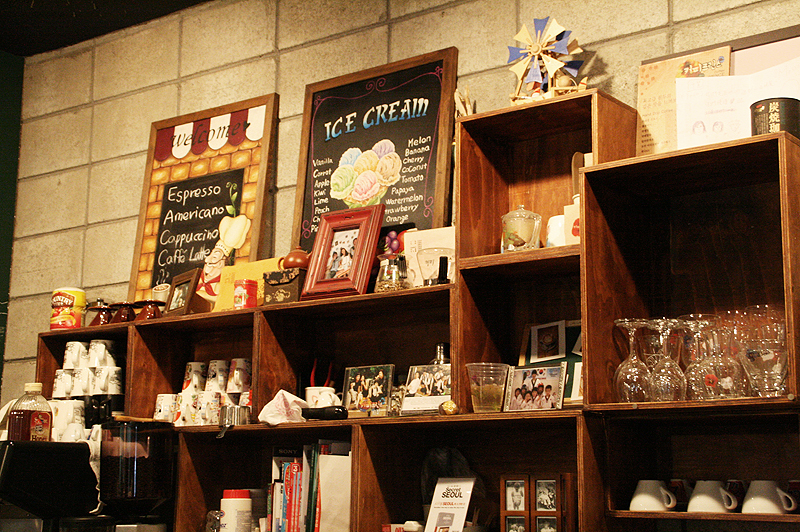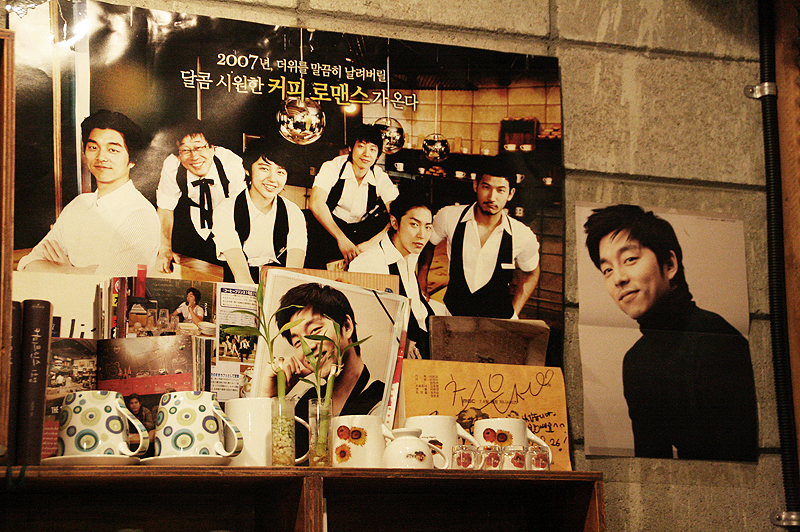 The chalk art for the menu was so pretty, too! I think they preserved the menu used in the drama but they did indicate that they no longer use that menu. I tried to take a detailed photo of one of the menus but the staff said I couldn't. 🙁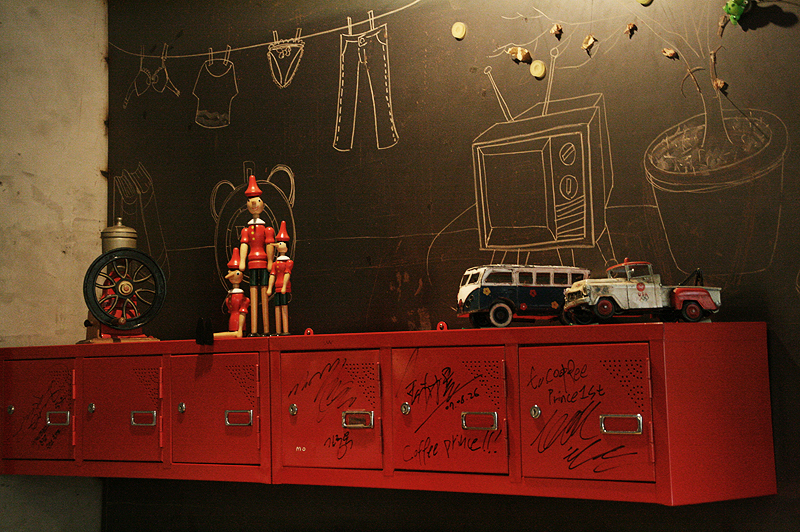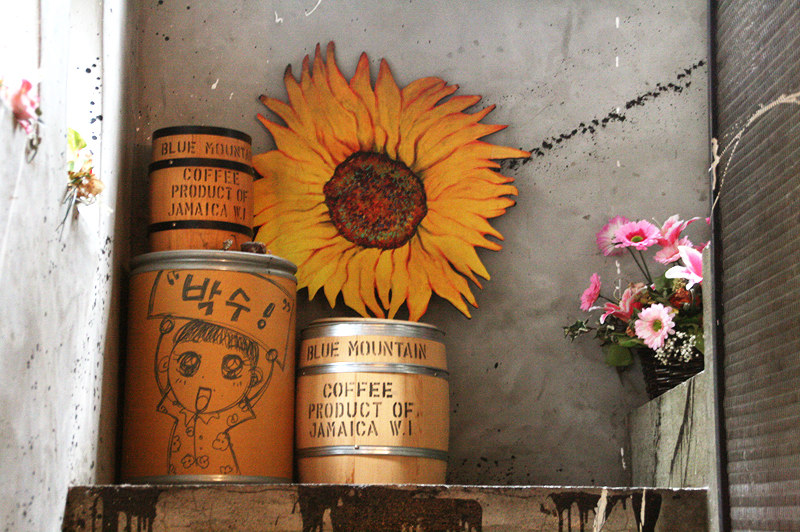 After drinking our coffee and taking as many photos as possible, we had to leave! I didn't want to, of course, but there were other places to visit. But I couldn't leave without my photo op with Yoon EunHye, okay.
We went back to the subway station since we had to go to our next destination: Myeongdong! Again, I can't remember if we transferred lines and what station we went down on. All I know is that we rode the subway. Huhuhu. It's making me sad that I am starting to forget a lot of things about our trip! I don't think we went off at Myeongdong station. But maybe we did? I don't know! /wailing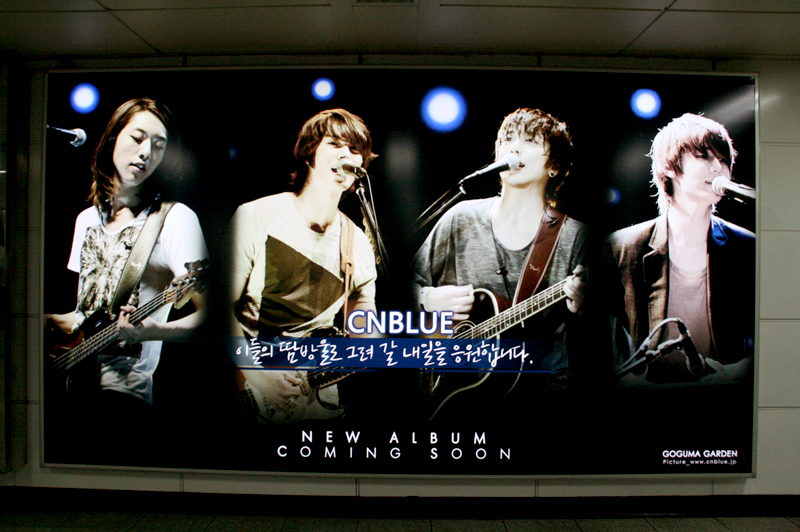 Anyway, before riding the train again, we saw this huge CNBLUE billboard! Or whatever it's called. It's a promotion for their newest album which was already released by that time. I almost fainted. I wanted to hug the whole thing but I'm afraid my arms weren't (and still are not) long enough. And the best thing about it? GOGUMA GARDEN was printed at the bottom! I don't know what it's doing there but it made me incredibly happy okay. I don't know what Goguma Garden is but I'm 90% sure that it's related to the YongSeo couple. Hehe.
When we reached our destination, the station was empty. Well, not really empty but you could definitely count the number of people in the station. It was quite freaky, since most of the stores in the station were closed, too! It was a sunday so we weren't sure if they were closed because it's a sunday or because the weather was terrible. I really didn't know.
We weren't sure where to go but after figuring it out, a pretty lady walked towards us . And did I say she's pretty? She's not, she's gorgeous and we were all staring at her all googly-eyed. She asked as if we need any help with directions. We said no, but I said yes again and asked if Cheonggyecheon stream was near, it is. Then she said bye and we still couldn't stop gushing over her gorgeousness. So pretty, really.
So we finally went on our way. It was quite late by that time and all we wanted was to sit down and eat lunch and devour some soup, maybe. When we went out of the station, the wind was definitely harsher! It was so cold and the umbrella was doing so little to protect us from the slight drizzle. My mother screamed quite a few times it was so funny. Haha.
Before heading straight into the heart of Myeongdong (shopping!), we decided to look for the Catholic church first. It was a Sunday after all. And guess what, we got lost! We ended up reaching the shopping district and we should have seen the church first. We were so tired by that time that we just ended up eating first.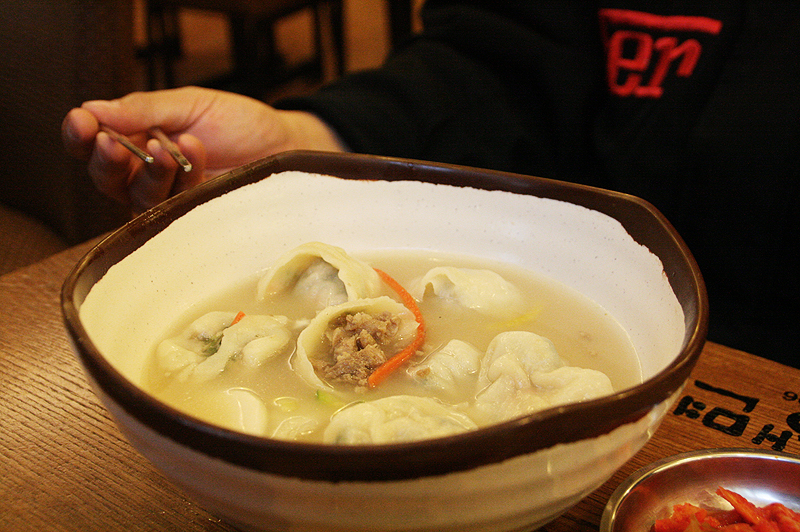 We went in this one place that specialized on bibimbap and Korean bbq! It was so good. The place is on the second floor of one of the buildings in the shopping district. I'm sorry I can't direct you directly towards the place. All I know is that bibimbap and Korean bbq are their specialties. My mother says it's her favorite meal from our entire trip. I am still confused which one's my favorite so ask me next time. Haha. But I'm just really happy to finally try bibimbap. It was on top of my list of must-try Korean dishes.
I hope to post the second part of this day before the end of this week. The memories are sadly slipping away. NOOOO.