Yes, I am also amazed at my blogging speed. It often takes me a week or more to update but look at me go. Ha!
Our second day in Seoul is probably my favorite. The weather was perfect! I wish everyday we spent in Seoul was like that. I wish the weather in the Philippines was like that. I'm tired of waking up every morning drowning in sweat. Haha. But we can't always get what we want, eh?
Despite our hopes of starting the day early, we still left the hostel at around 10AM. Quite late, I know. We headed first to Bukchon Hanok Village which was only a block away from Insadong. Instead of walking, we rode the taxi  since we learned that it wasn't that expensive anyway. Heh. And besides, we were running quite late. It would take us 20-30 minutes if we'd walk.
We had quite some troubles communicating with the taxi driver, though. He couldn't read English so he couldn't understand what was written on the map. We also probably couldn't pronounce Bukchon right because he couldn't understand us. Heh. But he did understand Insadong so he dropped us there.
Good thing tourist information centers are abundant in Seoul! There's one in almost every tourist destination. They gave us a map around the village and learned that there are actually 8 viewing spots in Bukchon. But since we were running quite late, we decided to only go to 3 spots!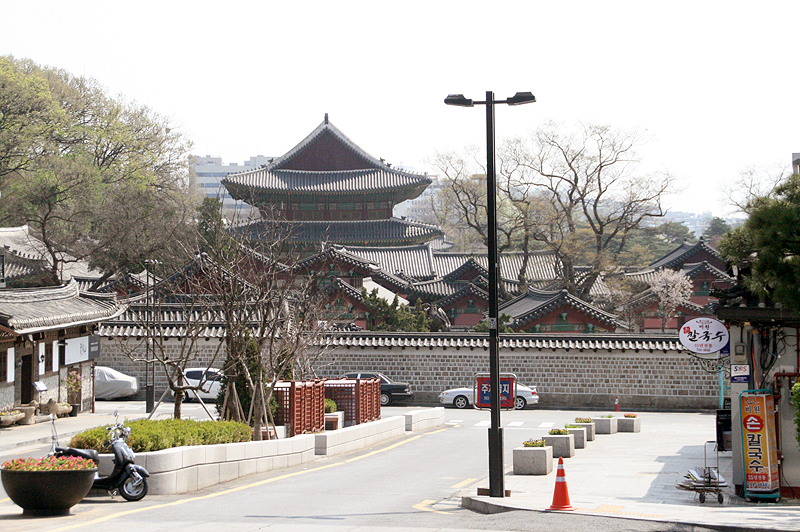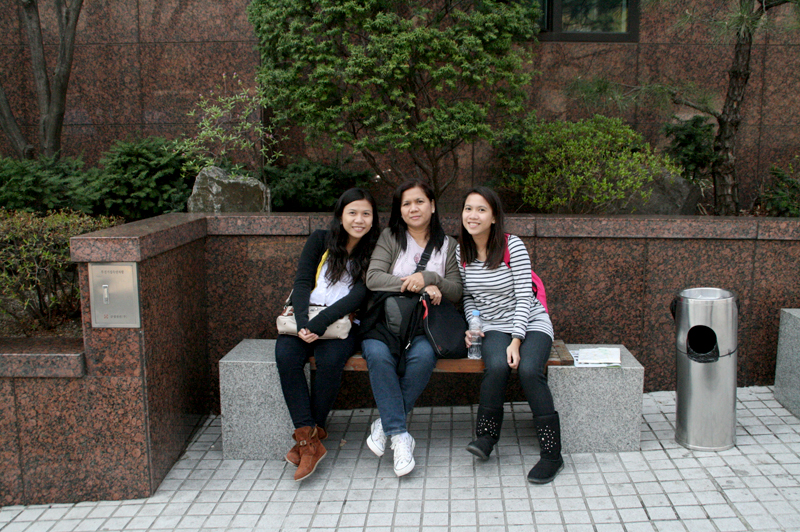 View #1 is Changdeokgung Palace, the one we passed by yesterday! It's just amazing how you can be right in the middle of the city, then this kind of view would surprise you. It's a welcoming site, and I sure hope that the people who see this everyday appreciate it. It's a nice remember of your identity, of where you came from and where you can possibly go.
After View #1, we decided to skip #2 (Ha!) and went to the Bukchon Cultural Center. It's not exactly part of the 8 views but it's on our way so why not. And we indeed made the right decision of visiting the center.
There's a little museum where you can learn more about Bukchon. Hanok is what you call the traditional houses thus, Bukchon Hanok Village. There are about 1,000 hanok houses in the area and only 33 are owned by the government. But still, it's nice to know that the government even help the house owners in preserving the hanok houses. This just shows how the government are hands on when it comes to taking care of their culture. It's amazing that you can really see all their efforts pay off.
Visiting the hanok village is actually one of the best parts of the trip. In my opinion anyway.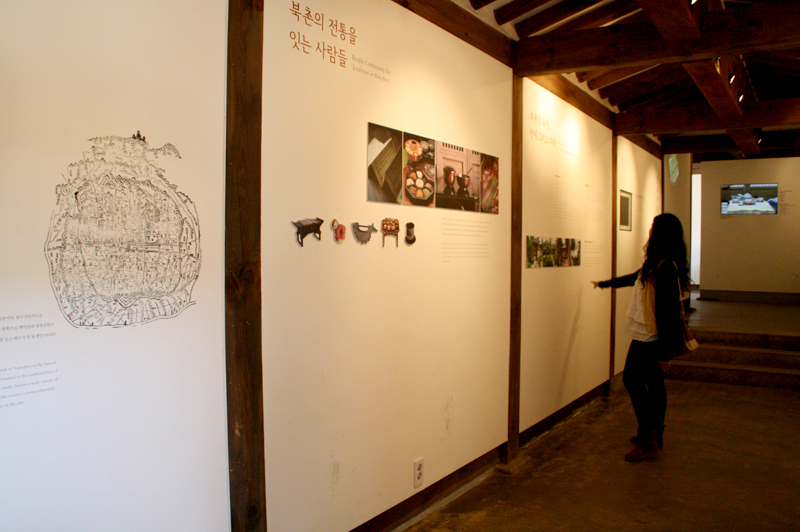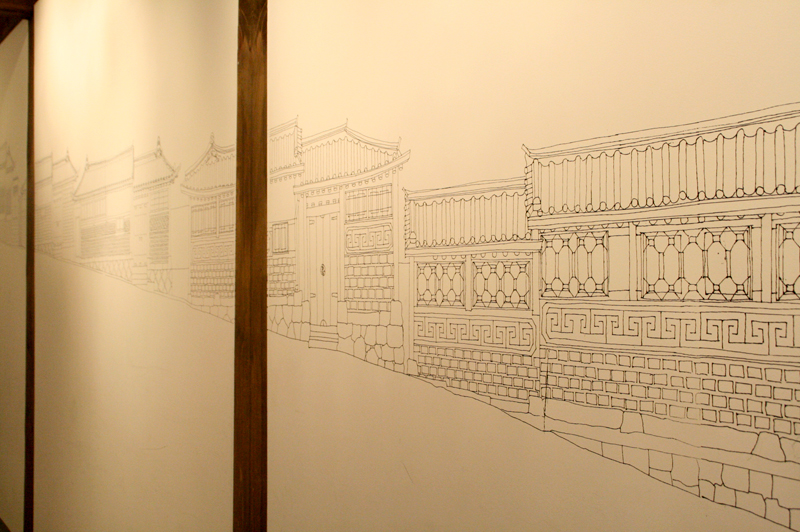 What I love about Seoul #19342: The brochures are amazing. By that time, we've already noticed how they seem to give so much importance to art everywhere! Be it architecture, design or landscaping, you can see how they give importance to art. It's everywhere! It's in every street corner, in every wall and store windows. It didn't came as a surprise to see brochures looking like a work of art. We made sure to take tons of brochures everywhere we go. It's free anyway. Heh.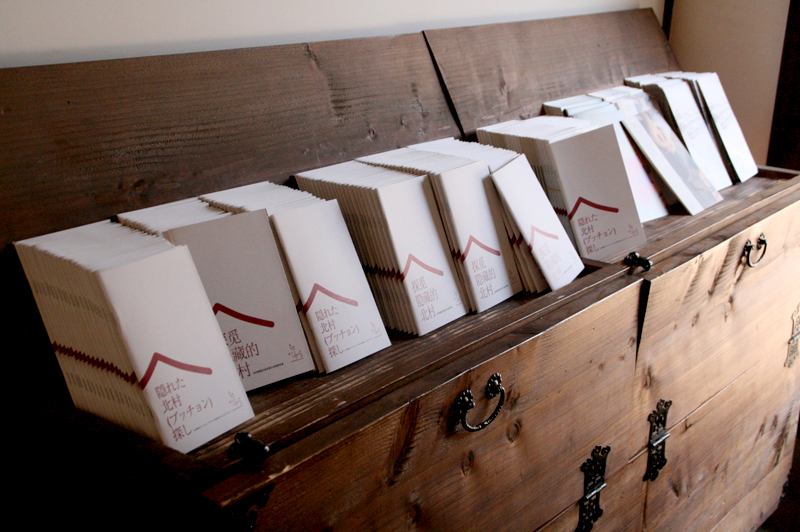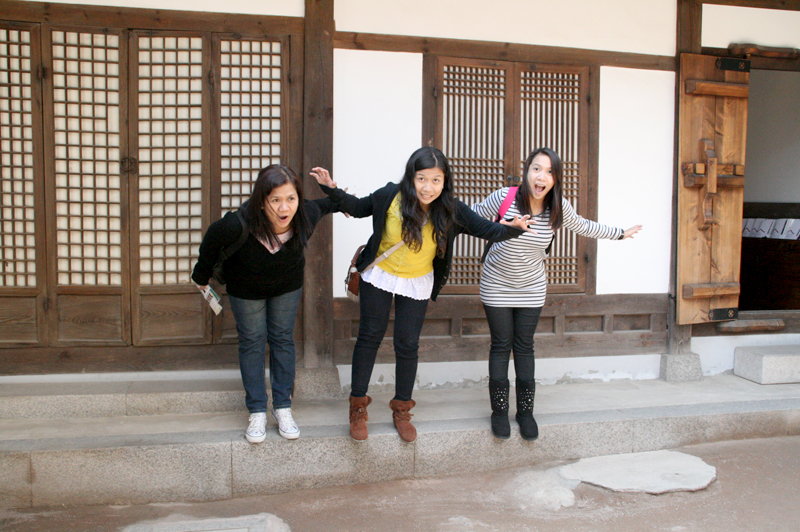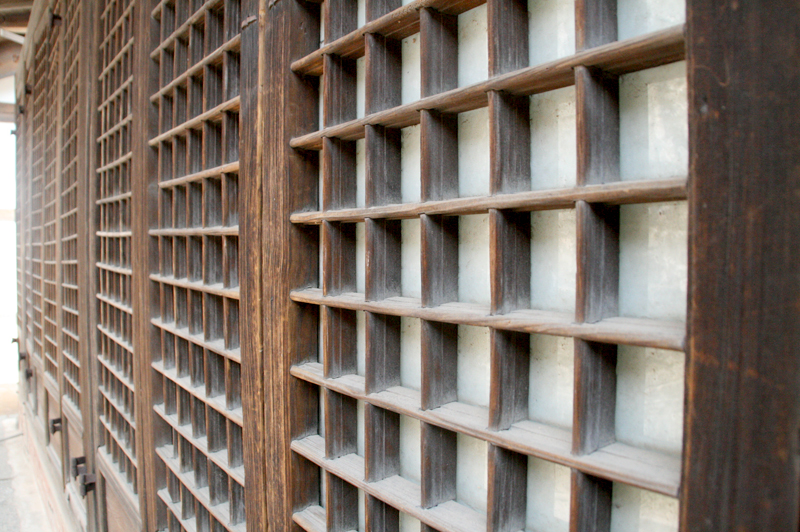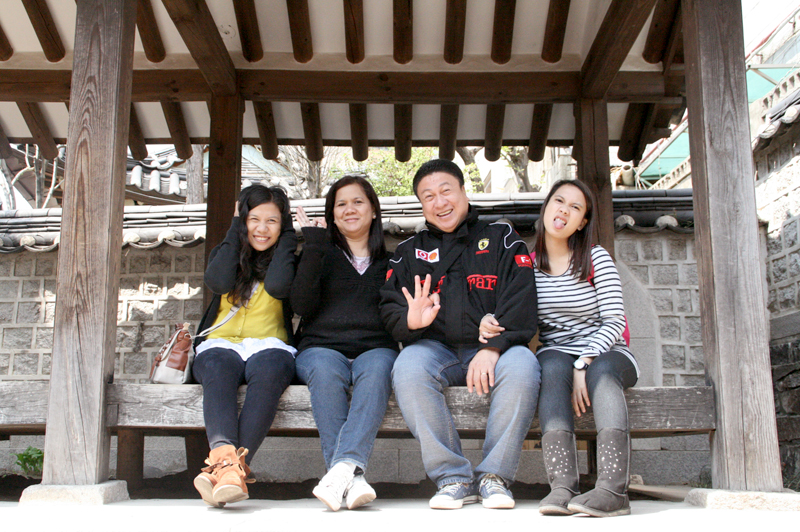 The Cultural Center had that kind of atmosphere that makes you want to stay there forever. There was this papag-looking thing (I don't know how to describe it, okay!) outside and we stayed there for a while. We also took photos in every corner because we're camwhores like that.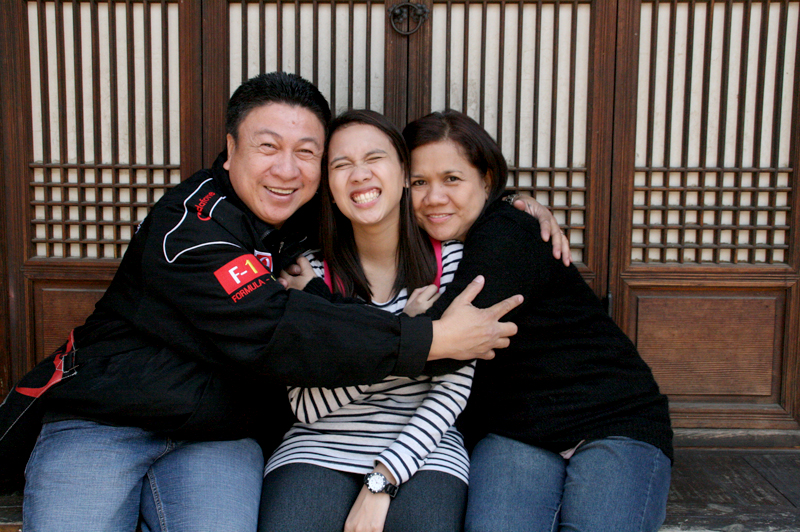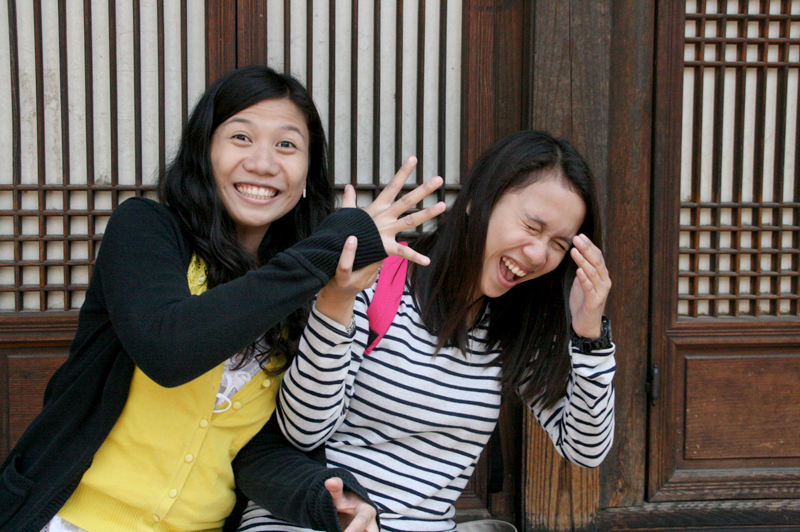 What I love most about Seoul is the restrooms! Ha! I've always been wary of public restrooms but that's because of my 22 years of bad public restroom experience here. But the restrooms in Seoul only disappointed me twice and I'd been inside about 5-7 public ones in a day.
The one below is definitely my favorite. Yes, that's the restroom at the cultural center and it looks like a cottage room or something. Only the signs were a giveaway.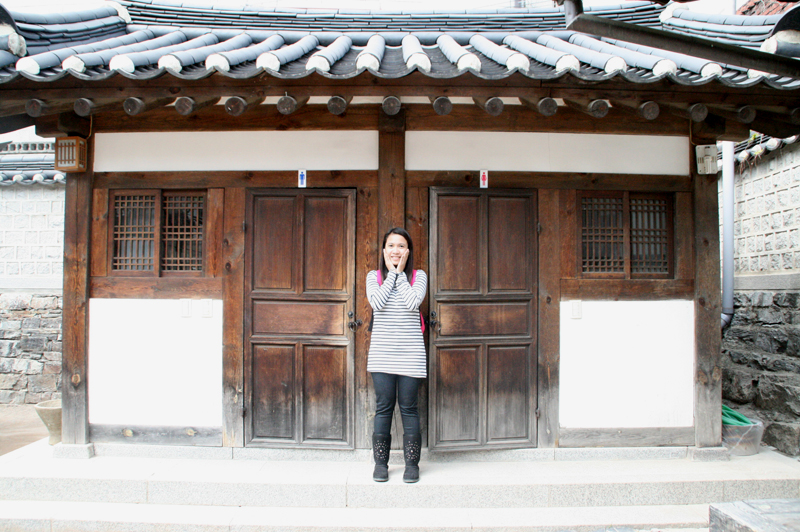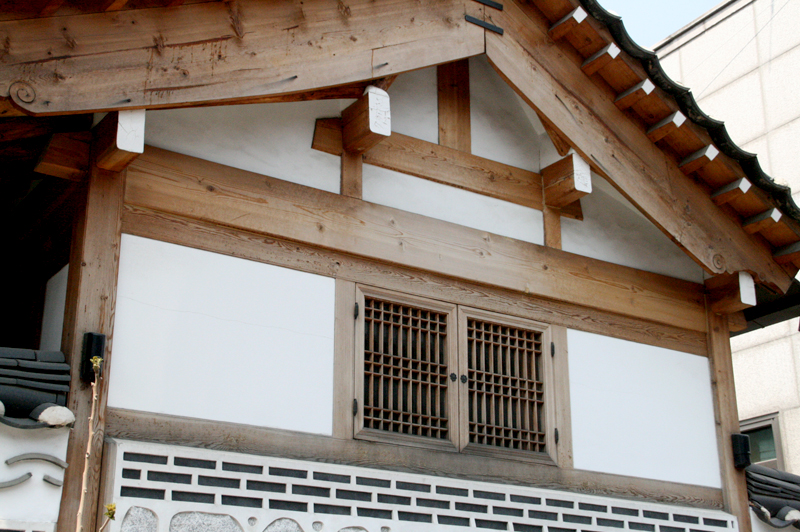 After the cultural center, we followed the map and passed through a village filled with hanok houses, too. I thank my sister for having the sharpest eye because she spotted this:
It's the neighborhood from Heartstrings! Remember how Lee Shin (Jung YongHwa) and GyuWon (Park ShinHye) live next door in the series and both their houses were traditional ones? We weren't sure whether it's truly the filming location but I do remember that there's a dead end near Lee Shin's house. And there was indeed a dead end! So I'll just firmly believe that this is the one until I'm proven wrong.
Too bad we didn't see the house used in Personal Taste, though.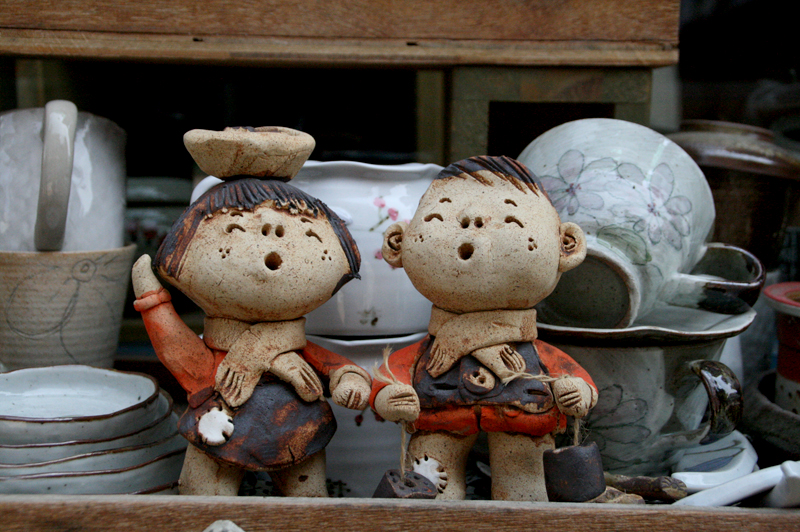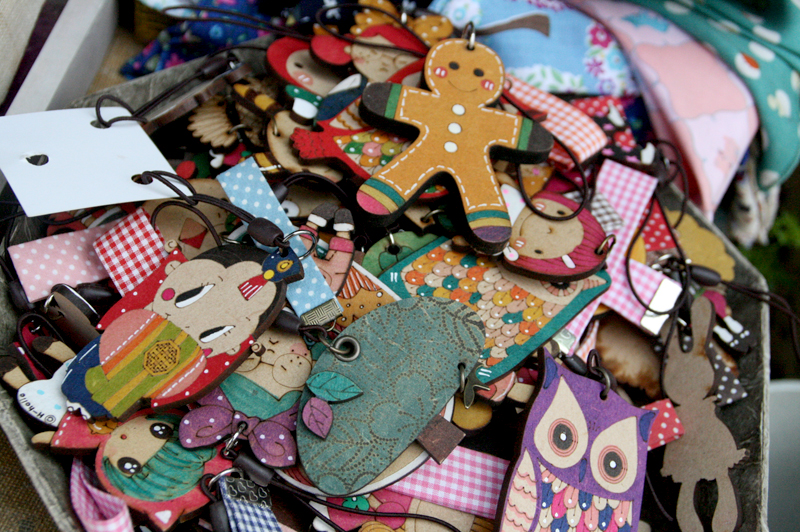 After my little fangirling stint, we continued walking around the village and saw a lot of quaint shops that sell handmade and traditional products! I so wanted to buy the cellphone chains and I don't understand what stopped me.
The hanok village is a residential area but there seem to be a lot of offices, too. But wherever you look, something pleasing seems to surprise you. Even alleyways don't look intimidating at all.
Have I told you how much I love the illustrations is the store windows? There seemed to be one in every coffee shop and trinket store we passed.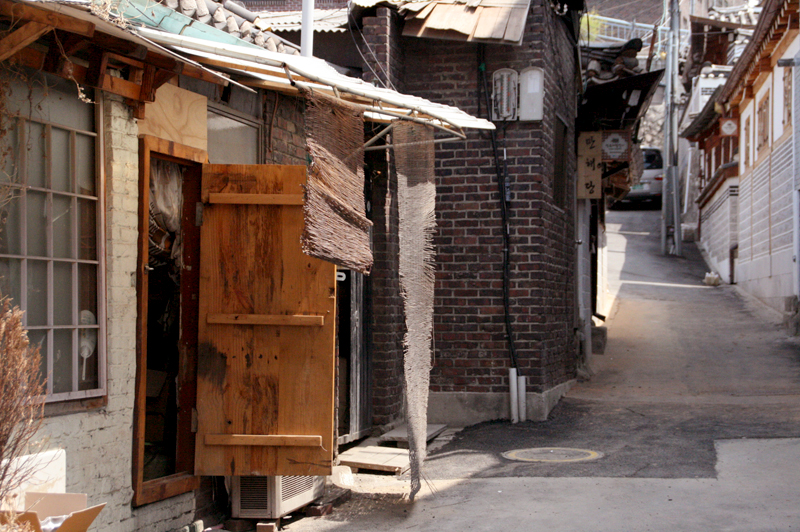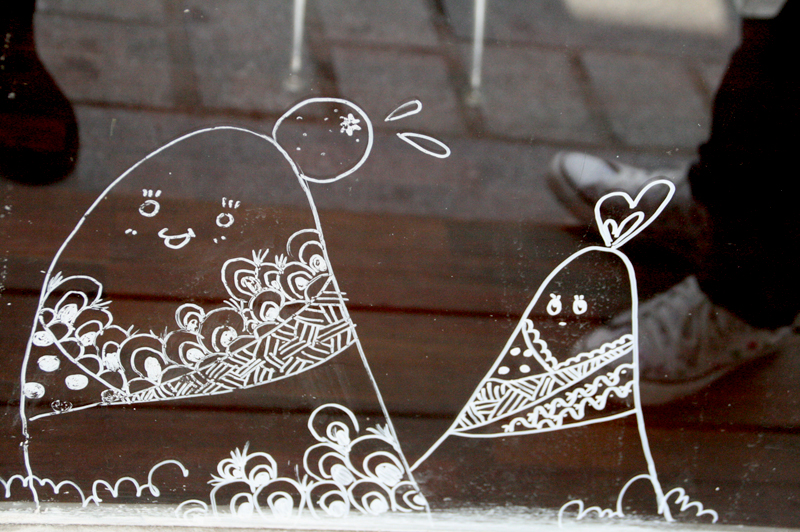 My sister and I have these delusions that we can be the heroine in Kdramas. As we all know, heroines are made to be silly, clumsy, and cute *ahem*. They are also always running late for something. We saw the village as the perfect opportunity to re-enact one of the common scenes in a Kdrama. Here's a photo of me imitating Son HyeJin in Personal Taste:
If it's not so obvious, I had quite a lot of fun doing that. Heh. Ate did it, too! Then we realized too late that someone was sitting just inside that house who could clearly see us running like some deranged person.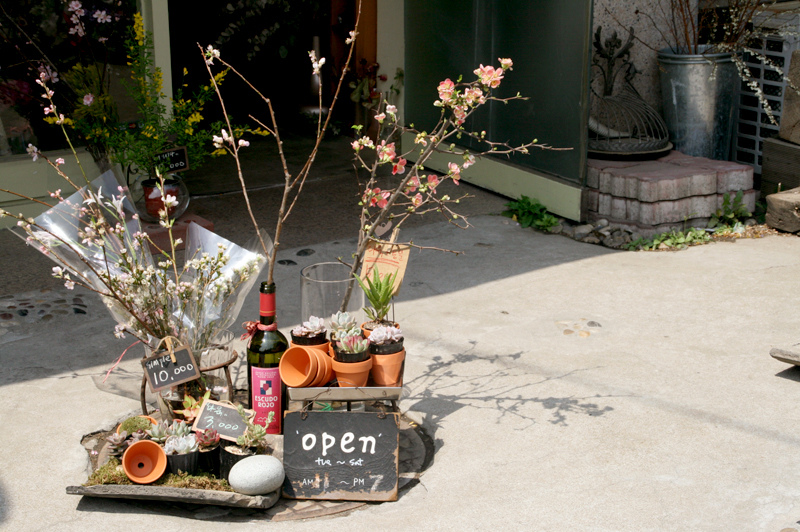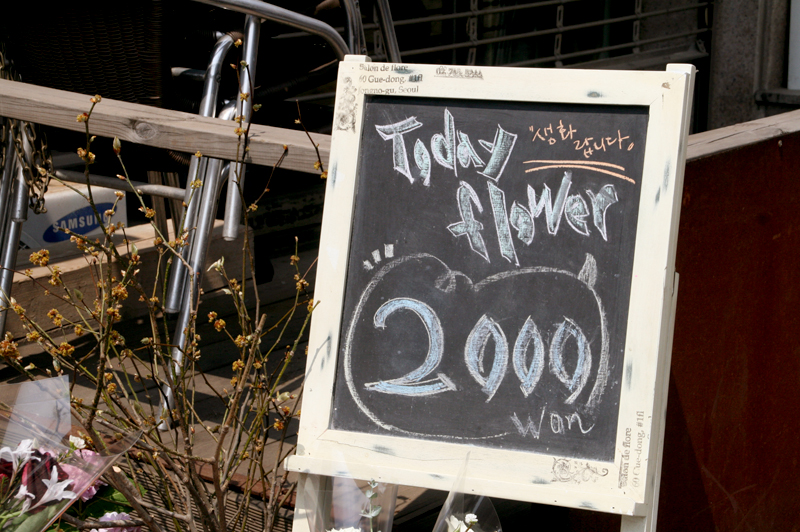 At the very end of the street, we saw the KPOP Heaven of Bukchon (Yes, I love saying Bukchon).  There were two stores that are filled with all the KPOP goodies you could ever hope for. A 2012-2013 calendar of your favorite Hallyu star? Check. The latest poster of your bias? Check. A tumbler/mug with a face of CNBLUE as the cover? Check.  An apron with Bae YoungJun's face printed on it? Memorabilias of DBSK when they were still 5 and not just two? CHECK. CHECK. They even have a So JiSup umbrella that when you open, the inside is filled with his faces. It was awesome.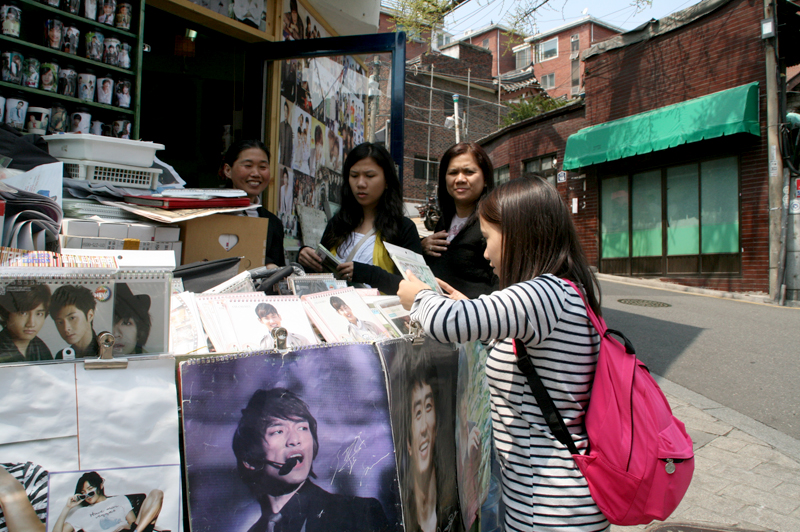 Obviously, my sister and I had a hard time deciding which to buy. I wanted to buy everything but it would probably cost me more than my life savings.
I enjoyed talking to the ajumma who owned the store. She has a daughter in the Philippines who's studying in LaSalle. Also, she said that her daughter speaks better Filipino than English and that's not the plan. Hehe. Ajumma claimed to understand very little Filipino but she can communicate in English anyway. Also, I practiced my Korean and failed.
AJUMMA: I like So JiSup.

ME: Nadoo (Me, too.)

AJUMMA: Nado.

ME: Nado.

AJUMMA: *smiles*
See? We communicate. Hee. My sister and I weren't really planning to buy anything because we're cheapskates like that but my parents said it's embarrassing not to buy anything since ajumma was so nice. And ajumma called me pretty and even though I knew it was just marketing, I was lured into buying a DBSK calendar. She even found one with all the five members. Hee. Then she gave us free JaeJoong and YooChun stickers. ASSAH!
I miss Ajumma. Haha.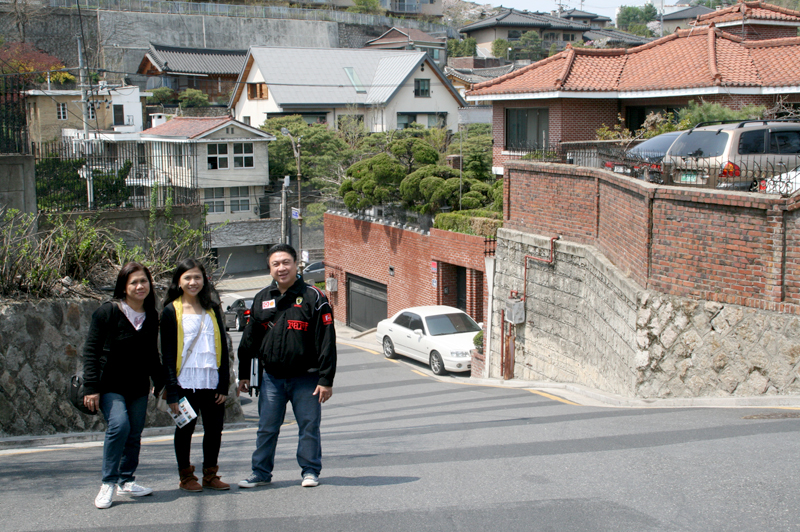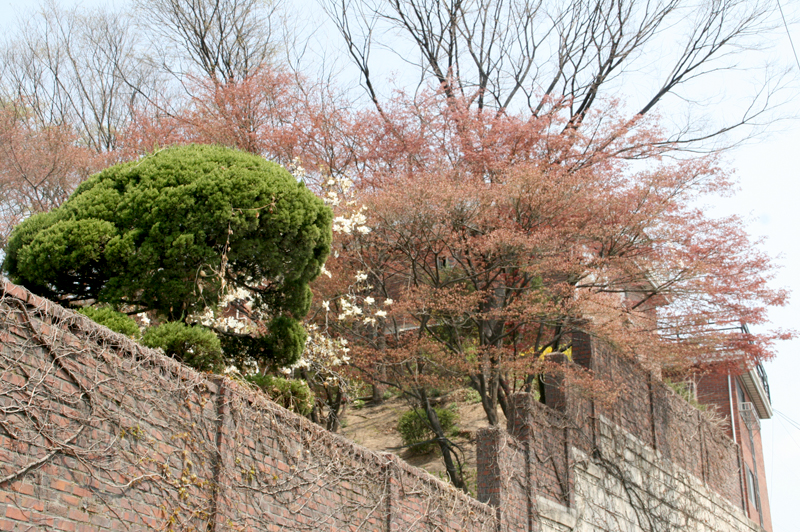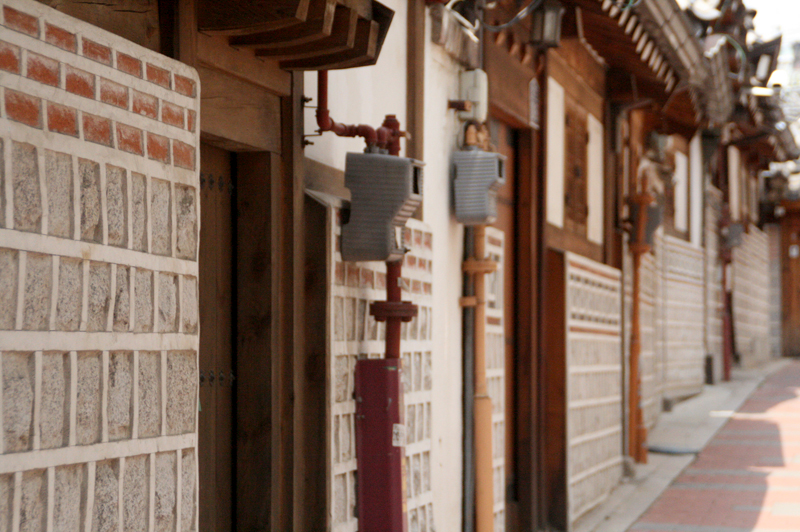 We passed by a lot of places where you can learn traditional practices like knot-making, embroidery, etc., but since we didn't have the time, we didn't try any. That's why I want to come back to Korea. I felt as if we were always running after a schedule and I just wanted to tour at a luxurious phase. I also wanted to come back and do the things I couldn't the first time. Like embroidery and pottery. It would be a pretty good way to appreciate the culture. I will come back, I promise.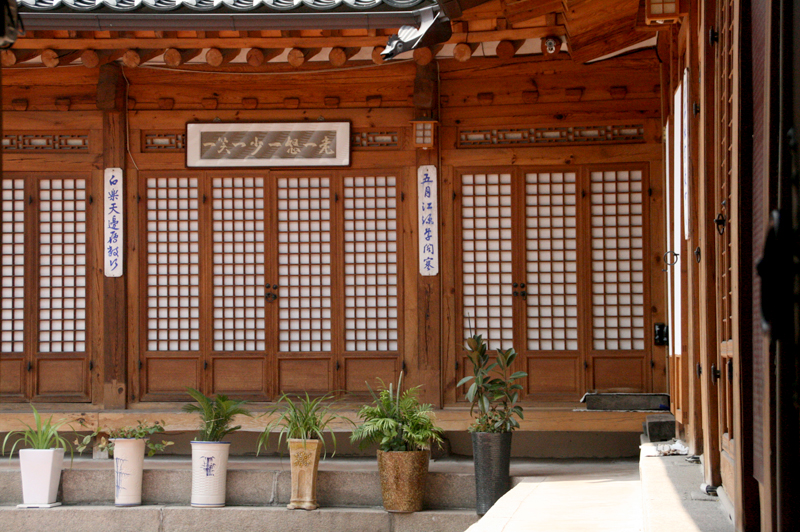 To conclude our Bukchon Hanok Village tour, here's my stupid photo trying to imitate Lee NaYoung's beautiful shot from Someone Special, a RomCom movie I really, really like. You have no idea how many windows we had to pass just to get to the perfect one. Heehee. Next profile photo: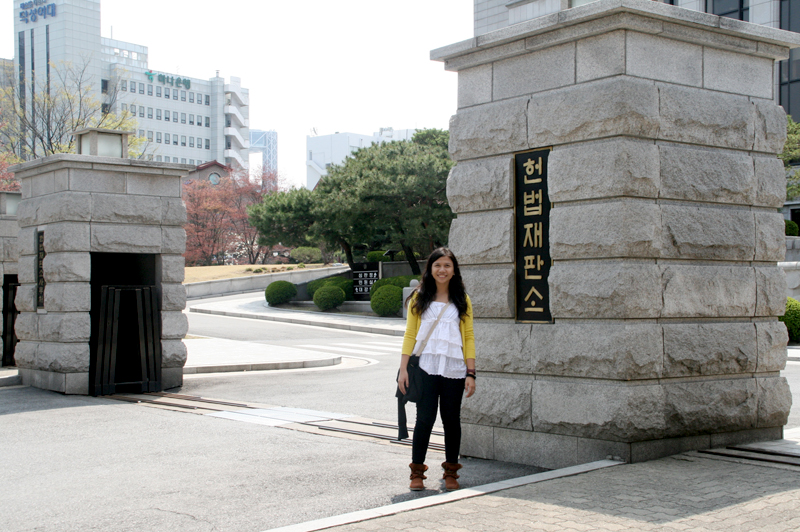 For lunch, we decided to head to Insadong! We passed by the congressional house which is pretty big! Even the gates were big so what would you expect. Haha. Wait, I'm not sure if it's indeed the congressional house. It's a government office anyway, and that's what I'm sure of.
Okay, I sneakily suggested that we eat lunch in Insadong for two reasons. 1.) I wanted to eat at Miss Lee Cafe which we saw the previous night. It was the one where the YongSeo couple ate and left a note. 2.) I wanted to go back to Insadong's Tourist Information Center and try on hanbok. And my plan worked!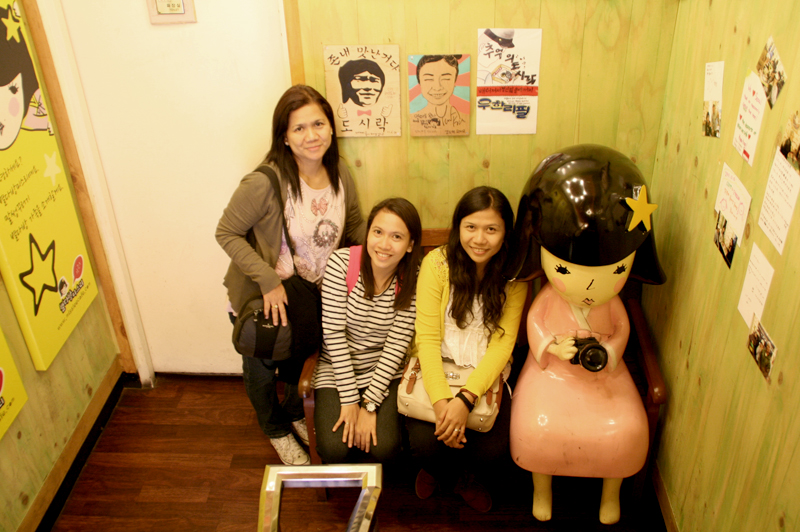 Miss Lee Cafe is the cutest restaurant I've ever been to. Every little space seem to be cluttered with notes! On the ceiling, near the windows, on the big indoor tree, on Batman (pictured below), on the walls, and any space where people can hang notes. It chilled my bones so much, knowing that two of the Koreans I admire most at the moment dined in that place. But of course, even not knowing that they've been there, I'd still probably enjoy our visit.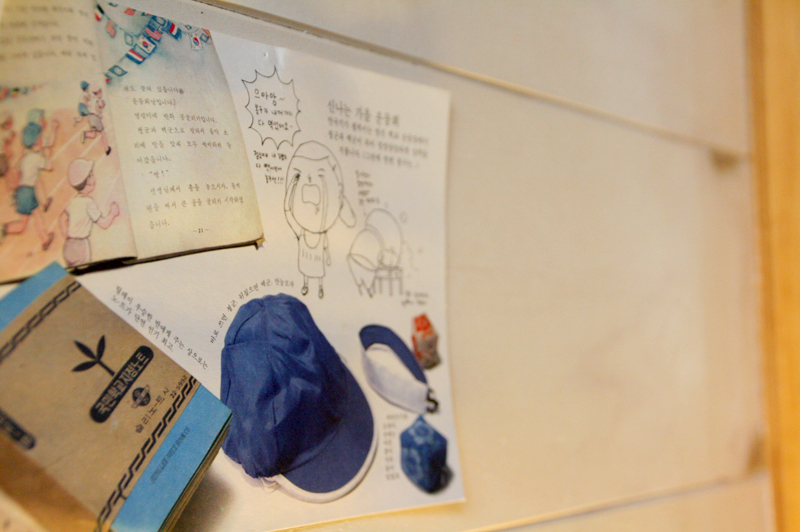 There's only one rice meal and that's the Lunchbox meal (W5,5000)/ My parents didn't really want to try it but I guess they couldn't turn down my begging eyes. Hee. You're supposed to close the lid and shake the lunch box so everything inside will be mixed. I was the only one who did that. My parents and my sister ate theirs just they way it is. Bleh.
I don't really like kimchi but I surprisingly loved this meal. It was unexpected. Even my sister didn't expect that she'd like it, and she's much harder to please! The best way to eat this to just really mix it, okay! The seaweed pulls the flavors together, and that makes the meal enjoyable for me.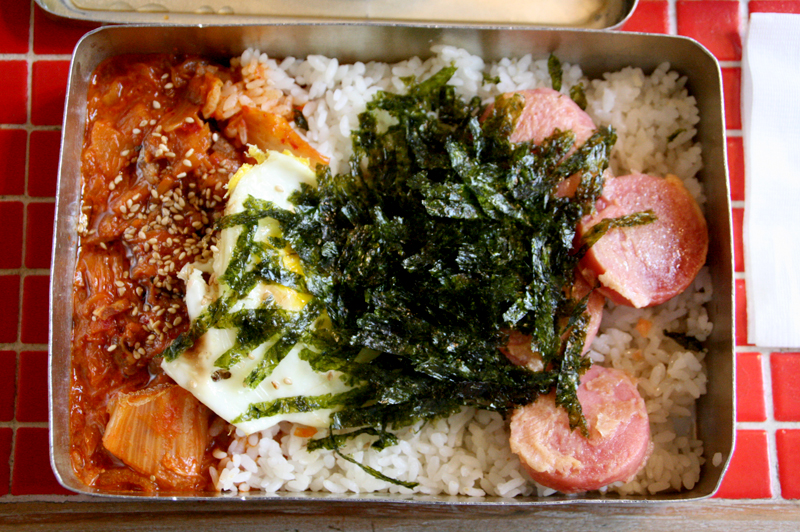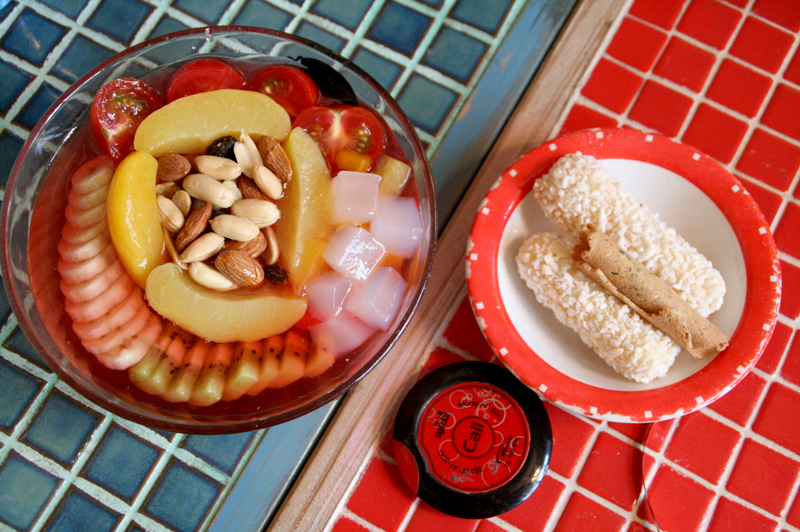 We also ordered fruti salad (W9,000) and we didn't like it that much. I guess it was too expensive for us. But we did get free appetizers! I really like the rice cracker (I don't know what it is!) since it's quite chewy in the inside.
The cafe provides papers and pens so that the customers can leave their messages. I wanted to hang our message in the tree but I didn't get my wish. It still leaves quite a bitter memory in my heart but I'll try not to dwell too much on it. What's important is that I got to eat in Miss Lee Cafe!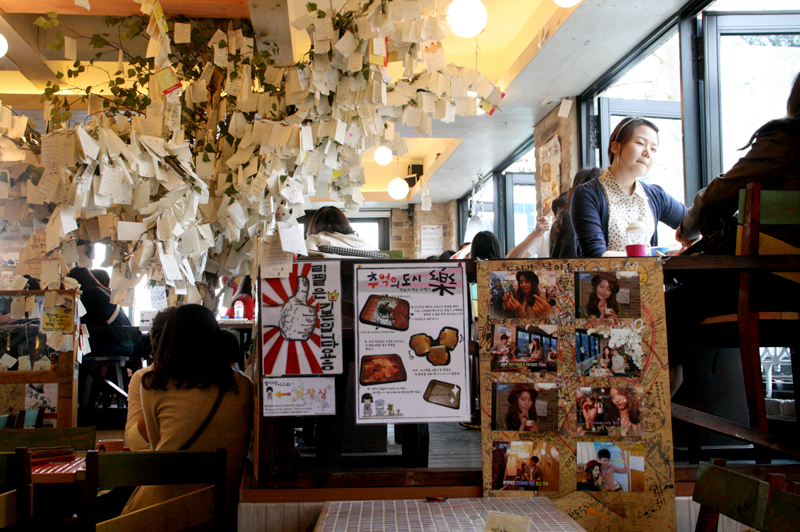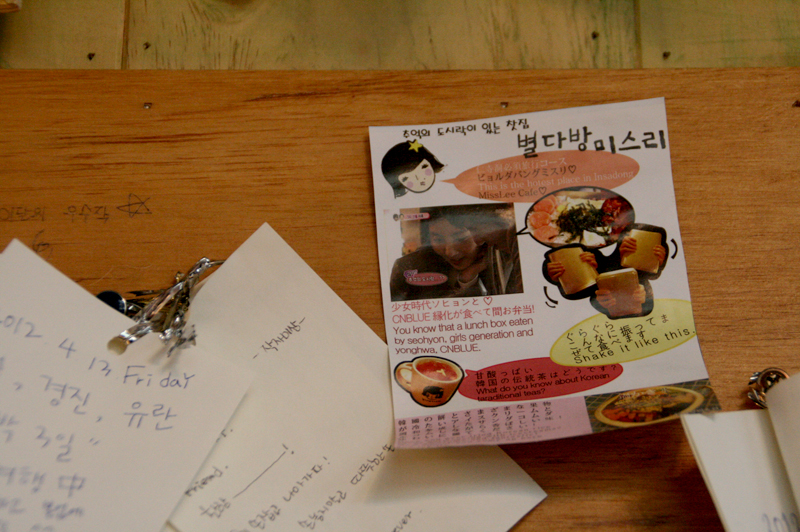 See? GOGUMA WAS HERE! They even have a photo from the We Got Married episode. Hee. I felt my heart flutter a bit, because I'm dramatic like that.
I really recommend the place! Even if you're not a fan of YongSeo, there's still something to be enjoyed. Also, the waiter was quite good-looking. Too bad my sister and I couldn't get a decent photo of him!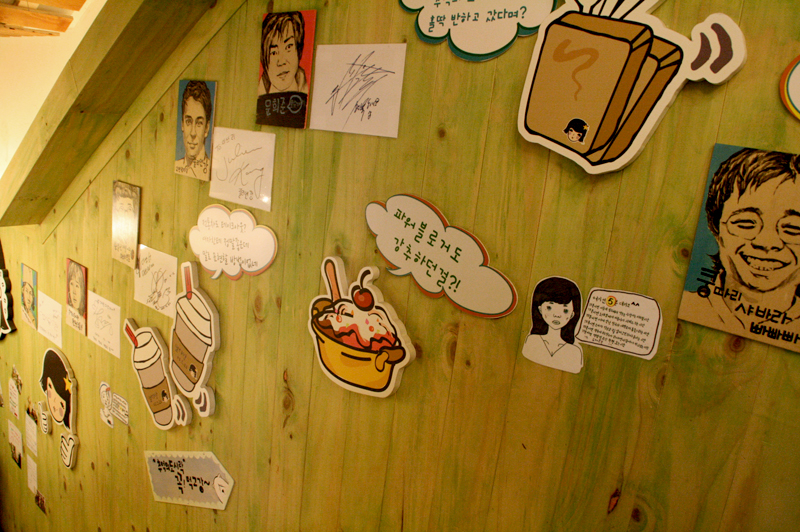 Once we were full, we headed to the Tourist Information Center for the hanbok fitting. There were pretty Koreans in the place and I felt too conscious to talk to them, my lesbian tendencies kicking in. Ha! But they were nice and even approached us first. We were preparing ourselves to pay about 700php per person for the hanbok fitting, but the information offices told us that we could do it for free! F R E E.  If you could do it for free, then I wonder why it's not so popular? When we got there, there's no one but us. And I saw a lot of photo studios in Insadong that offer the same service but with additional studio photograph but you had to pay W20,000.
So if you visit Korea, make sure to drop by Insadong Tourist Information Center and be a queen or a giseng for a day.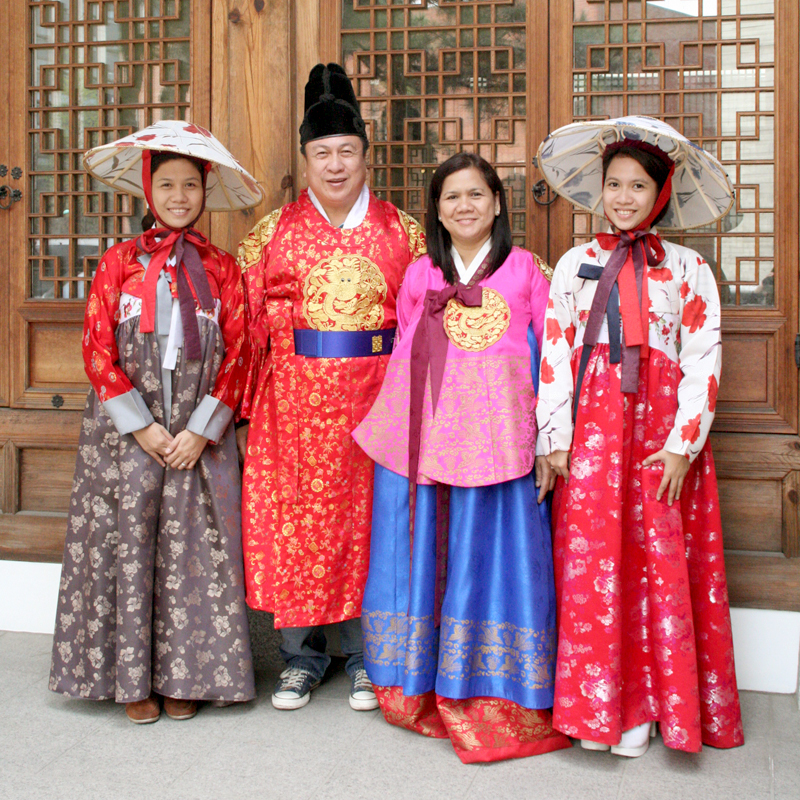 My sister and I chose to be gisengs and my mother tried to wear the men's clothes. Haha. The girls at the center panicked a little when they saw what my mother was doing. She doesn't watch any historical Kdrama so she doesn't really know the difference between a woman and a man's traditional Korean clothing.
They were quite particular which goes with which. They made my sister and I wear the headdresses but refuse to let our mother wear one. They said that since she was dressed as a queen, she couldn't wear one. Since I'm small (/sob), they also made me wear high-heeled plastic white shoes.
Also, the hanbok, any hanbok from the center, is so freaking lovely and it puts my fake hanbok to shame. I had a hard time choosing which one to wear so I just settled for the red/white floral one because, I don't know. It was just so beautiful.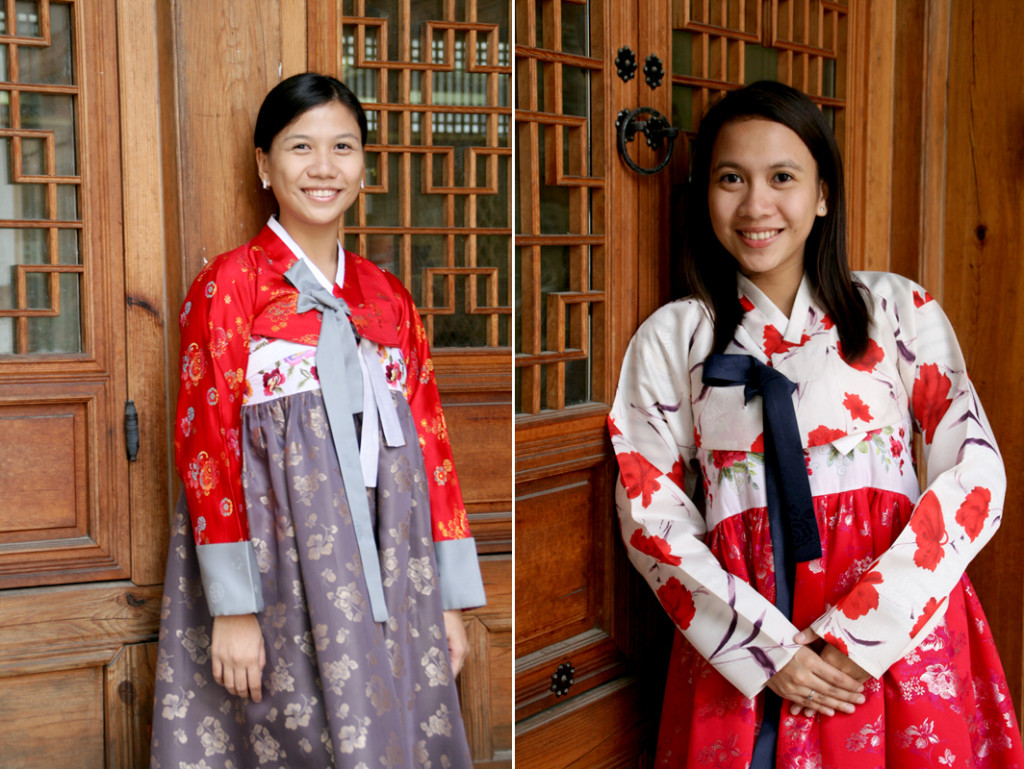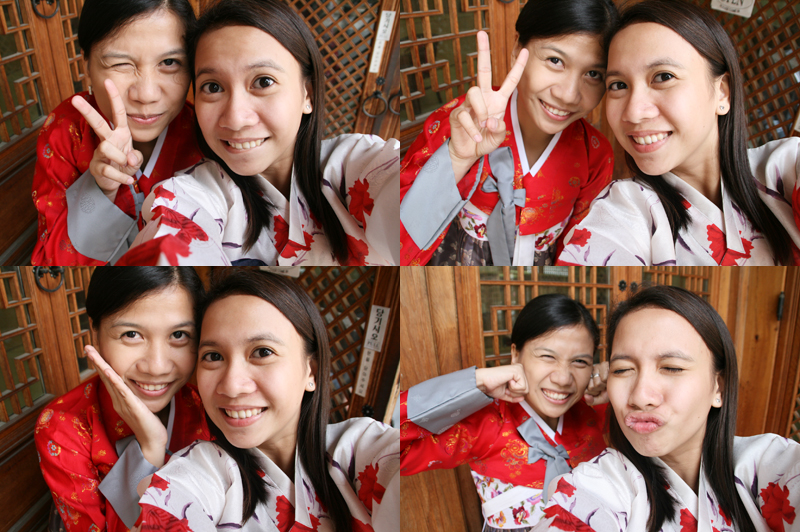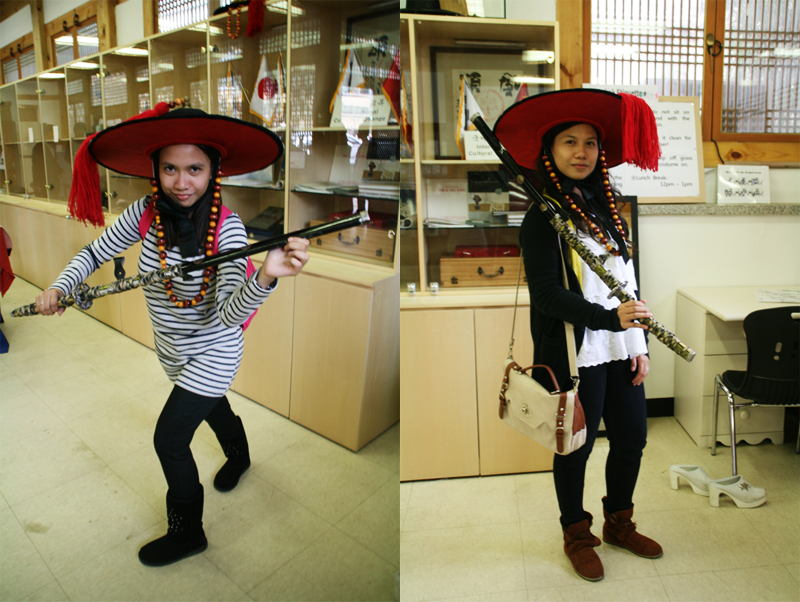 We also couldn't let that chance pass by not taking selcas. Even LeeGak (YooChun!) does it so why can't we? We also tried the headdresses worn by palace guards, and we were delusional to think that we looked fierce. I'd love to go back and dress as a man next time. I wonder if they'd let me?
Before we left Insadong, we went pasalubong shopping but not too much since we still had a few days ahead of us. We couldn't possibly splurge our money on shopping yet.
I'm pretty sure it's now quite obvious why this is my favorite day from the trip. This is only half of a really good day.
And since I don't know how to end this post, I'll just leave you with a photo of Jang GeunSuk and Lee MinHo.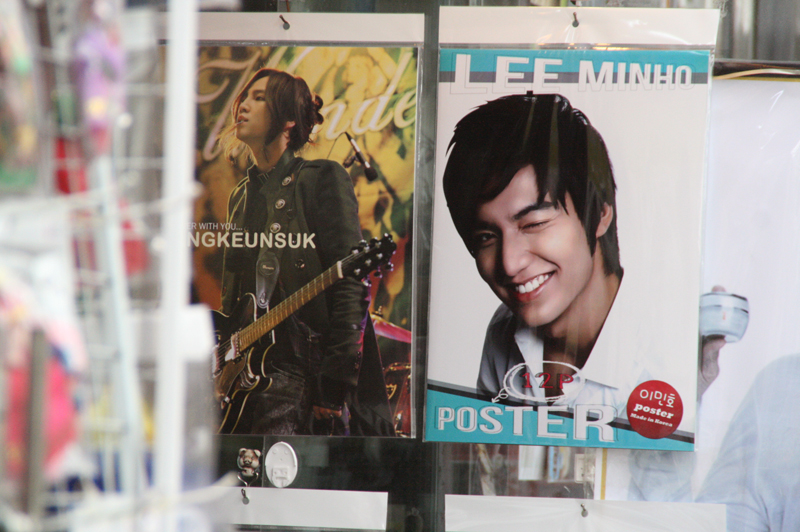 Related posts: