Despite being jetlagged (hehe) after a four-hour flight from Manila to Incheon, we didn't waste time lounging around when we arrived at the hostel. We only had four days to spend in Seoul, we're not going to waste a minute of it. Okay, that's an exaggeration because we actually spend a lot of time getting ready in the morning. Anyway.
Since it's just our first day, I decided that we should probably take it slow and go to spots that's easily accessible. No shopping, no amusement parks, just simple sight-seeing for my family to get a feel of the city. It was actually challenging to plan the entire itinerary because I had to consider which travel spots will be enjoyable for kids and adults.
For our first stop, we drop by the main headquarters of Korea Tourism Center in Seoul. But we actually got  a bit lost and only ended up accidentally finding it. It's not that easy to find because it's underground, and I got confusing instructions on how to get there. Apparently, I only had to look for the Tourist Information Center near Cheonggyecheon and I'll find myself in KTO. (More on the instruction later.)
Korea Tourism Office main headquarters or Tourist Information Center is a great place to visit for tourists. Here, you can get free maps and magazines which I did. I got a bunch of magazines with Sandara or Lee MinHo in the cover and gave it away to friends back home. Some of the magazines even have discount coupons, too, but only those printed in Chinese or Japanese. Also, this is shameless plugging but I wrote an article on how you can get discounts in Seoul, and dropping by KTO headquarters is one of them. 🙂
There are many things to do in the KTO HQ. For one, you can get as much information as you need to get around Seoul. There are tourist information centers scattered in every popular tourist spot in Seoul, but the HQ is a lot bigger. There are guides who can speak English, Chinese and Japanese (and probably more!), so if you're worried that no one can understand what you're trying to say, don't worry too much.
South Korea is pushing for medical tourism, and it's so obvious in the KTO TIC. One area is allotted for basic medical services that you can think of. They give away simple medical freebies, too, which I really like!
I took a test that determines what kind of tea fits my lifestyle and diet. I didn't know why I took it I don't even drink tea. Unfortunately, that time they didn't have the tea appropriate for me. It doesn't matter because I bet I wouldn't have noticed the difference. I'm just not into tea! They also have a bunch of herbs or whatever in this one table and they put it in small bags and gave it to my cousins. The bags smelled great and you can bring it around and smell it to feel less stress. Or something.
Gianna is so cute, don't you think?
The kids enjoyed getting their height and weight measured. We even tried the acupuncture thingy! It sounded so scary at first, but it didn't hurt. I only tried the sticker acupuncture, though. I only had to stick them on my temples, and I only felt a little prick. My grandmother tried the traditional acupuncture and she said it hurt a bit. I tried the acupuncture that supposedly makes your skin look better. Obviously didn't work because I'm having breakouts for the past month. /sobs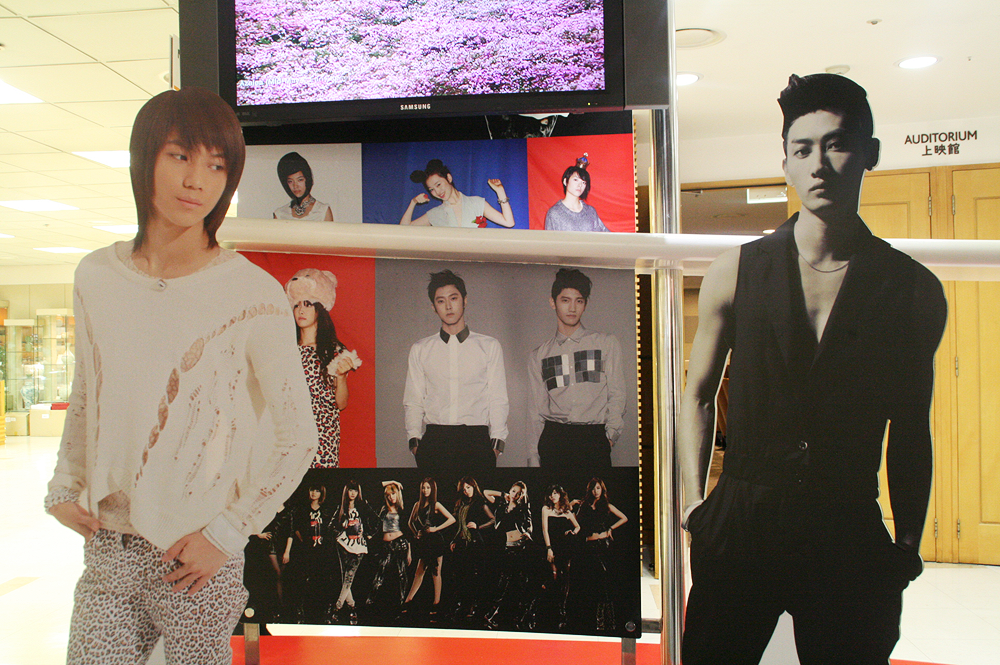 They also have a K-Star Gallery with standees you can take photos with. You know what's the greatest travesty? THERE'S NO CHANGMIN STANDEE. Seriously? But they do have a YunHo standee so I guess it serves as a compensation of sort. But still, you can't have a KPOP Gallery without ChangMin!!!! No, I'm not biased. Ehehe.
And yes, I'm actually taking a photo of TVXQ and not of Taemin nor EunHyuk.
However, our main goal in visiting TIC is to wear a hanbok in Seoul for free! There weren't that many people around, in fact the whole place is so quiet. We had to wait for the previous guests finish trying on hanbok before it's our turn. We couldn't convince the boys Gian and Gabby to try on hanbok, too. But us girls were excited!
As we all know, hanbok are often very colorful and oh so pretty. Nanay, my grandmother, wanted to try one, too. However, there were no hanbok in dark colors so she passed up this one. She can't wear bright clothing since it hasn't been a year since my grandfather died. It's too bad, because different sizes were available but the colors were too bright. We had trouble communicating this with the girls assisting us, though. I think they thought we're saying that my grandmother didn't like the color and design or something. But that's not the case!
That didn't stop my lola from posing with us though. Aren't we cute? I swear Gianna wearing hanbok is the cutest!
Please excuse my face. I was trying to act all tough and cool but it didn't translate well on camera. ㅠㅠ I only wanted to look like the head giseng or something. Or a queen. IDK.
We really enjoyed this Korean hanbok fitting experience because they let us wear it for as long as we wanted. However, we had a hard time communicating with the girls assisting us. I really don't want to make a comparison. In 2012, we tried the hanbok fitting in Insadong's Tourist Information Center and were welcomed by friendly ladies. The girls in the KTO TIC were a lot harder to approach. We were even apprehensive to ask them to take our photos because it seemed like they didn't want to. But I read other blogs and it seemed like they were treated well. Or maybe I'm just reading into it way too much. Maybe!
I still recommend that you visit KTO TIC because apparently, you now have to pay W3,000 in Insadong's TIC. I'm not sure if it's true, but that's what's on the website.
How to get to Korea Tourism Office's Main HQ:
Gwanghwamun Station (Subway Line 5), Exit #5.
Go straight until you cross the Cheonggyecheon Stream.
Turn left down the road running parallel to the stream (Cheonggyecheon-ro).
Go straight for approximately 6 minutes until you see the KTO building on the right.
** If you reach the Gwanggyo 4-way Intersection, you've gone too far.
Now, I saw some instructions that you have to watch out for the red and blue KTO logo so that's what I did. But I couldn't find it so we were a bit lost. But when I saw the Tourist Information Center's logo, we decided to stop by and ask for direction. Apparently it's the place we're looking for. It's confusing because I was looking for a sign that says "Korea Tourism Office" but the sign looks the same as other Tourist Information Center.
If you want more detailed instruction, you can check the main website or this other KTO one. It has maps and everything. You can actually reach KTO TIC via three subway stations but we went there through Gwanghwamun Station so that's the instruction I included in the post.
It was a pretty great way to start out trip to Korea. Though technically, we actually had an amazing lunch before heading to KTO. Hehe.