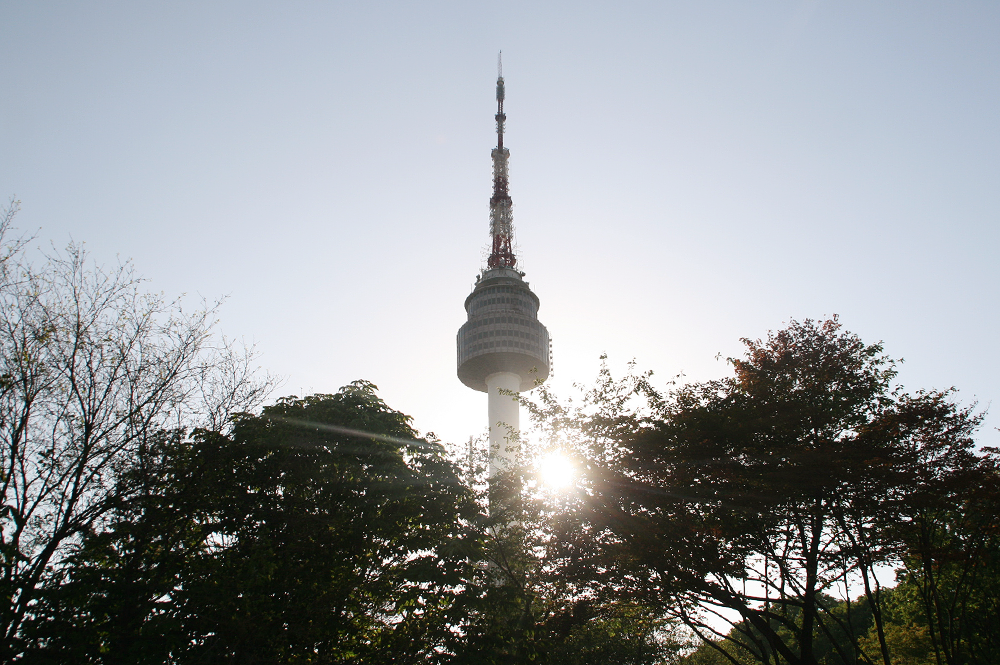 N Seoul Tower is one of the most popular attractions in Seoul, South Korea. You can see it perched on top of a mountain miles away, and if you watch enough Korean dramas you definitely know it's the perfect place for a first date.
It's my second time to visit N Seoul Tower, and I really didn't mind. I enjoyed the first time I visited the tower and this visit, too. However, I was sad to learn that there's no more Teddy Bear Museum! I was pretty sure my cousins would enjoy it, but the only Teddy Bear Museum I could find is in Jeju Island. So no chance we'll be visiting that one. It's still not a waste because we had a pretty great time and saw some amazing views.
I'm not sure if it's a tradition, but I'm definitely making it my thing to eat ice cream when going to Namsan Park. Be it a cold day or not, it seems like the perfect place to try some Korean ice cream. My cousins went a bit crazy and wanted to try everything. Foreign convenience stores do that, huh? There are so many alien things to you that you just want to take one of each and devour them all. Good thing I have more self-control now that I am older. Younger me could probably spend my entire travel allowance in a convenience store. I wish I'm joking.
It was a really nice Spring day. The weather was so perfect because it's not cold, but there's enough chill to make walking around fun and not tiring. Our hostel's host said that cherry blossoms arrived too early this year, so there were no longer cherry blossoms when we went to Seoul. It's too bad because Gianna wanted to see them, especially when I told her that it's pink. Heh. And the first time I saw cherry blossoms, I had no idea they were cherry blossoms. Huhu.
Namsan Park didn't lack flowers, though. There were so many flower beds! Marigolds and buttercups and everything! I can't list them all because I'm not good at flower names. Heh. Anyway, it was late afternoon when we arrived and the sun did magical things to make the trees look golden. It was so lovely.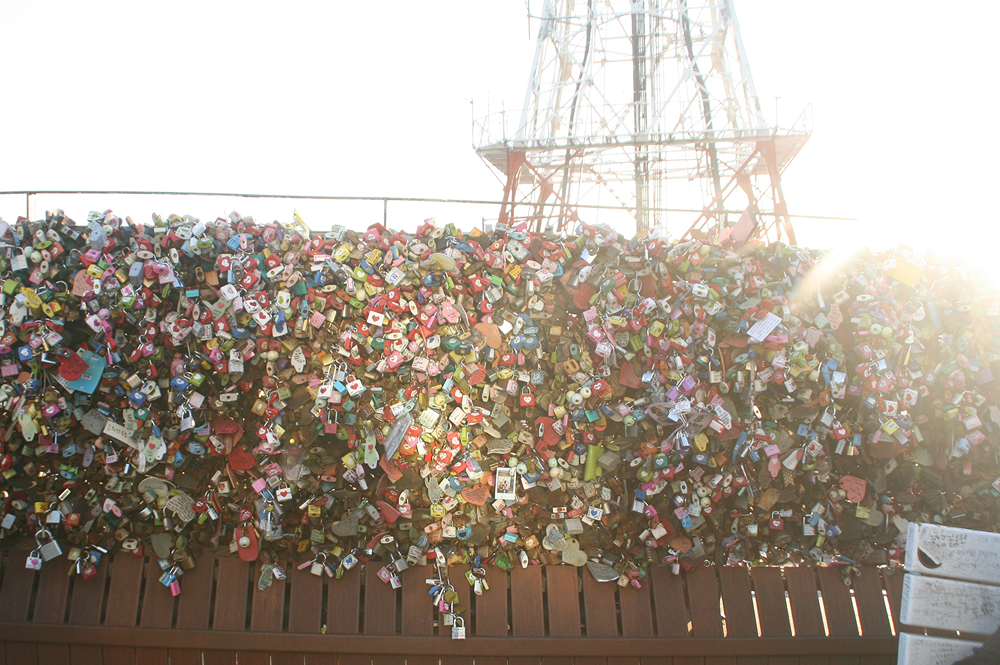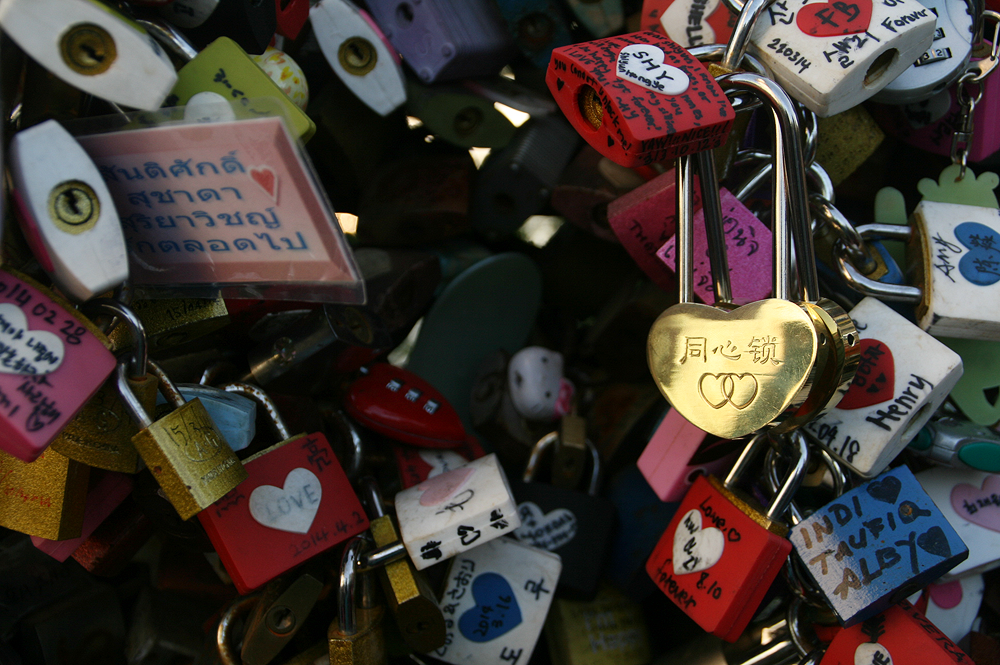 Of course, we dropped by the Locks of Love, too! They were very curious on why people leave locks and went around looking for the most ridiculous locks. Some are so big! Anyway, it's weird how others even leave behind cellphone casings. If they don't need it they can give it to me since mine is a bit dirty and broken already lol.
We entered the tower just when the sun was about to set. Even though there's no longer a Teddy Bear Museum, at least there's still the observatory. Actually, I wanted to show them the night sky of Seoul, but we were too early! We had to wait for a long time before the sun set. Good thing everyone was so game to wait for the sunset, especially Gabby!
I'm glad we waited. It was a magical hour and even though it felt like forever waiting for the sunset, it was all worth it. There's nothing much to do in the observatory but the sunset was pretty nice!
Since we had a 360-degree view of Seoul, some parts were still so light while some parts were already basking in a golden color. Maybe because we were so high up but the sun setting probably took an hour or more. But then again, I didn't mind the wait. So pretty. It's just a bit sad that I can never give justice to how pretty the sky was that night.
It's perfectly okay to go to N Seoul Tower at night. Just when we were leaving at around 8PM, so many people were just arriving. Besides, there were some pretty lights. I loved the shadows the leaves made. So interesting!
Also, if you don't feel like shelling out a few thousand won to enter the observatory, you can still overlook Seoul in the park. Heck, even in the bus stop! You're way high up already anyway, so  if you wanna save money, you can opt out of going to the observatory.
N Seoul Tower Admission:
Adult (9,000) Children (7,000)
w/ Alive Museum: Adult (15,000) Children (11,000) [Didn't go here because we went to Trick Eye Museum instead!]
Learn how to get discounts at N Seoul Tower.
Best Time to Visit N Seoul Tower:
The best time to visit N Seoul Tower is just before sunset. This way, you can have a view of Seoul while there's still light and you can also witness the sunset from the tower. Wait till its dark before living so that you can also witness the city lights spread throughout the city. The N Seoul Tower also lights up at night, and it will be a shame to miss the display of lights.
Namsan Park looks beautiful be it spring or autumn, but it especially looks lovely during the day in spring but it looks a hundred times better at night during fall.
How to get there:
Take the subway and drop off at Chungmuro Station (Line 3 and 4).
Once you go out of Exit 1 at Chungmuro Station,  you should see the Daehan Cinema.
Look for the bus stop (straight ahead!) and wait for Bus #5 that goes straight to Namsan Park.
Alight at the last bus stop.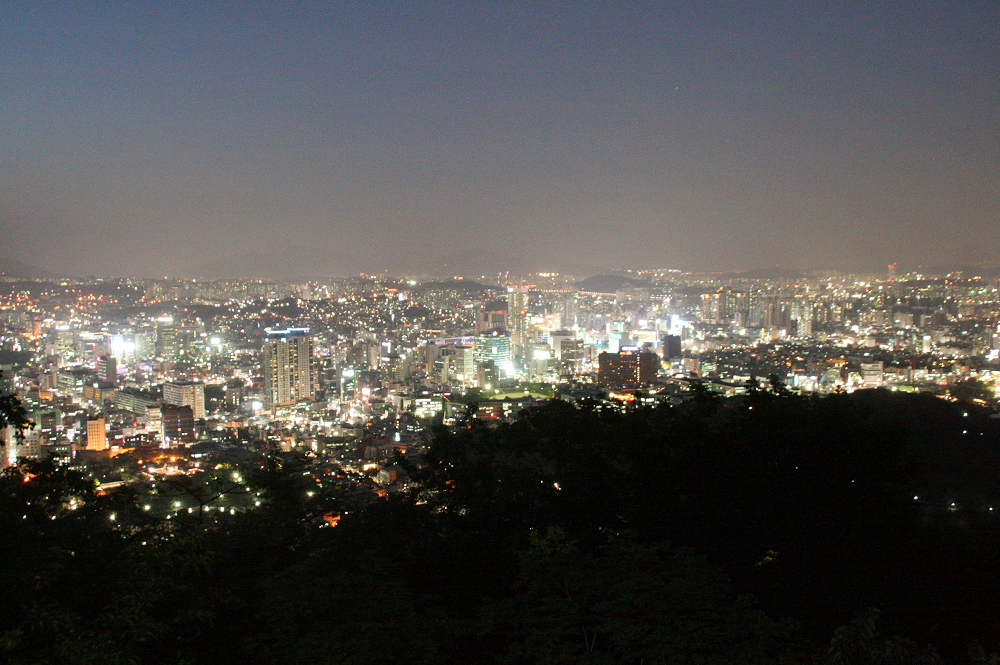 The Seoul skyline at night!