Hello! This is the second part of our day 2! Like what I've said in part 1, it's my favorite day from the trip.
After Insadong, we went to the nearest subway station, Anguk Station, and of course, my heart was racing at that point. We're talking about THE subway. Riding the subway was on my Seoul to-do list because of a lot of reasons. 1.) The opening scene of My Sassy Girl is on the subway station. My Sassy Girl is my first Korean movie. 2.) A lot of scenes from fanfictions and South Korean internet novels happen on the subway. Internet novels used to be my life when I was in high school. 3.) JUST BECAUSE. Okay, I only had three reasons.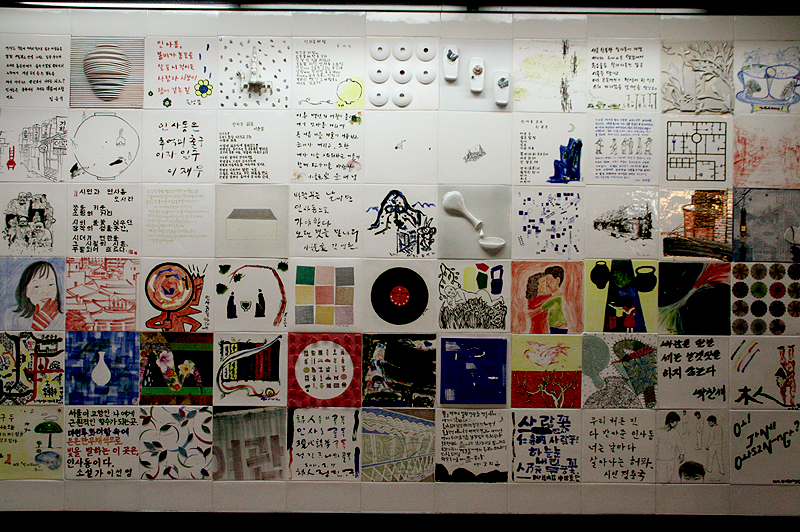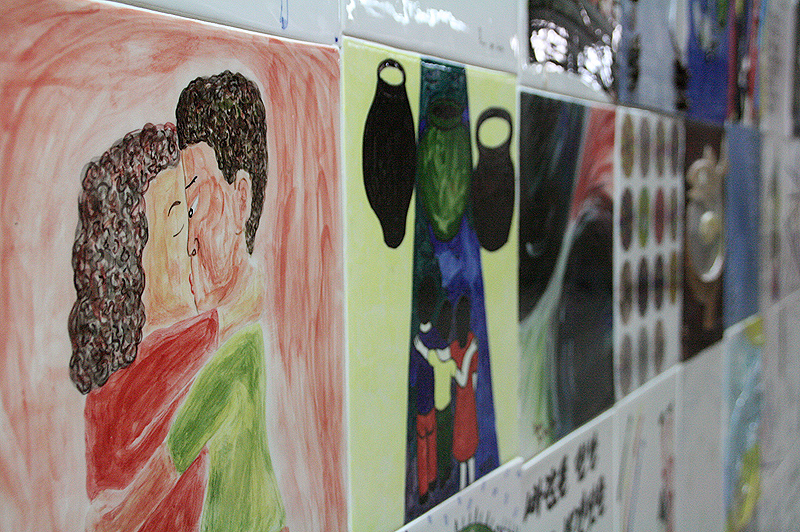 Anguk Station was quite lovely. I cannot remember which Exit we entered. It's either 4 or 5, I think. Once we went down to the station, this wall full of artworks welcomed us. Obviously, it's by different artists. They also used different materials and some even carved on the blocks. It's amazing. I like how they seem to try and incorporate art in almost every available space.
We bought a T-Money card (W2,500) so that we could ride the subway. We bought it in a 7-Eleven store located inside the station. It's quite easy to use T-Money, and all you have to do is reload as much as you want. The content doesn't expire, too. You can also use the T-Money card when riding the bus! The reloading machine also has the option of having the instructions English or Korean. So we didn't really have much trouble.
Since it's our first time riding the subway, we had a pretty hard time making our way around the situation. Good thing we met a Filipino mother and daughter who were also going to Chumuro station. But I think even without their help, we'd manage just fine but it would definitely take us longer. Haha!
The Seoul subway system is pretty impressive. There are actually 14 subway lines that can take you anywhere in Seoul. One line even leads directly to the Incheon airport. There are also maps (in Korean and English) inside the stations so as long as you know where you're going, you'll definitely find your way. But we did get lost once haha. Also, the signs are in English! And they also give directions to the nearest landmarks. They made the subway system pretty easy for foreigners to navigate.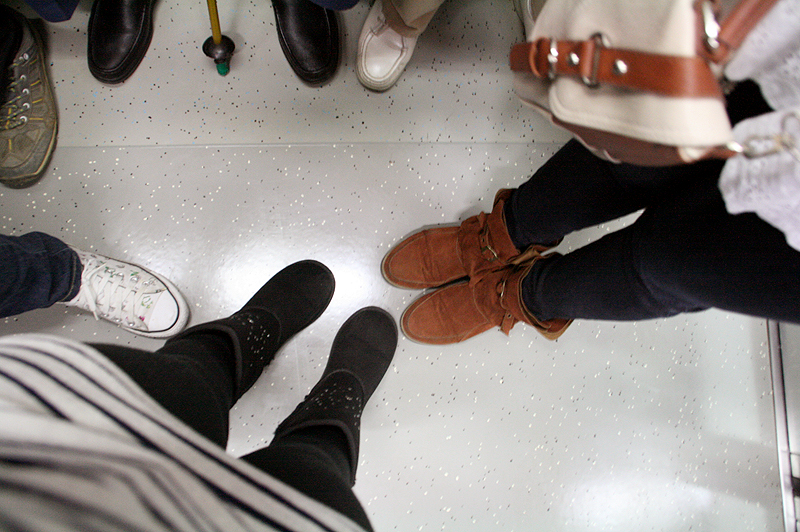 By the way, our destination was the N Seoul Tower. To get there, ride the subway and get off at Chungmuro Station (Line 3 or 4) and get out at exit 1. You'll see the Daehan Cinema the look for the nearest bus stop. There are special buses that will take you to the top of Mt. Namsan where N Seoul Tower is located. We took bus #2 but I think you can also take bus #5. We also used the T-Money card to pay for our bus fare.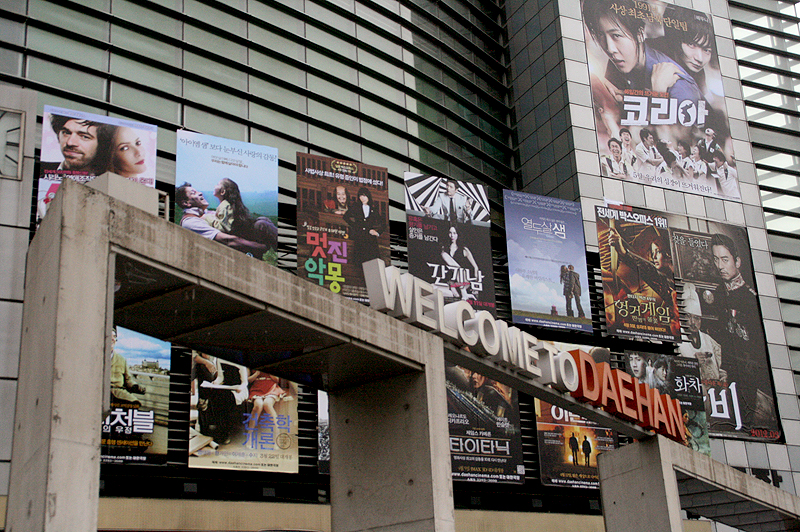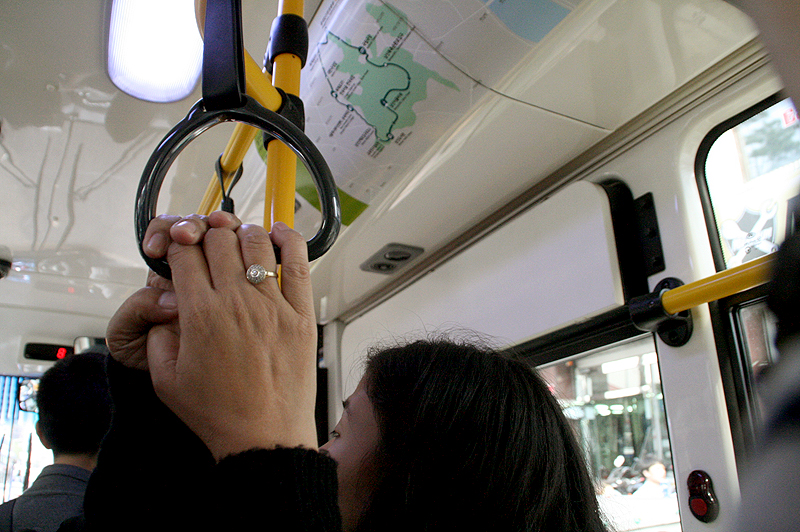 The bus was packed! But I didn't mind standing during the whole bus ride. I think I was too happy experiencing so many things for the first that I really didn't mind all the hardships we endured. Hehe. On our way to the top, we passed by these mesmerizing array of trees with so many beautiful flowers! I'd read about the walking trail on Namsan Mountain filled with cherry blossoms and forsythias and wanted to go there. But we could only pass by and watch in awe. It really was so beautiful. So if you have enough time, drop off from that stop. You can ride the bus again to reach N Seoul Tower but you can also walk. But it was quite far.
When we finally reached the last stop, we were welcomed by a large crowd! It was the most tourist infested place we had visited just yet. Oftentimes, we're either the only foreigners or there weren't much. There were still a lot of Koreans, though, especially couples who were way too cute, really.
The view was amazing! We still weren't on top of the mountain, and had to walk uphill first. But the view was already so pretty!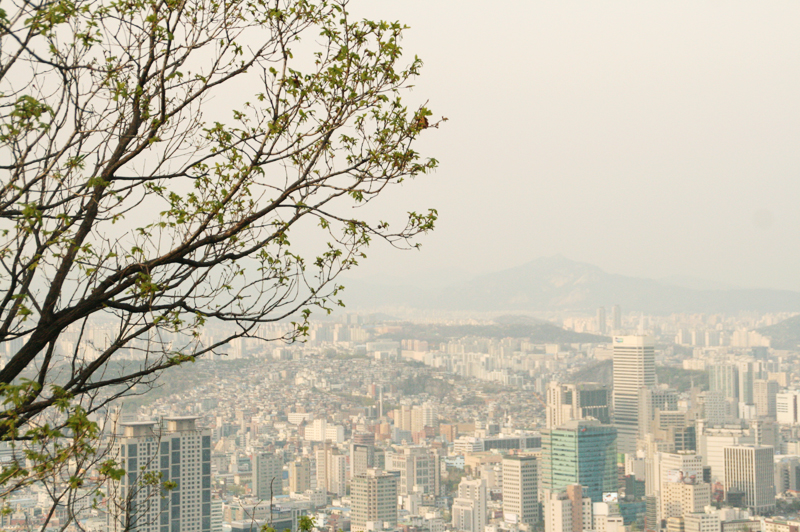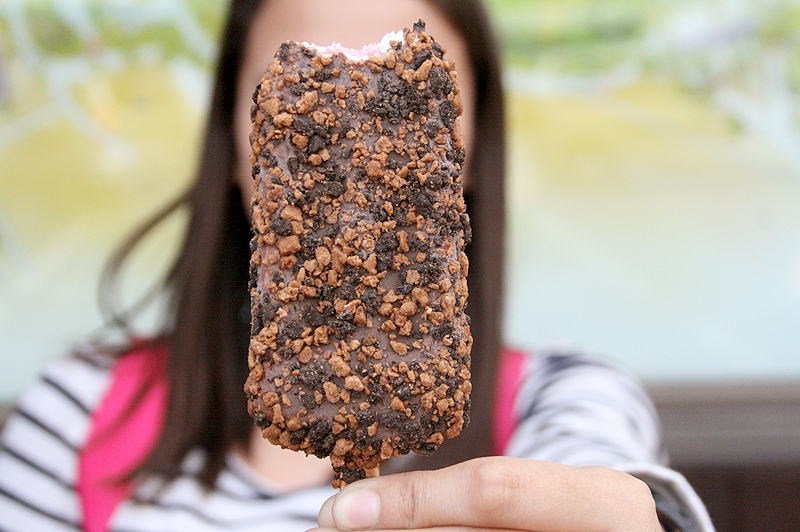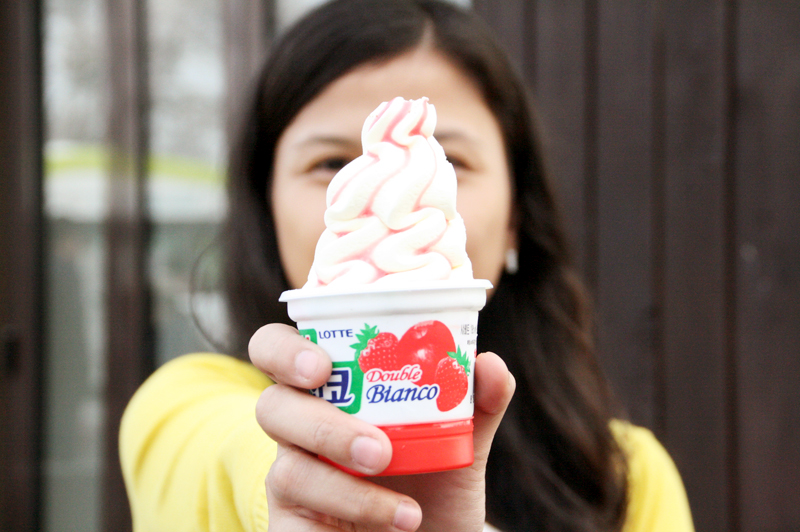 The first thing we did was eat ice cream. Korean ice creams are love. I said that I'd eat as many Korean ice creams as possible. but the weather was too cold for that! But there were so many people eating ice cream and we got a bit jealous. I tried the strawberry-flavored one covered with chocolate chunks. My sister tried an apple/strawberry sundae which is my favorite ice cream from Rada mart (the Korean grocery near my office).
We had to walk a long slope to get to N Seoul Tower. It wasn't steep but we still had to rest every once in a while. Good thing the weather was so good that we didn't sweat even a bit! on our way to the top, we see a crowd trying to have a glimpse of a bird. I'm no expert and didn't bother asking anyone what bird it was. But my father was pretty interested. My mother, sister and I continued on our trek but my father insisted to take a photo of the bird. I was guessing it was a rare kind of bird (Birds are everywhere in Seoul!) since it's mostly the Koreans who were so intrigued.
I truly enjoyed our walk for some weird reason. I'm pretty sure the slope was even prettier if the trees were in full bloom already. But even with the barely leafed trees, it was already quite pretty.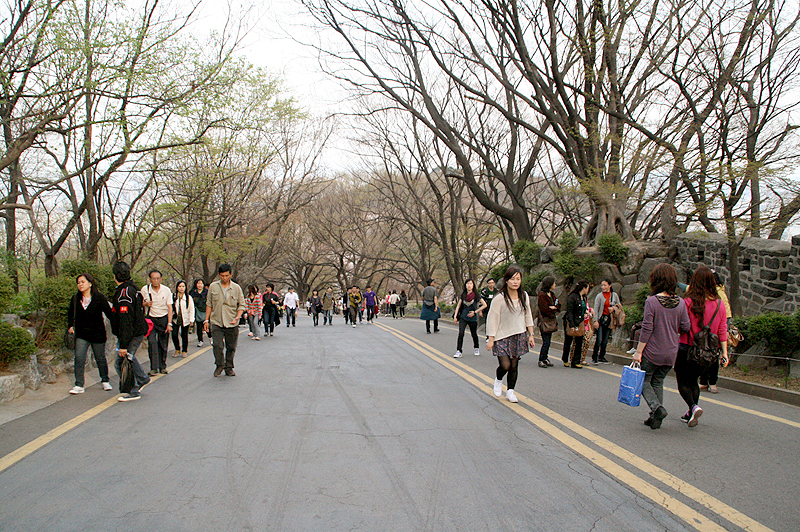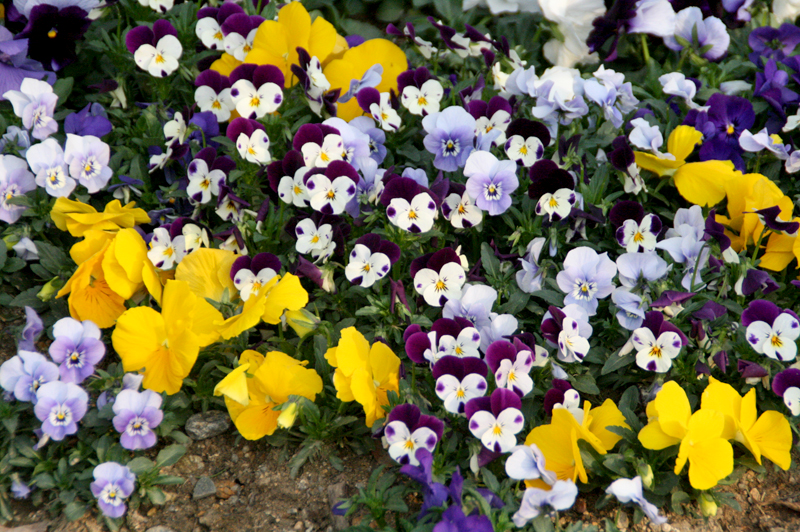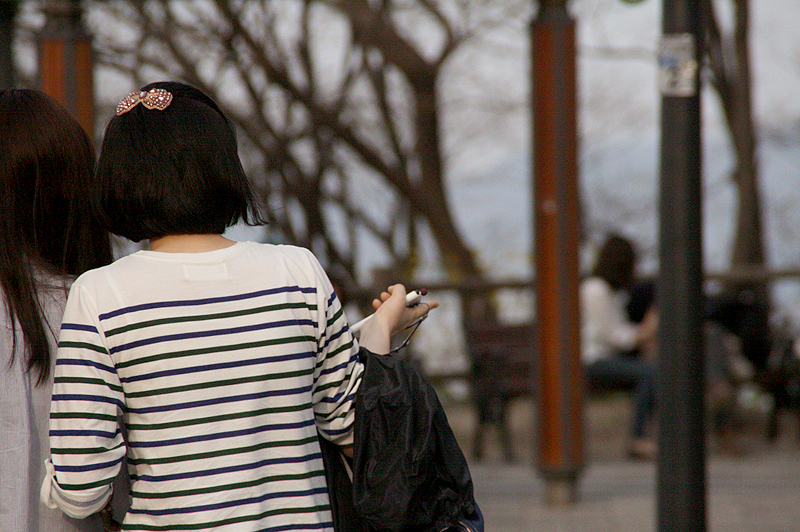 Despite enjoying the walk, I was still quite glad to reach the top! We were welcomed by an even bigger crowd and a pretty site of teddy bear mascots and a hanok-style gazebo. But I didn't take a photo of it and I don't understand why. So I'm asking myself why for the past couple of days. Why, Jane, why?
Our first stop is Namsan Tower's Locks of Love that's shown in the movie Hello Stranger. Remember the one where couples can leave padlocks with their names and whatever written on it? Yes, that place. But unlike in the movie, it's actually not allowed to throw the keys. Heh. They have a trash bin where couples can throw their keys if they don't want to have it for safe-keeping. I was actually so excited to go there since I wanted to leave a Jalex padlock *ahem* but I forgot to bring my own lock! So I figured that they're probably selling padlocks and they do but it was too expensive. Also, I was with my parents and I felt shy around them when it comes to showing my cheesiness.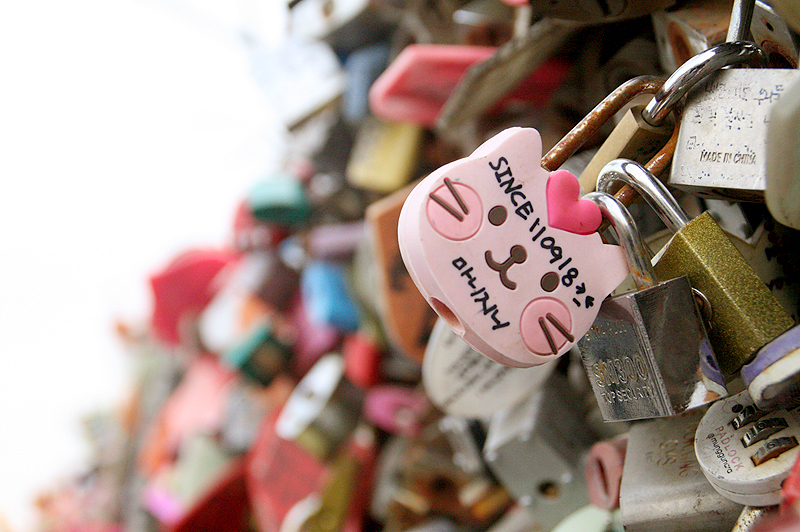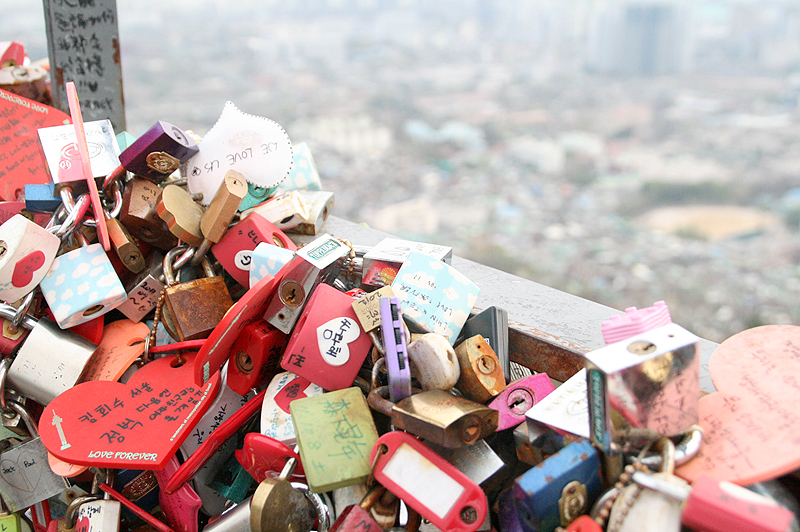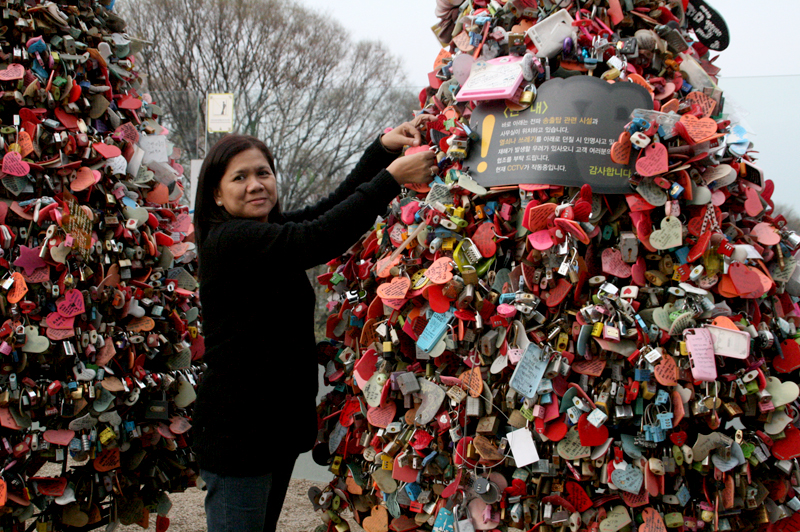 I enjoyed looking at the locks and trying to read what's written on them. I wondered whether the couples who put the locks there are still together. There's this humongous silver padlock that's the same size as a hardbound book and the faces of the couple was engraved on it. People were staring and pointing and laughing in amazement at it. But it really was so amusing. I guess they just have so much love for each other. Haha.
After fooling around with the locks, we bought tickets for the Teddy Bear Museum and the Observatory. We bought the combo tickets for only W14,000 each. I think buying tickets for only one of the two is a bit pricier. And besides, we're already in Namsan Tower so why not see both? My parents, at first, said they'll just stay on the ground floor. They're not fans of height and I think they were worried about the expenses. I was so glad that they agreed to go up in the end. It turned out to be their favorite part of the trip!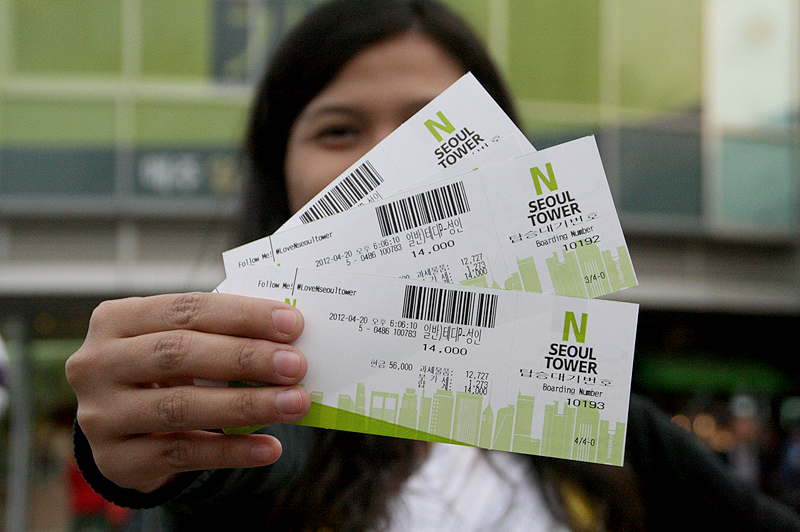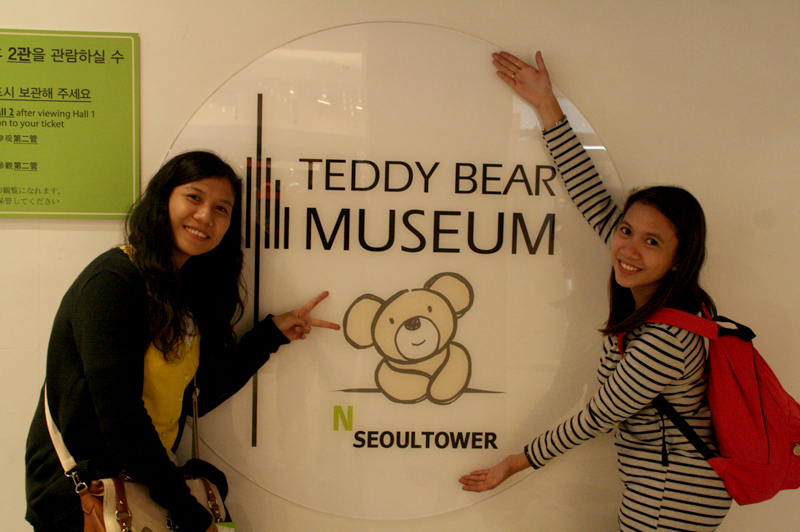 I want to congratulate my sister for finally visiting Teddy Bear Museum! She had wanted to go there ever since she got addicted to Goong (Princess Hours). She waited 6 years for this! Heh.
The Teddy Bear Museum has two parts, and it starts with the Legend of Dangun. It's about a bear who wishes to be a human, and due to her dedication is transformed into a woman. She is soon married to Hwan-Ung, the son of the God of All, and gives birth to Dangun, the one who established the Choson Kingdom. Below is an explanation of how this legend affects their society even now: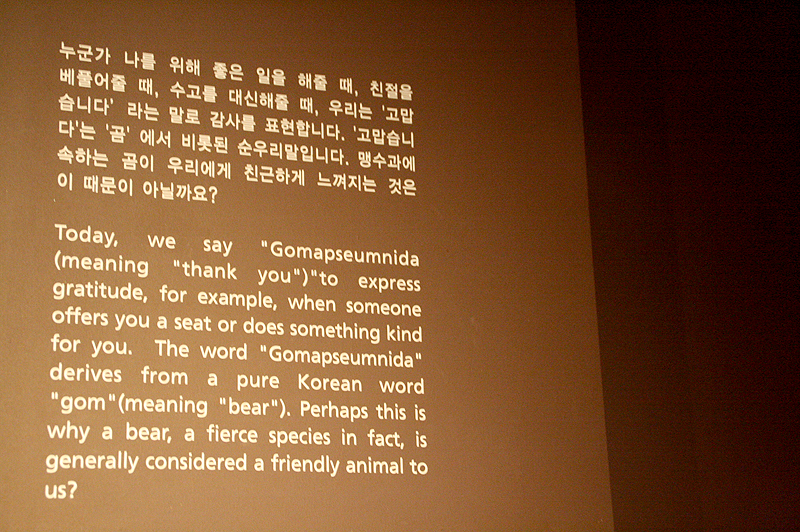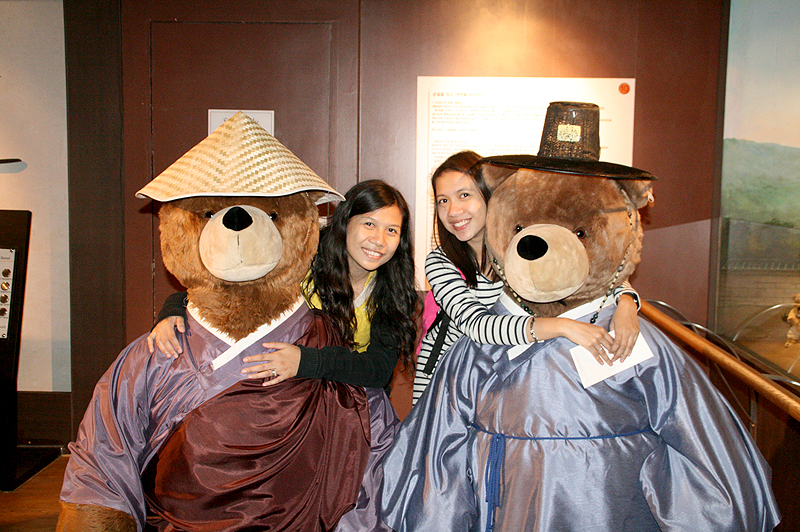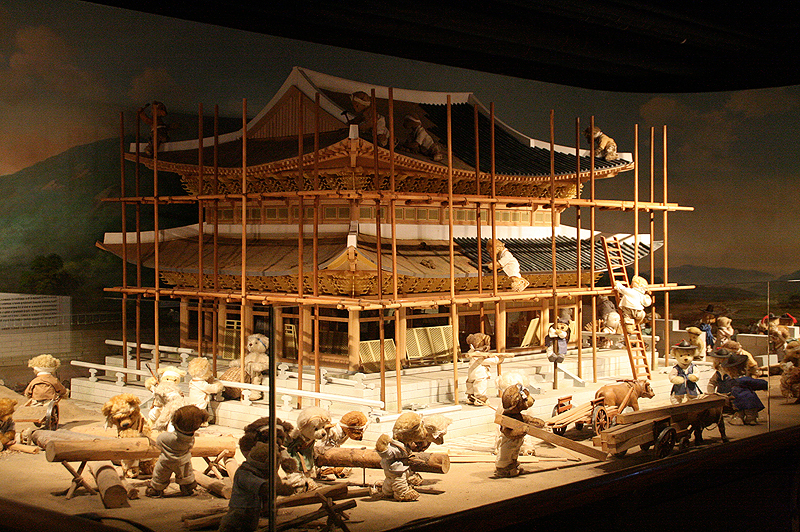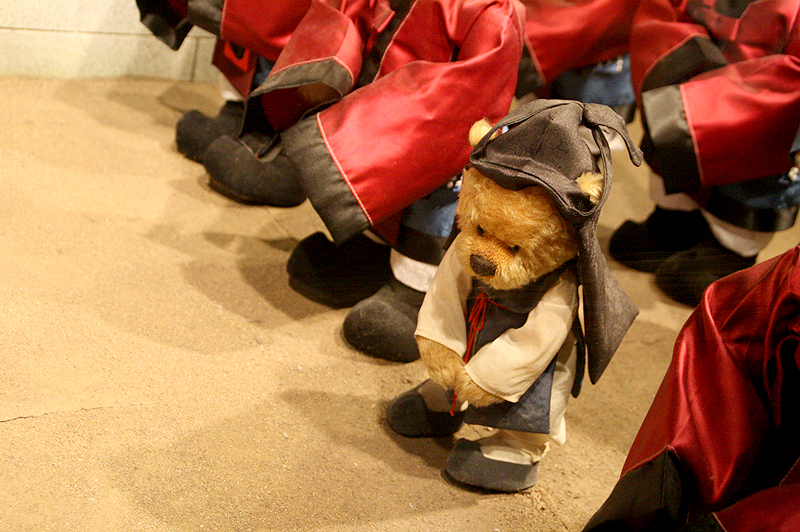 Every exhibit left me mesmerized. Everything was so detailed! The first part of the exhibit shows the start of the Korean dynasty, from the ancient times! Wherever you look, there's just that intricate detail that lets you know that they put so much work in this. I also couldn't help think how much money they spent building the museum. There were probably hundreds, no, thousands of teddy bears used, each one wearing a costume. And the set! Just unbelievable.
We took a leisurely time moving around the museum. You can't just pass by one and not look at everything. After a few exhibits, we noticed how this little teddy bear seem to be making an appearance in almost everywhere! He's a lot smaller than the other bears and he's wearing the same clothes! It suddenly became a game to spot him first. He didn't fail us. So kyot!
There were also tons of life-sized teddy bears with movable hands! We definitely enjoyed making them hug us. Lulz.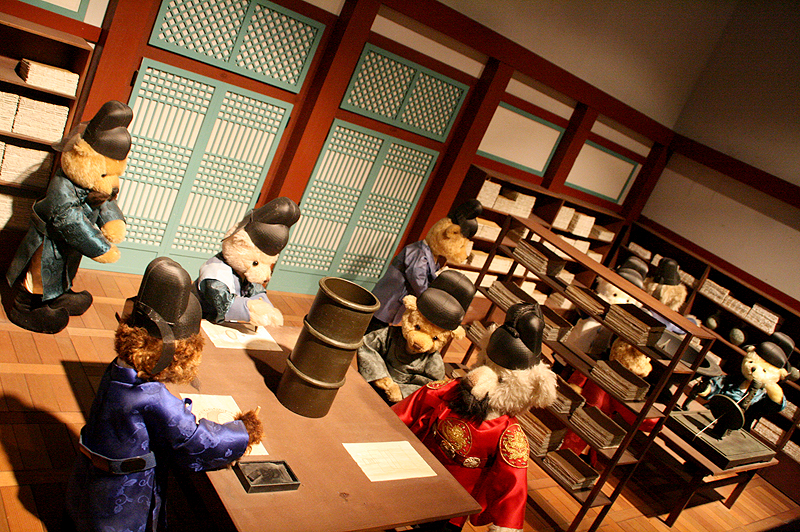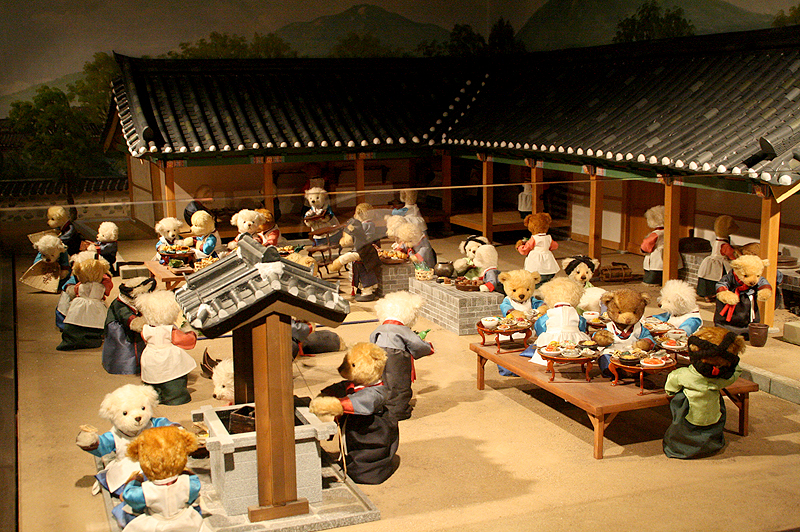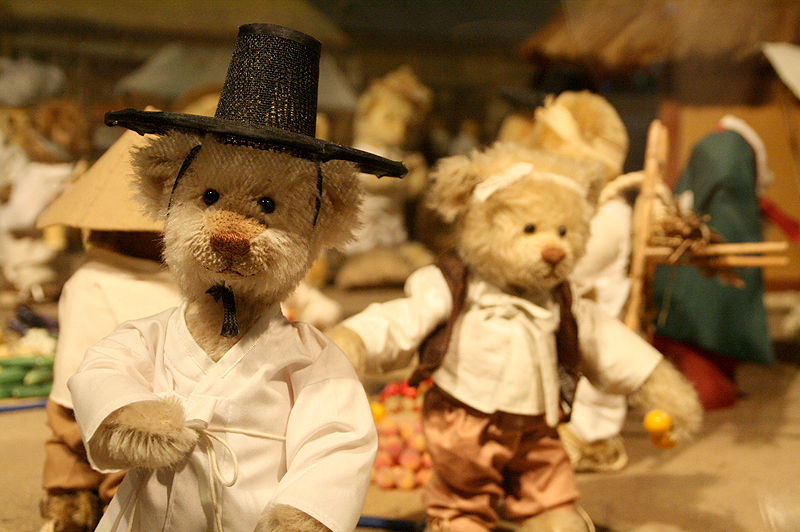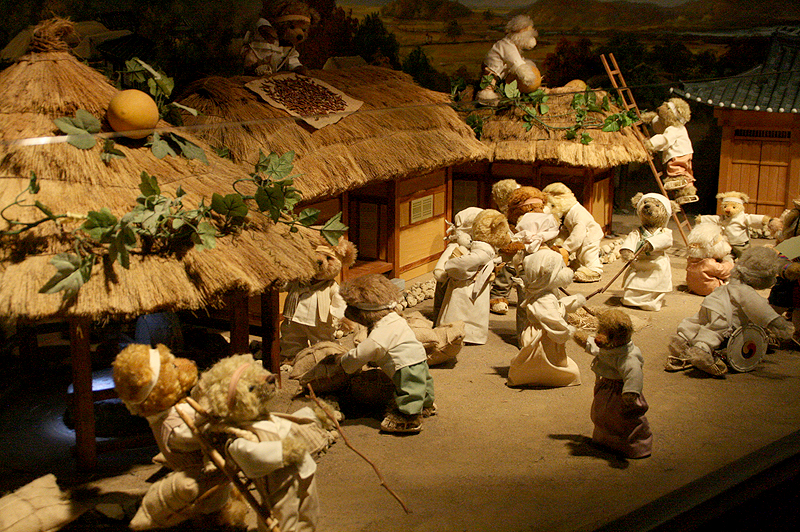 Just don't quiz on me on everything I learned in the museum because that would leave me speechless. Haha. I can barely remember anything!
We had to make an exit after the first part. On our way to Part II, we saw this So JiSup standee and copies of his SONIce magazine! There was an open one and we couldn't help but browse through it. It was glorious. I'm not the biggest fan of ajusshi, as we fondly call him for role in MiSa, but my sister is the biggest fan, okay. Her biggest regret was not buying that magazine.
On the entrance of Part II stands a teddy bear dressed like Shin Goon (Princess Hours)! I think my sister wanted to cry.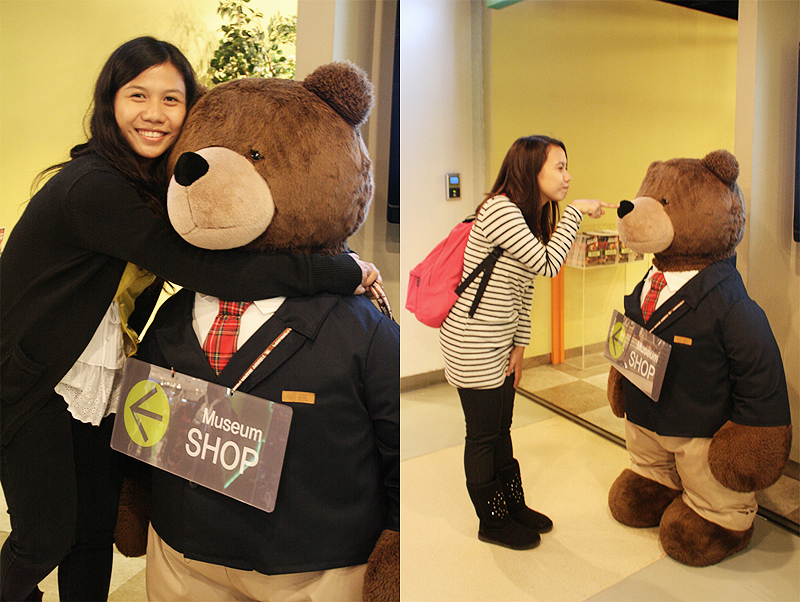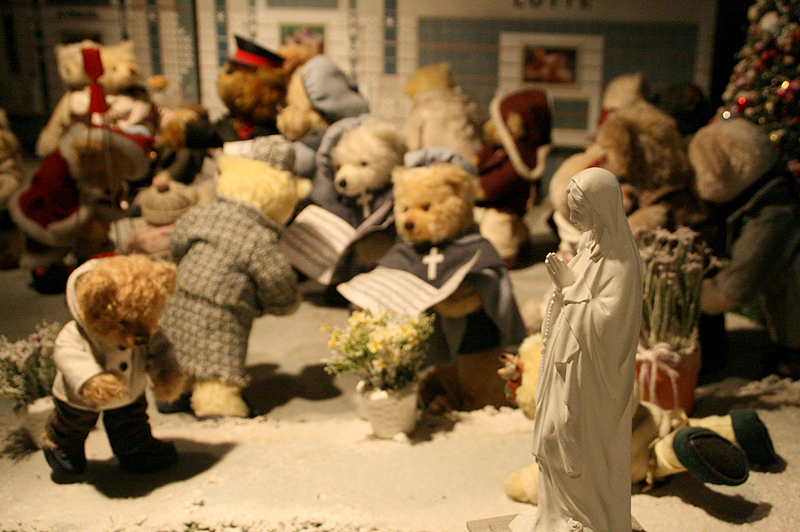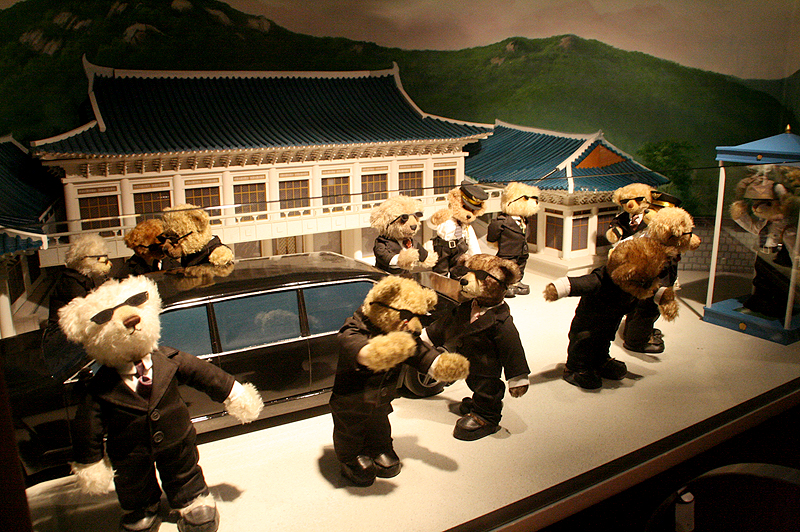 The second part shows the development of Seoul and its various districts. There's an exhibit for Myeongdong, Cheonggyecheon stream, Blue House, Insadong, etc. It's also amazing how many of the exhibits have moving bears! Like the Bboys below were actually bboy-ing. And the car in front of teh Blue House was actually moving!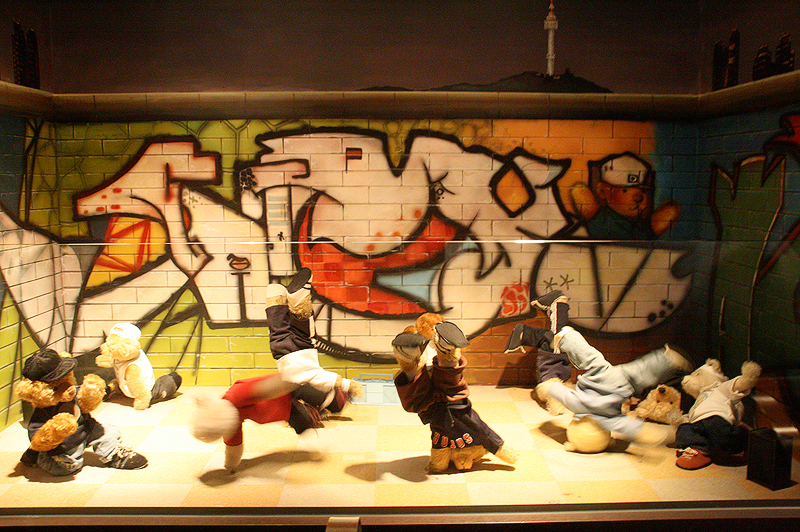 If you're a fan of Princess Hours (Goong), then it's a must to visit the Teddy Bear Museum. The scripts and the teddy bears used for the drama were part of the exhibit! There's even a life-size version of the teddy bears used in the drama. They also sell postcards of the teddy bear scenes from Goong.
After the Teddy Bear Museum, we headed straight to the N Seoul Tower Observatory. We had to ride the elevator and even riding the elevator was quite exciting. They made you look at the ceiling, and they called the ride Shocking Elevator or something. (That rhymes!) When we reached the top, there were so many people! We immediately looked down and saw this glorious sight: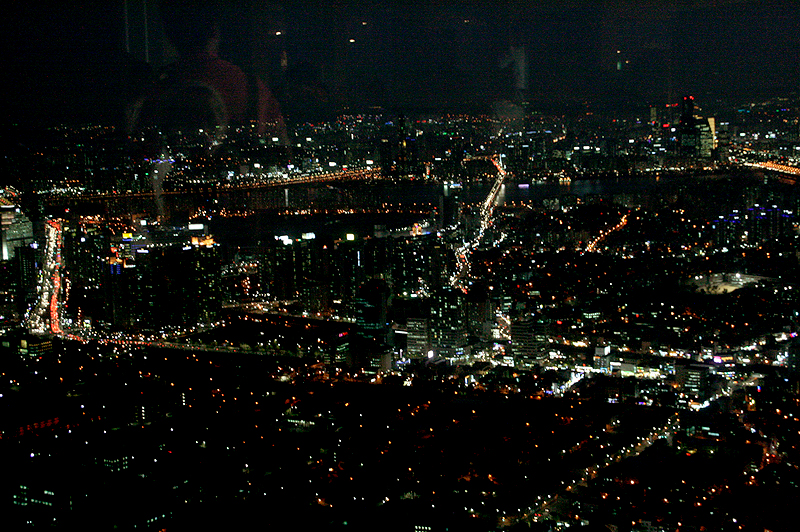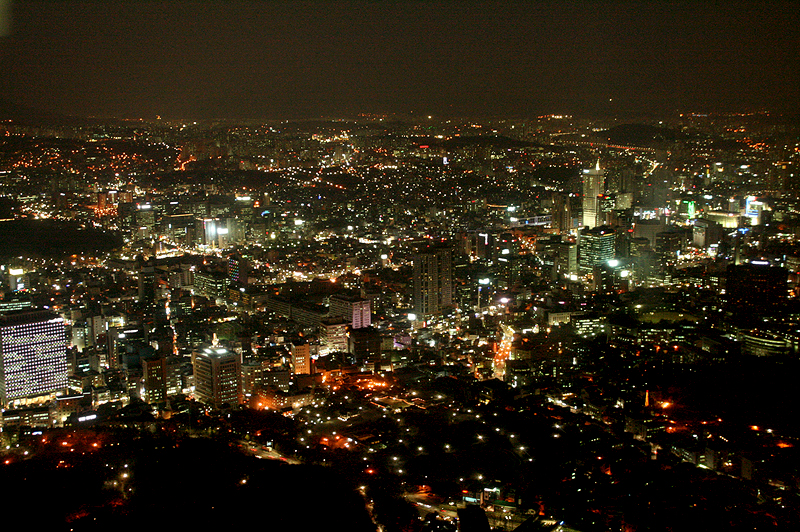 Seoul at night is not as bright as HongKong but it's still beautiful. You can even see the Han River and such, but I only guessed which one's the Han River. Hehe. My parents got a bit dizzy but they quickly overcame their fear of heights and enjoyed the whole thing. I could spend an entire night just up there. It was that pretty.
There's also a Shocking Floor in the observatory. Just jump right into it and a visual would make you feel as if the floor's crumbling and you'd be rushing to the bottom. It was amazing. Or I'm just bano.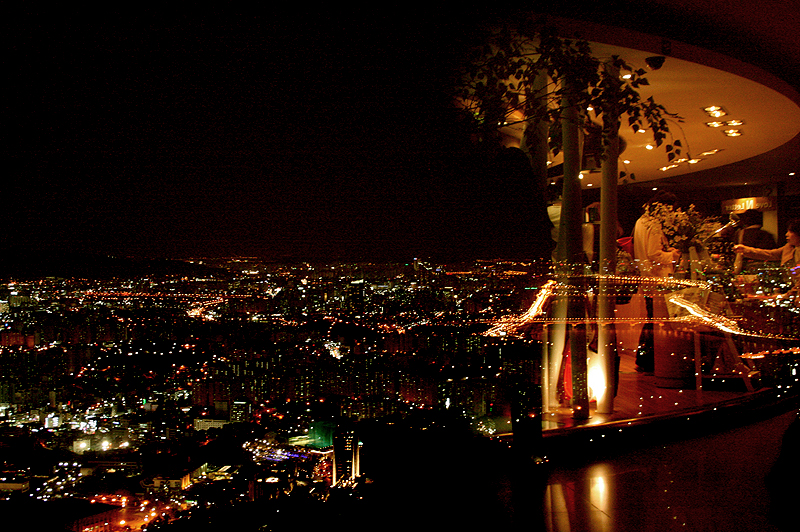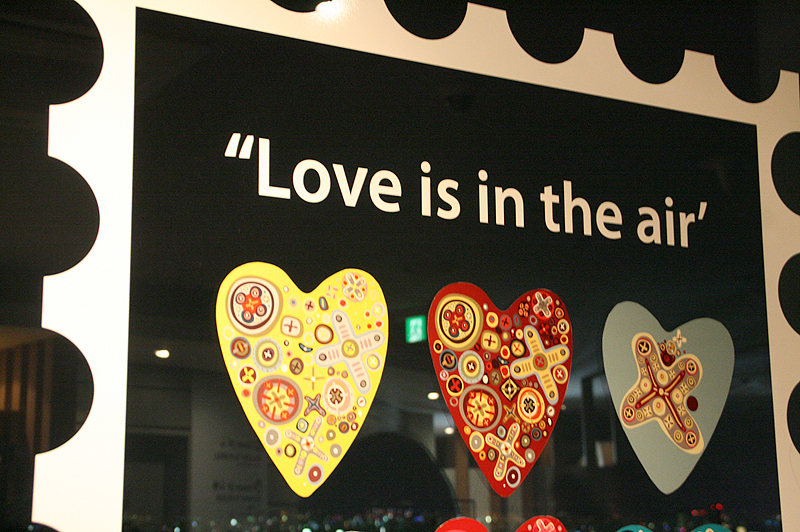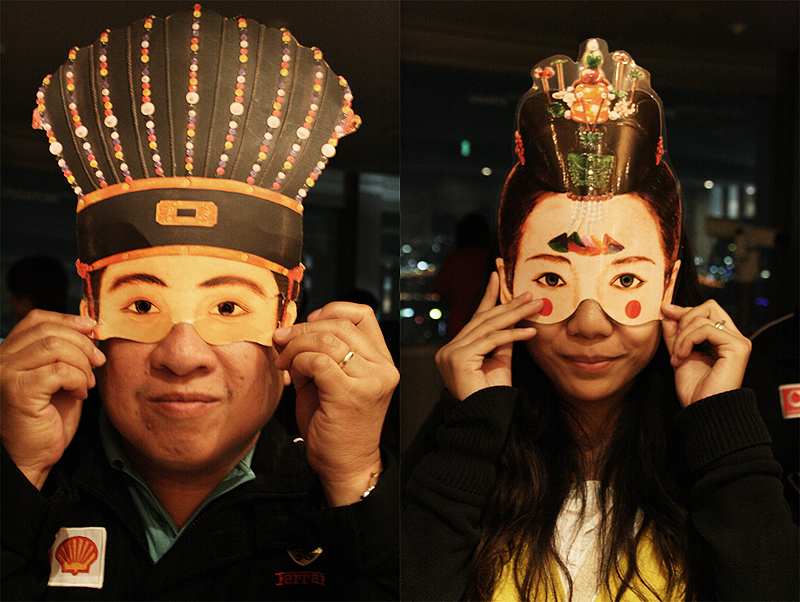 There were also stores in the observatory, but we didn't buy anything since it's quite pricey.
Have I told you how much Koreans seem to love leaving behind their writings? No? Well, they seem to write everywhere! But in establishments like this, you either get a padlock, a block of wood, or a slab of colorful cement to leave your mark. It's like a classier version of writing "I WAS HERE." or something. But since we're cheapskates, we didn't do anything we've mentioned since you actually have to pay.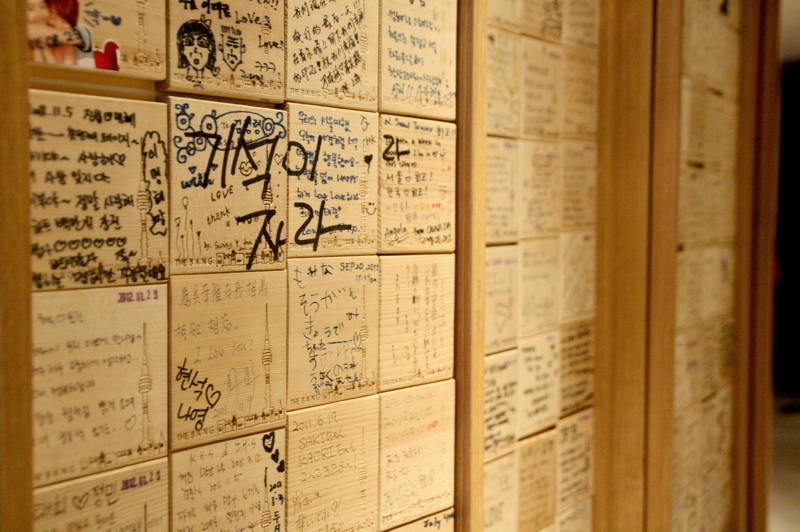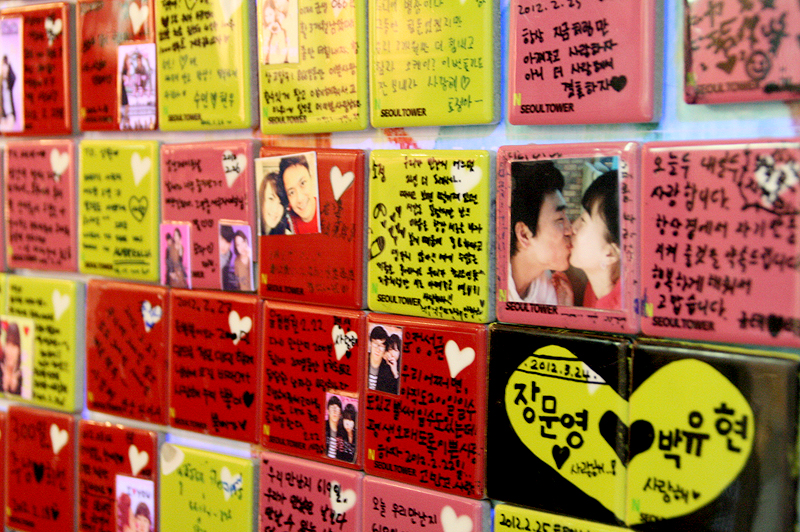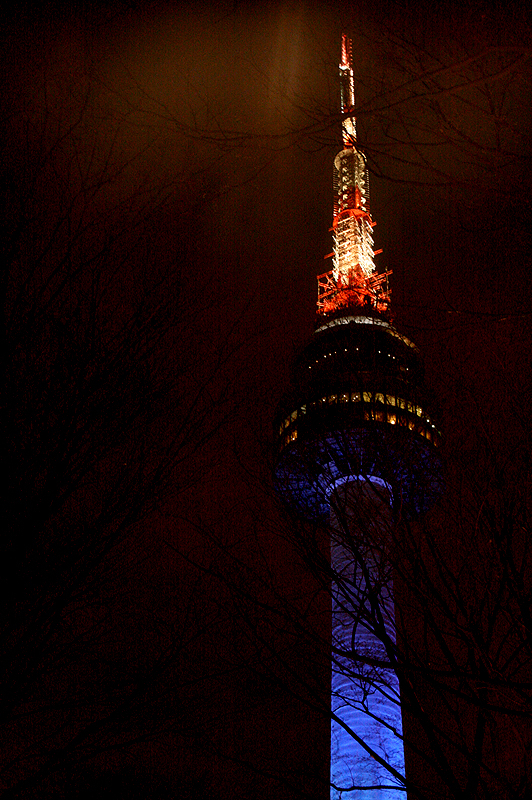 Once we got outside, we realized how cold it was. Good thing I have the pang-anak-ng-mayaman coat Ate Karen gave me as a super advanced birthday gift. Haha! It was all cuddly and warm.
We were supposed to ride the cable car but my parents didn't want to. So we didn't. It was quite sad, really, but hey, I can always come back. Heh. If you're going to N Seoul Tower at night, stay until 9PM to see the show! They project a little video presentation in the entire body of the tower. I don't know how they do it, really. At that point, so much advanced technology was about to make my head burst. It was nice and I'm glad that we stayed a bit. We actually didn't know there's a 9PM show that only lasts for a few minutes!
We got home by riding the same bus and dropping off at Deahan Cinema. Then we rode the subway and dropped off at Hyewa Station. Wow, I really miss riding the subway. It's the one places I get to spot cute boys. WHUT.
We arrived at around 10PM and by that time, many restaurants were closed already! But we saw this Japanese restaurant with a relatively cheap menu. The serving's unbelievably big, though. Also, what you see in the display seems to be the exact replica of what you'll order. I was blown away, okay.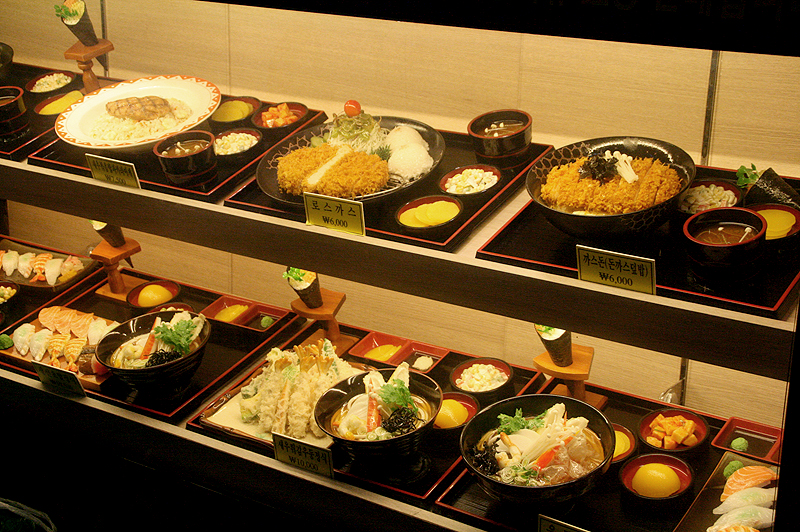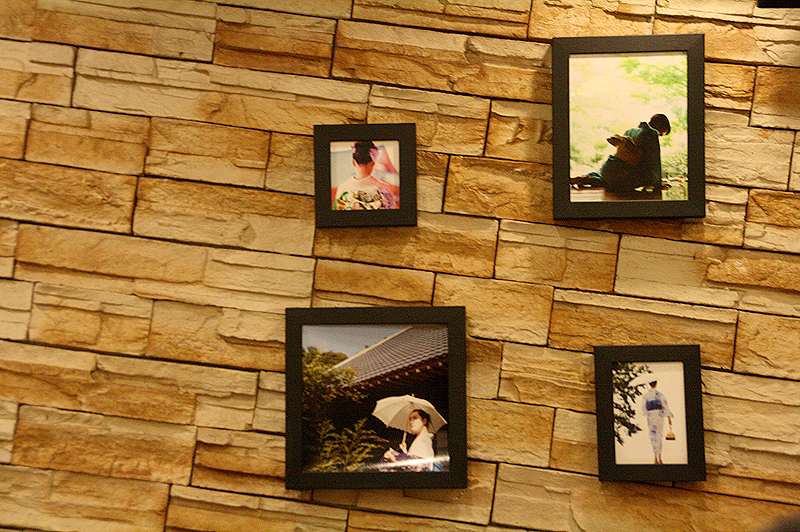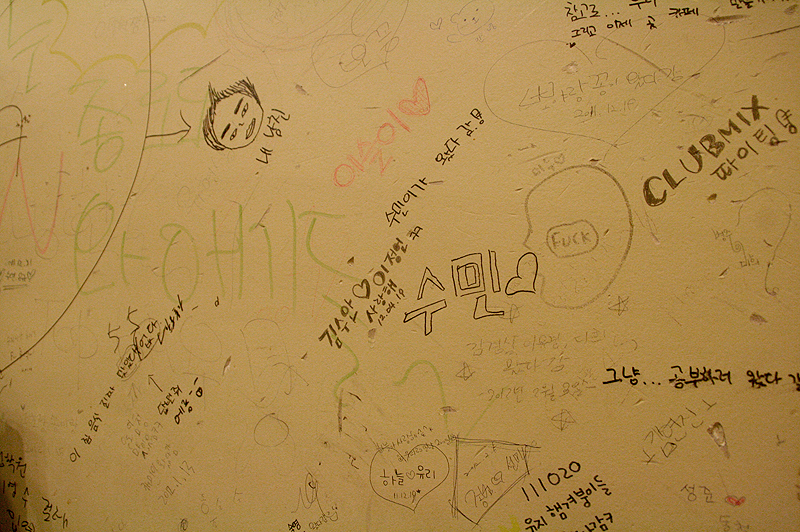 See? I told you they love writing on walls! Most of the dining places we'd been to had walls covered with writing and drawings. For some reason, it doesn't look dirty or messy to me. Maybe I'm just extremely biased.
I was already quite sleep by that time that's why my eyes were already bloodshot (see photo below). I was wearing contact lenses for the first time in two years and I was tired! But it was worth it, okay. Hehe. I just wanted to look pretty in pictures because I'm maarte like that.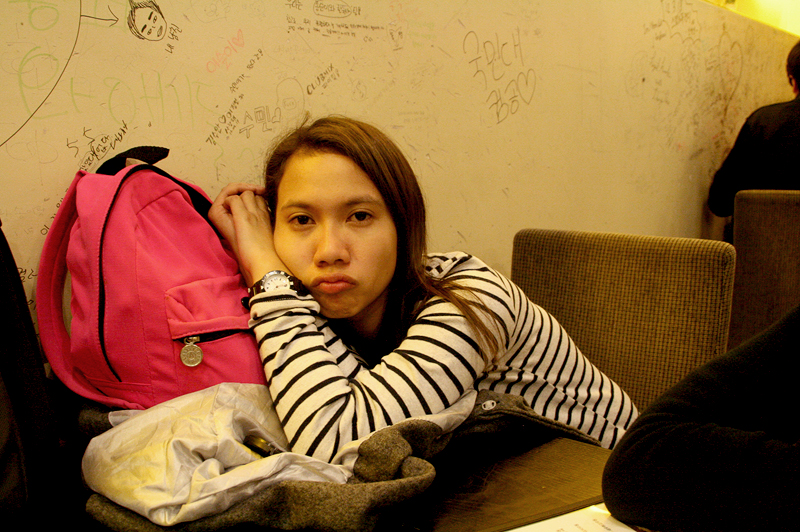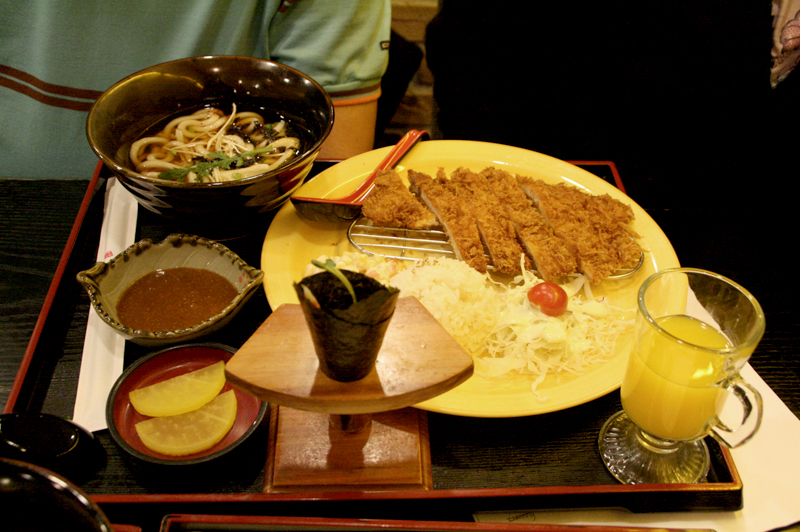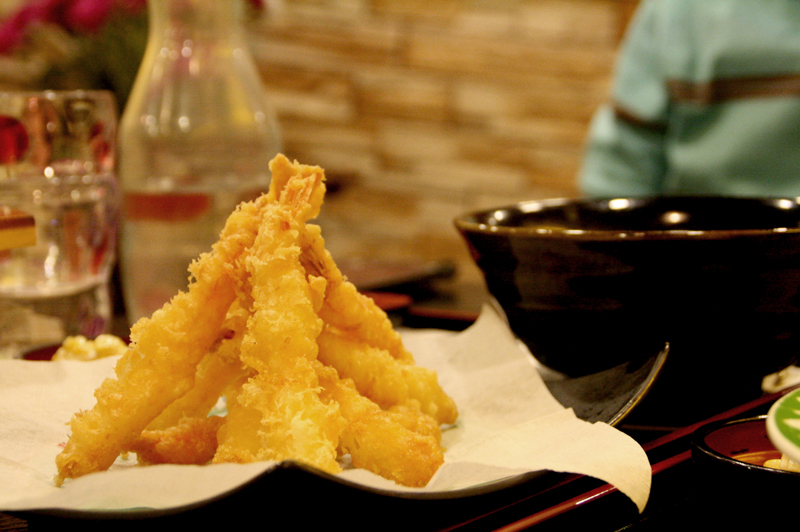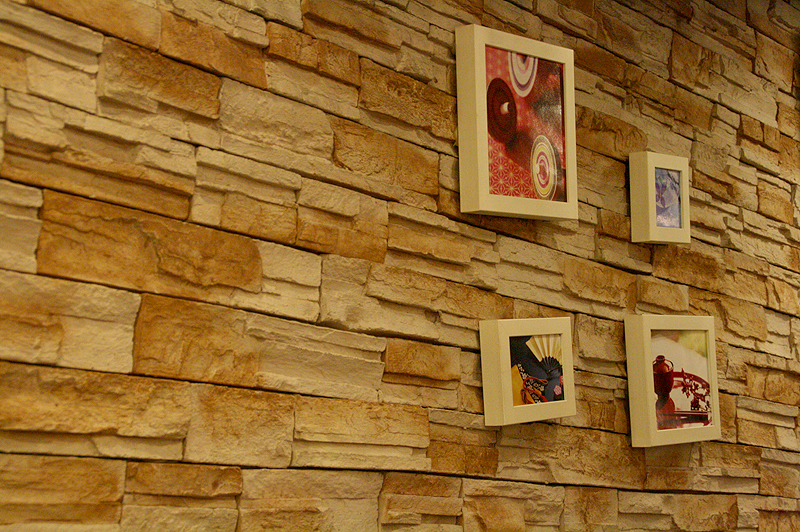 I loved everything about the restaurant. It's definitely more affordable than the Japanese restaurants I've been to in the Philippines, except the fast food chains. The food was amazing, and the serving's good enough for two! You have your main course, noodles and some sushi for only W5,000-6,000. See? It's quite cheap already. For a place that looked expensive, they have quite an affordable service. You should try it if you'll stay near Sungkyunkwan University.
And that ends the post about my favorite day of our Korya trip. It was also the last of the warmer days because the next days would make me want to stay in the shower all day.