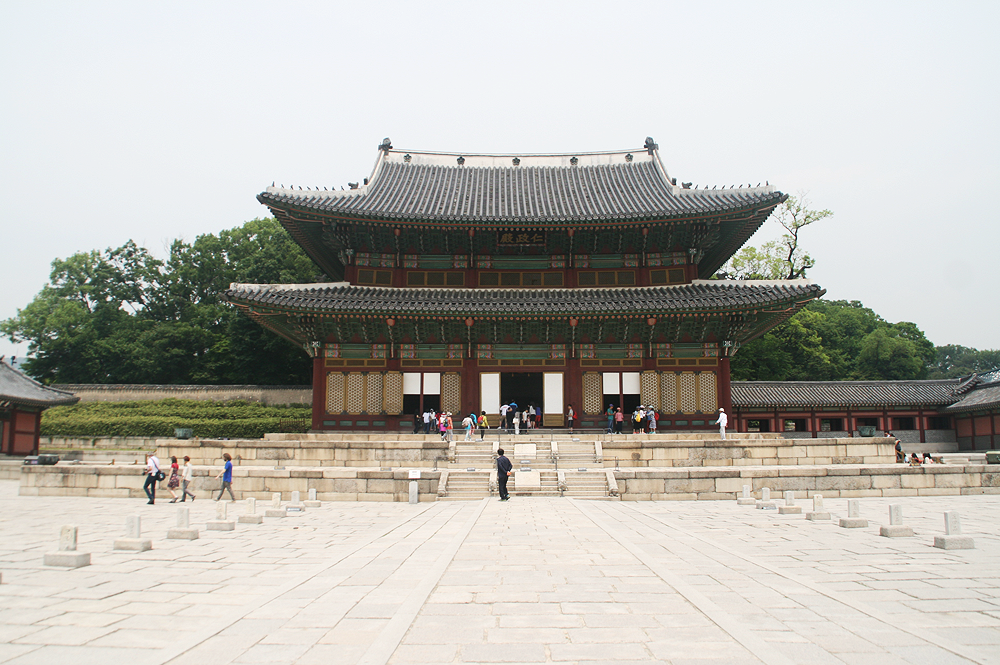 Changdokgung is one of the palaces found in Seoul. It's one of the most beautiful palaces and definitely well-preserved. It's the one with the Secret Garden, which you can enter for another price. On my first visit, we didn't know that this one's a UNESCO Heritage Site so we opted to visit Changgyeonggung and Gyeongbokgung and skipped out Changdokgung. But we did have a photo taken outside since it's one of the shooting locations of Rooftop Prince. Heh.
Before the trip, my cousins were so eager to visit the palaces in Korea. Whenever I asked them what they wanted to do in Seoul, all they answered was to visit the palaces. But I knew that kids aren't so keen on sites where they don't really get to do anything, so I only included Changdokgung and not the other palaces in our itinerary. My hunches were right. One palace was enough for them. After 15 minutes in it, they wanted to leave.
Anyway, remember to either say Changdokgung or Changdok Palace. I once had the mistake of saying Changdokgung Palace and that's redundant! The Gung/Goong (궁) in Changdokgung already means palace.
As I said earlier, if you want to visit the Secret Garden, you need to pay more. My Tita wanted to but we decided against it because it'll require a lot of walking. We also guessed right because we hadn't even been exploring it for more than fifteen minutes and my grandmother's already bored.
In the first major palace, only the kids went with me to look. It was pretty hot that day, and my grandmother opted to stay in the shade. The kids and I had a great time taking photos, though! Gabby became my official photographer, but he was such a troll. Mana sa ninang! He took more candid and ridiculous shots than I would have liked. There were too many derp photos that they must never grace the internet. Thank you very much.
My grandmother got easily tired from the walking. She said to just leave her behind and we should go ahead exploring the palace. Good thing there's a coffee shop inside Changdokgung and Nanay preferred to stay there and drink coffee.
We walked around a bit more but didn't really go that far. Since spring came early, there weren't that much flowers anymore. But we saw a little corner that leads to lovely blooms. It's a bit hidden that there weren't that many people walking through it. Anyway, it was the only space that actually boasted a range of lovely flowers. After a bit more walking around, we headed back to the cafe. Besides, it's already past lunch time, the kids were already tired and hungry.
It's hard to decide which of the three main palaces in Seoul is the prettiest. I think the Changgyeonggung and Gyeongbokgung are in an advantageous position because I saw them during the height of spring, and both palaces were so beautiful thanks to the lovely flowers scattered throughout the area. Changdokgung still holds its own, though. As evident from the photos, it's worth a visit any time of the year. However, I personally love Gyeongbokgung the most. I feel like the architecture is more diverse and there are more to see.
Changdok Palace Admission:
Adult (3,000); Child/Senior Citizen (1,500)
* I believe there's a 10,000 won ticket that can be used to enter the Changdokgung, Gyeongbokgung, Changgyeonggung and Jongmyo Shrine. If visiting palaces is your thing, go purchase it! (More about the ticketing here.)
* All palaces are within walking distance of each other. Though you really need a lot of walking.
How to get there:
[SUBWAY]
Jongno 3(sam)-ga Station (Subway Line 1, 3 or 5), Exit 6. Go straight along Donhwamun-ro Street for 10min.
Anguk Station (Subway Line 3), Exit 3. Go straight for 5min.
[BUS]
Buses going to Changdeokgung Palace and Huwon: 7025 / 109 / 151 / 162 / 171 / 172 / 272 / 601