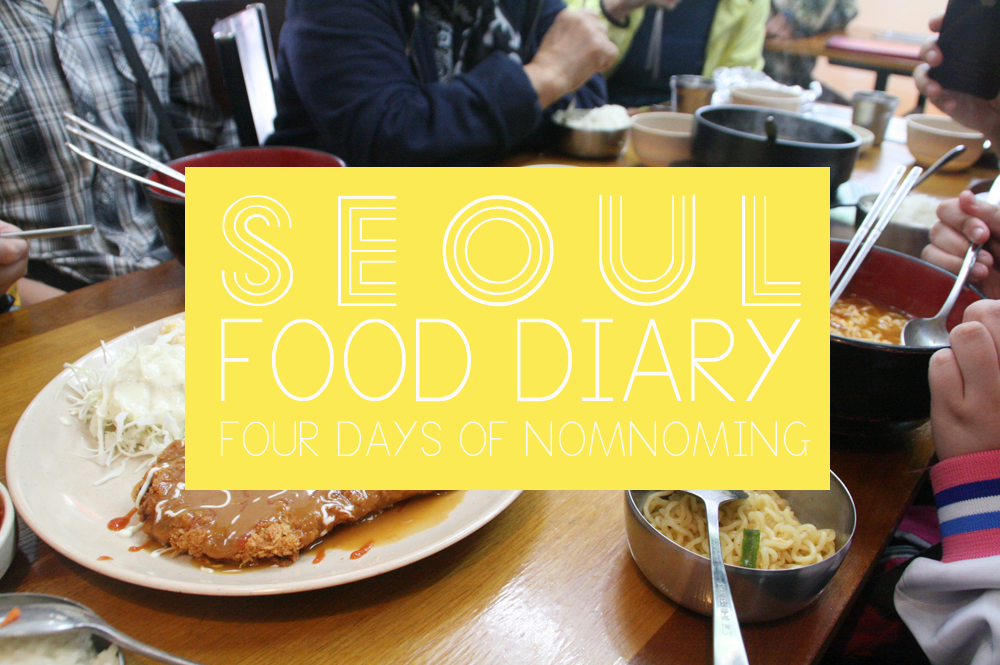 First, a disclaimer. I'm  not a foodie. I just happen to love food, and Korean cuisines are some of the best I've ever tasted. We didn't dine in any fancy restaurant during our four days in Seoul, but we devoured plenty of amazing Korean food. Just thinking about those four delicious  days makes my mouth water. Eating is seriously one of the best activities you must indulge in Seoul (and everywhere else!).
After watching the Korean drama Let's Eat, I went to Seoul with a list of must-try Korean food.  Obviously, thinking of where to eat in Seoul wouldn't be an issue! Sadly, I didn't get to cross out everything from my list. Though they have delicacies like octopus and blood sausages, there are simpler and more common ones, simply prepared the Korean way. And with ban chan (반찬) present in every meal, the dining experience is enough to make a satisfying impact on our palate.
You'll leave Seoul with a ridiculous love for Korean food that you go home craving it every day. Well, that's the case for me. But it can also be because I watch dramas everyday and seeing them eat kimbap and samgyupsal in every episode doesn't help.
DAY 1: Our First Meal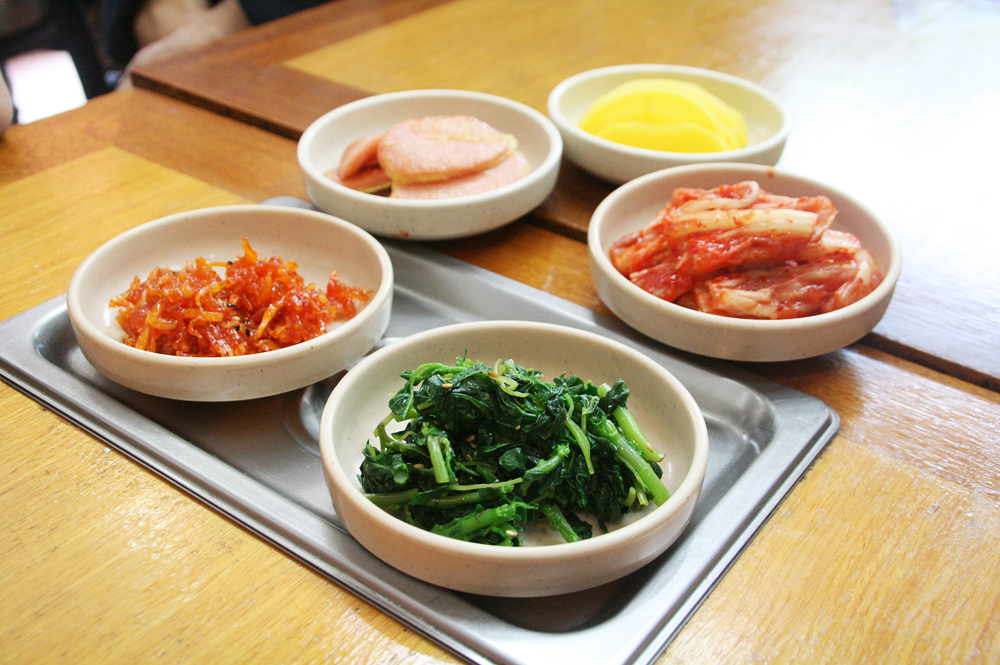 Banchan (반찬)
Side dishes are a staple in every local Korean restaurant.
It's free and refillable, too!
Coming from our early morning flight, we were famished upon arriving at our hostel. After checking in and freshening up, we looked for the nearest restaurant and saw this one that seems to specialize in kimbap. The lines were crazy long. There was always an ahjumma buying a roll or two of kimbap. So we ordered kimbap but they forgot to serve it. No worries, though, because our other orders were pretty amazing, too.
Pork cutlet / Donkasseu (돈까스)
Don't make the mistake of calling it tonkatsu because that's the Japanese term for the dish. I learned that one of the safest thing you can order in Korea is the pork cutlet dish. I think it's my mother's favorite dish. Also, you just won't go wrong with this. The pork cutlet in Korea only differed in the sauce they use, and they're all served with rice.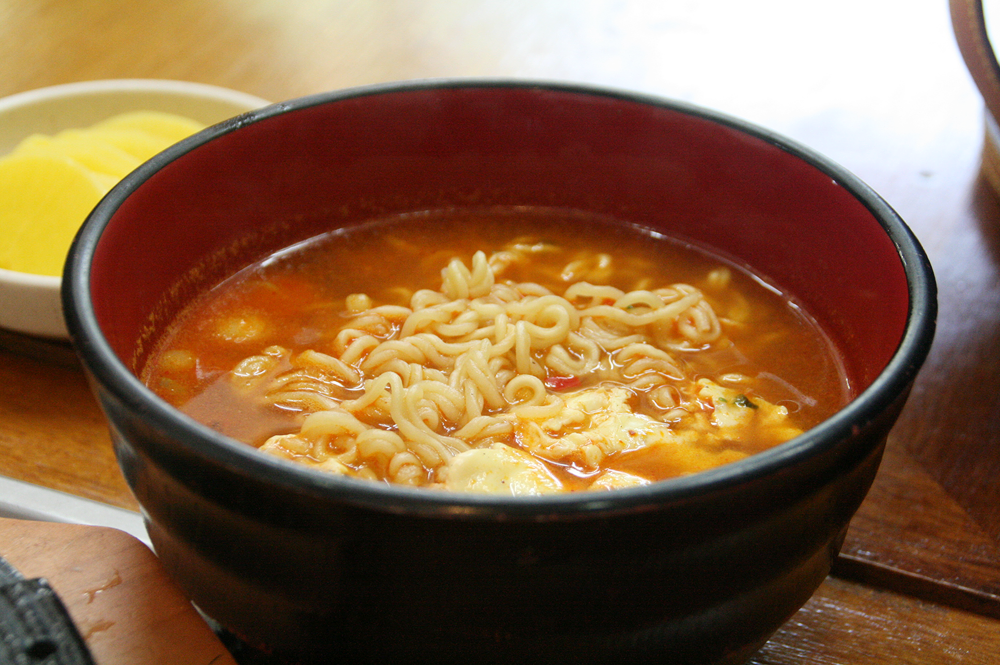 Ramyun (라면)
This is so much better than the ones I cook at home. I don't know, I'm pretty sure that it's instant noodles mixed with egg and veggies, but it tastes so much better. My cousins loved it so much. I'm amazed at how they can tolerate the spiciness of it. Well, I can tolerate the spiciness level of ramyun, too, but I think for those who aren't good with anything spicy, this may be a bit too much.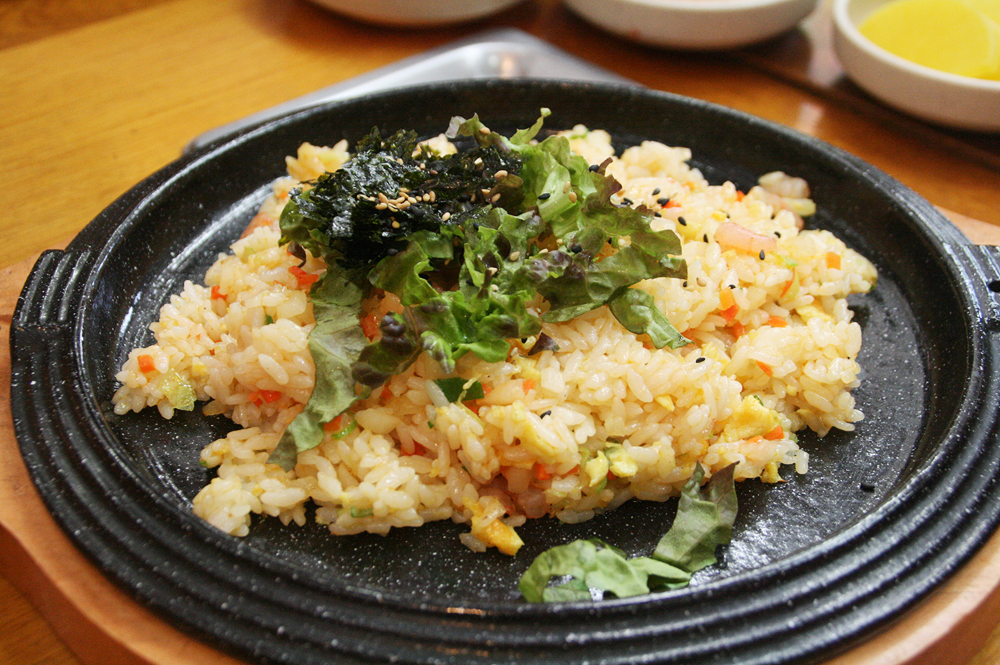 Shrimp Fried Rice / Saewoo Bokkeumbap (새우볶음밥)
My favorite! It was my first time eating shrimp fried rice and I loved it so much! But I was the only one who enjoyed it because it's a bit spicy. I forgot what saewoo means (미안합니다 선생님!) but I knew bokkeumbap means fried rice. It's good stuff, but if you're not into spicy you probably won't enjoy it. It's different from the fried rice I'm used, too, because it doesn't have the crunchy rice bits and it's also a bit stickier. I think it suffices as a meal since it's a pretty big serving. Besides, you already have the banchan you can eat with it.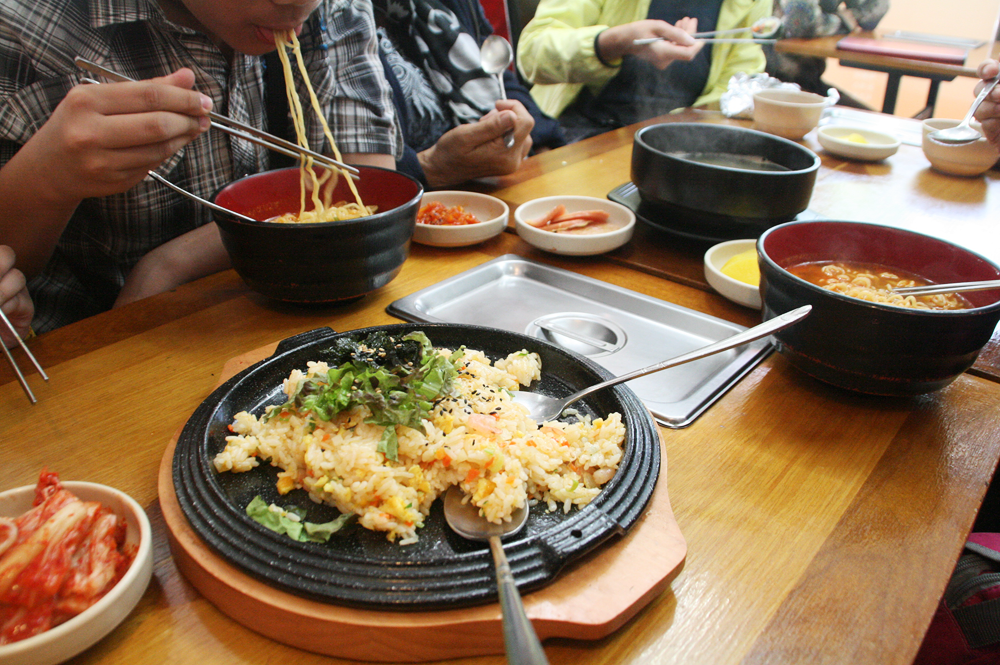 We also ordered galbitang (갈비탕) or Korean short rib soup, but I couldn't take a photo of it since it's far. Galbitang became our usual order since nanay's always craved for soup, and it tastes great no matter where we ordered all the freaking time.
For dinner, I forgot to bring my camera when we ate at a Korean BBQ place. But we ate there again and we ordered the same thing (bulgogi and galbitang), so you'll see the food photos later.
DAY 2: A taste of Korean food court
We spent the entire day at Lottle World on our second day, but before entering the park we decided to have lunch at Lotte Mall instead. It's connected to the park so it was pretty convenient. There were tons of dining options, and I was kind of hoping to eat at Lotteria again! It's a Korean fast food joint that has tons of amazing burgers! I loved it the first time I tried it, and to think that I'm not big on burgers.
Lunch
However, my family wanted rice so we opted for the food court instead! I must say that their food court looked so classy. There were tons of food choices and the food selection were very varied. It seemed like the food are freshly cooked, too! Though of course, there were pre-pepared selections, too.
We had some trouble figuring out how to order, though. I think it was a good 30 minutes before we finalized what we wanted to eat and learned how to place our orders. It's a lot more expensive than our usual meals, but the food were pretty good, too. No names for this, though, because I don't know their names. Hehe. We just grabbed whatever looked appetizing!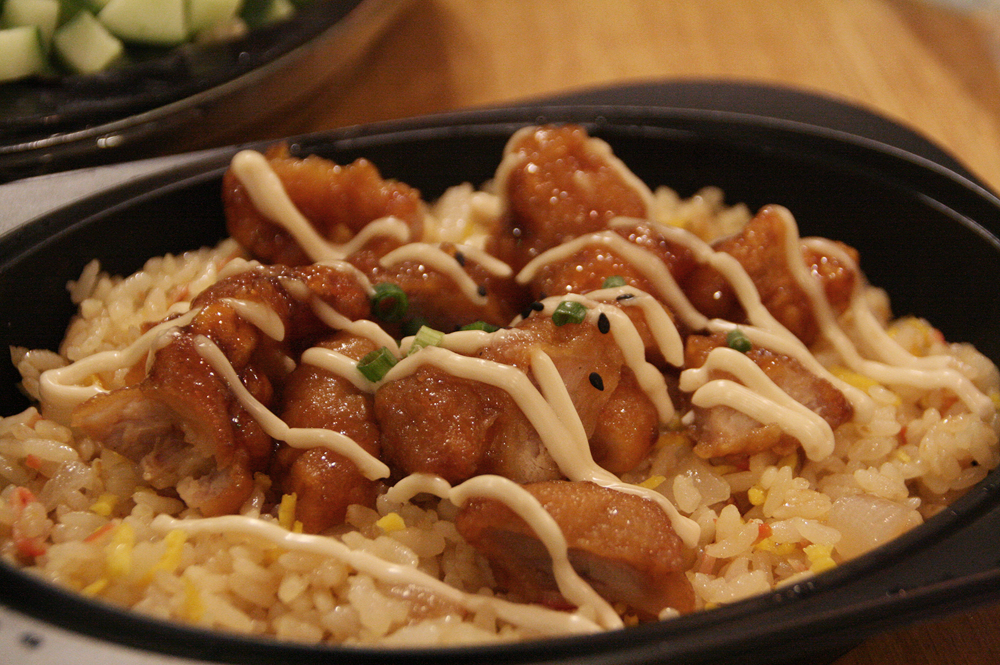 I really love their rice. The serving is always big and the rice is always delicious! It's definitely not our best meal during the trip, but it was still filling. We also ordered a salad and it was so big. And it tasted great. I have no idea how my grandmother and I finished it by ourselves. It's HUGE!
Corn Dogs / Called hot dogs in Korea (핫도그)
Inside the park, the only time we ate was to try the corn dogs. I couldn't believe my cousins hadn't tried corn dogs prior to this! They loved it so much, and I did, too. We were looking at the photos back here  in the Philippines, and when they saw the photo of this corn dog they started screaming. Yes, that's how much they love it. There aren't enough corn dogs in the Philippines, tbh. 🙁
Dinner
After Lotte World, we went back to our hostel's neighborhood. It wasn't that late so many restaurants were still open. We went inside a restaurant that had tons of photos of bibimbap outside the store.
Bibimbap (비빔밥)
I love bibimbap! This time, I practiced my very basic Korean to order our food. I succeeded! The unnie at the Korean jib understood my orders, but the kitchen staff didn't. I emphasized "gochujang eopsoyo" (no hot pepper paste) but the kitchen staff put so much in our bibimbap! We ordered three bibimbap for sharing, and my family couldn't take that much spiciness! The unnie realized the mistake and gave us free rice to replace the rice with gochujang on top. It was still spicy. I loved it, but my family could barely eat it. They simply didn't mix their bibimbap. They also didn't like too much vegetables, they're kids after all.
Doesn't it look yummy?! I'm craving for some bibimbap right now, but I have no idea where to eat cheap bibimbap here in Makati or anywhere near Manila. Any recommendation?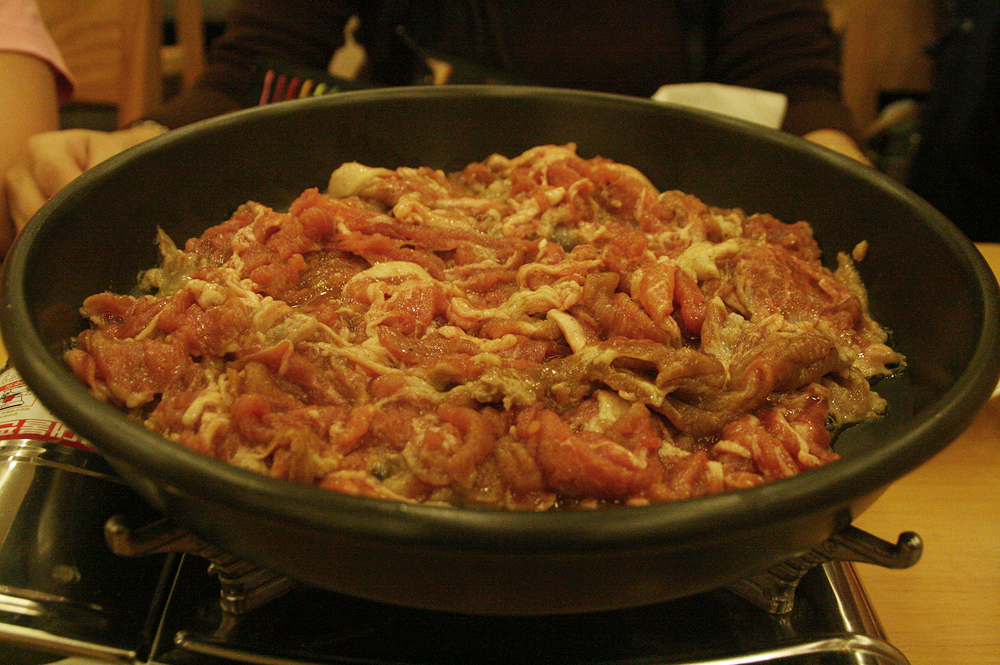 Grilled Marinated Beef / Bulgogi (불고기)
Besides bibimbap, we also had two orders of bulgogi. Bulgogi is heaven, amirite? For a family of six with three heavy eaters, two servings of bulgogi is never enough. I can probably eat a serving by myself, too, but I probably shouldn't try.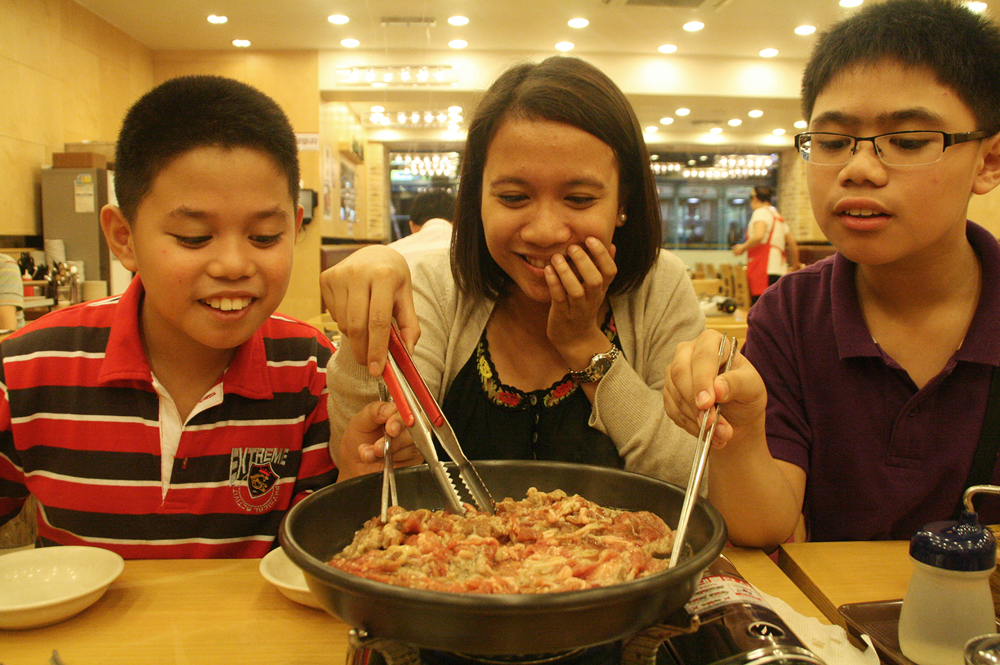 "Is it cooked yet? Because we're famished."
I haven't tried a bulgogi that I do not like. I think that's why I'll never be a food blogger. What's great for me can actually be pretty bad for some people. When it comes to bulgogi, every bulgogi is delicious and lovely and may have another order please?
DAY 3: Street food galore
It wasn't exactly planned but on our third day we tried a lot of street food! Not only was it cheap, it was pretty great, too. I think it was the day that I truly, truly enjoyed all our meals. Now that I think about it, we ate quite a lot that day since in the afternoon, we tried the Hello Kitty Cafe in Hongdae.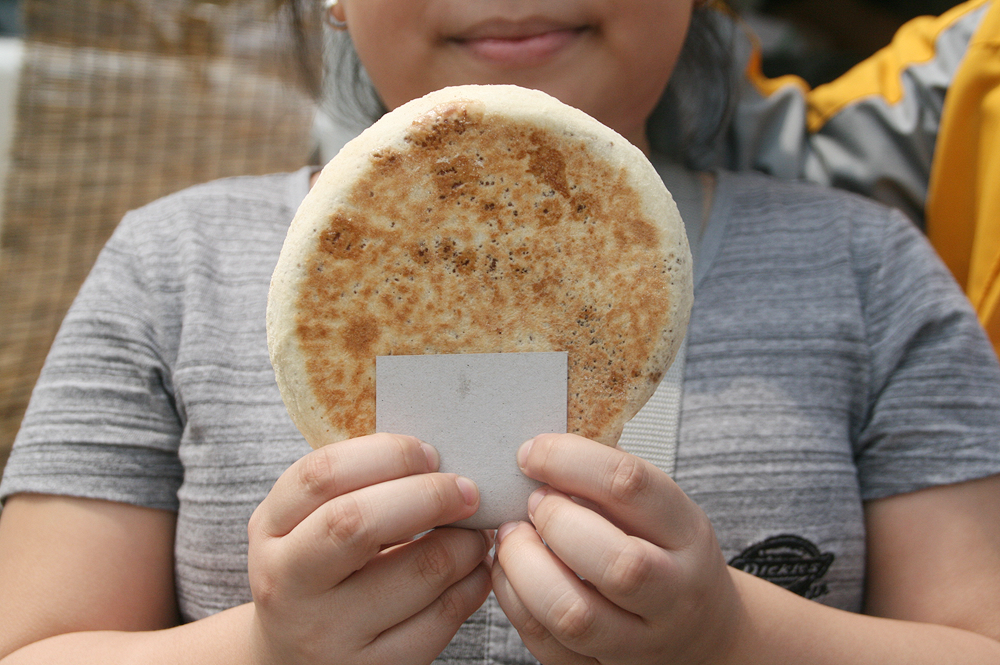 Sweet Pancake / Hotteok (호떡)
Ooooh, I love hotteok! We bought this just right outside Changdok Palace. I thought it would be soft since most of the photos I saw online and when it's showed on TV seemed like it's soft. But it's really more like a piaya but with melted sugar inside. It tasted pretty great.
Lunch
A few streets from Changdok Palace, we started looking for a restaurant where we could eat lunch. Gabby was begging us to eat samgyupsal but we surprisingly couldn't find that plenty restaurants that sell samgyupsal. I guess we weren't looking at the right place. Anyway, we saw this one restaurant where a group of foreigners were eating.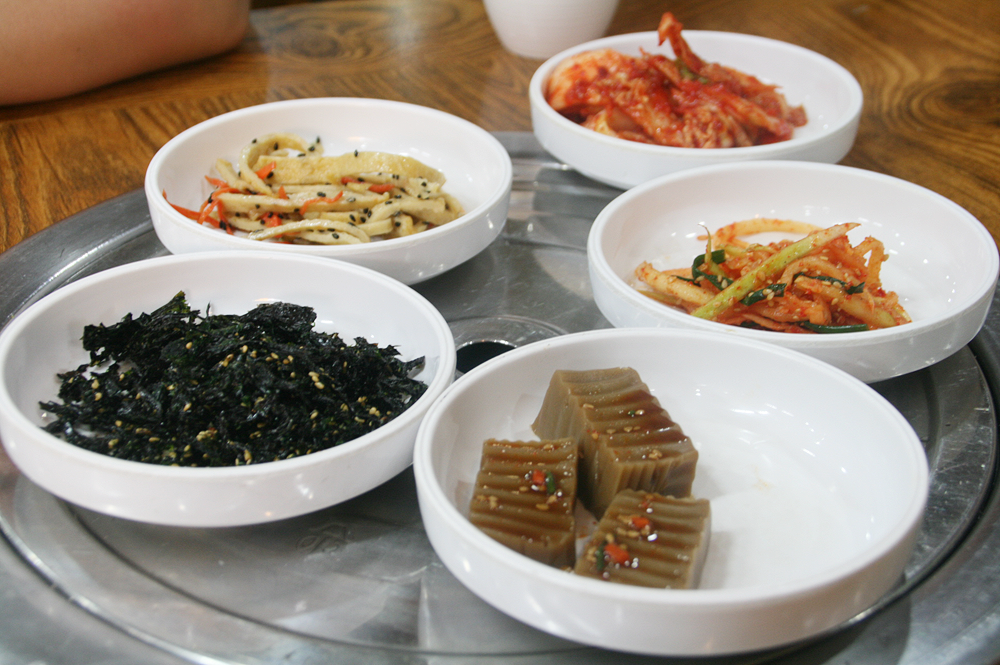 Banchan (반찬)
They had acorn jelly side dish and seaweed and eggs! Aaaah, I think this one's my favorite side dish from the trip. It was great partnered with bulgogi wrapped in lettuce. Now I'm making myself hungry!
Grilled Marinated Beef / Bulgogi (불고기)
Bulgogi round 3! Yes, it was the third time we ate bulgogi. It was worth it.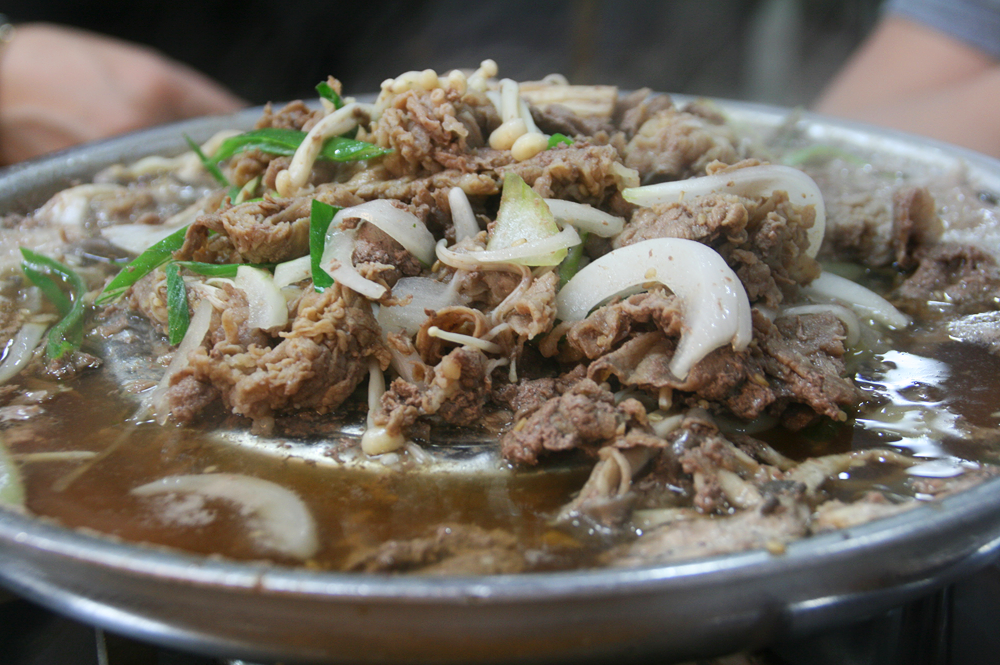 If it looks yummy, it's because it is.
Take me back to my bulgogi!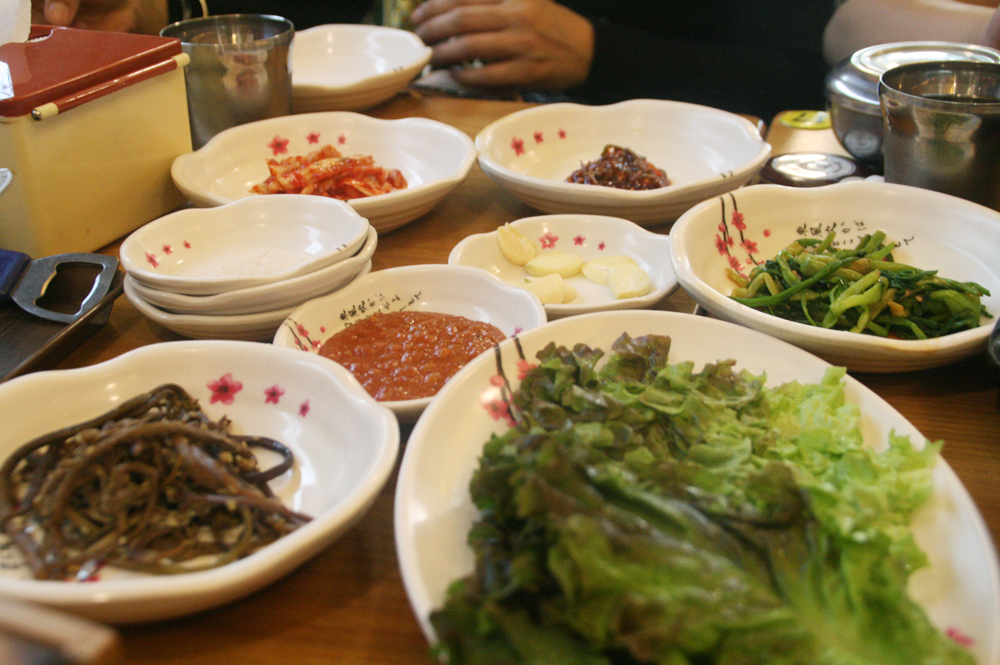 More banchan!
I must say that it's a pretty awesome meal. The ahjummas and ahjusshis were watching us eat and looked quite proud when we knew to wrap the bulgogi and every bit of side dish and even rice in our lettuce. It was a mouthful of yummy Korean goodness. I think I'm crying.
Pre-Dinner
In our vain attempt to look for Dongdaemun market, we ended up in a street full of street food. Getting lost is so worth it when you find yourself in a street full of street food! We went to the first kiosk we saw and devoured all the fried food we could get our hands on.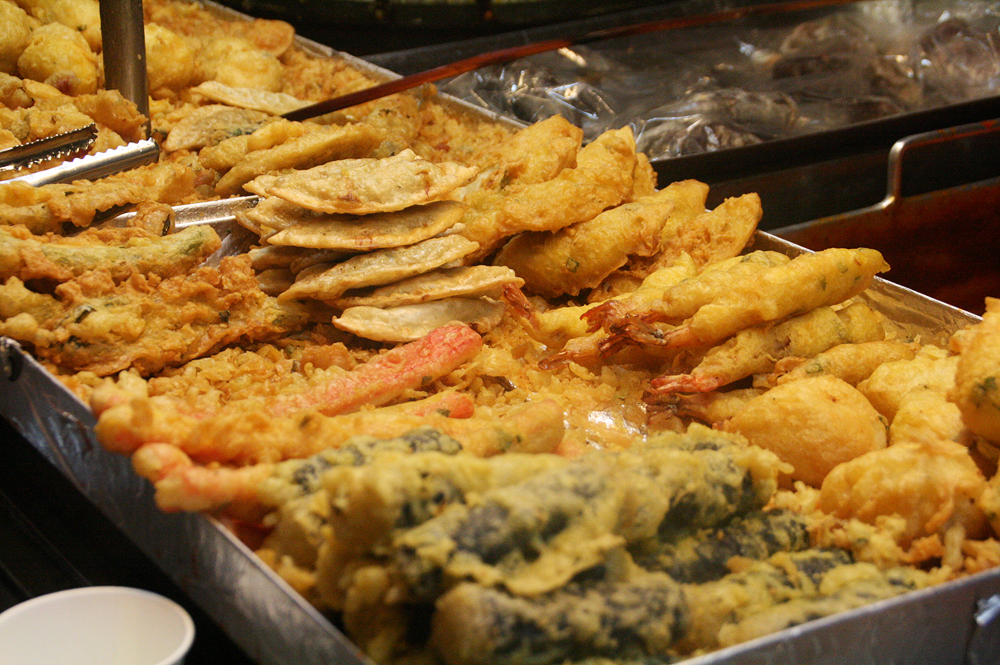 Lots and lots of twigim (튀김) which basically means "fried"
Sorry I forgot how much it costs! I think it's like three twigims for W1,000 or something. Or maybe W2,000? I'm not sure. Hehe. Twigim can be a lot of things. It can be prawns, crab sticks, vegetables, etc.  We said we'd only try it out since we haven't had our dinner yet and it would ruin our appetite.  But we ended up ordering and ordering and ordering more. We befriended the ahjumma who owns the store. Hehe.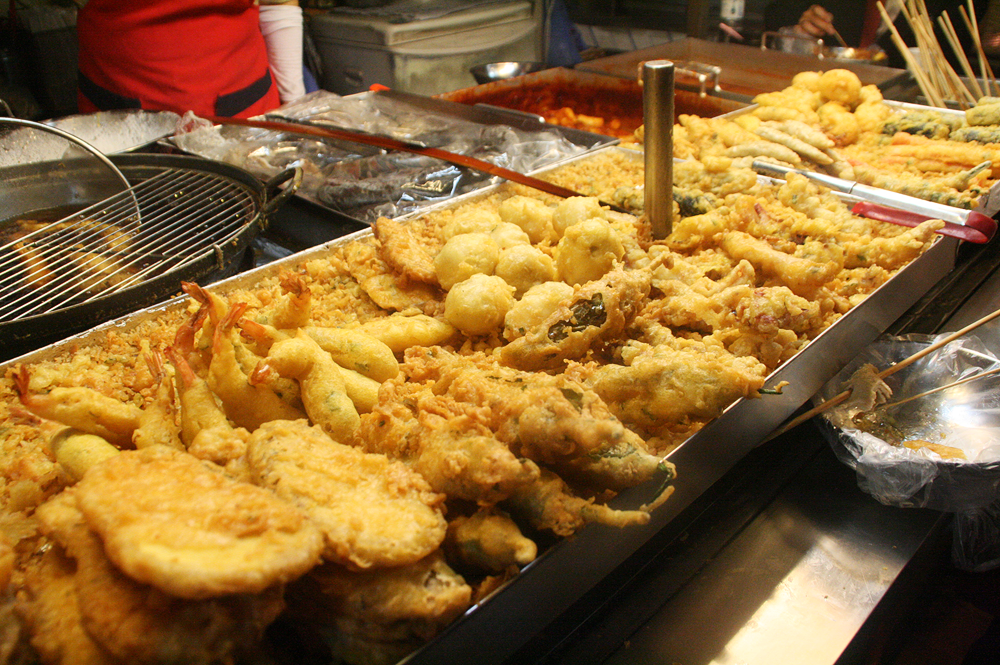 Ahjumma was really nice. Maybe because she noticed how much we love the food, she gave us some tteokbokki even though we didn't order. She also told us to deep our twigim in the tteokbokki sauce so we could enjoy it more. I have no idea how much we ate, but it could serve as a dinner, too.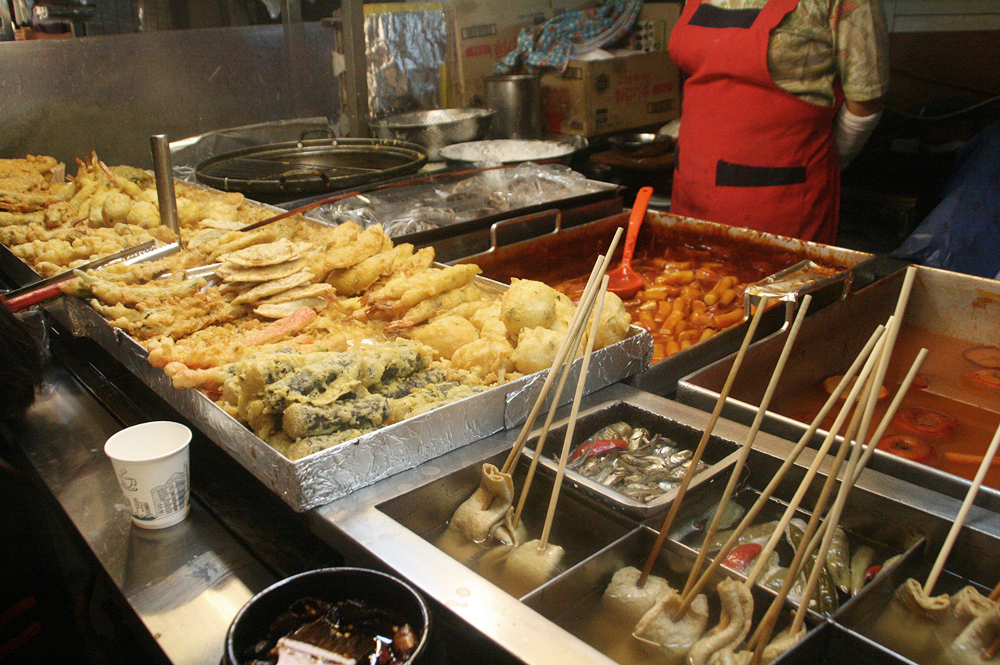 On the left side you can see the pan-fried fish cake or odeng (오뎅).
Odeng will always, always be my favorite Korean street food. Maybe it's because it's the first one I've tried, or maybe because it's just seriously so good and drinking the soup makes it even better. Ahjumma's odeng is really spicy, though!
Kamsahamnida, ahjummeoni, for a very delightful meal.
Dinner
For dinner, we went back to the restaurant we ate at during our first dinner in Seoul. It's right next door to our hostel and one of the last restaurants to close at night. They're known for their korean beef barbeque. But since most of their Korean beef is heart-breakingly expensive, we settled on bulgogi and galbitang again.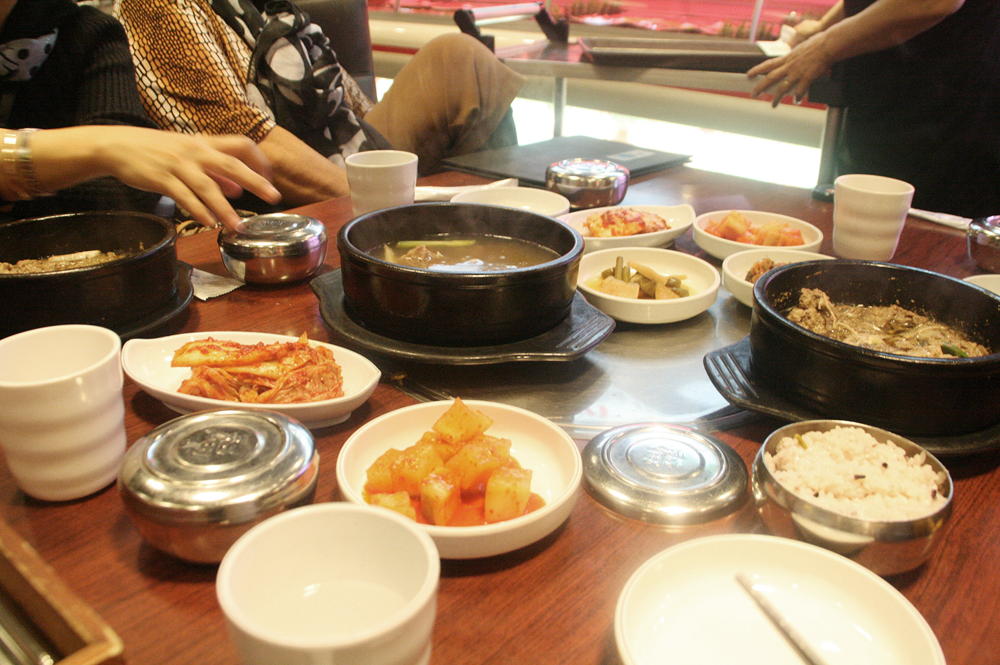 Their bulgogi had a lot more soup than the other bulgogi we ate during the trip. But we put the bulgogi soup (sauce?!?) on top of our rice so it was jungmal masisseoyo! Most of their side dishes were kimchi, though, and I can only eat kimchi if it's wrapped in lettuce with lots of meat.
The ahjumma in the restaurant was really nice. In most Korean restaurants, they have this rule of one order per person. But since there are three kids in our group, it seemed too much to order 6 six orders of food! They allow us to order less than the usual. One of the ahjummeoni also hugged my aunt when we were about to leave. They were all smiles and playful. And they greeted us everytime we passed by the store on our way to our daily adventures. I miss ahjumma!
DAY 4: So many Korean food, so little time
Alas, all happy days come to an end and it's no different for us. Four days were too short for food lovers like us. We didn't get to try enough local cuisines!
For our last day, we decided to spend our remaining hours in Seoul shopping around Dongdaemun. But on our way to Dongdaemun, we passed by the Seoul Flea Market which was a block from our hostel. While my aunt and grandma haggled to their hearts' content, my cousins and I roamed around and we chanced upon a kiosk selling cup toast!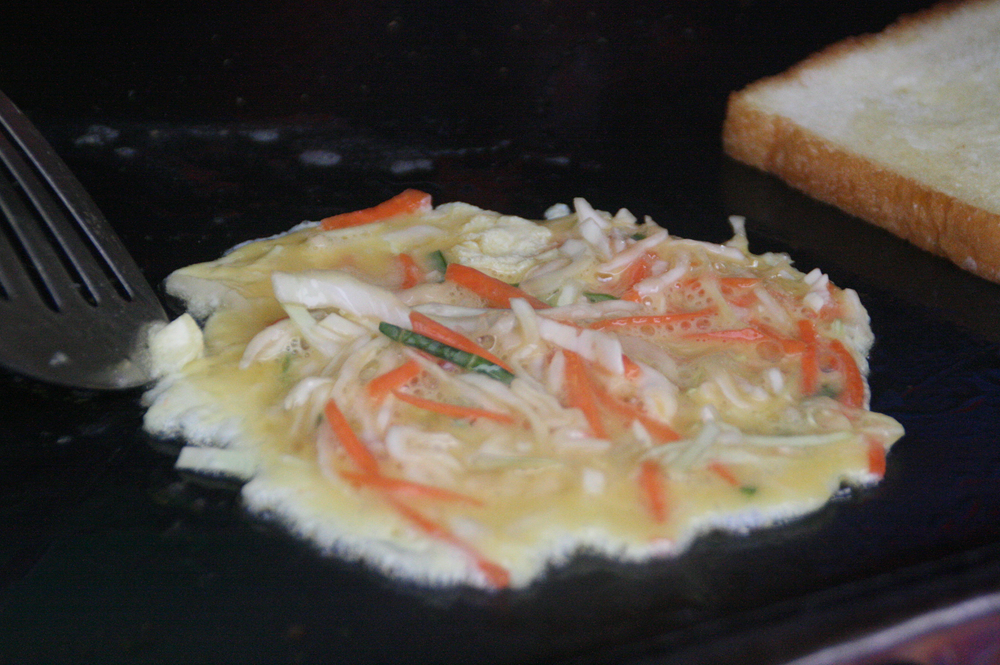 They cook it right in front of you!
The veggies almost turned me away lol.
Cup Toast (토스트)
I only ordered one just to try it out and I already had breakfast. But it was pretty great! They added ketchup and sugar which made it taste better. I was pleasantly surprised by the sugar. I don't really put sugar in my egg, but it blended well with the toast. I love it.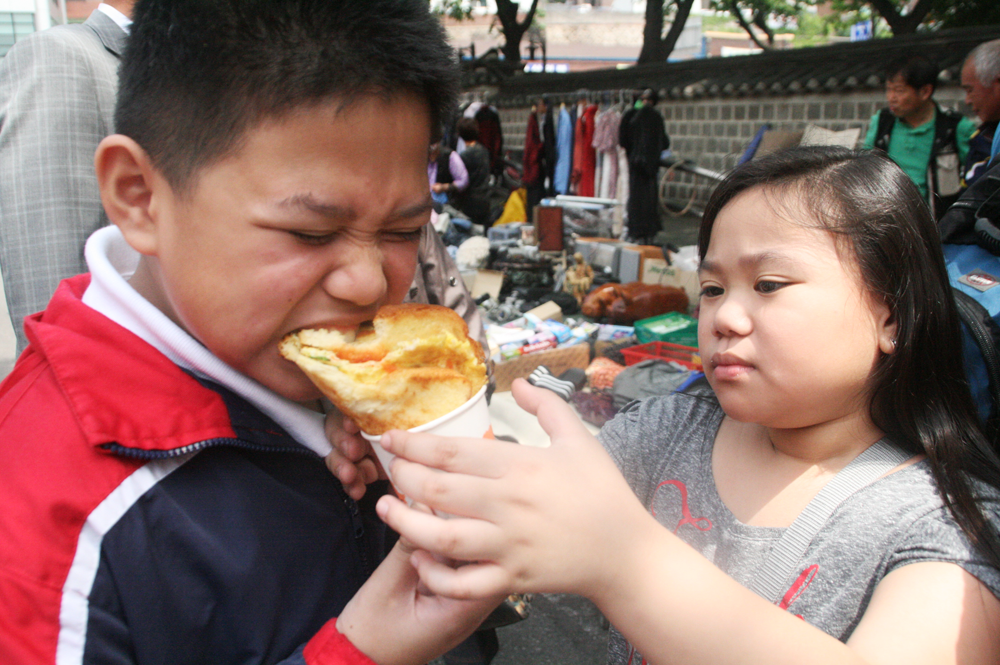 We ended up ordering more because my cousins took a bit and they ended up eating my toast. Haha. Look at Gabby biting enthusiastically at his toast and Gianna waiting impatiently to have a bite, too. I think we bought two more, but I turned around and the next thing I knew Gian bought another one. It was yummy, okay?
Lunch
Once reaching Dongdaemun, we were already tired and hungry! We walked quite a lot, only stopping to enter some stores and to check out some stores. So before entering the very large Migliore, a shopping complex a bit like 168 Mall in Divisoria but much bigger, we walked around the block to look for a samgyupsal restaurant. As I've mentioned earlier, Gabby wanted to try samgyupsal but we lucked out in finding a restaurant that specialize in it. Luckily, the street next to Migliore has tons of it!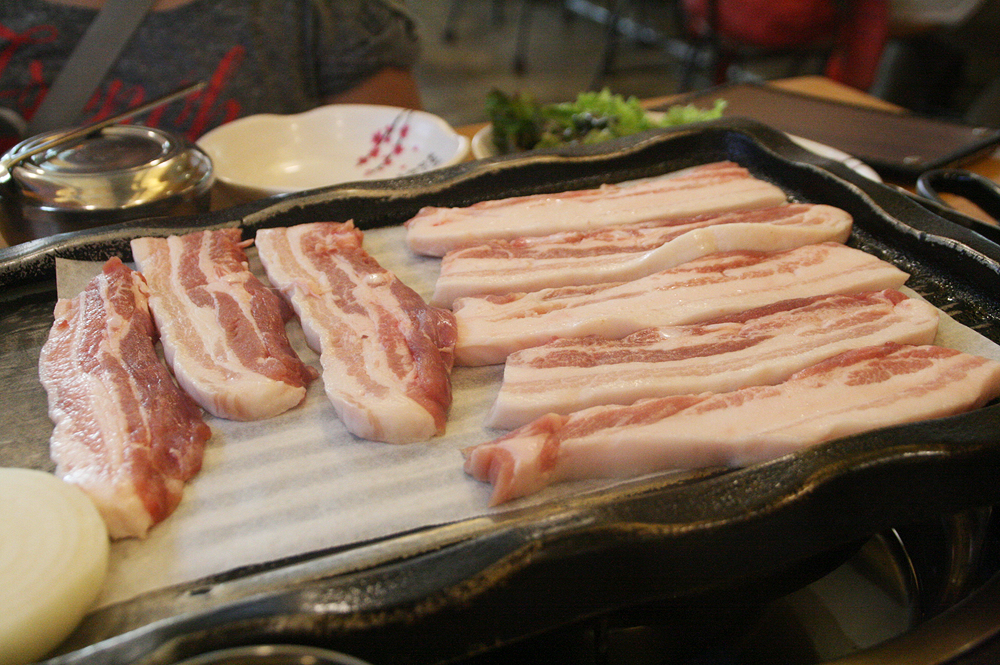 Pre-cooked pork belly / samgyupsal (삼겹살)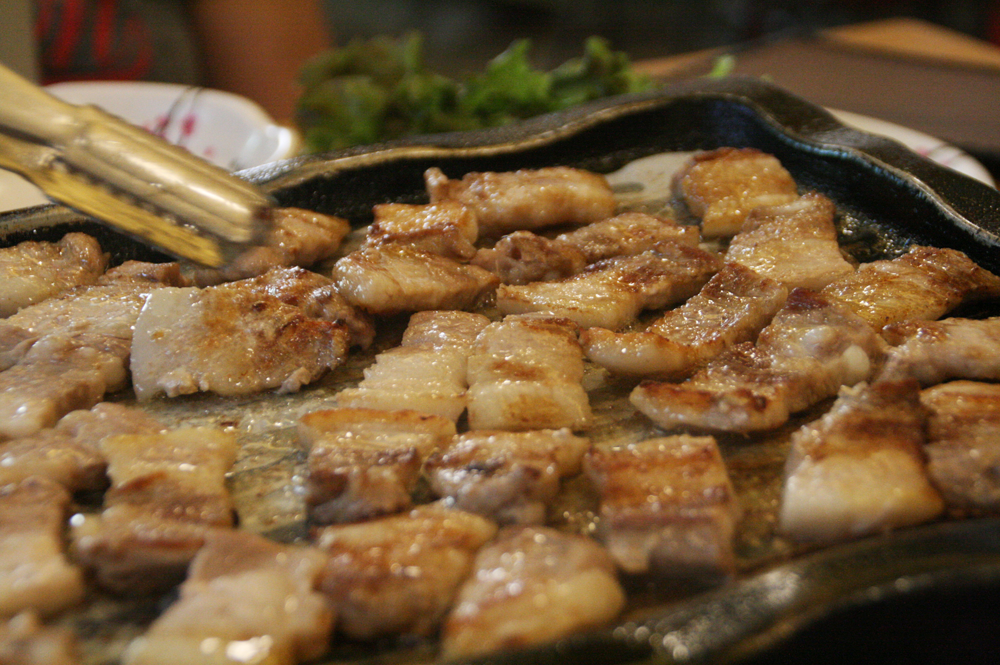 Our samgyupsal (삼겹살) looks so yummy!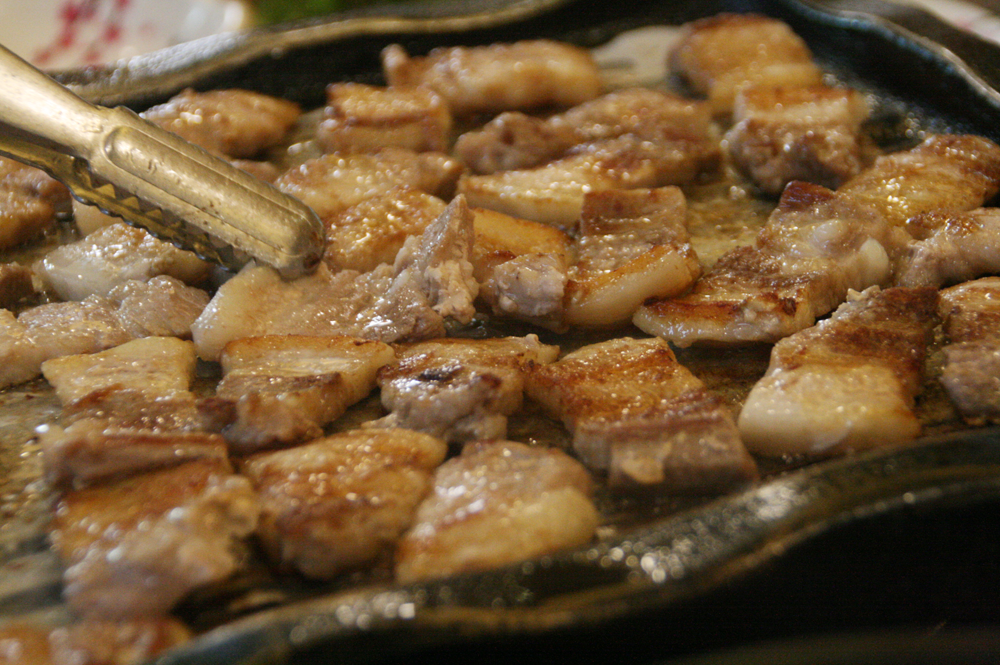 *drools*
We were amazed at how fast the meat was cooked but I guess they have already pre-cooked it before serving. We liked our meat well-done, which seemed to surprise the Korean who tried to turn off the fire earlier. I guess our Filipino taste buds appreciate crunchy meat more! Anyway, our meat was perfect! It was seasoned very well, and mixed our banchan and wrappred in lettuce leaves, we had a pretty amazing lunch. According to Gabby, it was the best meal he ever had. That's how great it is.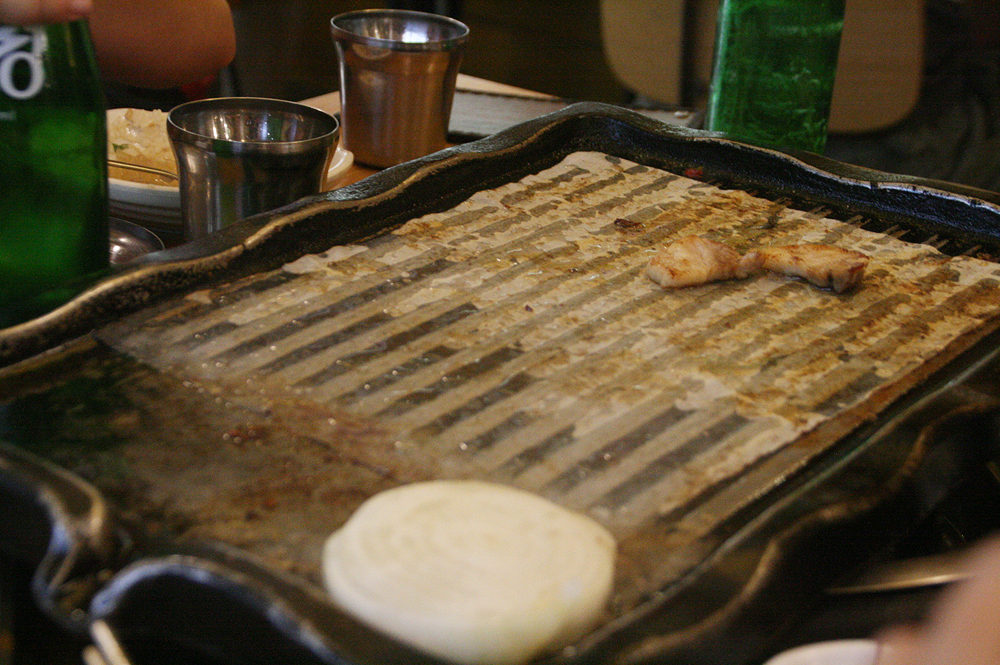 For dinner, we tried the Burger King at the airport. It was more expensive than the Burger King in the Philippines! But it also seems a lot fresher, especially the veggies they used for the burger.
Thinking about the four days of binge eating in Seoul makes me want to cry because I want to go back and relieve it all again. Korean food is seriously jjang!!!