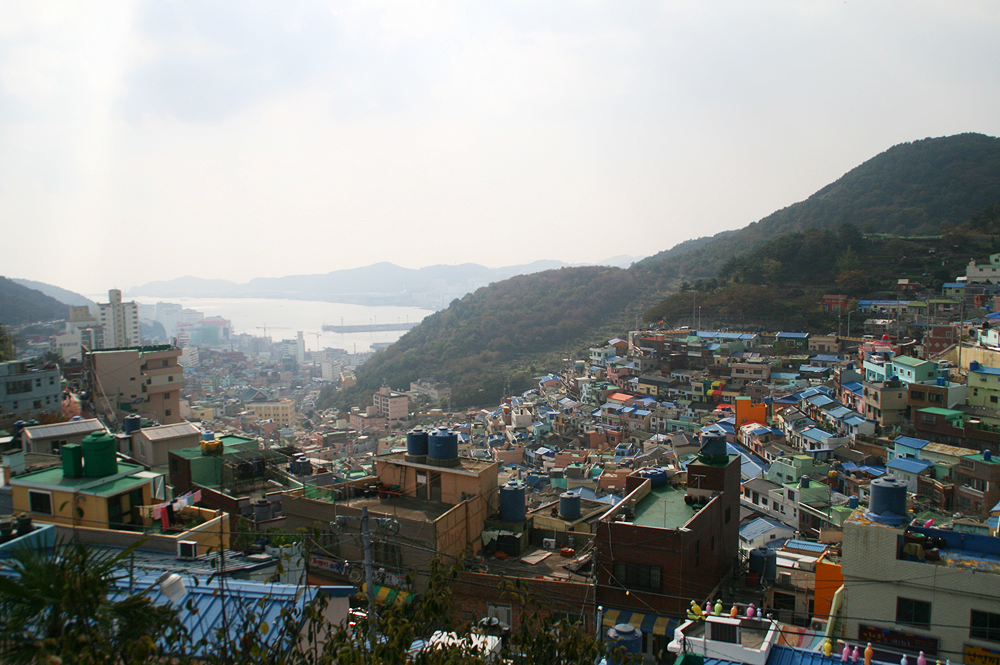 When I reached the top of Gamcheon Culture Village, I wanted to shout, "Hello Busan!"
The view was pretty spectacular, and I knew that we made the right decision to visit the village and to forgo other popular attractions in the province. Nestled in a residential area of Taegukdo Village, Gamcheon has blossomed into a popular tourist attraction, far from the shanties that it used to be, back when it served as a home for war refugees.
I did a little research before going, and it was interesting to learn that after the Korean War, hundreds of families flocked to this little area in Busan to start a new life. The village is named after the religion Taegeukdo, in which most, if not all, the residents were followers. Now, the number of residents had drastically decreased from 20,000 to around 10,000, leaving most of the houses empty. Though the Taegeukdo temple in the area is still visited by believers, most of the residents of the village are no longer followers of the faith.
The local government had been hands on in transforming the little village into an arts and culture hub, while still maintaining its traditional identity. True to this, the commercialization has made little changes in the landscape of Gamcheon, only making the blank walls and streets a lot livelier with colors.
These days, the main roads are flooded by tourists, but some nooks and crannies are untouched by commercialization. I'm pretty the Hallyu wave helped popularize the village, thanks to shows like Running Man and We Got Married using it as a filming location.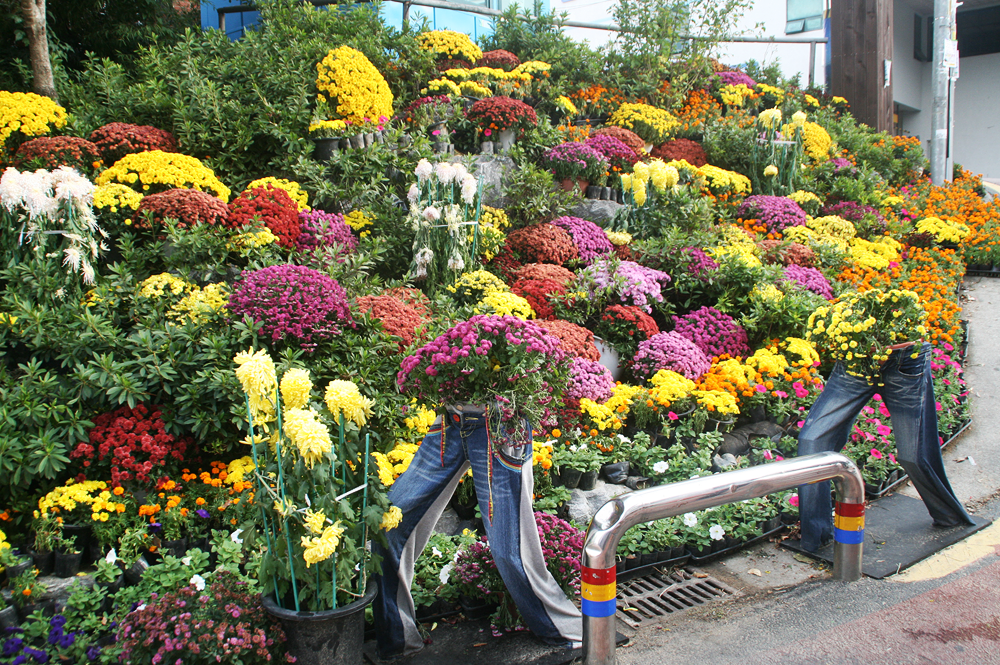 It's not difficult to find Gamcheon Culture Village as there's bus (1-1) that will take you directly to it. In fact, the bus stops right in front of the tourist information center. Though we did get a bit lost looking for the bus stop, everything was easy from then on.
Drop by the tourist center if you want a map that will show you the routes you must see. There's a crisscross of alleys and roads that can surprise you. Thought getting lost is okay, when you're constricted by time, having a map is always a good backup.
We were also welcomed by stalls selling well-known street food, but we decided to stop ourselves and proceed to exploring the village.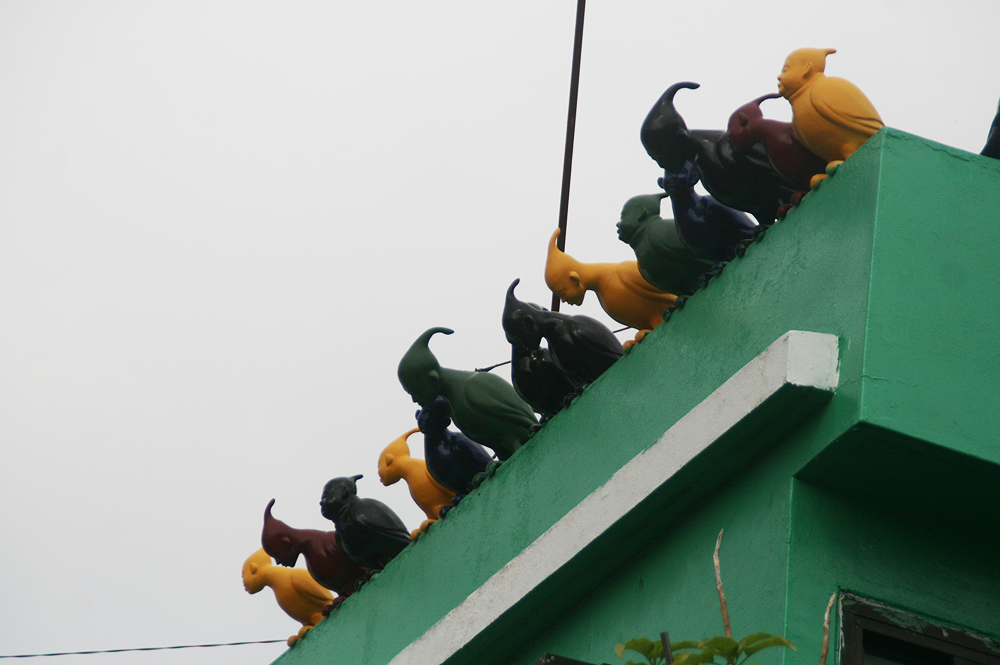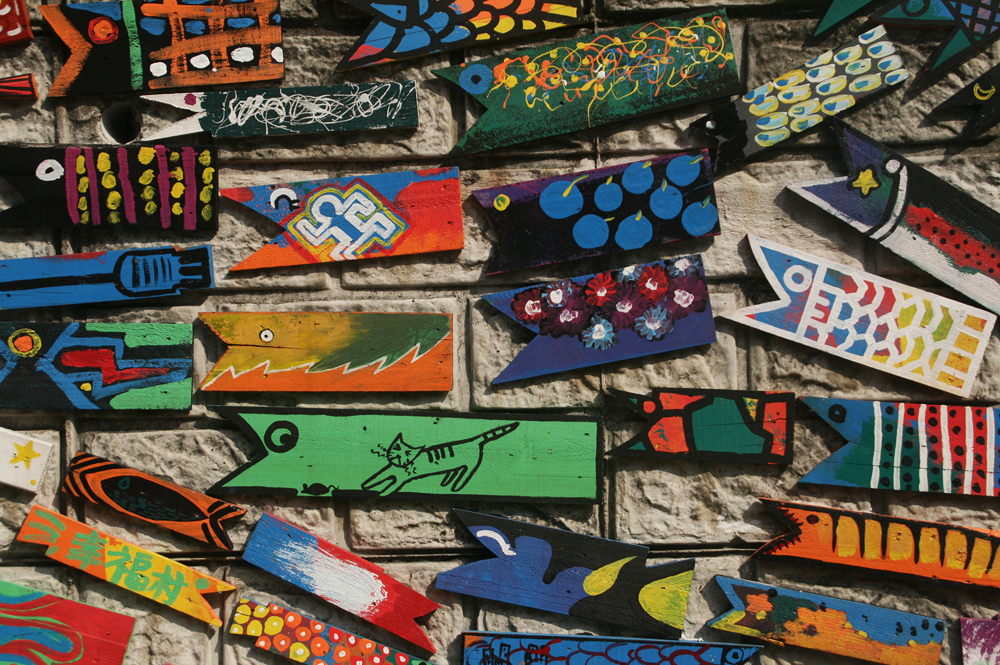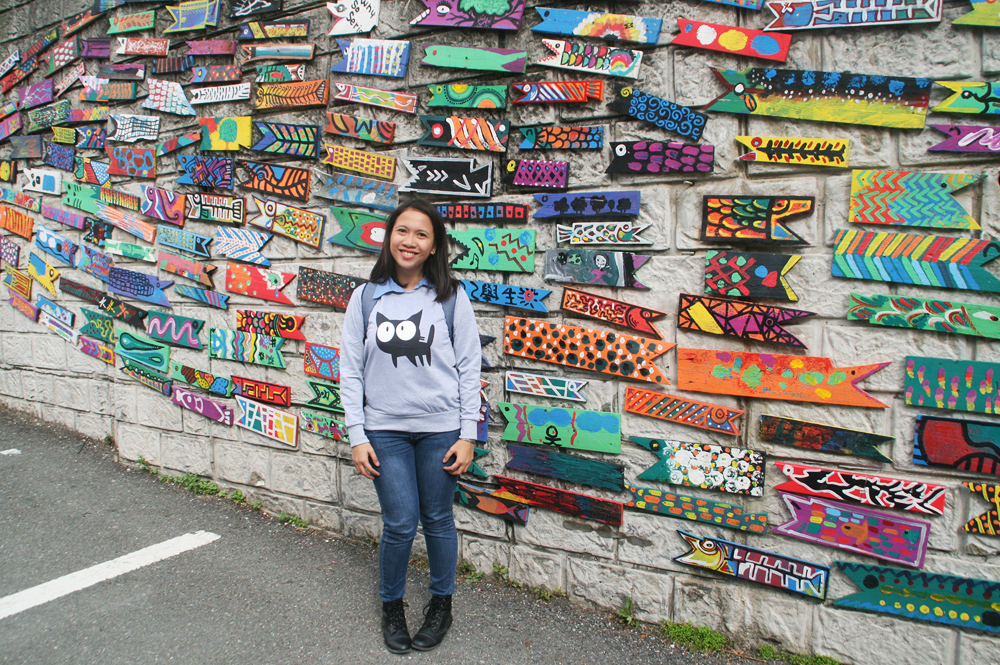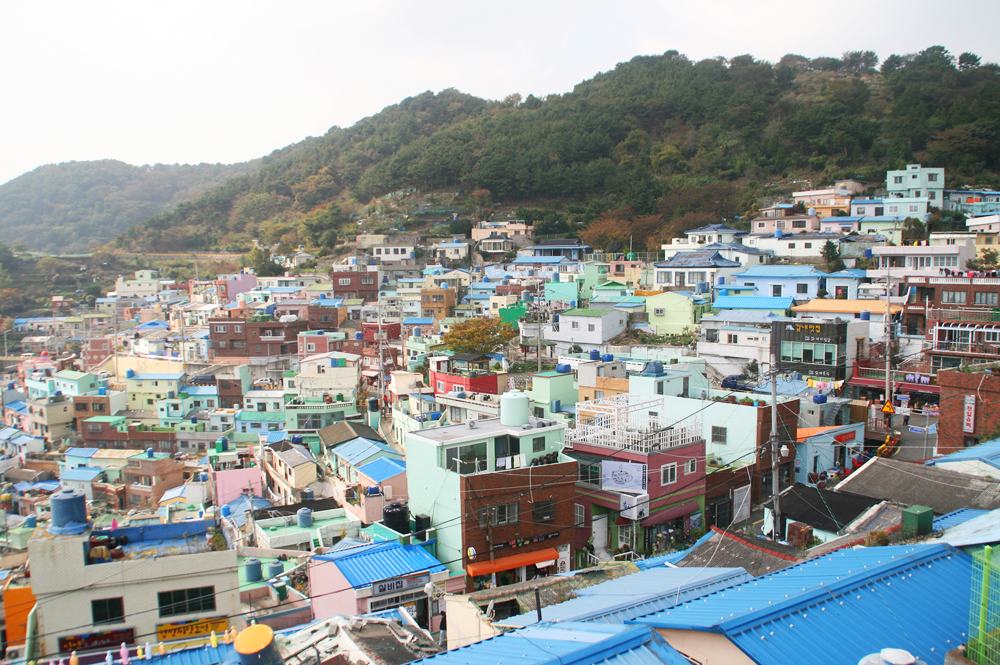 I have never been to Santorini, so excuse me as I don't really understand the comparison when they describe Gamcheon as the Santorini of Korea. But I do understand why it's called the Lego Village, because look at all the houses looking like colorful locks of Legos!
There's a viewing platform where you can have a bird's eye's view of the whole village and even the sea. Though it was a bit cloudy when we visited, I'm still glad that we were given the time to see everything while the sun's still out.
If you're a fan of Running Man, the view might be familiar. It was a setting of one of their races. If I remember correctly, Choi Ji-Woo was the episode's guest. They had a game on the same platform I was standing on when I took the photo above.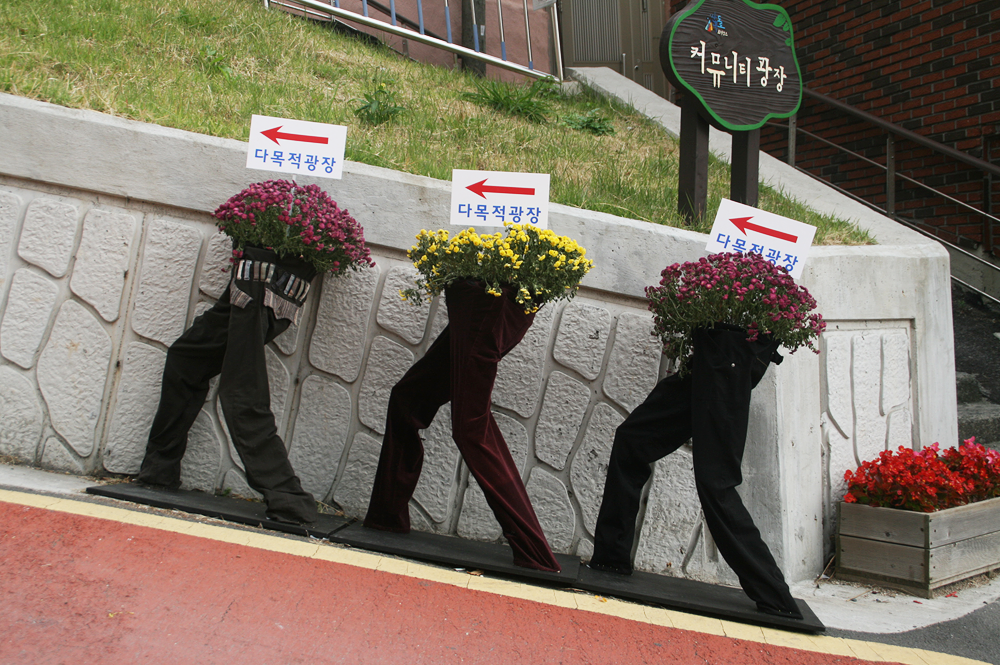 Anyone who loves Little Prince will definitely adore the Little Prince and Fox statue!
We had a lot of fun posing, though we had to do it in a rush since many visitors were lining up to have their photos taken as well. There's no line, but it's amazing how everyone's patient enough to let others take pictures first. I guess we all learned a thing or two from the Little Prince.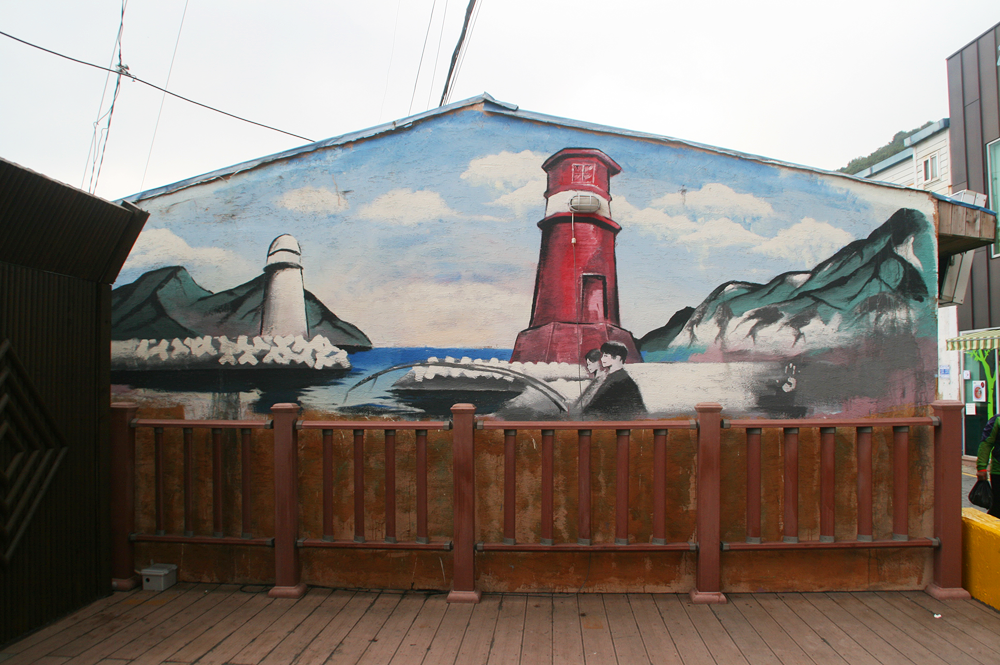 This may sound very nonsensical and fangirl-y, but I freaked out when I saw this mural. It's from the mini Korean drama Mimi!
The drama is starring my favorite boy in the world, ChangMin. He plays Min-Woo, who's an artist in the drama, you see? That wall is actually the wall of a hair salon, where the lead girl Mimi, played by Moon Ga-Young, lives. Min-Woo painted the wall for Mimi, and I'm just so ecstatic to see traces of ChangMin in the most unexpected of places. I seriously had no idea that they shot the drama in Gamcheon! So yes, sorry that I freaked out a little.
There's this alley with a staircase painted as books. It was extremely magical for a bookworm like me. Though some "books" had silly titles like "You Need Diet," which I'm pretty sure hasn't been published anywhere. Also, I felt like that particular title was talking to me after stuffing myself with delicious Korean food every chance I got.
When you reach the top of the staircase, there's a sort of wishing well, but a lot of imageries from the past of Korea. The alley's not easy to miss, and it's located near a corner.
Instead of following the normal route, we decided to take the road less taken by tourists. There's an alternative path on the map that leads to the residential area. There are barely any murals nor art, but it gave us a glimpse of other people's homes and daily lives. They had charming little gardens and potted plants hanging on their window sills.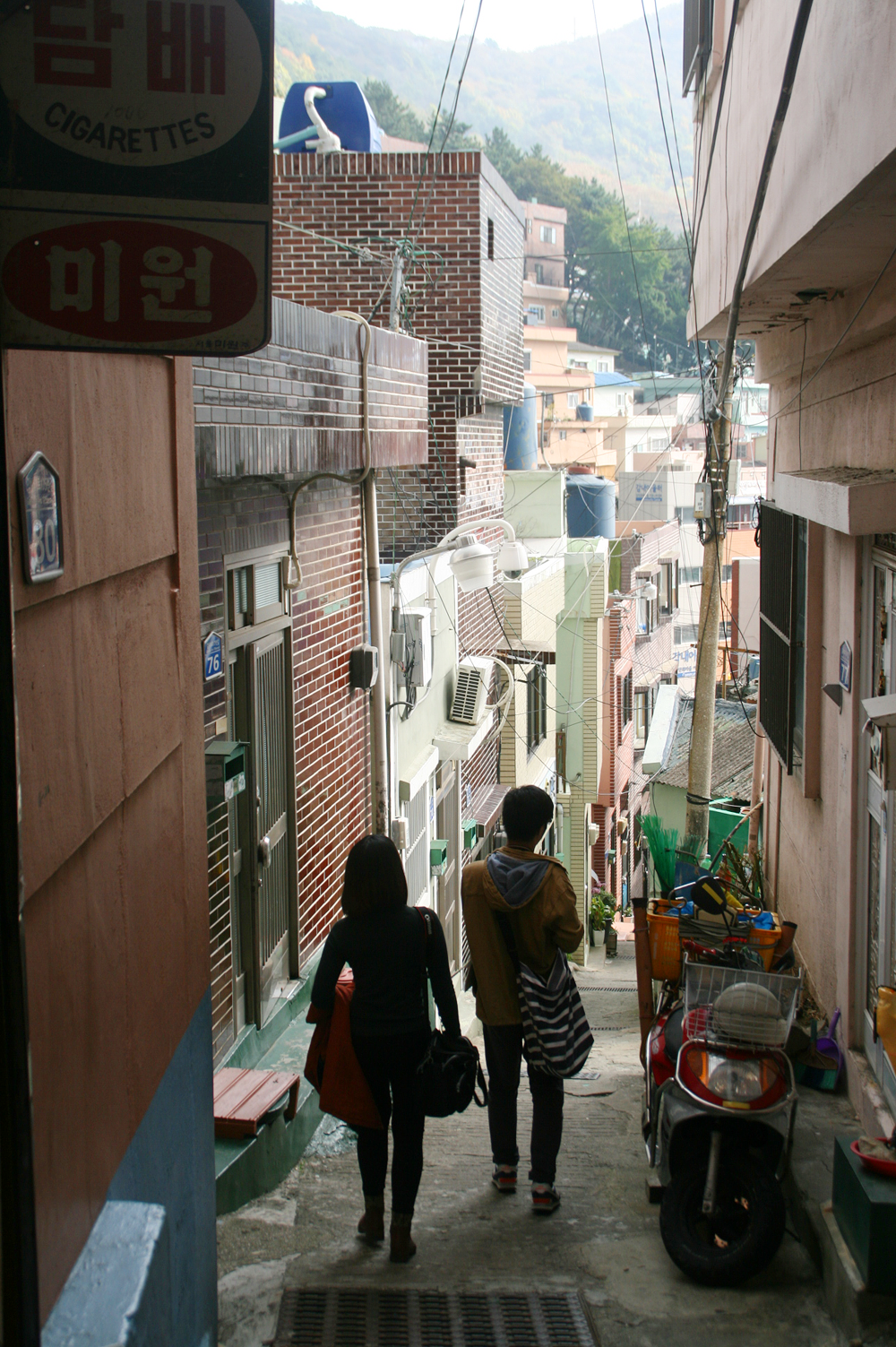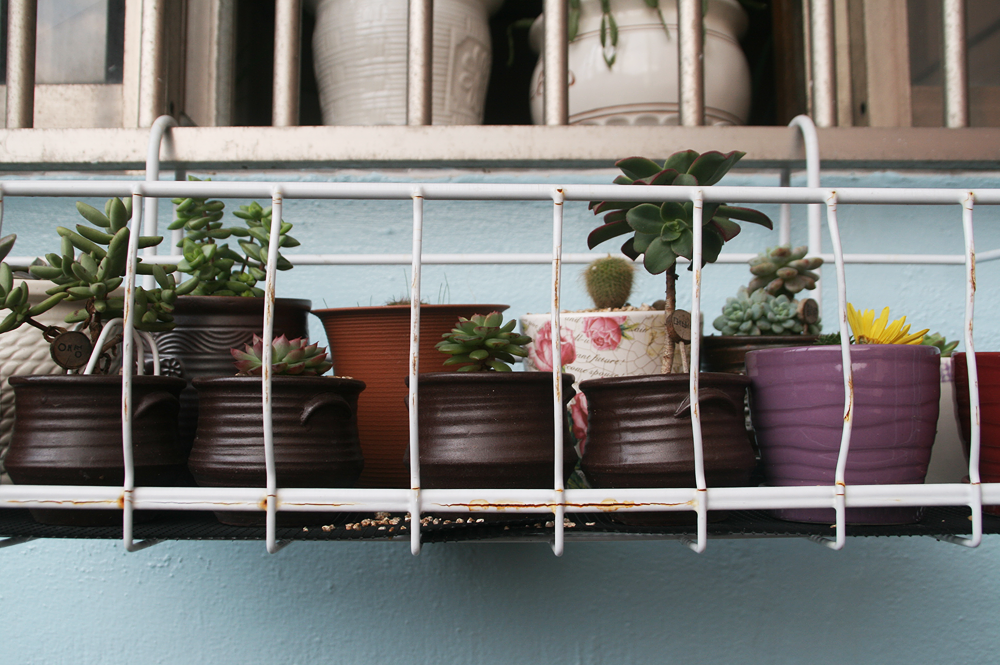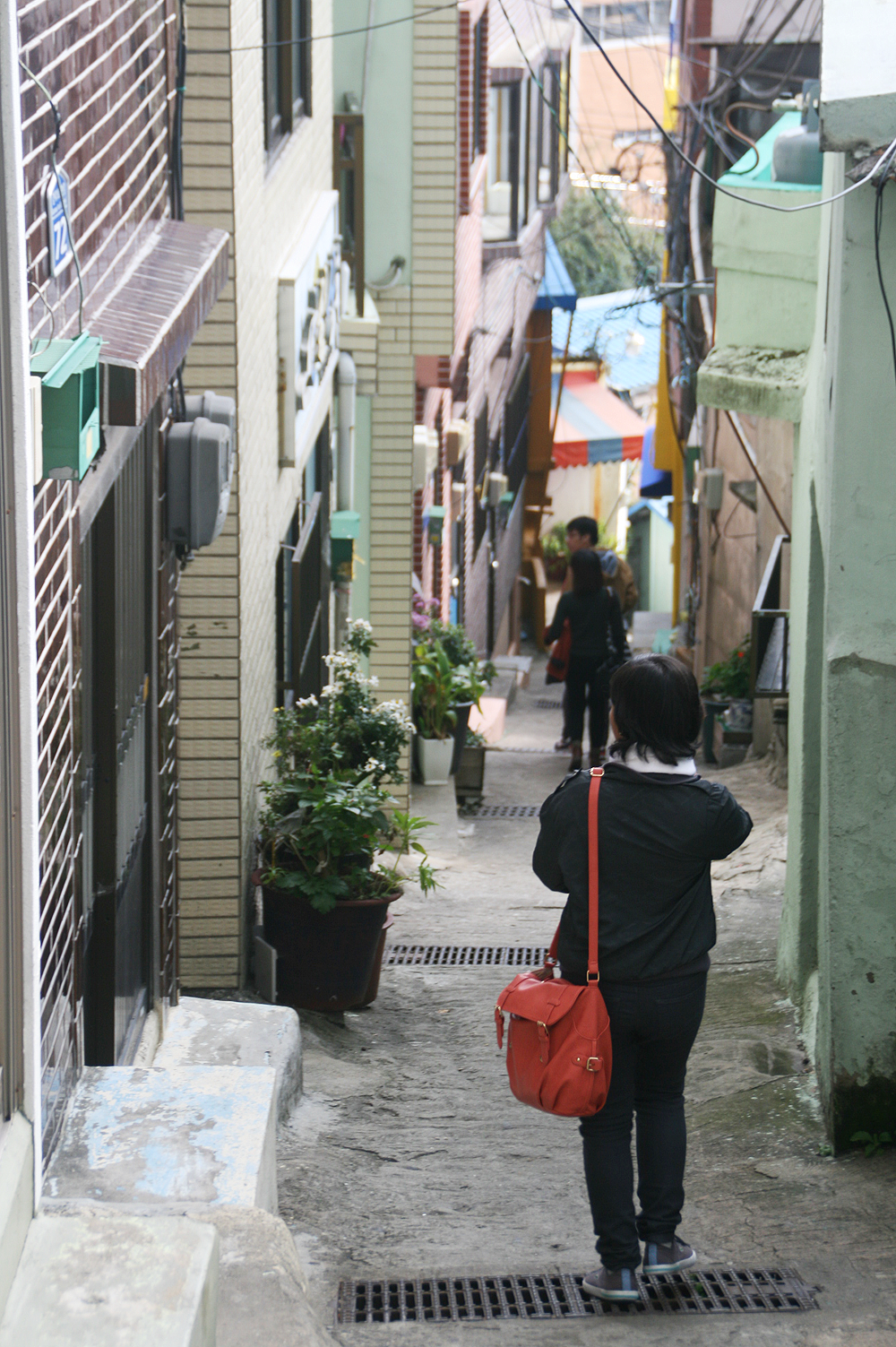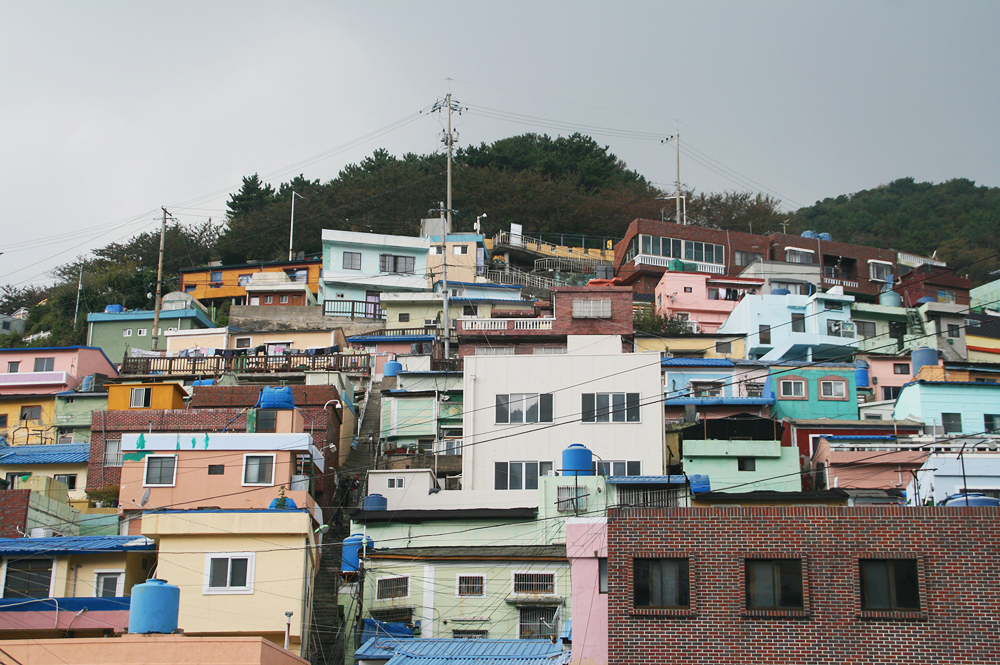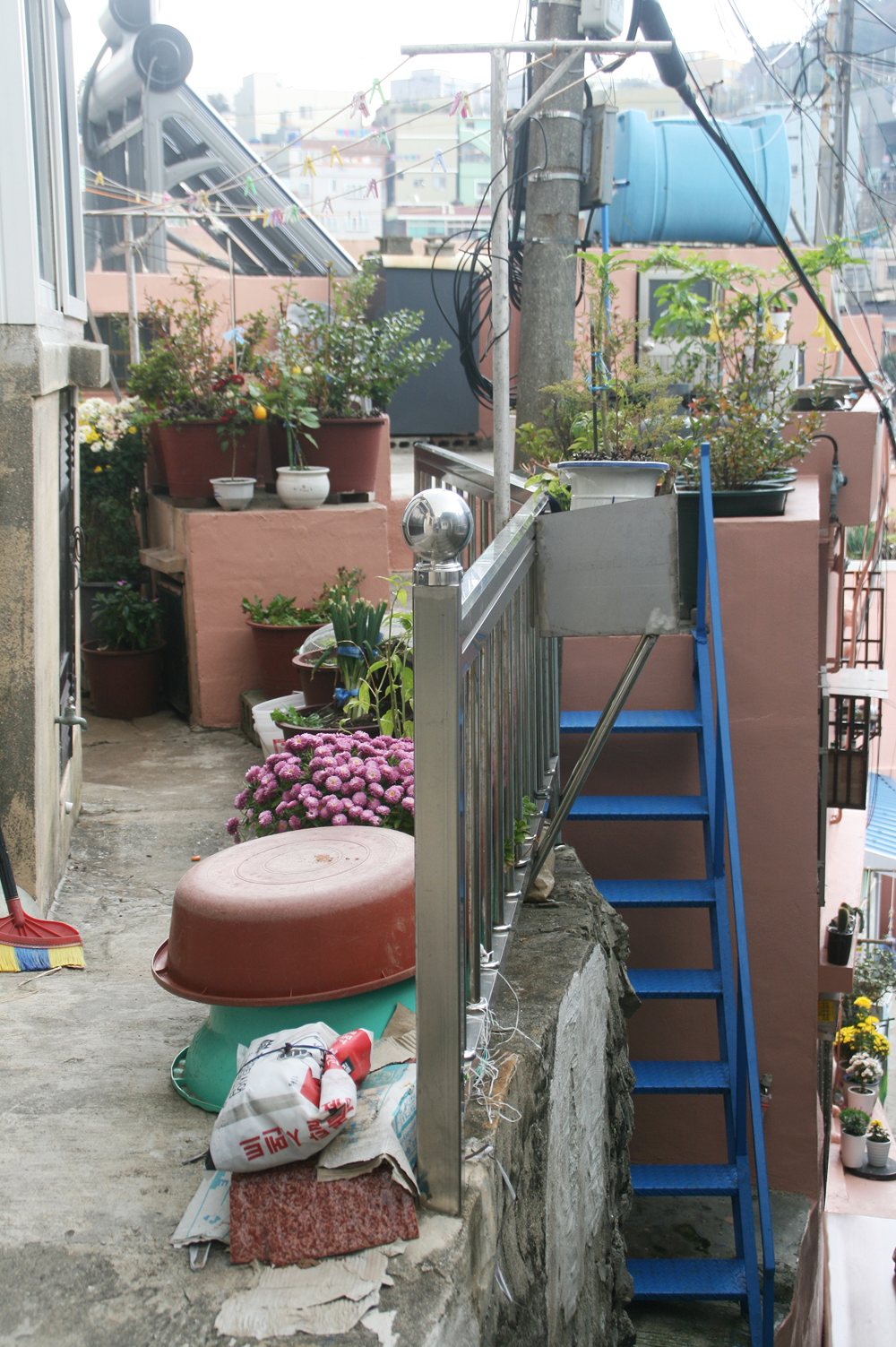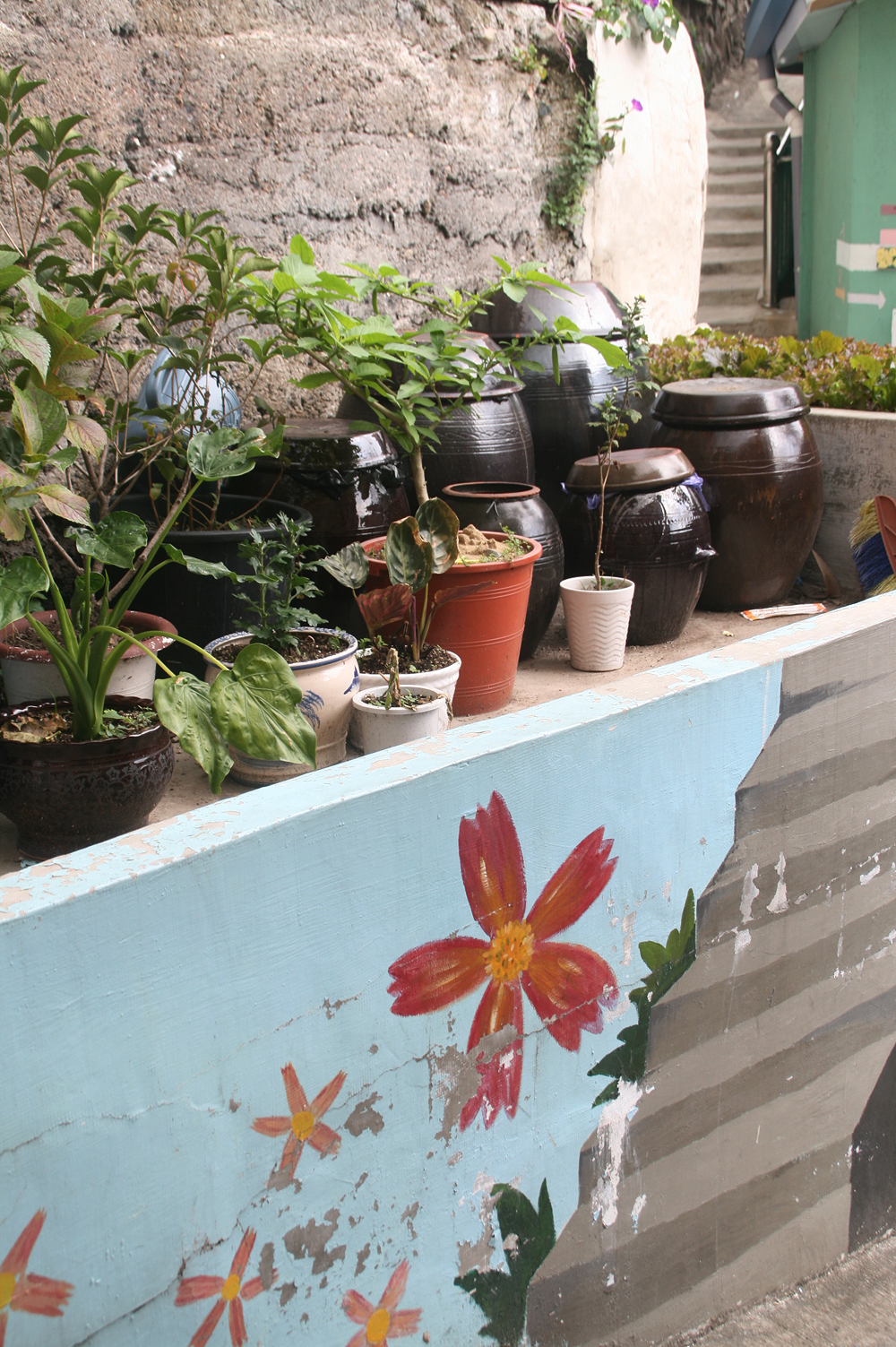 I love how it's already autumn but there are also touches of spring wherever we go. Since it's my first time experiencing autumn, I'm not sure if flowers are regular occurrence during fall. If it's not, well, I still appreciated the blossoms we see as we navigated the zigzagging alleys of Gamcheon.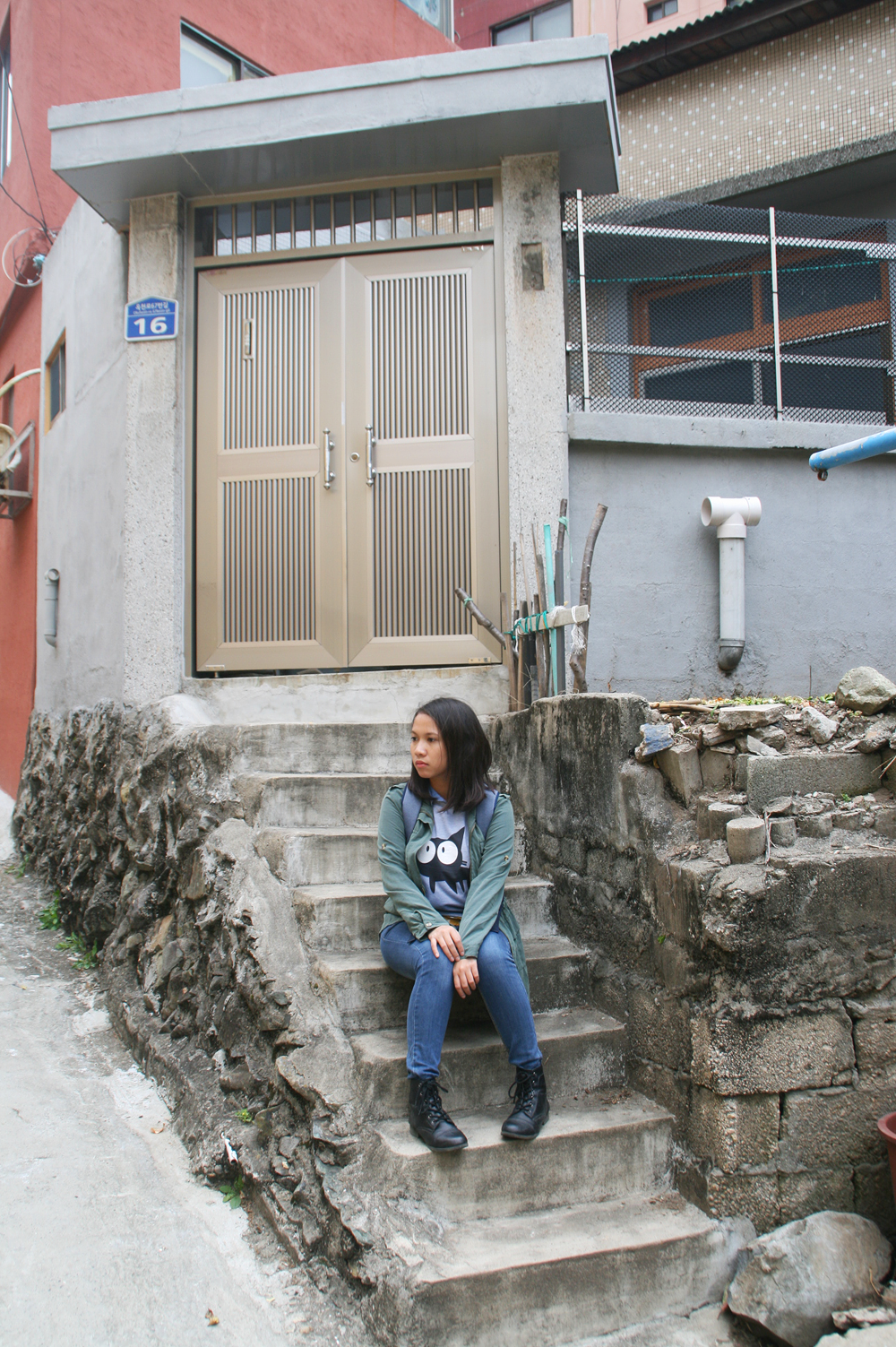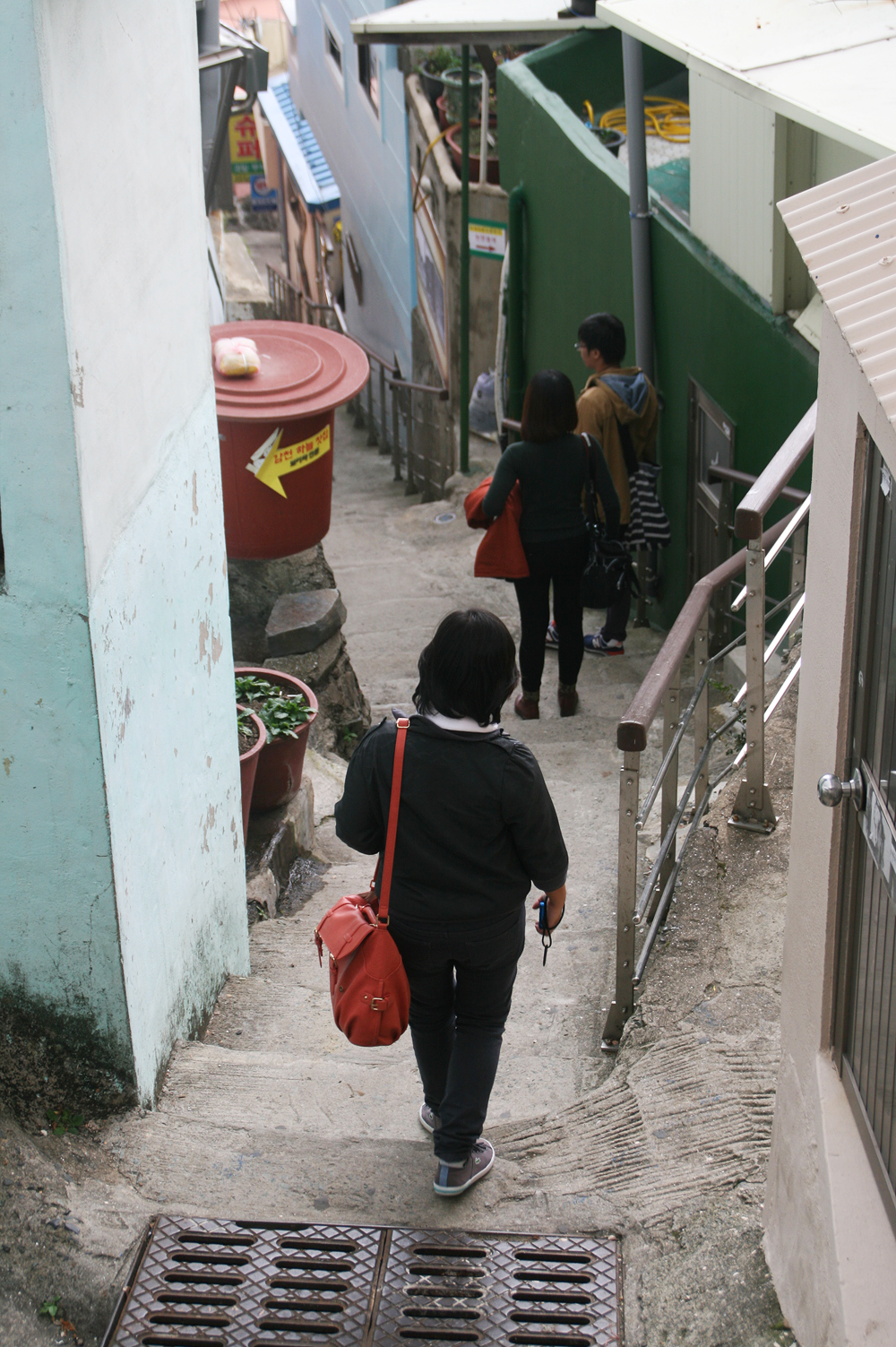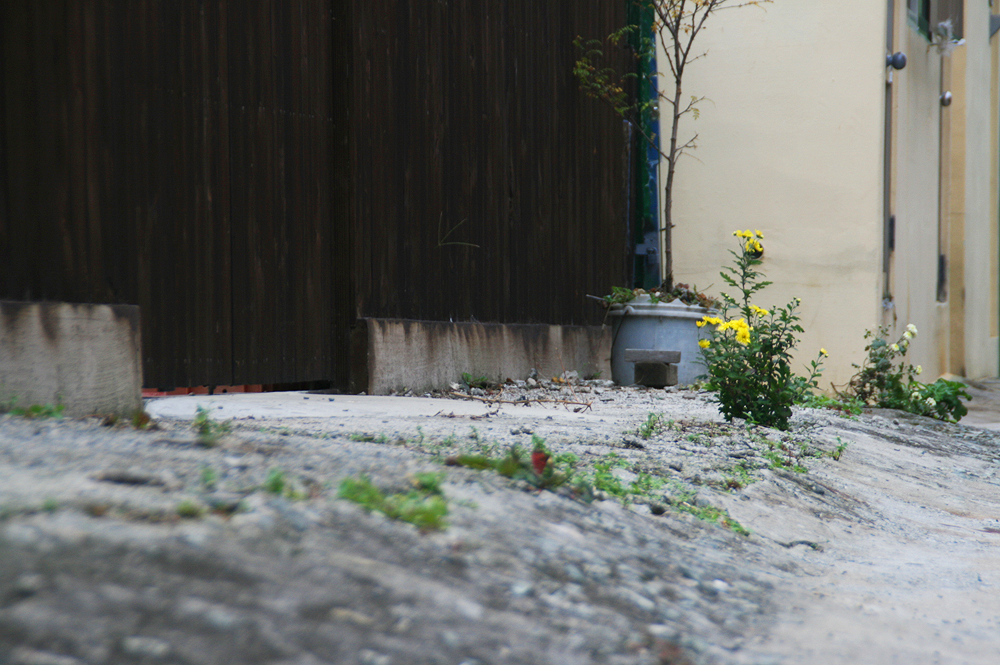 It took us an approximate of two hours to see everything. But those two hours were enough to prove how a little effort from the government and the locals can turn something ordinary into something wonderful.
It's precisely what I admire about South Korea—its effort in promoting tourism and preserving culture. They turn little neighborhoods like Gamcheon and Bukchon Hanok Village into a real life museum. While still protecting the privacy of residents, they manage to share their culture as it is to tourists like me.
So thank you, Korea!
Gamcheon Culture Village (감천문화마을)
Admission: Free
Time: 9 A.M. to 5 P.M.
Gamcheon Culture Village Directions:
Drop off at Toseong Station (Line 1), Exit 6.
After going out via Exit 6, turn left until you reach the bus stop in front of the Busan National University Hospital.
Take Bus 1-1 or 2 get off at Gamcheon Culture Village.
Alternate route:
Drop off at Toseong station (Line 1), Exit 8
In front of the Busan cancer center, take the mini bus 2-2 to Gamcheon Elementary School.