On our second day in Korea, we went to Busan for a two-day trip. Since we'd be staying overnight, we searched for a hostel offering dorm rooms. Even just for an overnight stay, Hi Korea Hostel made me wish every hostel offered convenience the way they do.
Stepping inside the place made me believe that I had found my ideal hostel. It's homey, quirky, and incredibly lovely. The interior is well-thought-out, and I barely have complaints about the place. We couldn't have chosen a better accommodation in Busan.
After weighing our options, we decided to find a hostel near Haeundae Beach since we'd be staying for only two days. There were tons to choose from, but we opted for Hi Korea Hostel when we chanced upon their contest on Facebook. Luckily, we won two free beds, so of course we were ecstatic. I first talked to HaKo on Facebook, but we finalized the booking via email. They're always online so don't hesitate to message them on Facebook if you're thinking of booking with them.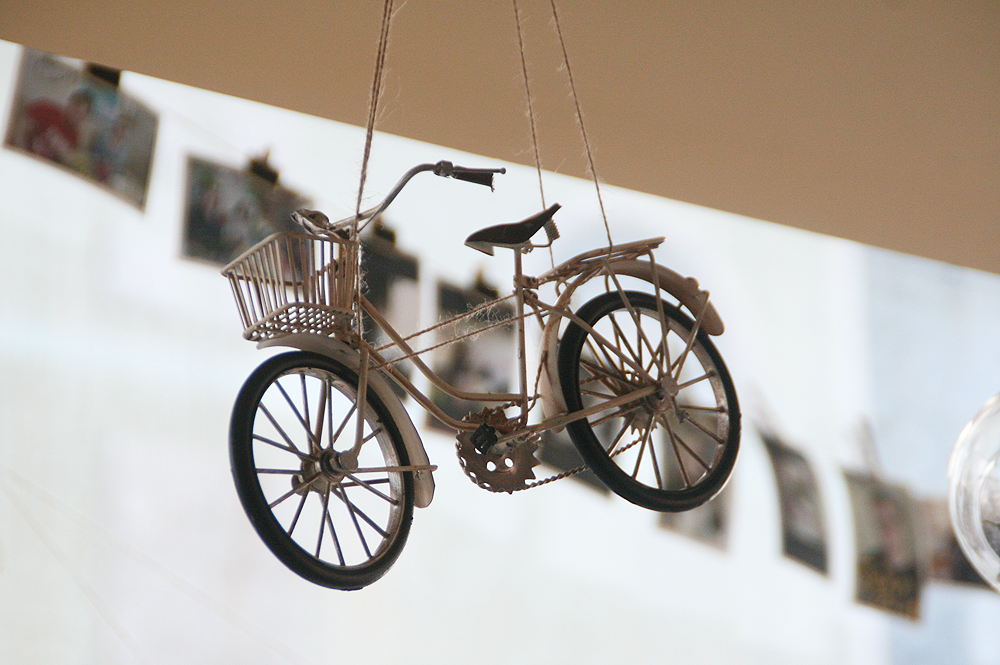 Though HaKo is near the Haeundae subway station, we got lost! Since we didn't get to go online often when in Korea, we used the old map they sent us. Apparently, they sent us a more updated map. We ended up going to the old Hi Korea Hostel, which was under renovation that time.
Actually, we already passed by the new Hi Korea Hostel, but we decided to go further because the map said so. When we realized that we arrived at the wrong place, we decided to go back to the one we saw earlier. And tada! We finally arrived at our home away from home in Busan.
It's a charming little place, with all the details put into consideration in the interior. The lobby is mesmerizing with all the photos decorating the windows and all the sticky notes on the wall or hanging from the faux tree in the middle of the room. The place is spacious, and despite the numerous guests, it never felt crowded.
What I love about the hostel:
The dormitory
We stayed in a four-bed mixed dorm. Basically, we had the room all to ourselves. It's probably one of the nicest dormitory room I'd seen in a hostel. The wooden beds are sturdy, and each one comes with a soft mattress, comforter and pillows. Towels are also provided.
There's also a curtain for each bed that ensures privacy for the guest. I love this little detail. Trying to save as much money by staying in the cheapest room means you sacrifice a few things such as your privacy. But the curtains provide just that! Each bed has its own night light, too! Mine is sun-shaped. Yes, the night lights come in different shapes.
Cabinets with locks are also available inside the room.
The location
Hi Korea Hostel is near two subway stations so that can be a plus when you're DIY-ing your travel. There are tons of 24/6 convenience stores around the hostel, and there's also an abundance of restaurants nearby.
The downside is that it's quite far from many attractions, but it's within walking distance of Haeundae Beach so that more than makes up for it! On our second day in Busan, we woke up early to catch the sunset by the beach. Waking up at 5am with barely an ounce of sleep was so worth it.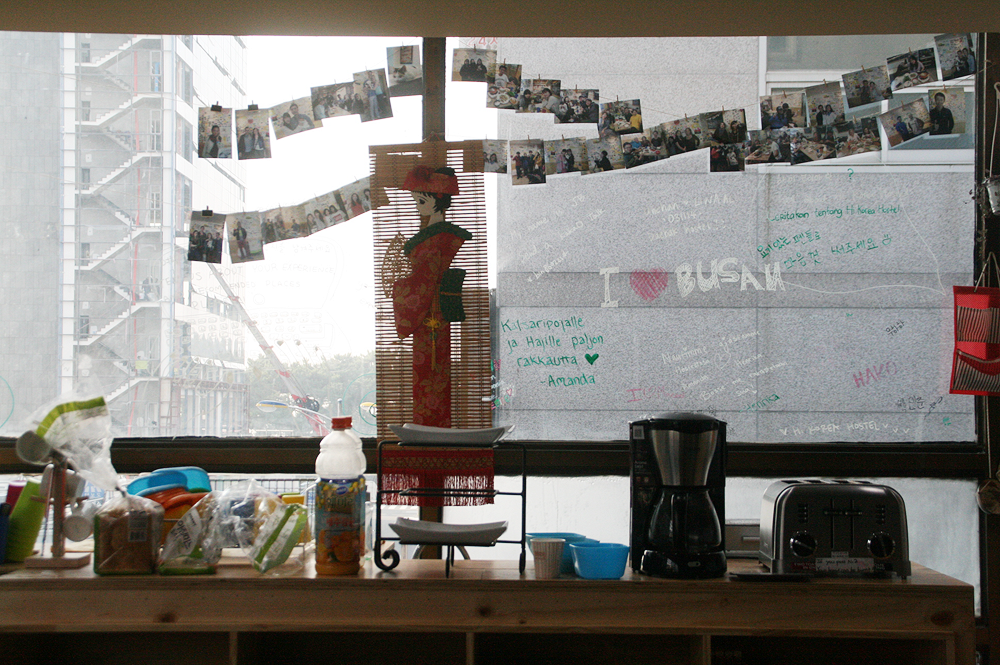 The interior
I've already gushed about the beauty of the place. The designs are simple, but the "vandalism" on the glass window adds more charm to the place. It feels very lived in, but in a good way. The number of chairs and tables invite guests to just sit down and mingle with other guests.
We didn't do much mingling, though, since we arrived late at night and leave right after breakfast.
The bathroom/shower
The.best.shower.ever.
There are tons of stalls in the shower and very spacious, too. Kimpee said that in the men's shower, toiletries were provided but there were none for the ladies! It's okay, though, because I always make sure to bring my own.
Hair dryers, curling irons and straightening irons are also available. There's no need to squabble for one because there are tons. I kind of missed the straightening iron when we went back to Seoul, because most hostels only provide hair dryers.
Other important things:
As expected, the host was very kind and accommodating.
There's free wifi, which can be accessed anywhere in the hostel.
There's also a laptop guests can us.
They sell canned colas and beers.
What I don't like that much:
The breakfast
The complimentary breakfast left little to be desired. They alloted bread for guests, but I can only remember butter as the available spread. Well, at least you can toast it! There's also hard-bolied egg. I guess it's satisfying enough if you're staying for a day, but I can imagine the breakfast would be tiresome if you stay there for a week.
Sadly, we couldn't find coffee when we had our breakfast. As a coffee person, to go without coffee in the morning made me go almost insane. But I had to sulk it up because after all, I was staying for free.
Maybe it's not just available that morning. There's orange juice, though!
UPDATE (02.20.15): Guests can now cook their own eggs.
Hi Korea Hostel
Address: Haeundae-gu, U-dong, 647-1, Suam building, 3rd floor
http://www.hikoreahostel.com/
 How to make a reservation:
* When booking through email or Facebook, you can either pay via Paypal or in cash once you get there.
** Before booking, check their Facebook because they seem to always have promo or a contest.
How to get there:
From the KTX Busan station:
Exit the station and head for the subway's Busan station (Line 1) in front.
From the Busan station, make a transfer at Seomyeon Station for Line 2.
Jump on the train heading to Haeundae Station (Line 2). FYI, it's a pretty looooong ride.
After jumping off from Haeundae Station, follow the map below.
* To be clear, the KTX Busan station is different from the subway's Busan station. But it's right next to each other, albeit different entrances.