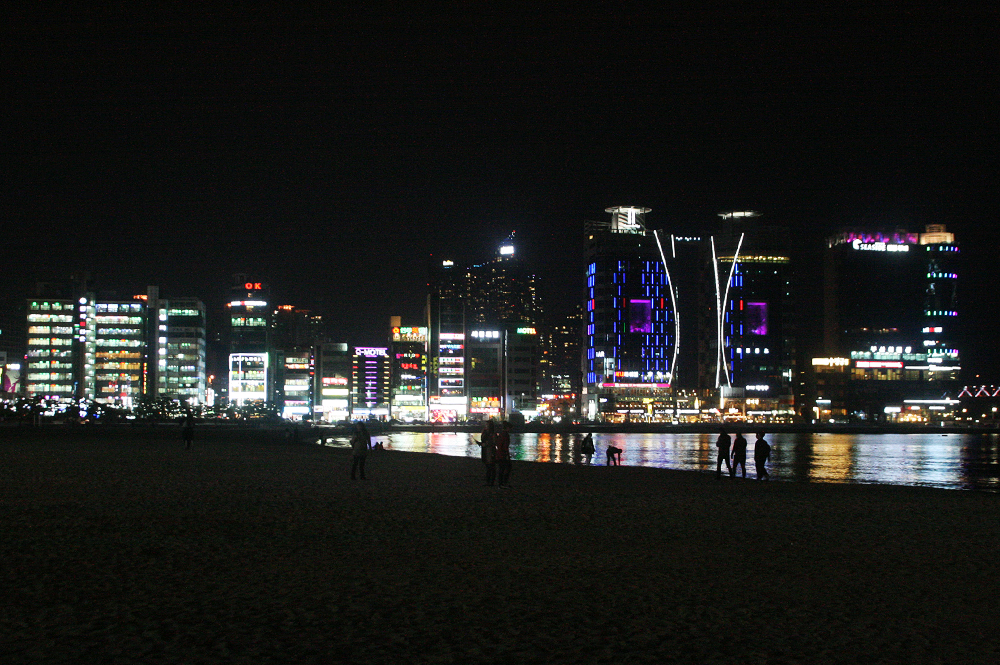 When I think back on our travel to Korea, I always fondly remember our night at Gwangalli Beach.
It was the last destination for a very tiring day. After being disappointed that we failed to arrive at our previous itinerary stop before closing time, we were desperately hoping that the beach wouldn't disappoint. There are tons of beaches in Busan, and we decided to head to this one first.
Despite lacking sleep and energy, I can't help but think it's definitely one of our best nights in Korea. We didn't really do anything in Gwangalli Beach, we just sat there and talked and ate and laughed and sang our hearts out. I guess we're the group of friends who just can't keep quiet when we're together. We're actually a bunch of introverts, but we bring out the extroverts in each other. That's probably the sweetest thing I can say about my friends, heh.
There were no stunning scenery nor were there attractions. We couldn't even take decent photos since it was too dark out. Yet, I only have warm and happy memories when I remember that night. This probably sounds so sappy, but it was indeed such a good memory.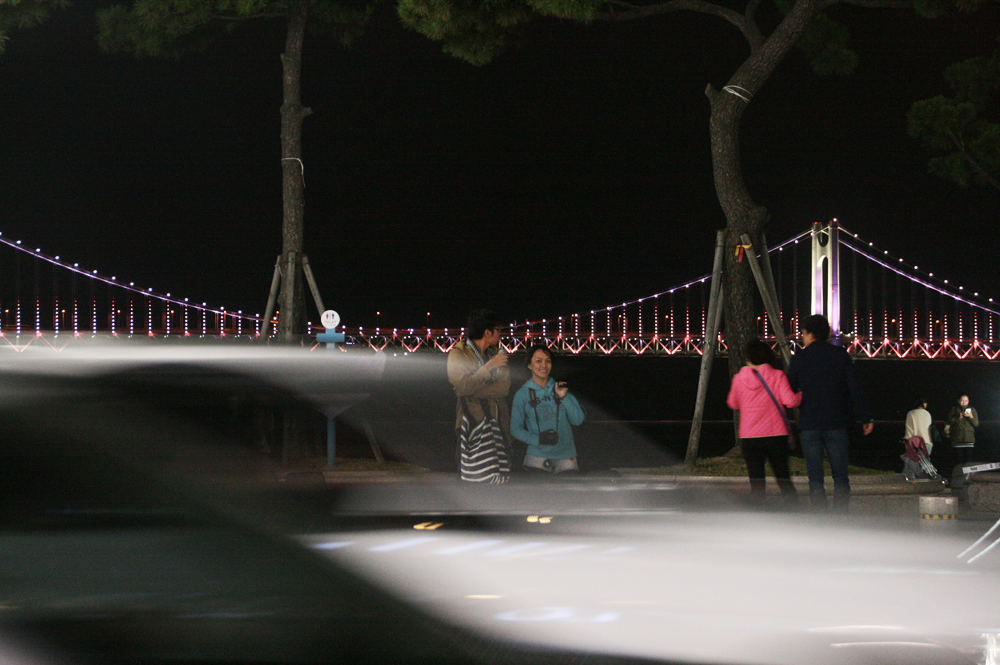 We saw tons and tons of Korean barbeque restaurants, but we went passed by them and opted to take out a box of fried chicken from Lotteria. It's our first fried chicken in South Korea, and sadly it's not the best. The dip was pretty great but the chicken lacked seasoning. We also bought refreshments from a convenience store near the beach. Cider tasted great in the cold weather.
Actually, we had the idea of eating chicken because we saw some of the people hanging out by the beach with their own boxes of chicken, too.
I failed to take proper pictures, but there were fantastic light shows on the Gwangan Bridge. I wish I took a video, but my cellphone camera's really not fit for film-making. Someone buy a new cellphone juseyo!
If rolling around on the sand isn't to your liking, don't worry because there are steps where you can hang out near the beach. It still has a perfect view of the water and the skyline by the beach. I retract what I said earlier. Gwangalli Beach offers quite a fantastic sight at night.
The entire time we were at the beach, there were two friends jamming right next to us. It seriously felt like we had our own band playing for us the entire night. One was mostly playing the guitar and the other was singing. They covered both English and Korean songs. my heart skipped a bit when they covered the Banmal Song! Or was it Love Light? I can't remember exactly, but it didn't change the fact that the Goguma shipper in me squealed in joy.
I'm not a singer, but I thought they sounded really good. Kimpee contested and said that the guitarist who looked like EXO's Changyeol was the better singer. Well, whatever. Haha!
We talked with them for a bit, and we also had photos taken! Not in my camera, though, so I can't share the photos. They spoke good English, but I sadly forgot their names. Kimpee and Jinky did most of the talking, and Iris and I mostly just went along. I'm so scared of talking to strangers, heh.
We asked them if they're in a band, because it seemed like they were practicing for something. Apparently, they're just doing it for fun, which I think is pretty great. They left the area a bit earlier than us and walked towards the waters. It was quite thrilling to see them walk the length of the beach while playing the guitar and singing. Of course, we could no longer hear them, but it was still a pleasant sight.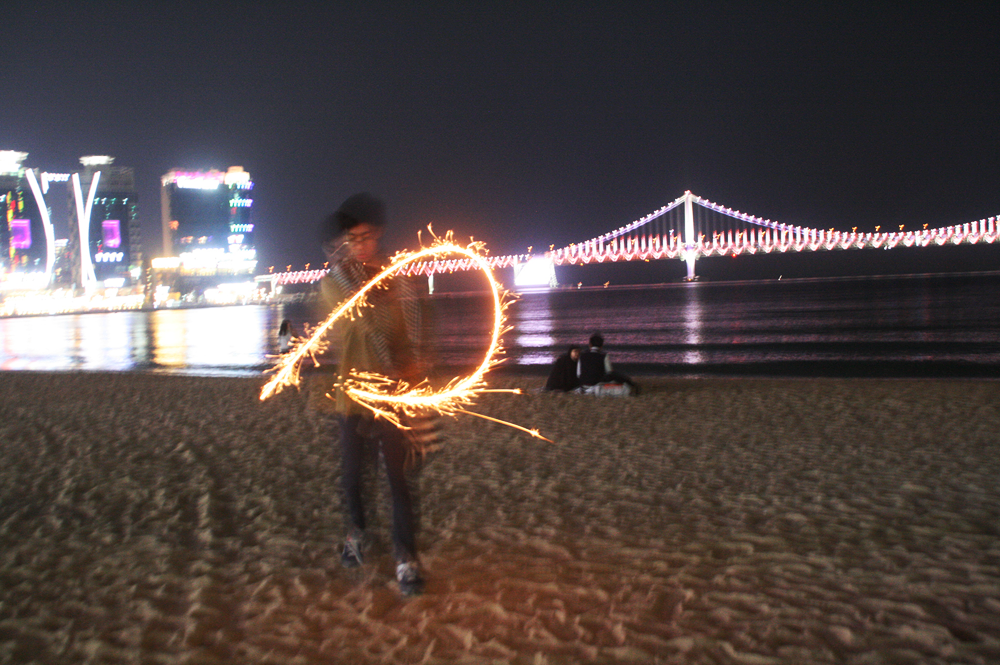 To make the perfect night even more perfect, we bought sparklers from an ahjumma selling them along the beach. It was a short-lived fun, but I've always wanted to try playing with sparklers when it's not New Year's Eve!
So here goes to doing something for the first time, along with so many other things that I do for the first time when traveling. Here's to a night of endless laughter and nonsensical conversations that get me in the heart anyway. Here's to good times and to good friends, and I wish both come by more often. Here's to the joy that only exhilarating travel tales can bring.
Here's to Busan and Gwangalli Beach, who bewitched me into thinking that I cannot not go back.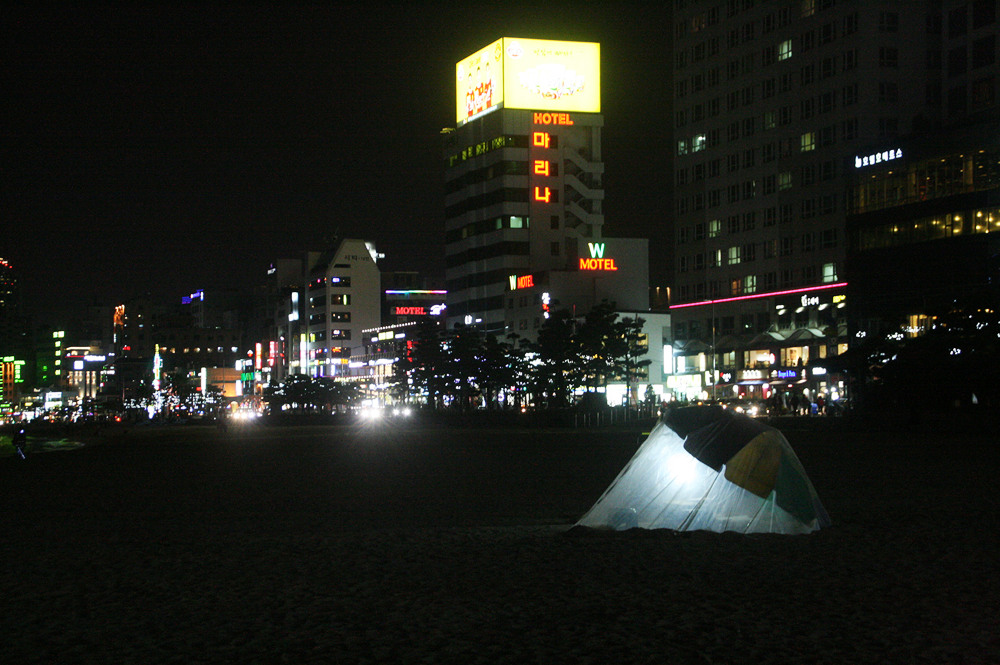 Gwangan Bridge and Gwangalli Beach, Busan
Gwangan 2-dong, Suyeong-gu, Busan-si
Admission: Free
Best time to visit: Anytime!
How to get to Gwangalli Beach (광안리해수욕장)
Get off at Gwangan Station (Line 2), Exit 3 or 5.
Walk for 5-10 minutes  to reach the destination.