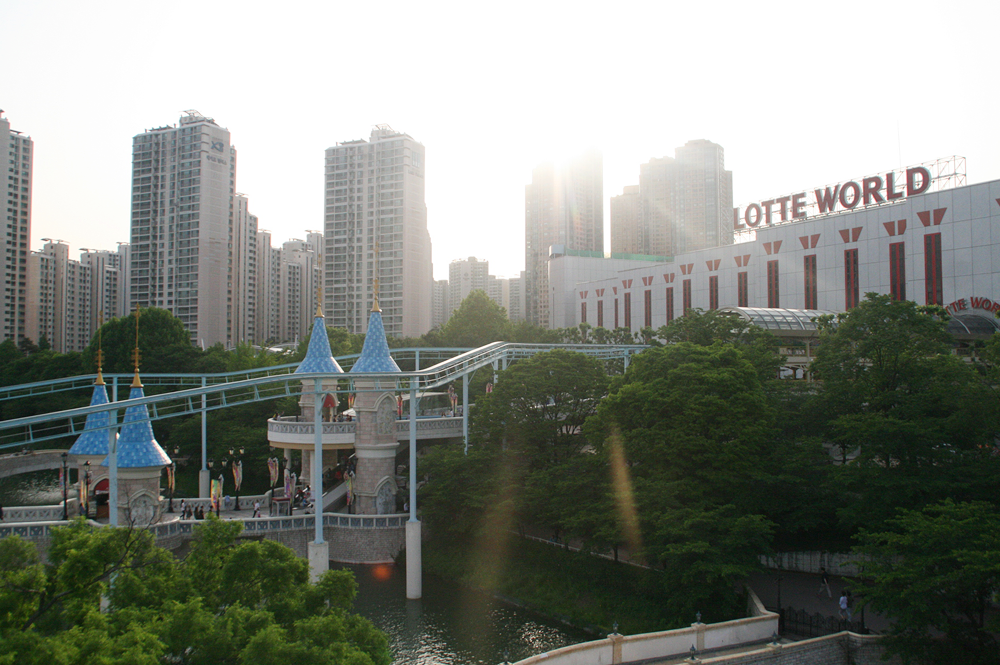 Lotte World was supposed to be on the third day, but our host insisted that it's best to visit on a weekday. He was right! Unlike my last visit to the amusement park, in which we barely got to try anything, this time we actually got to ride everything we wanted to try.
It was a friday so there weren't that many people. Of course there's still a crowd but manageable. We only had to line up for a couple of minutes till we get our turn in the Lotte World rides. We arrived after lunch since we took the time to eat lunch at the food court in Lotte Mall. I still think we managed to utilize our time! It's the only destination in our itinerary so we had the entire day to spend in the park.
Still pretty! We planned out our day pretty well. We decided to try everything indoors first to avoid the scorching heat of the sun. Even though technically it's still spring, we could feel summer creeping in.
Lotte World has quite a confusing layout so it's a must that you find a map. The indoor theme park has so many floors and hidden attractions that it's possible for you to miss some of the best ones.
I saw these mini Toni Toni Chopper keychains and freaked out. I begged my cousins to play the game for me since I'm not good at it. All of them tried and all of them failed. I walked away depressed because it's Chopper! So I took photos instead. I will come back for you, my dearie.
Anyway, we didn't get to go on that many rides since we couldn't ride extreme ones. I wanted to, but I couldn't make them wait for me till I finish my ride. Hehe. Gian, Gabby and I tried the bump cars which was fun! Then, we had to go look for rides that Gianna, my lola and Tita Matt could ride, too.
We went on the tea cups thingy! Yay! Everyone loved it. I thought Nanay wouldn't be too thrilled because it can be a bit dizzying but she enjoyed the ride. Gabby was so hilarious, though. I rode the tea cup with him. At first he was laughing and shouting happily, then when the spinning got faster he was so scared I couldn't stop laughing. OMG, I'm a bad godmother.
After finishing some of the rides indoors, we decided to head out to the outdoor theme park. But we noticed people gathering in front of the stage in the middle of the park that we went to see what's happening. It's all perfect timing because the musical hadn't started yet! So we watched that, too. They love it! I was actually surprised because I fell asleep, heh. I'm sorry but I'm not that into musicals.
We couldn't understand a thing because it's in Korean but it  didn't stop my family from enjoying it. It seemed to have merged all the possible fairy tale characters like Peter Pan, Dorothy, Captain Hook, etc. The majority of the cast was Caucasian but the entire thing was in Korean. It's no surprise that we were the only foreigners in the audience. So while I couldn't stop falling asleep, my family loved it so much. As Gabby put it, "Nakakaiyak." He's an emotional kid.
Aaaaah! I barely got to see the famous Lotte World castle in our last visit so it's nice to see it in all its glory! This picture doesn't do it justice! I think it's the castle featured in He Was Cool, but I'm not so sure. Though you can't actually go inside the castle, it's still picture-worthy. I'm just so happy that I finally have a decent photo in front of the pretty castle. #likeatourist
You can find majority of the extreme rides in the outdoor theme park. When I say extreme, I really mean really extreme. You see, I'm a sucker for extreme rides and it's the one I look more forward to. A visit to an amusement park just doesn't feel right if you don't try one of the the daredevil rides. Lotte Worls has tons of it!
Gyro Drop, Gyro Swing, Bungee and Gyro Spin are just some of the scariest rides in the park. And sadly, I didn't get to try them. It's difficult to separate from the group since we didn't have a mode of communication so we just stuck together. It's okay, though, since I can always go back to Korea (hahahahahaha no).
Gianna, Gabby and I went up Snow White's tower and were rewarded by this amazing view. It seriously looked so amazing! My aunt, Nanay, and Gian didn't go up so they didn't see it. It seems pointless because there's nothing to see on the way up, but this view was enough to make us happy. It was around sunset, too, so we ended up seeing the glorious sun in its finest hour.
After a quick snack of corndog, which my cousins loved so much a picture of it is enough to have them screaming, we went to try the Geneva Cruise Lines attraction. Lo and behold, it's already closed! It's the attraction that closes way earlier than the park's closing time so make sure that if you want to try the cruise, go there early.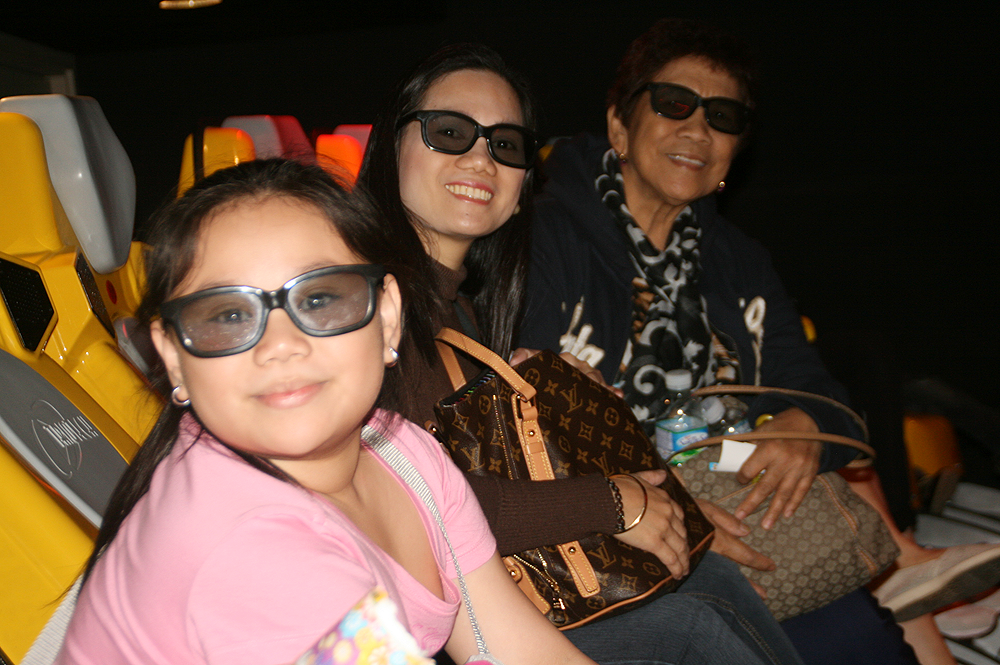 The last attraction we went to was this 4D thingy where we had to shoot monsters with our laser gun. It was fun! Kind of funny, too, since they rank everyone from who shot the most monsters to who shot the least. Then they flash our photos. Hehe. Gian and I were on the top 5 while my grandmother's the last. She didn't know she was about to shoot the monsters. She still had fun, though! Gabby was so funnybecause he got scared in the middle of it and hid behind his hands and gun. Oh well.
The indoor park at night was lovely! I haven't tried the ice skating rink since I can't skate to save my life. But I swear I will try it in my future visits just because it used to be a staple in Korean dramas. Not that much anymore, though!
I think my visit to Lotte World this year was definitely better than the first one. Because #1.) there are less people; #2.) I got to go outside because it wasn't raining; and #3.) I got to try more rides! I know this isn't much of a review, but how do you review an amusement park? We had a great time, and I think that's enough to say that it's worth a spot in our Seoul itinerary.
Adult (46,000) Youth (40,000) Child/Senior Citizen (36,000)
Rate varies depending on the time of your arrival. Much cheaper in the late afternoon.
Learn how to get discounts at Lotte World.
How to get go to Lotte World Seoul:
Jamsil Station (Seoul Subway Line 2 & 8), Exit 4.
I'm going back to Korea this November (!!!) but I'm not sure if we'll visit Lotte World. I want to go to Everland next time! But then again, I'll be visiting with friends next time and they might want to visit Lotte World. We'll see. 🙂