Trick Eye Museum is located in the conundrum of independent clothing stores and themed cafes in the student district of Seoul: Hongdae. Though it's underground, it's not easy to miss because it has a pretty striking signage outside. Also, there's always a trickle of visitors going in and out.
It's a relatively new establishment but from the looks of it, it's now one of the most frequented tourist attractions in Seoul. It's clear why, because kids, teens, adults and oldies can enjoy this attraction. It certainly doesn't matter how old you are because as long as you have a good sense of fun and silliness, you'll have a grand time posing next to the 3D paintings. We sure did enjoy it!
The place was packed when we visited on a Saturday, but we didn't really have to wait too long for our turn. I definitely enjoyed it, and one of its most popular paintings is the one above! Gianna looked like a giant while I ended up looking like a tiny bean. It's all optical illusion but it's still pretty amusing, right?  I seriously can't choose a favorite because I loved most of it!
The museum basically worked on the premise of taking the shot in a right angle to achieve the maximum effect of optical illusion. There are tons of attractions like this in South Korea. There's the Alive Museum at N Seoul Tower and there are even 3D paintings in Lotte World. So you may ask, why did we choose to go to Trick Eye Museum in Hongdae. Well, I believe the resulting pictures below are enough reasons why.
I love how they were so game for anything! They didn't mind squatting, lying on their backs, hugging poles, emoting in photos, etc. etc.! Even Gian, who needs to be convinced that yes, he has to stay still so his mother can take a picture, was the one posing first before everyone else. It's rare to see him actually pose for a picture. I think it made Tita Matt pretty happy!
Isn't Gianna the cutest?! We stuck together while her brothers ran around the museum. There were 3D paintings meant for girls and her brothers wouldn't bother. But of course, even boys can try it, too. I think it'll be pretty funny if boys also do the ones for girls. There are also ones meant specifically for boys. Then again, if you have a drop of silly in your blood, you can pretty much go for anything.
My grandmother was often the one leading us. She'd pick the ones she liked and would call me to take her picture. Hehe. She's so cute!
My favorite! I love how Gianna looks like it's the most normal photo and I'm freaking out. Our personalities clash, I think, and I'm the ate!
From the bunch, I love the 3D paintings that will produce the silliest effect. I like the once that seem to defy gravity and space. Though those are the ones that require the most effort from us! Take for example Gianna's photo where her back's on the wall and she's floating a couple of feet from the ground. It's like throwing caution and poise into air the just to produce the best effect.
Me with the Panda is my current profile photo in Facebook, because I love pandas! Why? Because Huang Zitao.
I didn't count how many 3D paintings there were, because if you're having so much fun, why would you even think of Math! Am I right? I didn't include all our photos, too, because there were too many! I only included my favorites.  Also, I posted this on the blog months ago, but it's definitely one of the best!
Once we exited Trick Eye Museum, we entered a Mirror Maze which was short but still amusing. We enjoyed trying to find our way out and looking like fools, grasping at the air when we thought it's a mirror.
Our trip wasn't over yes, because our ticket also included entrance to the Ice Museum. Despite wearing a thin cotton shirt and a flimsy sweater, I braved the Ice Museum and came out trying not to let my nose run. It was so cold! I don't think you can rent a winter jacket in the place.
It's not that big and you need no more than 15 minutes to spend inside the Ice Museum. But we spent more than that because we had way too much time with the slide! We went on it for a couple of times. It was scary at first, but realized that it was really fun, exhilarating, and thrilling. And by thrilling, I meant that literally. Just imagine, you're in a place below zero degrees and you're zooming down an ice slide. I think if it's a kilometer long, I would have froze before I even reached the end. Good thing it's quite short!
This is one of the pricey attractions in Seoul. Though Alive Museum is a cheaper, Trick Eye Museum was still worth it! Besides, we had a great time roaming around Hongdae. And technically, we visited two museums so it's a win-win, right? We also had another agenda in the district so it fits our itinerary pretty well!
Admission: Adult (15,000) Children (12,000)*
* Senior citizens get 50% off!
How to get there: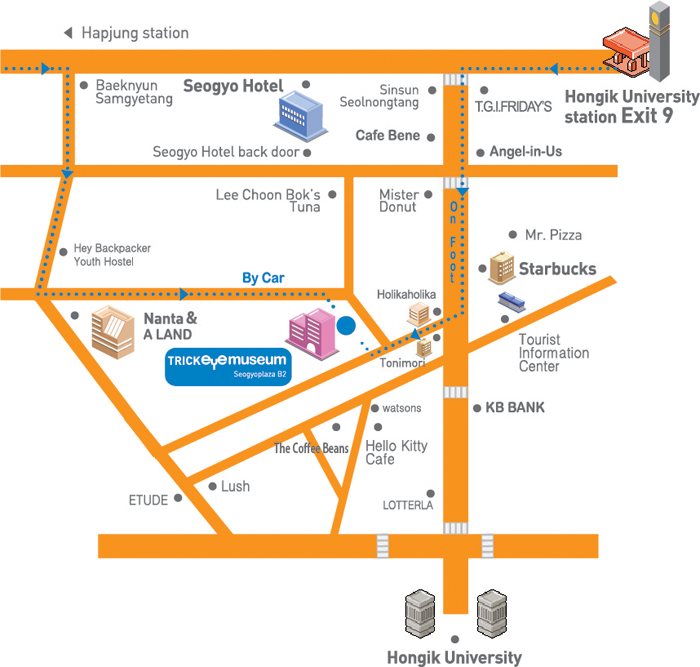 * Map from their website.
Hongik University Station (Seoul Subway Line 2), Exit 9.

Go straight 150m, cross the road, and turn left onto Hongik-ro Street.

Go straight 120m, and turn right down the second side street (in between TONYMOLY and Holika Holika).

Continue going 100m to arrive at Trickeye Museum on the right.
How to get a discount to Trick Eye Museum:
Sign up on Trazy.com and proceed to this voucher page.
Click on the Get Coupon button to receive the voucher in your email.
Present it when paying either as a photo saved on your phone or print out the coupon.