My Seoul trip last month was a bit rushed, having booked our tickets just weeks before the actual travel period. After emailing tons (and I mean, TONS!!!) of hostels around Seoul, only a fourth had available rooms.
I hoped to get a reservation at Backpackers Mr. Sea because that's where we stayed at two years ago but received no reply from my email and there were no more available rooms in Agoda. But I think it's okay that I ended up booking elsewhere, because K Hostel was great! (Backpackers Mr. Sea is awesome as well.)
I corresponded with Michael, one of K Hostel's hosts, via email instead of Agoda. Though it's quick to book through that site, I couldn't rest easy because according to the site triple rooms are for two people. It was confusing, because the room has a double bed and a single bed, so how can it be just for two people?
Michael replied really quickly so I had a pretty easy time making the reservation. I also didn't pay anything for the reservation and only paid in full (either cash or card) once we got there. We booked two triple rooms (with breakfast!) since there were six of us. They gave us a discount because there were two kids with us.
Also, I made the reservation two days before our arrival and confirmed my booking a day before. Our email conversation went smoothly so we luckily had a place to stay for four day. Thank you!
WHAT I LOVE ABOUT K HOSTEL:
1. They were great with the kids. It's not just for backpackers because families can stay there as well. The hosts were really nice and kept giving freebies to my cousins. I was jealous because they always have candies and lollipops and even got boxes of pencils. Where's mine?!
2. It's located near the subway's Line 1. Let me emphasize how important this is. K Hostel is within walking distance from Dongmyo station which is one of the stations of Line 1. The Seoul metro is so complex and so efficient. It has 19 lines, and lucky for us because Line 1 intersects with almost all (or is it all?) the lines. So no matter where we headed, we only need to make one line transfer to reach our destination.
3. It's right across a bus stop. Going to and fro the airport is easy because the airport bus stops right across from the hostel. It's very accessible.
4. There are many dining places nearby. There's a lot. There's a good Korean bbq place right next to the hostel. We often get home late but somehow we always manage to find one open, but they usually close at around 10PM or 11PM. Convenience stores and bread shops also abound.
5. The rooms were spacious enough. The beds were pretty wide, too. We had a comfortable stay because the rooms were nice. Not a 5-star hotel but it was comfortable.
6. Fast wifi! I know you want to know. You can also rent wifi pockets for a daily fee. I didn't because I'm cheap, and I could just update my Instagram and Twitter once I got back at night. You can also the computer in the common room.
7. The hosts speak good English. I also heard them conversing with other guests in Mandarin (or was it Cantonese?) and Japanese. I was amazed. Don't hesitate to strike a conversation with them because they're keen to start one.
8. You can make free international calls using a Skype phone. Unfortunately it's only available in some countries, Philippines not included. However, you can still place calls to the PH for a low fee of 1,000 won per minute. Not bad, really.
9. You can use the kitchen and cook your own food. But we were too lazy so we only used the toaster, lol.
10. Dongdaemun is within walking distance. I already mentioned this earlier, but it's worth to be repeated because it's one of the most distinguished shopping districts in Seoul. There's also a street market near the hostel which is just right next to Dongmyo station Exit 3.
11. The bathrooms in the rooms are big and clean. So yay! There's also heater, etc.
12. There's cable TV, hair dryer, airconditioner and refrigerator in the room. I must say that this is the one of the advantages of K Hostel over my previous hostel. We went during Spring and they had a rule about opening the AC. They weren't so strict about it, though.
13. Free Super Junior posters! If you're a fan, you'll definitely love this. You can simply take one at the bunch placed at the stairs near the reception.
14. They encourage you to try the delivery culture in Korea. If you watch enough Korean dramas, you know that having food delivered in your doorstep (or while you're hanging out at Han River!) is part of the Korean culture. And if you watched You From Another Star, you definitely want to try ordering chicken! K Hostel has a clear book filled with menus of restaurants that offer delivery. So try it out because I didn't and I'm regretting it so much. /ugly sobbing
WHAT I'M NOT SO KEEN ABOUT:
1. It can get pretty crowded in the morning so breakfast is a bit hectic. But this is a very minor concern.
2. There are no elevators. There are no rooms in the first floor so everyone needs to lug their luggage upstairs. But it's not that difficult since there are ramps that can help you carry everything. Besides, the hosts are also willing to help everytime. Again, it's not a big problem and a norm in hostels.
I can't think of anything else!
Overall, we loved our stay! My kid cousins are quite choosy but they kept saying that they loved the place. So I was happy of course! They kept complaining about the hostel I booked in Hong Kong a year ago. Hehe. This one passed their high standards so 12 thumbs up because there are 6 of us.
Will I book K Hostel again?
Of course! There's really no reason not to. However, for my next trip I'd love to try another hostel so I can explore other neighborhoods in Seoul. K Hostel is awesome, but I'd love to discover other good places to stay in.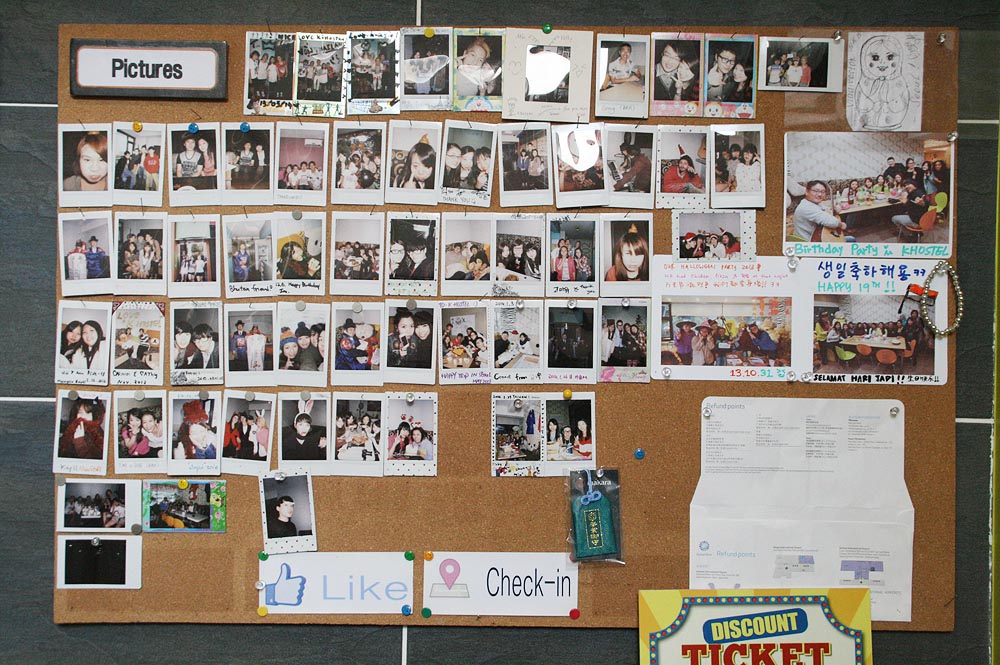 K HOSTEL
Address: K Hostel, 200-25 Sungin-Dong,
Jongno-gu, Seoul, South Korea
 Contact number: +82-2-2233-9155
or +82-2-2233-91556
How to make a reservation:
OPTION 1: You can make the reservation via email, which I did. I used this email and they replied super fast. Within the day, actually.
OPTION 2: You can try Agoda, as well!
If you'll ask me, I prefer making the reservation through email because we only needed to pay once we got there. Also, they can give you discounts or better arrangements that way. They're the ones who advised me which rooms I should book.
How to get there:
The instructions they provided in their website is clear enough. We didn't get lost and found the hostel in less than five minutes, I think. I just have to make some minor adjustments which I think will be useful to you.
Via Airport Limousine Bus
1. At the airport, find the counter where they sell the bus tickets.
2. Buy a ticket for the 6002 Airport Limousine Bus.
3. Get off at Dongmyo bus stop.
4. Cross the street, turn left and walk till you reach the hostel. About five minutes walk.
* Kids can get a discount for the bus ticket. I'm not sure about senior citizens, though, but you can ask!
Via Subway
1.Head to the train station.
2. Get off at Seoul station then make a transfer to Line No. 1.
3. Get off at Dongmyo station and get out at Exit 2 or 3. I prefer Exit 3 since you'd have to cross the street if you get out at Exit 2. Exit 3 is nearer.