South Korea is the home of aegyo, BB Cream, KPOP, and a lot of themed cafes. The Hello Kitty Cafe is one of these themed cafes, and it has a couple of branches around the country. In my previous visit, we went to the Hello Kitty Cafe in Hyewa near Sungkyunkwan University. This time, my family and I opted to visit the one in Hongdae which was pretty near Trick Eye Museum.
Prior to the trip, Gian and Gabby didn't want to visit the cafe because Hello Kitty. Haha. But Gianna really wanted to, and I promised that we'd visit the Hello Kitty Land in Malaysia, but we ended up going to Korea. So despite the two boys' complaints, we trooped to the cafe for a quick coffee run. Gianna was ecstatic when she saw the cafe and wouldn't enter as long as she hadn't taken a picture.
Doesn't the cafe look adorable even from outside?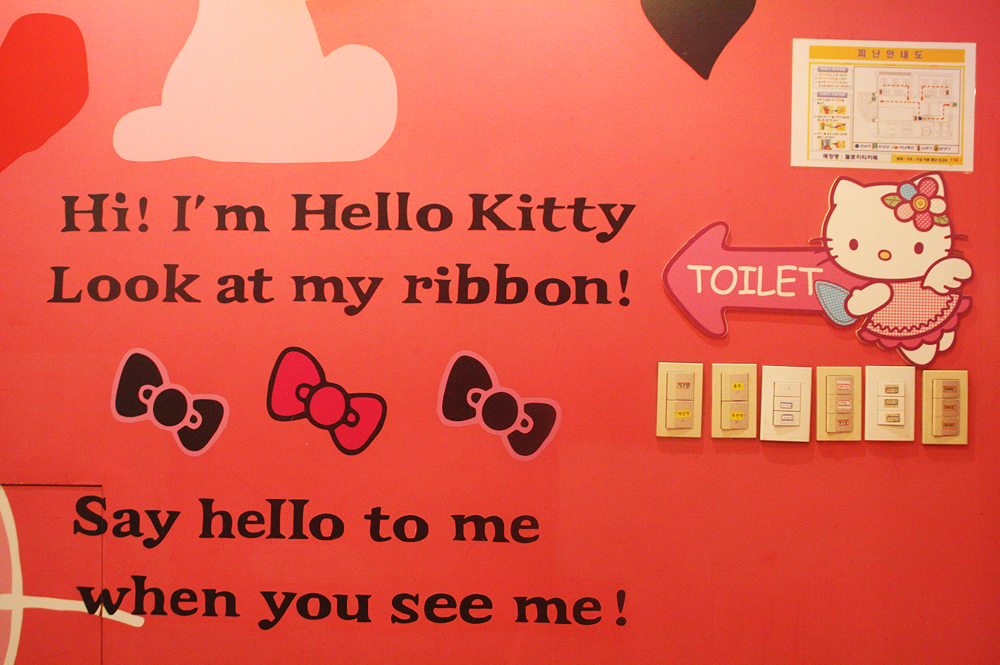 This one is definitely a lot bigger than the one in Hyehwa! There were two floors, both pretty spacious. By this time my camera's battery was already dying, and I didn't have a spare battery with me. Too bad I couldn't take a picture of the interior of the cafe. However, it's not that different from the one in Hyehwa. Just imagine everything to be pink and decked with Hello  Kitty decorations.
Good thing it lasted till I could take some photos of the menu and our orders!
As you can see, it's a bit pricey! Since I'm a cheapskate who loves to convert everything to Philippine Peso before buying, I couldn't, for the life of me, order that 400 PHP Hello Kitty cake. Yes, it may be cute, but it's already worth a meal for two or three! We ended up sharing our orders since we weren't that hungry.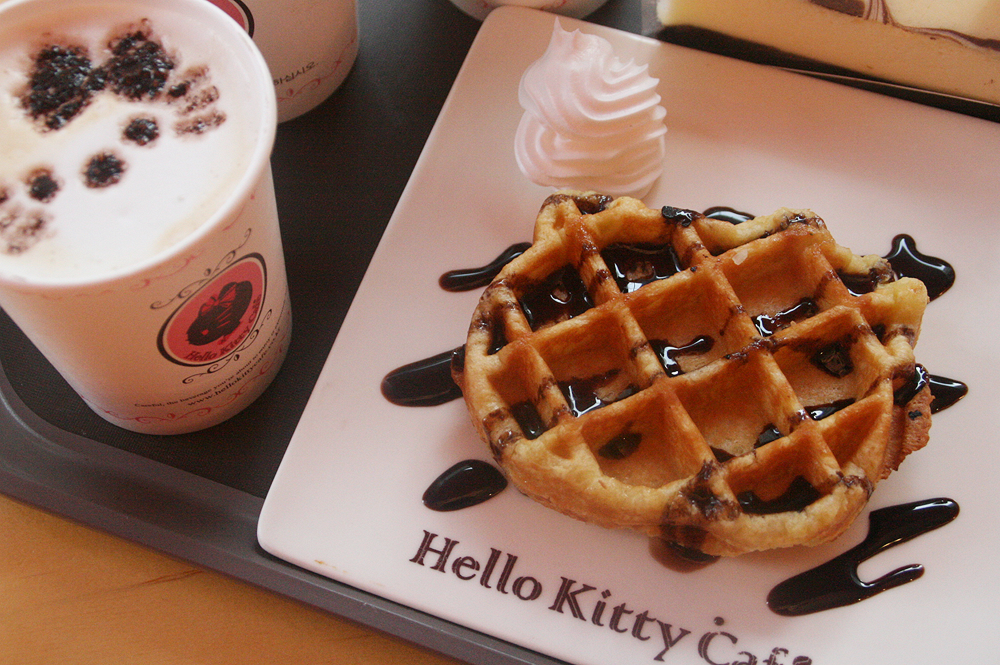 The waffle was so yummy! The cheesecake was pretty great, too.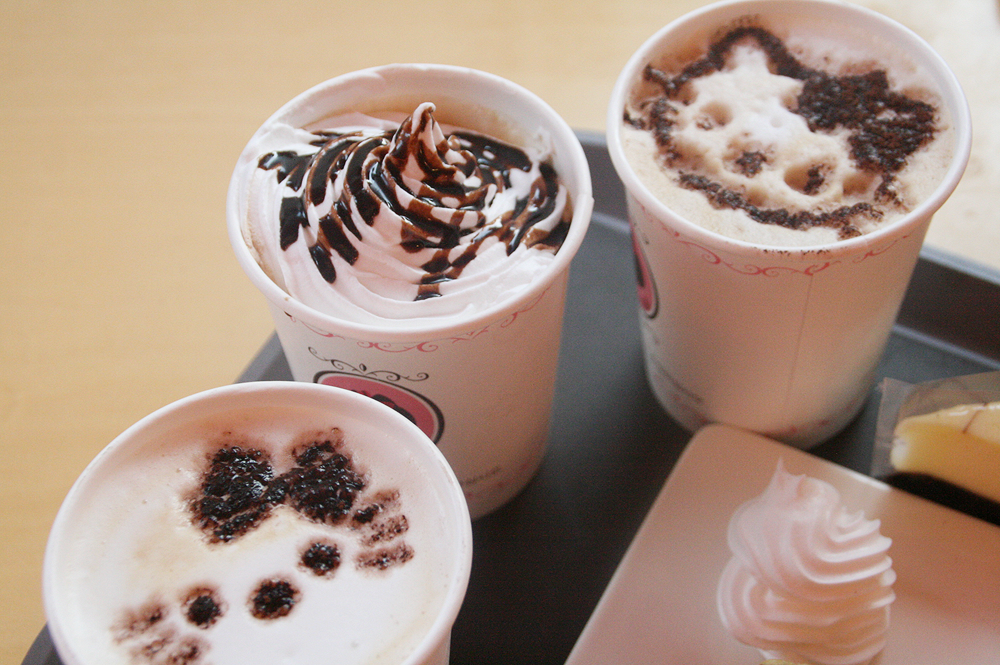 I already forgot what I ordered, but it tastes like regular coffee!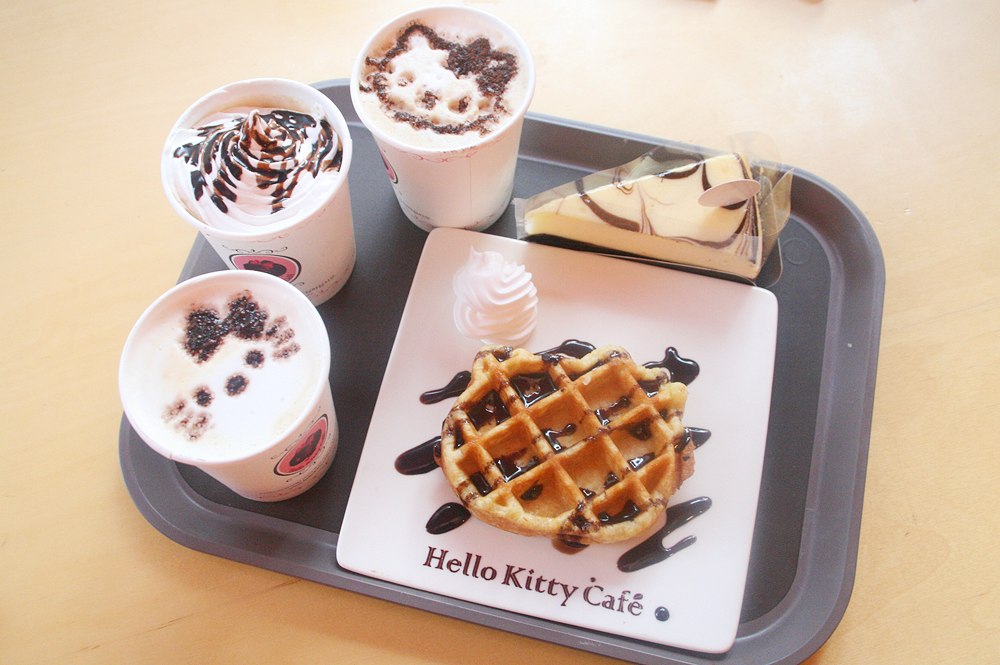 My cousins were to excited to try the food.
No time to take it off the food tray before taking a photo.
It's certainly as yummy as it looks!
To order coffee and a slice of cake, you must at least allot more than 10,000 KRW. If that's too much, it's okay to share. Unlike in 1st Shop of Coffee Prince, there's no mandatory one order per guest. Though the price range is similar, Hello Kitty Cafe doesn't really care about the number of orders. So if you just want to try to the cafe but not shell out too much of your budget, don't worry about eating to your heart's content.
How to get to Hello Kitty Cafe Hongdae:
* The instruction is pretty similar to the instructions on how to get to Trick Eye Museum.
Hongik University Station (Seoul Subway Line 2), Exit 9.

Go straight 150m, cross the road, and turn left onto Hongik-ro Street.

Follow this map.
On our way back to the subway station, there was this coffee shop that's giving free samples of their gelato. We loved it! The kids tried it twice I think because even when they only came back to throw their trashes, the servers gave them more free ice cream. My cousins are really adorable that the Koreans doted on them quite a few times during the duration of our trip.
Our little excursion to Hongdae was pretty nice, and I'd love to go back. I don't think half a day is enough to fully explore the beauty of the neighborhood!