Fresh from Busan, our first day back at the Capitol capital of South Korea was spent exploring artsy-fartsy neighborhoods in Seoul. Despite being incredibly tired and groggy, we dragged ourselves out of our comfy hostel to travel all the way to Hyehwa-dong.
On my first trip to Seoul back in 2012, my family stayed in Hyehwa-dong but we didn't get to explore the district. It's known for the student theaters dotting the area, but we didn't know that back then. This time, my friends I still didn't go there to watch a play. Instead, we went to Hyehwa-dong to walk up to Naksan Park.
At Naksan Park, you can find the Ihwa Mural Village, which has been featured in numerous Korean dramas like Rooftop Prince. It's an off-the-road destination, but just like the Gamcheon Culture Village in Busan, the community has turned into a booming tourist spot.
In 2006, the community transformed itself in what they called the Naksan Project. About 60 artists participated in painting the walls and installing art pieces around the area. Now, local and foreign tourists alike regularly visit the park.
On our way to Naksan Park, we passed by an elementary school and an art installation that looks like rainbow-colored poop. We thought we'd get lost finding the Mural Village, but there were markers to help us find our way.
The neighborhood felt very quaint, mostly because there's a school nearby and most stores and cafes catered particularly to students. We also didn't see any tourist on our way, so we were surprised when we got there and see people of all nationalities. Heh.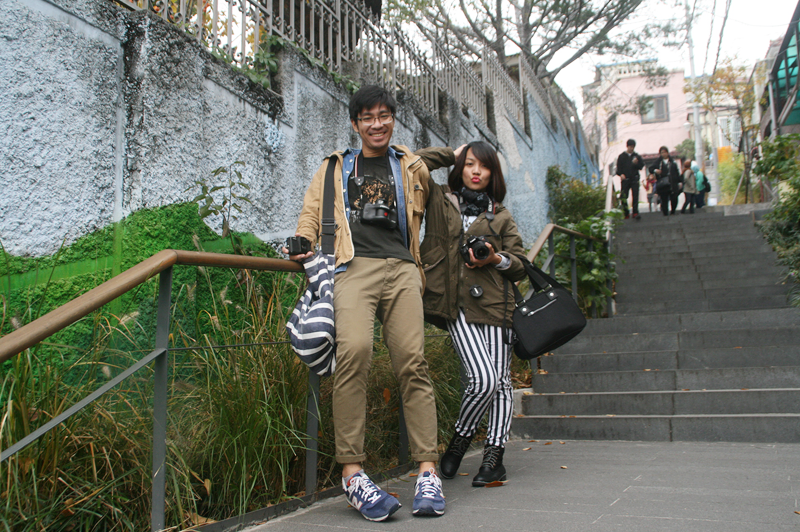 There's no sign telling you that you've arrived at Ihwa Mural Village. However, if you'll just look closely, you'll know that you've found the place. The walls of restaurants and houses were suddenly decorated with larger-than-life murals. Also, we found ourselves in front of a staircase with clouds and birds decorating the walls.
There were cute cafes everywhere! We wanted to stop by and hang out for awhile, but we had to get back to Hongdae by noon.
Since it was a Saturday, we noticed the large number of young Koreans touring the place with their friends. It can be difficult to take a picture of a mural without someone suddenly photobombing your photos. It's okay, though. I ended up photobombing others' photos, too. I wonder how many cameras caught my derpy facial expressions.
To my great surprise, we came upon these high walls at Naksan Park. The road around the area was under renovation that time, but I immediately knew that it's one the shooting locations of King 2 Hearts. My heart did some somersaults and it also sunk to the ground, because it's the place Princess introduced to Soldierbot as her favorite spot in Seoul. They're my OTP and I still can't forgive the drama for the injustice it did to my OTP.
For more recent K-drama viewers, you might recognize it from Angry Mom. It's where Hong-Tae took Ah-Ran after saving her from his evil father.
There's a freedom wall with a huge "Before I die…" written on top of it. Tourists are supposed to follow that statement with their own answers, but we ended up just doodling our names. Good thing Kimpee always has a Sharpie with him!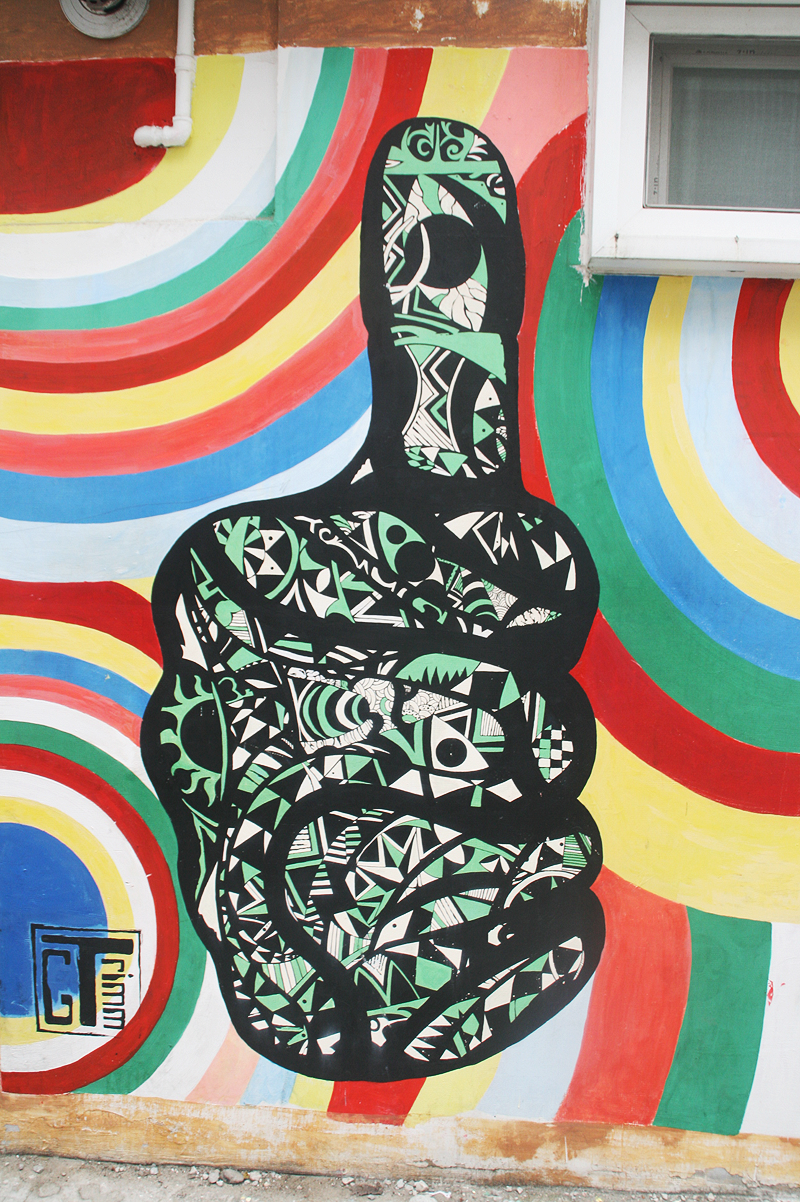 Even though Ihwa Mural Village has its own charms, I felt like the paintings in Gamcheon Culture Village are more interactive. The ones in Ihwa-dong are also smaller in scale. Then again, the art in Ihwa-dong doesn't necessarily have to be 3D paintings.
What I do love are the paintings and mosaic that span entire staircases! Obviously, this is where tourists flock the most. We barely got a chance to take solo photos. I can't even remember if we had a group photo in one of the staircases. It's probably in Jinky's cameras.
Aside from murals and art installations, Naksan Park is also home to some of the cutest cafes I had seen around Seoul. There's also this ice cream shop with a yellow door. Cute illustrations and potted plants also decorateed the walls and the exterior.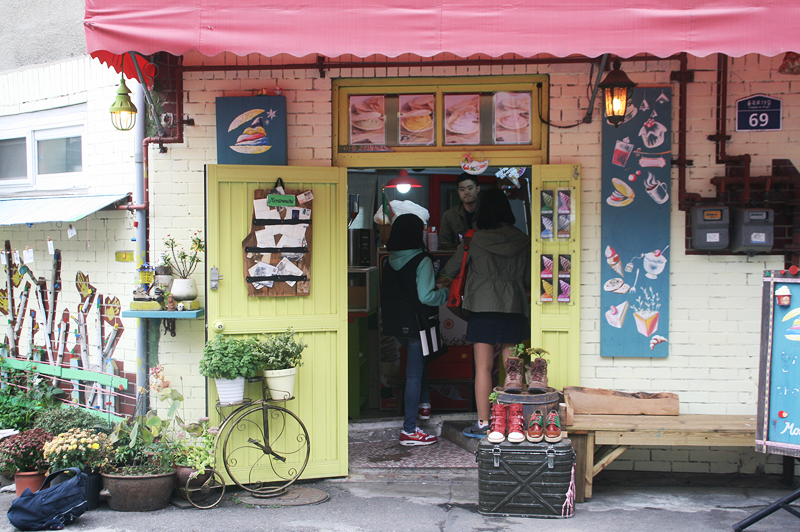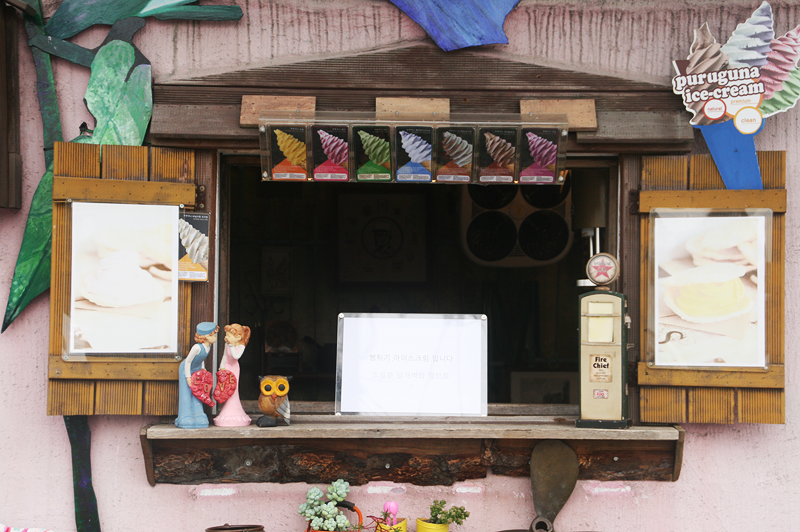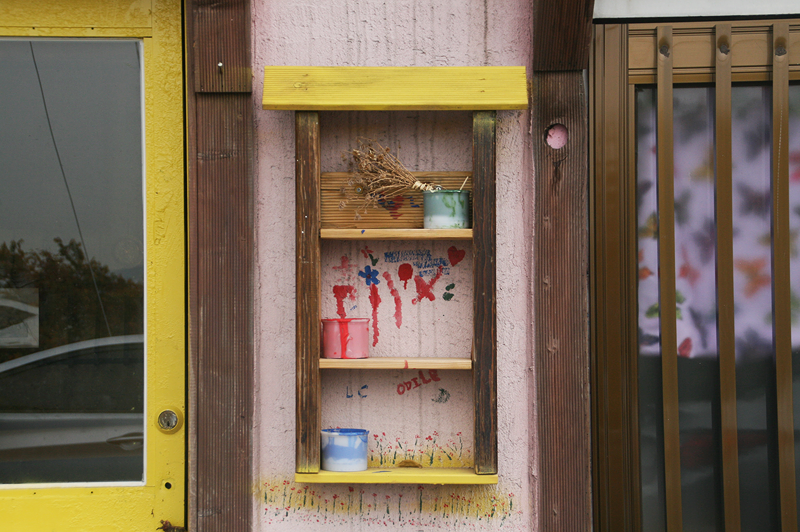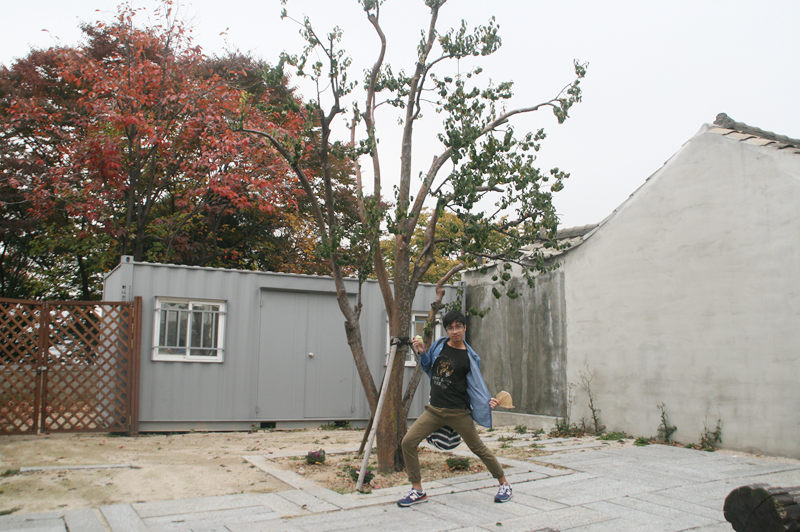 After seeing every mural, we explored the lower side of Naksan Park. When you need a high spot overlooking Seoul, this is the perfect place to go. It also looked divine during autumn! The mix of golden, red and green leaves from the trees lining up the streets looked amazing.
Kimpee, on the other hand, looked foolish. But what's new? He photobombed half of my photos. flips laptop
All four of us in one shot!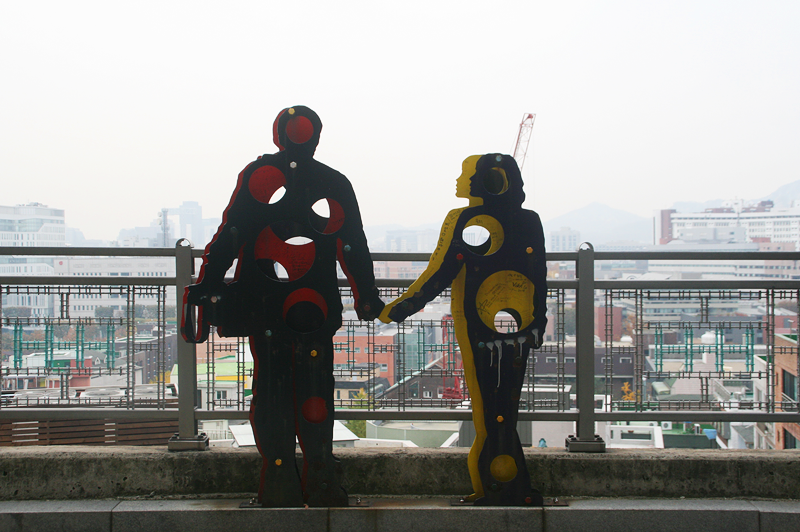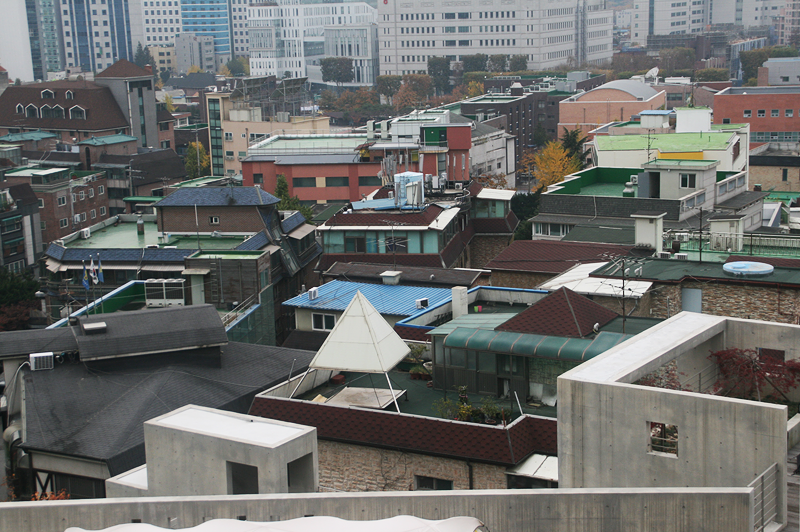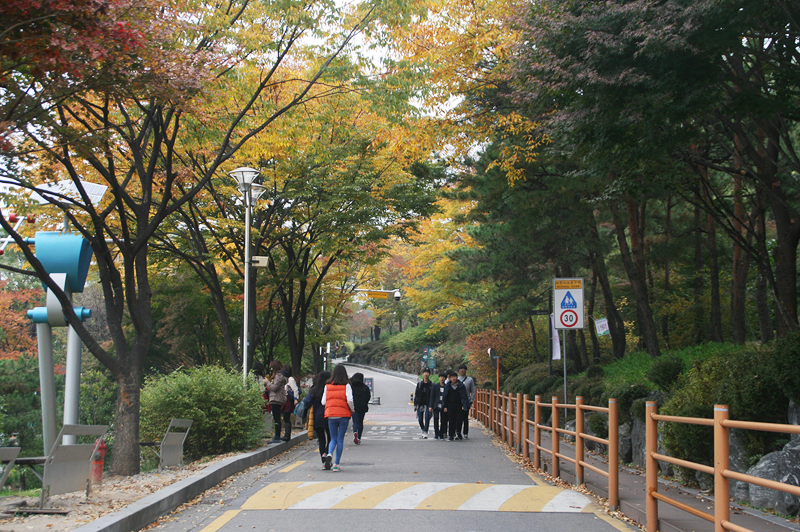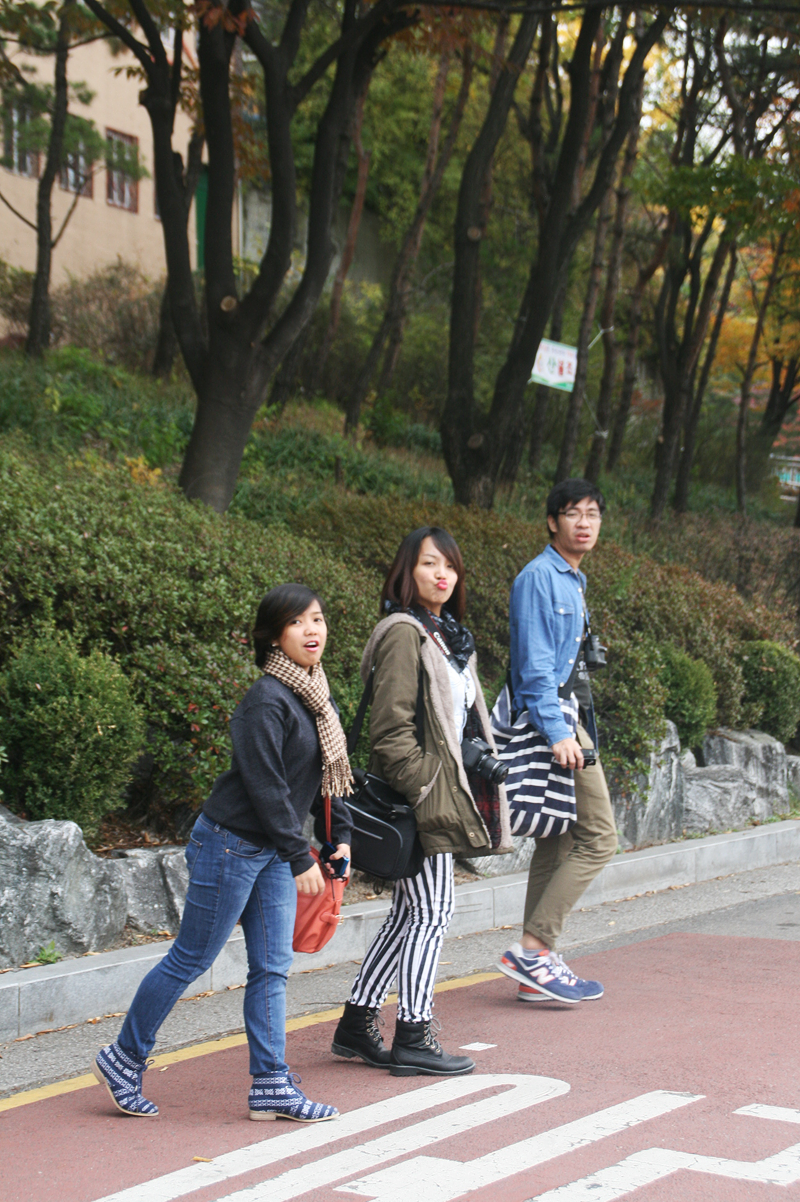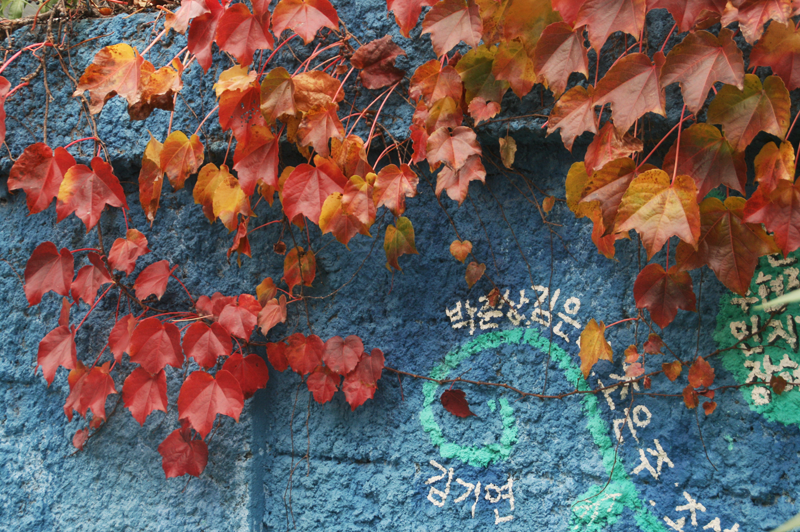 It's really too bad that I don't live in Seoul. I'd love to see how Naksan Park looks like in spring, summer and winter. It looks lovely in fall, so I wonder how it looks when cherry blossoms are blooming? Basically, I'd love to see all of Seoul in every season. So far, I've seen Korea in spring, summer, and fall. Only winter is left, and I wish to make that a reality next year!
Ihwa Mural Village (이화 벽화마을) at Naksan Park (낙산공원)
Ihwa-dong, Jongno-gu, Seoul
Admission: Free
Time: Open 24/7 but try to visit before sun down
Ihwa Mural Village Direction:
Ride the subway and get down at Hyehwa Station (Line 4), Exit 2.

 

Walk for about 200m. Once you see the street called Dongdung-gil, turn left.
Keep walking until you reach the Lock Museum.

 

After about 50 meters, turn right in a street called Naksan Gongson-gil then

 

walk until you reach Naksan Park.