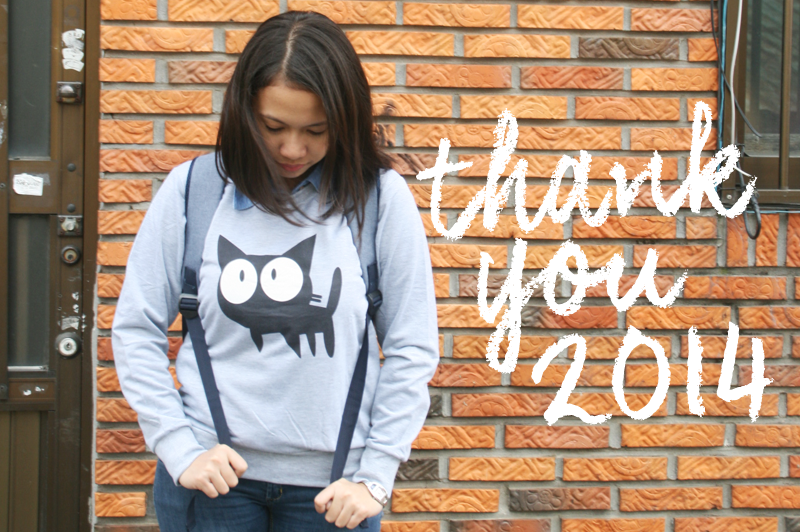 2014 has come and gone, and I only have gratefulness in my heart. It's not the easiest year, but it's still one of the bests.
I started the year with more questions than answers. It was a tough start since my family was going through a difficult time after losing my grandfather before the New Year. It was followed by a series of missteps and misfortunes that trailed behind us until the end of the year.
I may be the youngest, but I'm from a family-centered clan. We bear each other's worries, and I cannot, for the life of me, separate myself from the troubles my family is going through. Yet, I spent a hefty amount of time moping and losing more and more of my self-esteem in the process of  figuring out what's in store for me in the future. Also, I realized that I want a life completely different from the life I'm living. Even now, I still don't know how to get there without starving or disappointing everyone.
Thankfully, I approached the new year with higher spirits, but still terrified of the recent choices I made. The year wasn't so bad, though. There were a lot of first times and I had more opportunity to travel more than ever.
After all the questions and worries that I go through on a daily basis, I still go to bed thankful and happy. I have so much to be grateful for that it's impossible that life is horrible. Because really, there's nothing more wonderful coming home to my own bed and knowing that there's a place that will always make me feel I belong.
My heart is full of gratitude for such a wonderful 2014, and I can only pray that I still feel this way by the end of this year.

For all the chances to blog
Having my own domain has been a dream when I started blogging in high school at the silly age of 13. Even though I didn't think I was ready for it, I'm glad I dived headfirst into this challenge.
2014 was the year I really blogged, and not just because I bought a dot com! It's my best blogging year, mostly because I learned how to immerse myself in a community of bloggers who are passionate in what they do. Though Oh My Janey has become a platform for my stories of travel, it's really nothing more than a personal blog. When I have so many things I want to say and nowhere else to say it, I find this space welcoming. Because it's mine, and anyone else's judgment is welcome elsewhere but here.
I am thankful for the friends I made through Asian Fixations, people who share my love for KPOP, Kdramas and other Asian pop culture. I am lucky enough to meet Dewaani of Samsoon Down the Rabbit Hole in my recent Korea trip, and I'm thankful for the usual people I regularly talk to on Facebook, Twitter, and even Google Hangout! Through them, I continue to believe that the Internet is a lovely place once you meet the right people.
Then there's Manillenials, which can be a pain to maintain, but it's still fun once we realized how much the site has grown. Granted, we don't always maintain a high traffic, and there are weeks when we struggle to churn out articles. But it's a fun ride I'm glad to share with friends I consider family.
Yes, it often gets tedious, thus, the lack of updates from time to time. But I feel a little joy inside when I browse my old posts and relive the motions and emotions I went through that day. It's my way of keeping moment alive.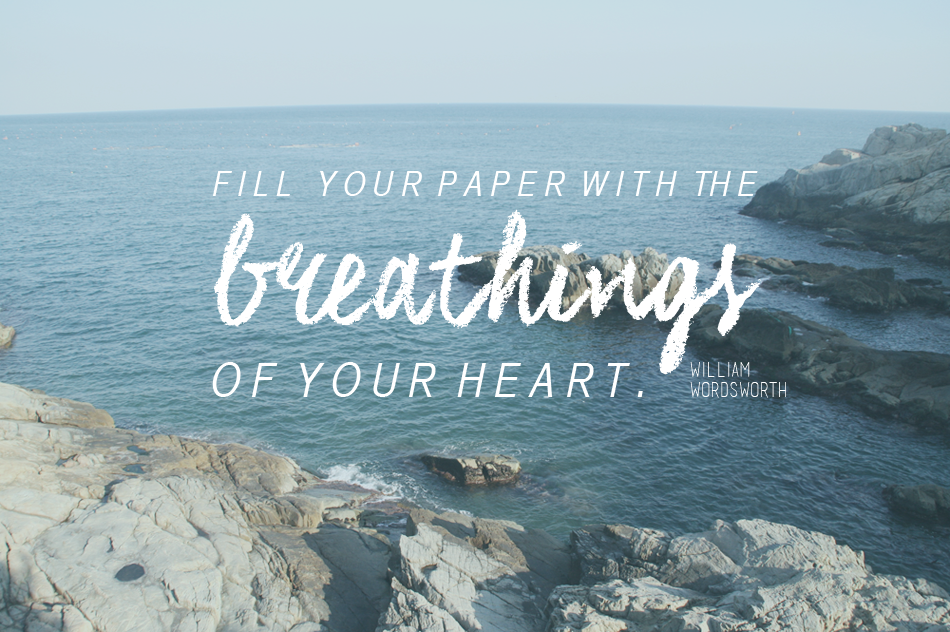 For the opportunity to write
There may be few and far in between, but I am happy that I finally swallowed my pride and overcame my fear of rejection to go out there and write stuff. I am nowhere near as talented as Palanca awardees, and it's more than enough that my writings have reached a large audience for the past few months. Though I had been doing it a lot for work, it's liberating to finally write without a pseudonym.
Yes, there are rejections, but it's part of a writer's life I must accept. Not everyone will like what I write, and I still make plenty of mistakes. But it's okay!
Some of my writings this year:
For the big and small adventures
I said goodbye to 2014 more broke than ever, but I know that it's all worth it. This year has been my most adventurous year, and I want to believe that it's only a start of even crazier adventures with friends and family, and hopefully someday, alone.
In 2014, I've been to Korea twice and experienced two seasons—summer and autumn. Even before my Seoul-Busan trip in November, I knew I would fall in love with the lovely colors of fall. I also went back to Vietnam, and this time, explored Saigon and visited the Mekong River.
Though I didn't really visit new places, I'm glad that I've went back to different provinces in the country and discovered charms that I didn't notice before. I kicked off 2014 with a visit to Baguio and tried strawberry-picking for the first time! I also went to Boracay for the second time, and I'm glad that I have finally appreciated its beauty.
I wonder if I'll be given the chance to travel more this year. Financially, I really don't think I should be planning for grand adventures, but I've already had a taste of exploring new cities and my mind is always imagining for the next destination. It'll be difficult to put away my wanderlust, because I've been carrying it close to my heart for the past few years.
I think I'll limit my international travels and stick to exploring local destinations first.

For the courage to leave my comfort zone
Finally, I quit my job of four years to find what else is waiting for me in the real world. For my first job, I worked as a Digital Marketing Specialist, or SEO Specialist, if you may. I have struggled with it, mostly because of my self-esteem. Once my motivation to work died down and I realized that I was too comfortable already, I knew it was time to leave. However, the time between the realization and the moment that I submitted my resignation spanned years.
In my quest to find myself, my career has really taken a hit. Since I still have no idea what I want to do (I want to do tons!), I ended up staying in one place, stuck and uninspired. It's a horrible place to be, and I no longer want to be in that place.
I still have fears and worries that eat me alive when I'm alone with my thoughts, that's why I try to occupy my mind with things to do. Leaving a place I've called home and the people I called family for almost half a decade is scary, but I do not regret my decision. The future is still unsure, and I'm not even sure if my next step is the right one.
It's all bittersweet, but I know that it will all be worth it.
For a love that makes me feel alive
In the words that I uttered in 2013 and still true even now: "I love and I am loved." And it is enough.
Granted, ours isn't a perfect relationship. We aren't perfect and our hobbies are boring to the outside world (anime, manga, movies, anyone?). But we are happy together, and we see eye-to-eye. There are many things I want such as going on a road trip and spending more time together. The real world has a way of always messing with my plans! But we suck it up and head to his favorite World Chicken (or mine—Jollibee heh) to eat our hearts out and laugh ourselves silly over mean and corny jokes.
I hold close to my heart the knowledge that there will always, always be someone on my side even when our opinions clash and even when I'm in the wrong. Heh.

For the awesome gift of family and friends
Because at the end of the day, nothing beats having a supportive and loving family. Though we don't always agree with each other and there are more misunderstandings that I'd hoped, I am still grateful for my family, and not just because they're the only family I have.
I am thankful for old and new friends, whom I consider my second family. We go through the same notions of growing up and growing old, and they're the ones who understand me the most. I am blessed that my friends from childhood and teen years are still my friends now that I'm working and living the life in the real world.
Though making friends is not my specialty, I am more than grateful that I still managed to find good friends in my adult life. I thought it was impossible, so I am glad that I found amazing friends in my colleagues.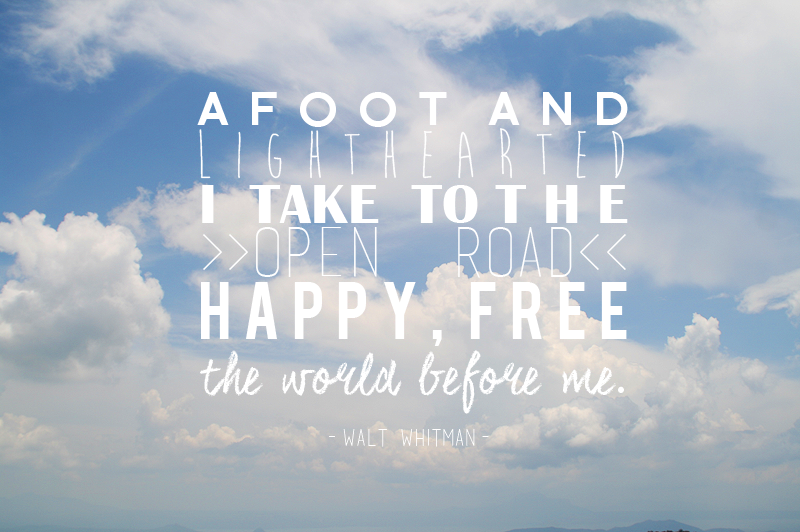 I'm just relieved that I ended the year with a happy mindset. In a few months, I had been this down to this happy. That's a feat in itself, and I'm merely glad to have won one of my little everyday battles.
It's now the second day of the new year and I still haven't figured out my goals and plans for the rest of the year. But I am not rushing, because I know that in my hurry to figure it all out I find myself more confused. Alex once asked me why I'm in a rush for greatness, and my boss asked me the same thing during my last few days at my previous job.
I am young, I am only 24. I still have a lifetime ahead of me, and I should probably slow down a little. I still don't have the answers, and I still think I'm plagued with the horrible quarter-life disease. But it's okay.
Finally, I am hopeful. Now, I am free.