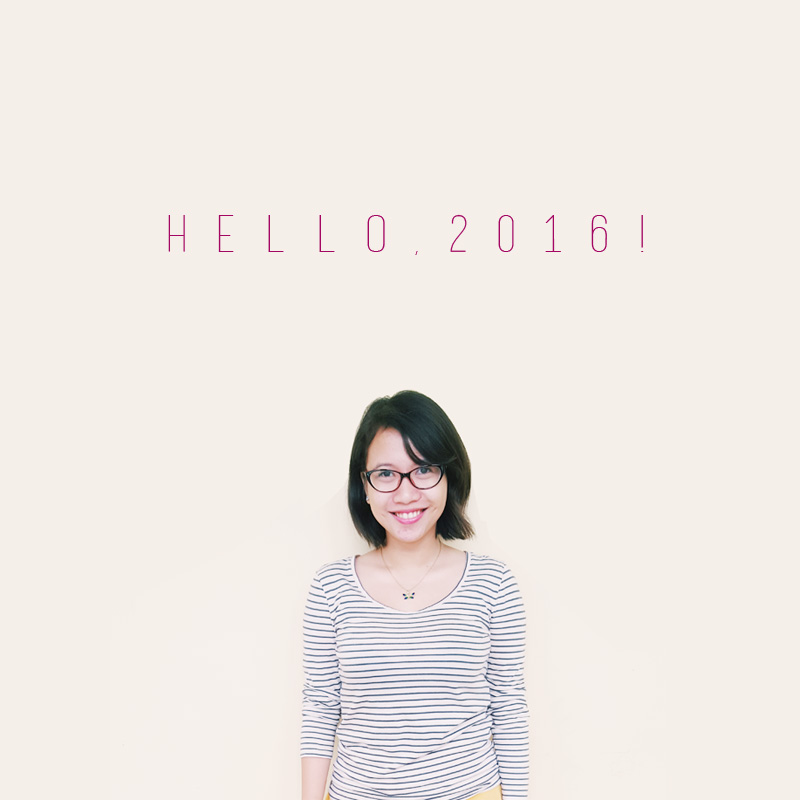 Last year, I didn't do a lot of things I said I would. In fact, I always come up with a yearly to-do list that ends up being forgotten by the end of February. Reality happens way too fast that I rarely follow through all my plans.
I had a love-hate relationship with 2015. It started with a somewhat laid-back first quarter, a happy-go-lucky middle, and finished with a frustratingly taxing fourth quarter. I have met amazing people this year, new friends I now hold dear. And surprisingly, I have managed to keep in touch with the old ones! I am lucky that I have met people after college whom I can consider as my true friends. Not everyone is so lucky. So I guess I still have a lot of things I have to be thankful for.
2015 wasn't so bad, but it definitely wasn't the best. I started a new job, met new friends, started writing for Tripzilla, and gained more pounds than necessary! On the downside, none of my clothes fit, hadn't written much for Manillenials, didn't get to travel as much as I wanted, barely had time for anything but work, and very broke. By the end of the year, I was tempted to throw myself a pity party every night, but I realized that I'm too old for that. Instead, I tell myself that this should be a motivation.
2016 needs to be better. I need to be better. It's all up to me, isn't it? No more dilly-dallying. No more worrying. It's about time I stop doubting myself.
To read more
I only finished 16 books last year, but I discovered Megan Whalen Turner's The Queen's Thief  series! That more than makes up for it. My only regret is not being able to rave about it here. The books are honestly delicious and great and awesome and asdalsfhadklfj why haven't you read it yet??!!?!?!
I wouldn't even dream of reading 52 books this year, but I will try my hardest to read at least 30 books. It's a feasible goal, and I will read as many graphic novels as possible to achieve that. Heh.
To write more
By writing, I mean not just blogging. Though I vow to update often, I want to do more creative writing. I want to write short stories and novels again. I even want to try poetry! Writing is my first love. And we always go back to our first love, am I write?
To explore more
My heart weeps, because I didn't travel much last year. I vow to come back with a vengeance this year! May all my travel plans push through, because I'm itching to get lost in new cities, to try new cuisines, and to just be out of my element.
To have actual savings
I end up saving money for travels then spending it all in one go. I know, not a very adult thing to do so I have to change it somehow. This might be the most difficult thing in this list, but I'm keeping all my fingers crossed to make it happen.
To never settle for less
Because I deserve more. Because I know my worth. Because good things may come to those who wait, but better things are rewarded to those who go for it.
As much as I want to keep it short, I cannot end this post without more specific plans. I don't have a new year's resolution, but there are some things I want to do:
Backpack solo
Climb five mountains
Finish 10 Korean dramas
Watch 52 Asian movies (Attempt No. 2)
Learn how to cook
Lose at least 5kg
Meet my sponsor child
Run a marathon (again!)
Move out of my dorm
Sleep more!!!!
The beginning of my 2016 is spent with loved ones, and I cannot imagine it any other way. I'm glad no matter how hectic and crazy the year has been, it all ends and starts with some quality time with the special people in my life. It's a pretty awesome reminder that the tunnel may be dark and long, at least I'll have my family, friends and Alex waiting at the end of it. With food in hand, I hope.
Happy 2016, dear readers. May all your wishes this year come true.