Another Sunday, another Korean restaurant to fill our stomach!
For my sister's last day of vacation, we went to Manila to have dinner at Hwang So Ga, a Korean buffet dinner along Adriatico.  But we arrived in Manila quite late so we went to Mak Chang instead, which is just beside the buffet restaurant.
I first read about Mak Chang in my favorite food blog, Jin Loves to Eat! Then a high school friend (hi Annie!) said that she likes Mak Chang, too. We often eat Korean in Makati but we're too lazy to try other restaurants aside from Korean Palace or Korean Village. So this is a good change, and I personally enjoyed it.
Mak Chang is really simple inside, with little to no interior designing at all. But don't let the hole-in-wall aura fool you, because the food really packed a punch. There are only a handful of round tables and it was full from the time we walked in till we walked out.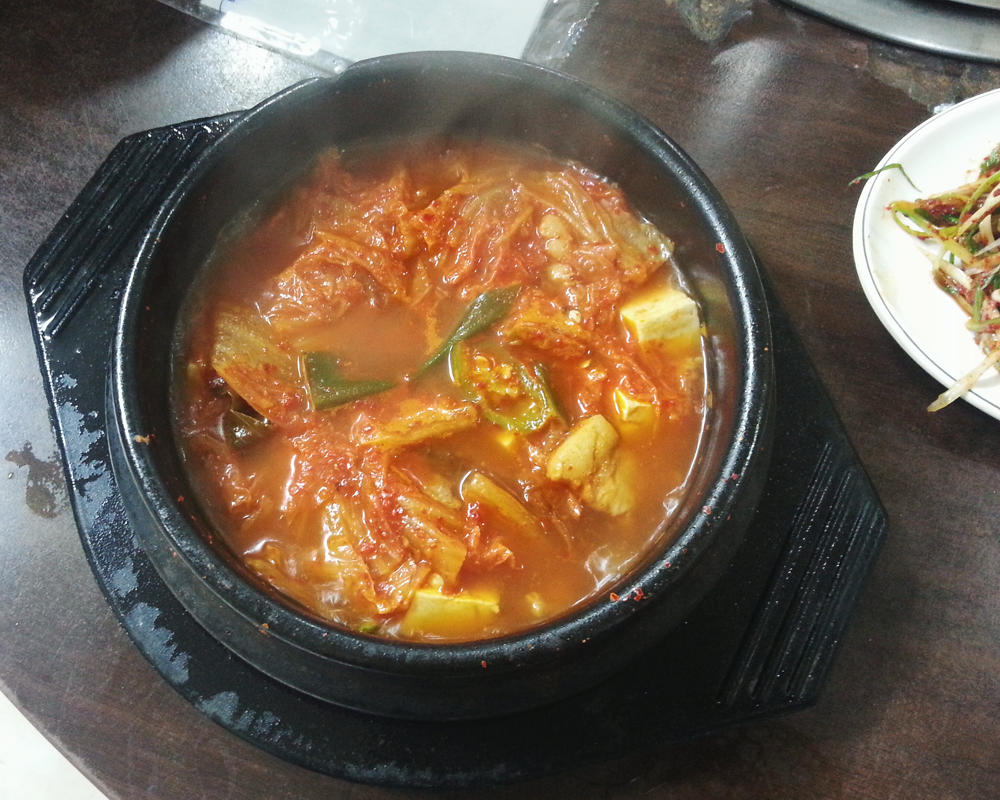 Galbitang is our go to stew, but they don't serve it so we opted for Kimchi Jjige. I've been craving for Kimchi Jjige since I returned from Korea, and I still cannot forget the one I tried in Insadong. I'm so glad that my craving is finally satisfied. The jjige is really spicy, which I loved.
When our server told us that their side dishes were only kimchi and potatoes, we almost walked out. We love our ban chan—sugar-glazed sweet potatoes, anchovies, geran mali, radish kimchi, etc., etc. But I'm glad we stayed because the side dishes may just be two kinds of kimchi but they both tasted great. The potatoes were amazing when grilled, too. No photo of that one, though, because it was gone too fast!
I was pleasantly surprised when I learned that they use coal when grilling the meat. I think this is the first Korea resto we've tried here that uses coal. I don't know anything about grilling, but I wonder if it affected the taste. The meat turned out delicious. I know no other way to emphasize that.
Look at that juicy-looking woo sam gyup (beef belly)!
We ordered a set of woo sam gyup sal and the usual sam gyup sal (pork belly) each, and enjoyed every bite of it. I didn't realize that I have no photo of the sam gyup sal because we cooked it last and my hands were all messy already. It's too bad because it's probably the sam gyup sal I've tasted in Manila, because it's seasoned really well. The meat was juicy and tasted great wrapped in lettuce.
My mother isn't fond of Korean food, but she also said that the meat was tastier than the sam gyup sal we've tried in other restaurants.
Mak Chang isn't a posh restaurant, and we didn't even try their specialty! But I now understand why it's highly recommended by so many people. I, for one, will start recommending it, too. 🙂
Mak Chang Restaurant
1547 Adriatico Street, Opposite Robinsons Place, Ermita, Manila
or
Hobbies of Asia, Macapagal Boulevard, San Jose, Pasay City