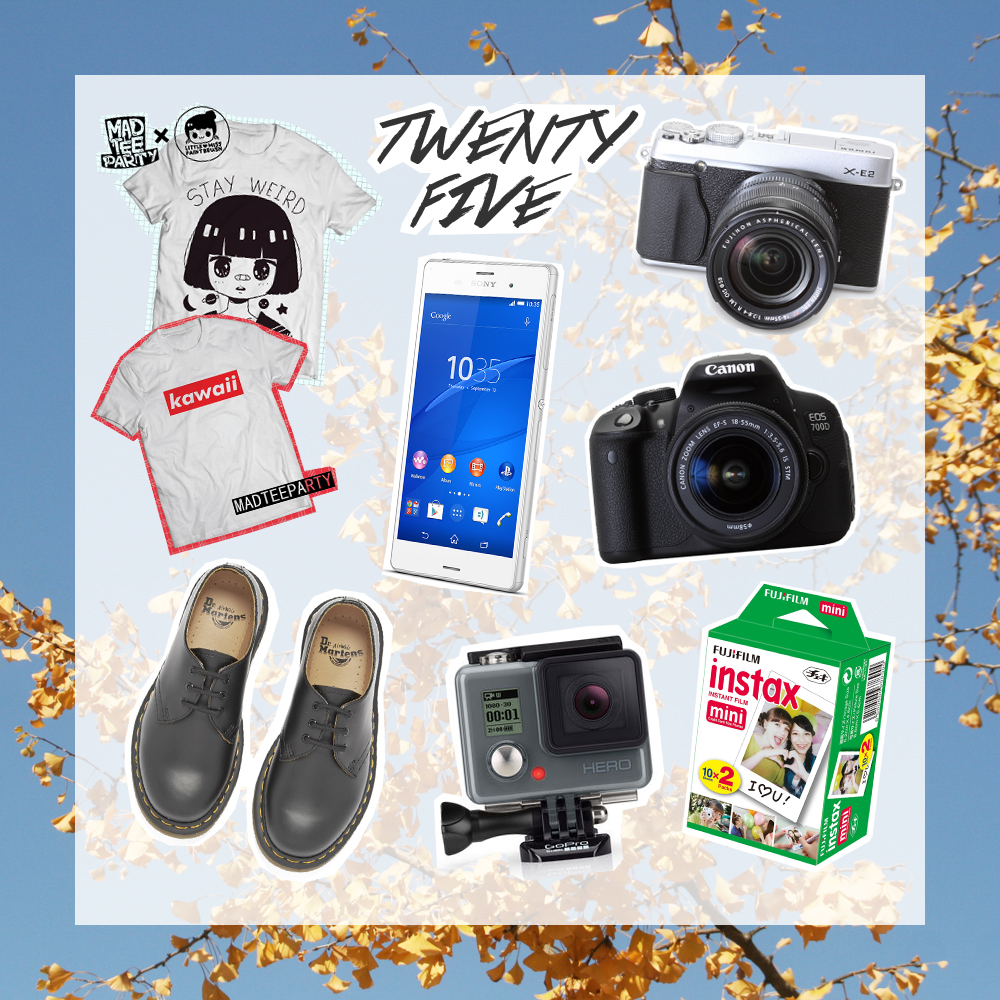 In less than two weeks I'll be turning 25. I'm excited and nervous and terrified. Truthfully, birthdays don't always appeal to me. Instead of growing older, I'd rather grow taller. But as I mature (ha!), I learn to accept that it's not so bad. Not that I'm getting any wiser, but there's comfort in knowing that I don't really have to rush anything.
I'm only 25! I have a lifetime ahead of me! Why am I panicking! So I learn to cope and pray for the best, because what else can you do right? (Answer: Do something about my situation, duh.)
Just like every year, I anticipate my birthday with a wishlist. Surprisingly, it's a lot shorter than my previous wishlists. Maybe because I'm needing less material stuff and leaning more towards the immaterial yearnings of my heart. I'm kidding. I have about three dozen books on my to-buy list, but I have more than 50 unread books gathering dust at home.
I'd also love to get a MacBook Pro, but it's next to impossible with my salary and non-stop spending. Instead, I'll ask my lovely officemates to fix my vintage MacBook since they're IT guys and all.
Now, off to my materialistic wishlist!
1. Canon 700D / Fujifilm X-E2 – I still can't decide which camera to get, that's why I'm listing both! Also, I'm carrying this over from my previous wishlist. I'm 70% sure I'm getting Canon 700D just because I can pay by installment.
2. Fujifilm Instax Mini Film – I'm rarely using my Instax these days, so somebody please buy me some films. Thanks!!!
3. GoPro Hero – It's the cheapest and it's gorgeous and I want an action camera!
4. Sony Xperia Z3 – I'm ready to terminate my contract with Globe and get a data plan from Smart instead. No way am I getting an iPhone, and I am jealous of my boyfriend's Sony Xperia Z2, so I want a Z3!
5. Dr. Martens Leather Gibson Shoes – A rip-off from H&M will do.
6. Kawaii and Stay Weird shirts from Kawaii PH – Only P350 each till May 31!
7. Ticket to the TVXQ concert in July – A.k.a. their last concert before Yunho enters the army in August. I seriously want nothing more than to book a flight to Korea and buy a ticket to their concert in Seoul this July. *sniffs* Why am I a poor fangirl? And why didn't they have a concert in the Philippines ever? *sniffs some more*
I feel like I keep making wishlists but it rarely changes! By next year, I really hope there's no longer a camera on my list.
As for my not-so-materialistic wishlist:
Maturity (because I'm 25 and still a teenybopper);
A trip to Korea this winter ;
A Huang Zitao;
Or a Han YinAn;
My own apartment;
More time to watch my dramas;
More time to travel;
Laser-sharp focus;
Less bullying from my officemates;
Pimple-free face for the next hundred years;
And gorgeous hair.
This will be the first time in years that I'll welcome my birthday while working. It's sad, but at least I'll be surrounded by pretty awesome people. I still have no idea how I'll celebrate it. The 25th birthday feels like a milestone so it feels silly to just sleep all day. However, I'm positive that sleep is all I would do.
I honestly can't wait to be 25, because it's now more sensible to say that I'm having a quarter life crisis.