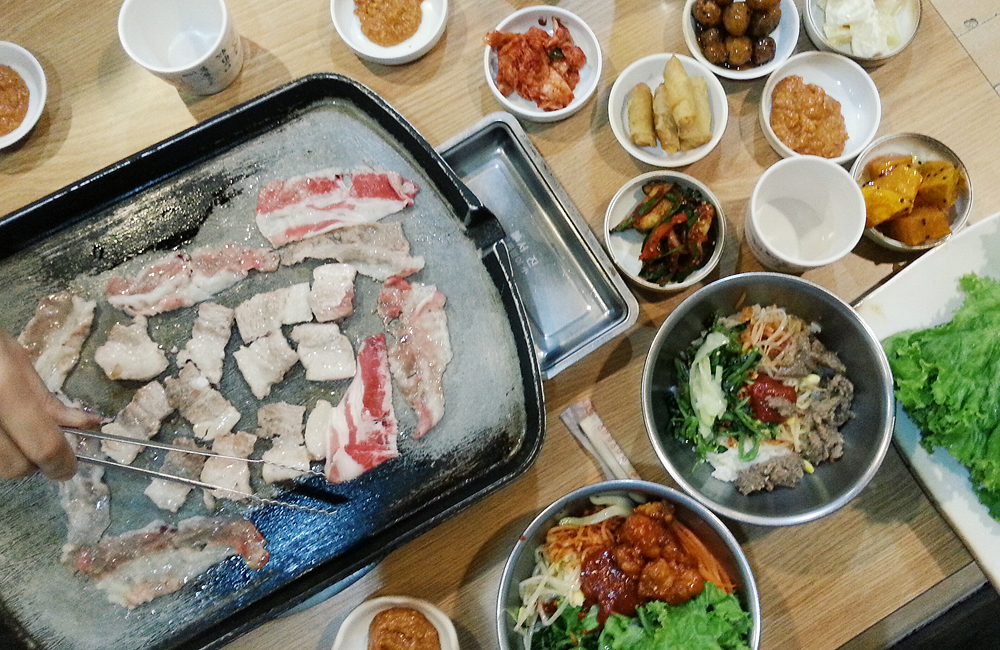 My mother celebrated her birthday last month, but it's difficult to arrange a dinner with all of us present. It was only last Sunday when we had a proper celebratory dinner. Since ate's the one treating us, she chose the restaurant!
We headed to Hwangso-ga in Ermita, Manila, which is a Korean buffet restaurant along Adriatico St. It's across the street from Robinson's Place Manila so it's easy to find. It's also beside Mak Chang where we had dinner last time.
Though they didn't have the best-tasting samgyupsal in town, I still immensely enjoyed dinner. I know that samgyupsal and bulgogi are the most popular dishes Korean dishes in the country, but I love Korean food in general. That's why I'm glad that the restaurant had other offerings aside from the unlimited samgyup and brisket. Woohoo.
We arrived at Hwangsoga at around 8 p.m., so there weren't that many diners. However, the buffet table was still filled with all the yummy Korean dishes.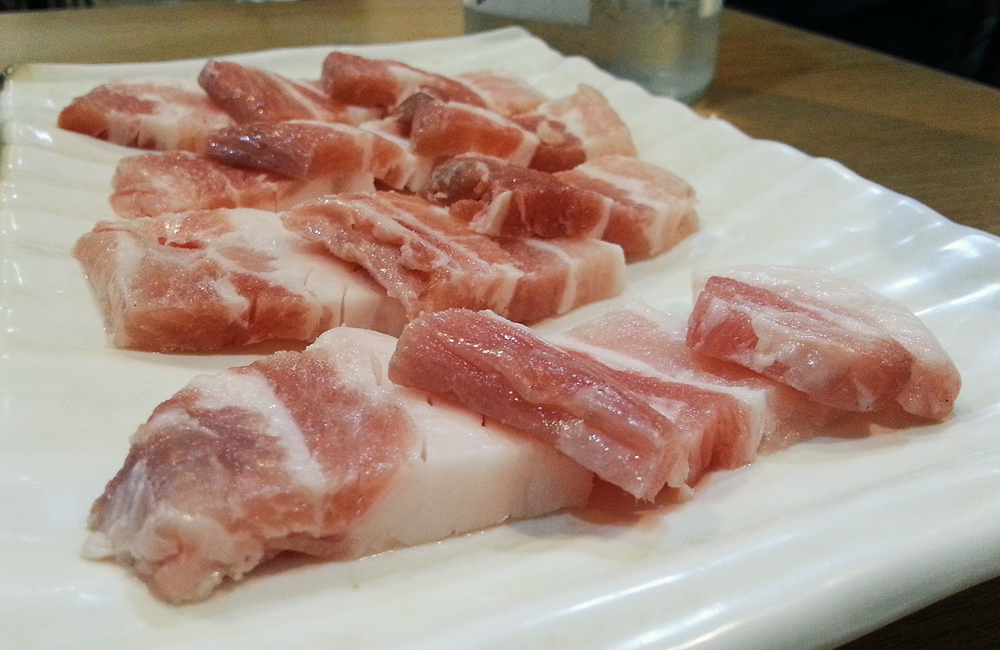 As soon as we sat down, they placed a plate of samgyup and brisket on our table. You don't even have to ask for it! Each table has a grilling pan, so it's convenient even for those who aren't comfortable dining in a Korean setting.
The servers were quick and efficient. If you want another plate, you just have to ask them and they'll deliver it in an instant.
I love the brisket, and when cooked right, it was really good. We overcooked a plate, but we still finished it off. The samgyup, on the other hands, tasted rather bland. It's a far cry from the juiciness of the other pork belly that I've tried. But my father preferred it over the brisket.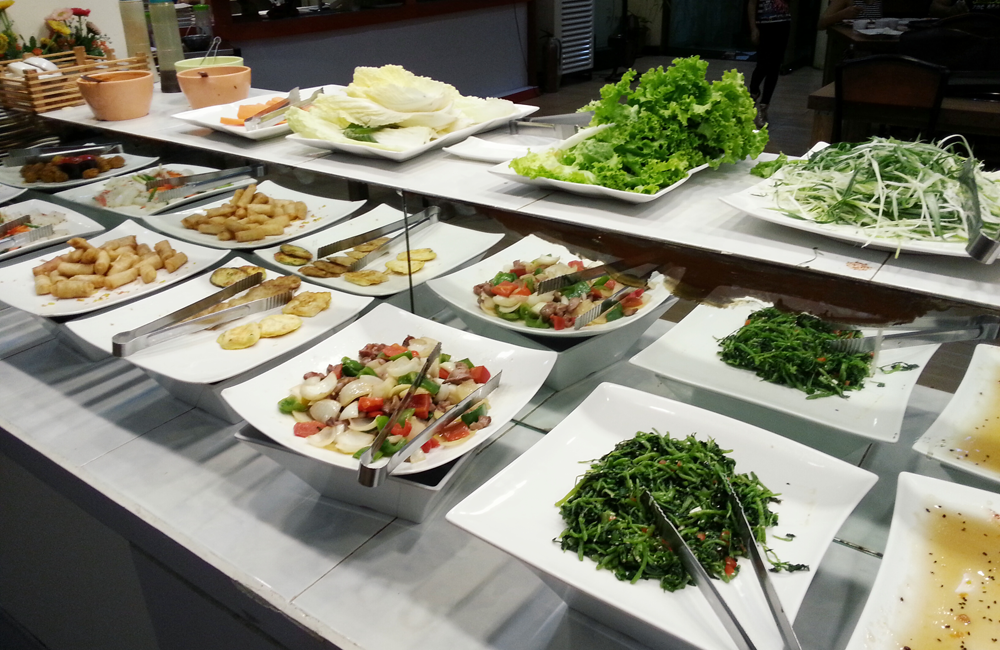 For someone who loves banchan (side dishes) very much, I'm very pleased with the setup in  Hwangsoga. There's a wide variety of kimchi! I especially like their sweet potatoes and baby potatoes. I ate too much of their sweet potatoes, tbh.

I have a feeling that we finished off a plate of the kimbap. My mother's not big on Korean food, but she loves kimbap. I don't think Koreans dip their kimbap in sauces, but my parents dip it in Kikoman.

I haven't tried this one, but they also have a noodle station. Since I'm not sure how it should taste, I was wary of experimenting on the ingredients. I'm not that into noodle dishes, too. But next time, I should probably try this one.
I only remembered to take photos of the buffet table after eating,  that's why there were empty containers already when I started taking pictures.
Not pictured was my favorite dish of the night, which was the spicy Korean fried chicken! I love it so much! I copied my sister who mixed it with her bibimbap. I first put bulgogi on my bibimbap, but the chicken made my rice mix taste better.

I love the bibimbap station. I think it's enough reason to try Hwangsoga.
A bowl of bibimbap can already set you back to around PHP250 in some restaurants, so the bibimbap station is very much appreciated. Also, I don't eat carrots so yay for me, I can leave it out of my bowl.
As usual, I love the rice! I'm not sure how Korean rice is different from ours. But it just tastes so good and I blame it for all the pounds I gained that night.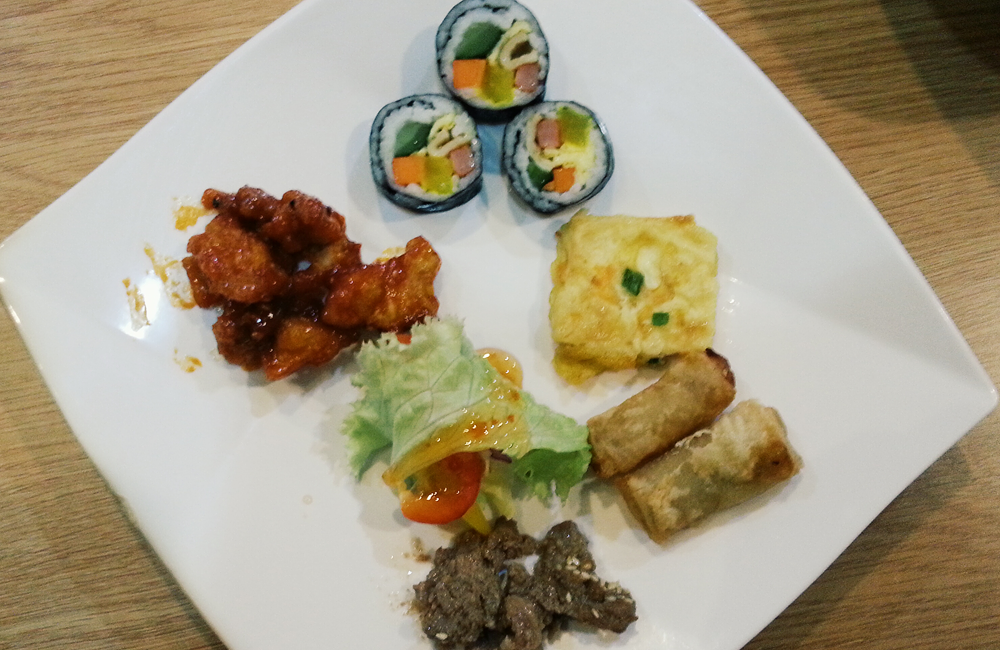 That's my first plate! As you can see, I underestimated the fried chicken and only took a spoonful. After finishing it off, I took half of what's in my sister's bowl. Hehe. I really like the lettuce wrap, though it tastes a bit peculiar.
The bulgogi tastes better when I grilled it again in the pan. Also, the lumpiang shangai-looking food is actually turon.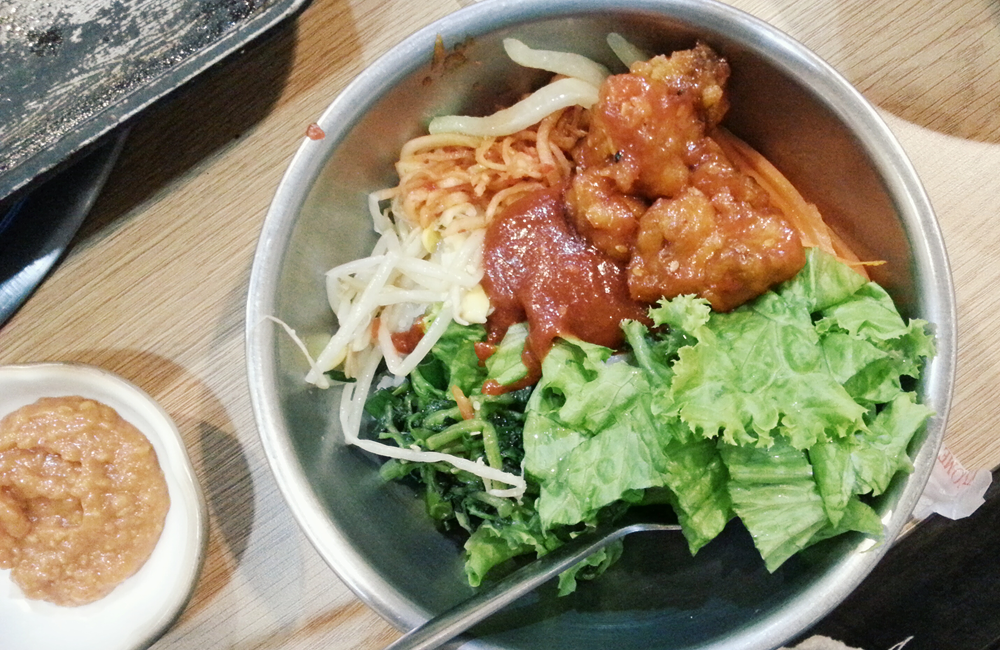 This is my sister's bibimbap bowl. I'm not sure why I didn't take a picture of mine. Maybe because I devoured it in an instant. We'll never know now, because I have long digested that bowl of yumminess.
I can't really say Hwangsoga is my favorite Korean restaurant in the metro, but I will definitely try it again for the side dishes and bibimbap. The meat isn't the highest quality, but if we're being unlimitedly given one plate after another, I still say it's worth it.
Hwangso-Ga
Website: www.hwangsoga.com
Address: 1547 M. Adriatico St., Cor. Pedro Gil St., Ermita, Manila
Contact No.: 405-0100
Budget: P399 (lunch), P449 (dinner)