Ho Chi Minh, where you can see a coffee shop in almost every corner. Ho Chi Minh, where there are more motorcycles and bicycles than cars. Ho Chi Minh, the city where half of the people you meet are foreigners. Then again, that's probably because we stayed in the backpacker's district.
For our first day in the city, we decided to roam the city by ourselves. We wanted to book a tour with Saigon Hotpot, a student organization who offers city tours for free, but they didn't have a free time for the dates we booked. It's really too bad since my friends who've tried touring with them recommend it a lot!
Good thing our hostel host gave us a map of the city with all the routes to the landmarks marked. We weren't sure if they're all within walking distance, but we decided to try anyway.
Armed with a sense of adventure and a not-so-helpful itinerary, we found ourselves in a park while on our way to Ben Thanh market. There are tons of parks in Ho Chi Minh, and we loved this one especially.
There were exercise machines in the park, and one of the equipment was so popular that we never got to try it! It's cute how the elderly flock to the park playing badminton and trying the exercise machines. Cuties, I tell you.
We ended up passing by it everyday so it became familiar and comfortable. It's filled with people anytime of the day, but it seemed busiest at night. We also tried hanging out at one of the benches on our last night, munching on street food, planning for future travels, talking about life, love and career, and people watching.
We were approached by cyclo drivers and offered a good price. Since we also wanted to try riding a cyclo, we obliged only to be fooled later on. I've shared the story before, and it's upsetting to repeat it. So let's just skip that, shall we?
My cyclo driver shared some city history facts while driving, and he pointed out good local spots and told stories about his family. So even though they charged insanely high, I didn't feel so bad because he was nice.
It's a bit intimidating to ride cyclos because it's so open and you're in the middle of the street and you're suddenly surrounded by vehicles and motorcycles are speeding around you it's crazy!
Our first stop was the War Remnants Museum which houses exhibits pertaining to the Vietnam War. There are military tanks and jet planes outside the museum. You can touch them, but you definitely can't go inside. But why would you want to?
I always feel uncomfortable when visiting museums in Vietnam. It's unsettling to know what they'd been through during the war. It's all documented well, and I believe it's great that they have ample reminders of how ugly the war is. The memories of the war don't paint a pretty picture, but it's essential for them to be reminded of their past and how much they've progressed over the years to continue transforming into a resilient and strong country.
It's definitely not for the faint-hearted. Aika couldn't handle the gruesome images so she skipped the other galleries.
One of the exhibits shows photos of the war itself. There are stories about the survivors and the infamous My Lai Massacre in 1968. The images and anecdotes were disturbing.
There were a couple of floors but we only entered the rooms on the second floor. One of the rooms shows the effects of Agent Orange, the herbicide used for warfare by the Americans. It continues to affect multiple generations, years after the event. It's a horrible thing to know that there are people who still suffer from the brunt of war.
After an hour of roaming around the museum, our cyclo drivers were already in a rush so we ended up just passing by some of the famous landmarks like the Opera House and the Notre Dame cathedral. We passed by so many amazing stores and coffee shops. Too bad it was quite far from the hostel so we couldn't return to them when we had more time.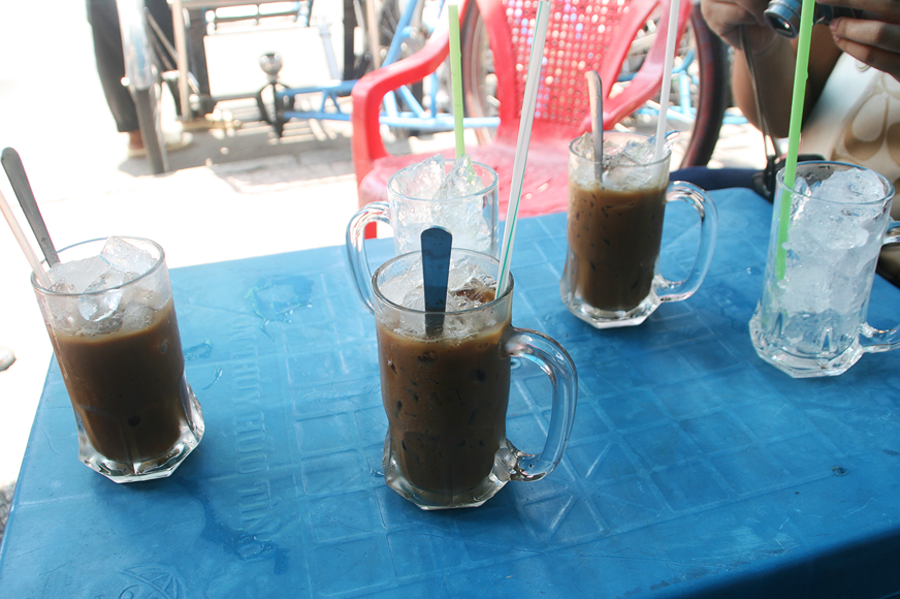 Our last stop was this sidewalk stall where we ordered iced coffee. The iced coffee was incredibly expensive, but we figured it was okay since the cyclo tour was "cheap." How wrong we were!
Good thing the coffee was so good! Probably one of the best coffee I've tried in Vietnam, and I drunk coffee every day I was there. The ice cold drink was perfect for the scorching hot weather.
To end the tour, the cycle drivers took us back to the park where the very messy and almost tearful transaction happened. Let's end it with and let's fast forward to the succeeding good things that happened that day.
After having a satisfying lunch at Ben Thanh market, we followed our map to visit the Reunification Palace. It was once the government headquarters in Vietnam, but it now serves as a well-kept reminder of the past.
Though you cannot enter the rooms, you can view them from various viewing spots.  They were like lavishly decorated conference rooms with chandeliers and gold trimmings. Pretty fancy if you ask me.
I adored the high ceilings, windows that go from floor to ceiling and light coming in from everywhere.
There's also a bunker underneath the palace which kind of freaked us out. Maybe because we went to the War Remnants Museum first that we couldn't help but remember the bad things that happened during the war. It was almost felt suffocating navigating through the narrow corridors. We even had a hard time finding the exit.
When exiting the palace, we witnessed the trimming of the trees in the wide garden. There were tall trees surrounding the building, and it's nice to know that they managed to maintain the surroundings. I don't know anything about gardening or cutting down branches, but it's mesmerizing watching the workers effortlessly climb trees. It was a bit scary, though, seeing the branches falling from dozens of feet above.
This is probably our only decent photo from the trip. It was near the end of a long day. Disheveled hair, oily face, and all, I still love the picture. But I don't appreciate how my height's so obvious in this photo. Maybe I don't love it that much after all. Ha!
Thank you to the Korean tourist who took this photo for us and told me that there's something wrong with my camera. Hehe.
From the Reunification Palace, we traced back the cyclo route to go back to Notre Dame Cathedral and the post office. It's just a street away and we only needed to cross one lovely park.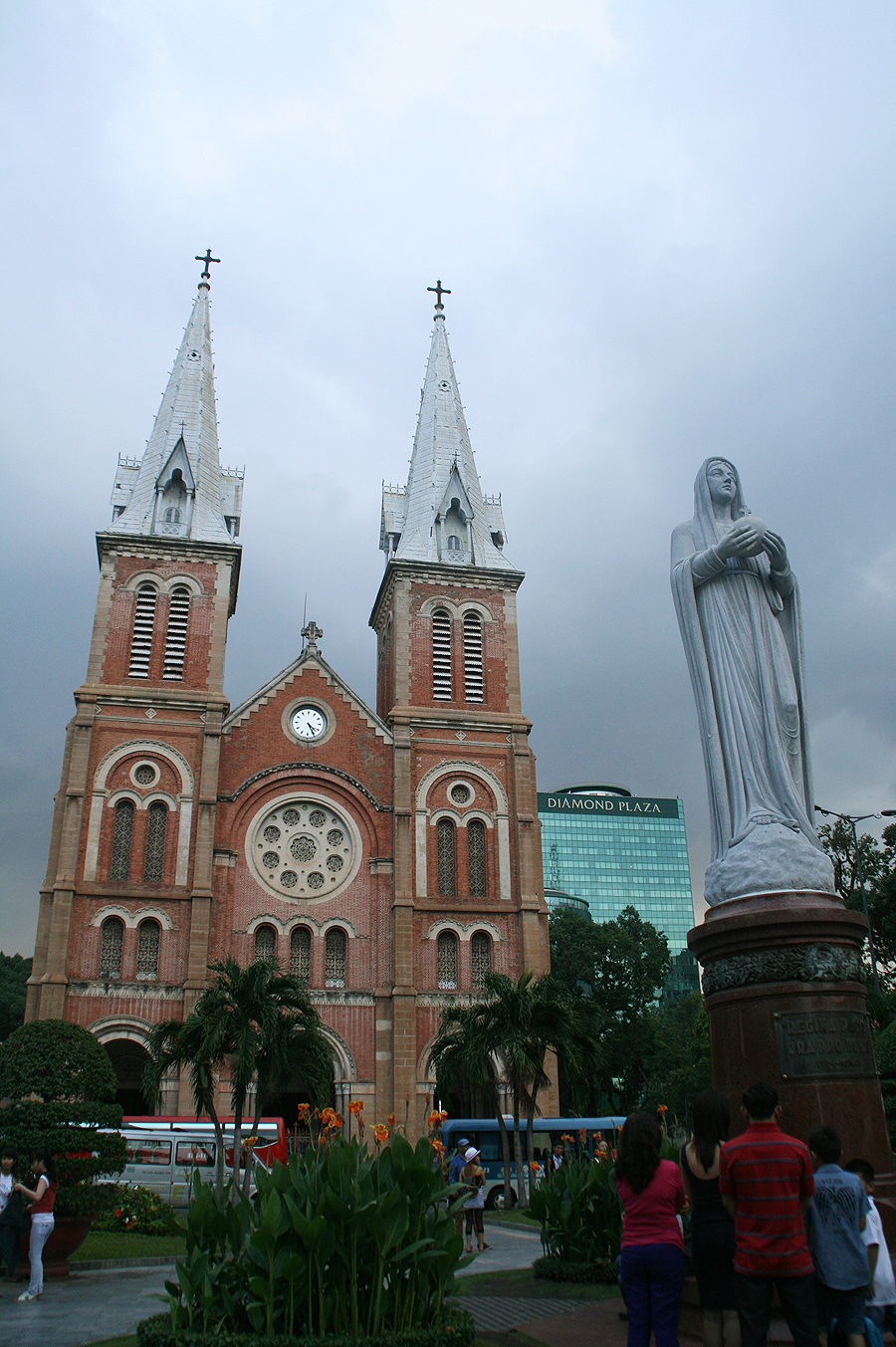 Saigon Notre-Dame Basilica is a lovely piece of architecture in the center of Ho Chi Minh. Too bad the church was already closed when we arrived at around 5p.m., so we could only marvel at the exterior of the church.
The fact that the church was closed is a curiosity for me. Coming from a Catholic country, it's a rarity to visit a church and denied entry since it's already closed. I feel like the church should always be open to welcome those who have nowhere else to go. Maybe because I often go to Baclaran with my parents at odd hours—from midnight to four in the morning—I find it weird to see a church close its doors so early in the day.
But since the Cathedral is a tourist destination, maybe it's only sensible for them to close it early. With so many people coming and going everyday, maintaining cleanliness must be a difficulty.
The Post Office is directly beside the church that we only had to cross the street to reach it. I'm not exactly sure if there's anything special about the post office but it's often listed in Ho Chi Minh's must-visit spots. I'm starting to think that it's most likely because it's so near the Cathedral that's why.
It has a pretty nice exterior for a post office, though. Then again, the only post office I'd been to was the one from my hometown, which is just a small dingy room in our town's city hall.
Our last stop and most definitely the highlight of the day was the Opera House. But we didn't just visit it, though. We watched a show! The architecture is different from the Opera House in Hanoi, but I can still see similarities in appeal. Then again, I'm not well-versed in architecture to be talking about that!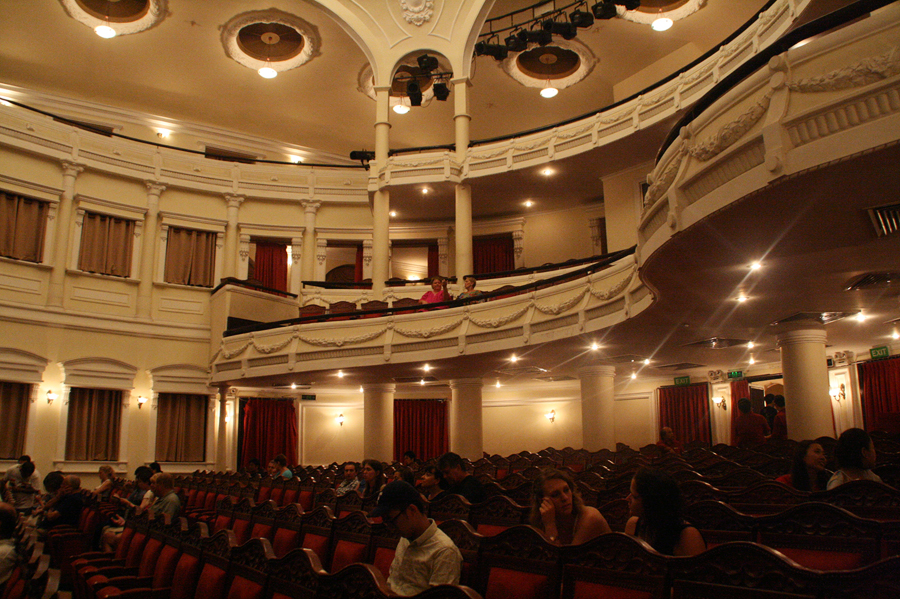 It was a perfect way to end the day. If you're going to Ho Chi Minh, you must watch the AO Show. It's an acrobatic musical that incorporates the Vietnamese culture in a dance and performance that can be appreciated by people of all nationalities. Majority of the audience were foreigners, and everyone's just ooh-ing and aah-ing throughout the show.
AO Show left us mesmerized and ecstatic to watch something so entertaining and engaging. We bought our tickets at the War Remnants Museum but you can also buy it from the website and at the Opera House. I'm not a musical person, but this one made me speechless.
This post is long overdue, but I'm glad that I've finally written about it. Hopefully, I can blog about it in the next two weeks. I'm keeping my finger crossed that I won't be too drained from writing to sit down and tell the stories of my visit to Chu Chi Tunnels and the Mekong Delta.