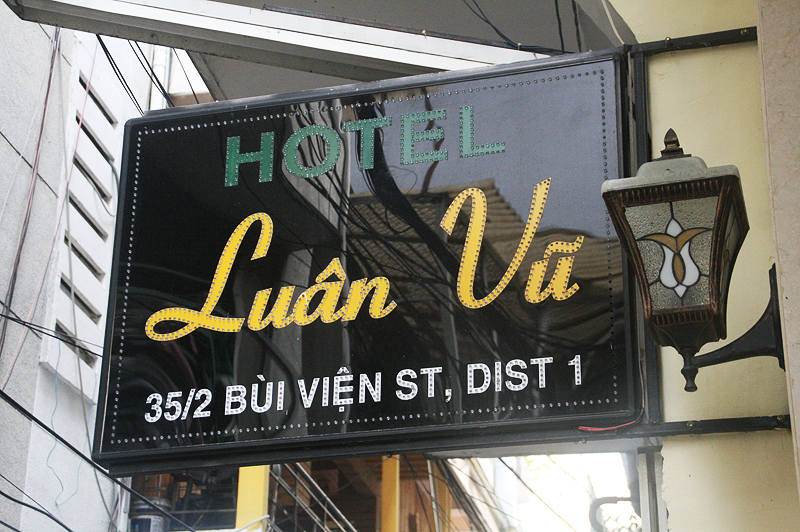 As much as I want to jump straight into blogging about our days in Vietnam, this post is long overdue.
Hostels in Vietnam are amazing, because of the two I've tried, both delivered top-notch service. I think you won't go wrong with the budget hostels in Ho Chi Minh or Hanoi, because no matter how cheap it gets you can be assured of amazing service. And pretty rooms!
Luan Vu Hotel is located at the backpacker district Pham Ngu Lao in Ho Chi Minh City. So yes, it's the perfect location for travelers because it's in the middle of cheap restaurants and within walking distance of pretty much everything you need to see in Saigon.
We arrived in our hostel quite late, at around 2AM, I think? We coordinated through email before coming, so they knew we'd arrive late. We got a room in the second floor, and there's no elevator! But I think it's common for hostels to not have elevators so it's not something to complain about.
I really can't think of anything to hate about our hostel, because it's always a welcoming sight whenever we went back after a long, tiring day touring around the city. We only spent three nights in Luan Vu but we already experienced their best service.
What I Love About It
Our room was pretty great. We stayed in a triple room since there are three of us. There were two beds that can fit three people max. We were awed at how high the ceiling was, and how everything's so clean. Our beds were soft and blankets warm, we could have stayed all day sleeping and wouldn't think it's a waste. Haha, okay I'm exaggerating. But really, I loved our bed!
The room has a TV set, refrigerator, hair dryer, vault, water heater, coffee and tea, and aircon! I almost kicked myself when I saw the hair dryer because I brought one. Oh well. They cleaned the room and the bathroom everyday and changed our towels daily, too. They really deserve five stars in cleanliness, because even the lobby and dining area were always clean.
The downside is that our room has no window, but it doens't matter much. I think it's actually a plus for light sleepers since no mornight light leaks in. The building is also a bit far from the road so it can be pretty quiet at night.
In the lobby, there's a tall bookshelf filled with books in different languages and travel books, too! Not that I read anything, but I think it'll be pretty useful for those who'll be staying long in the hotel.
There are two computers in the lobby that any guest can use. Oh yeah, they have wifi in the rooms, and it's pretty fast, too. So staying connected to family and friends back home was pretty easy.
Our hosts were really nice! They speak good English so you don't have to worry about asking them about anything. They gave us a map of Ho Chi Minh which shows the way from the hotel to different landmarks in the city. After exchanging our dollars into dong, we were off for adventure! They pretty much provided everything. And when you didn't spend all your dongs (lol what), you can also exchange that for dollars before leaving for home. I'm not sure if they accept PHP though!
We were totes crushing on one of our hosts because she was so cute! Yes, a she. Everytime I saw her I wanted to pinch her cheeks. With pale skin, almond-shaped eyes, pixie-cut hair, and rosy cheeks, I couldn't help but smile whenever she'd serve our breakfast. Hehe.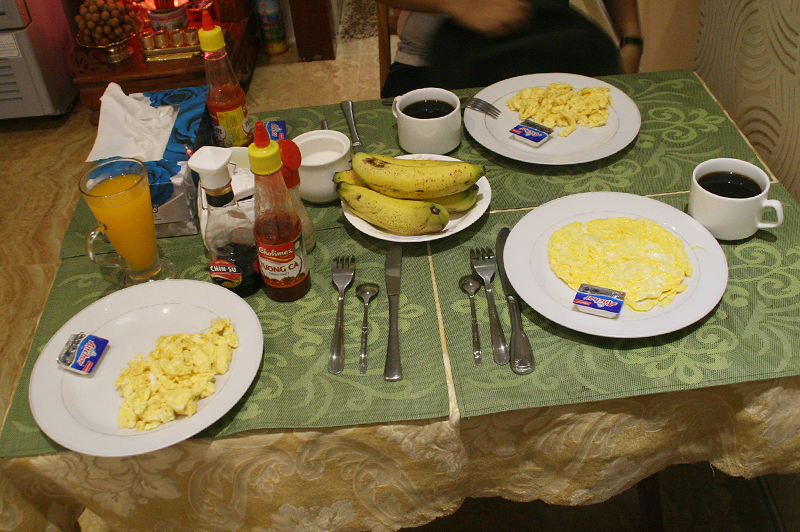 As for the cons…
I can't think of any! For a hostel, I think it delivered far more than expected.
Yes, there's no stairs but that's pretty common for hostels. It can be a disadvantage if your room's in the higher floor or if you have tons of luggage with you. But the staff will help you with that!
I guess some won't be happy with the breakfast but it's fine with me. There were only two options—toasted bread with omelet or noodles. We tried both and loved both! You can choose from coffee, tea and juice for your drink. If you haven't tried Vietnamese coffee, WHYYY.
We fell in love with this one condiment that was perfect with the omelette. We ended up looking for it and cried with glee when we saw it in the market.
Luan Vu Hotel
Website: www.luanvuhotel.com
Address: 35/2 Bui Vien Street, District 1 – Pham Ngu Lao / Tay Balo,
Ho Chi Minh City, Vietnam
Contact info: luanvugh@gmail.com
phanlan@hcm.vnn.vn
How to make a reservation:
OPTION 1: I booked via Agoda and you can easily do that, too. Then I emailed them using luanvugh@gmail.com to arrange our arrival.
OPTION 2: You can book through their website. If you're anxious or if you have any inquiries, just email them first.
How to get there:
Via taxi: Our taxi fair cost us $15USD from the airport to the hostel. Be wary of scamming drivers!
Via airport pick up: Luan Vu Hotel can arrange this for you. It's also $15USD. But I think it depends on the time.
Compared to what we paid for, it felt like we received a service that's far more than one-star hotels usually deliver. I cannot recommend this hostel enough.
So here's Mariel, Aika, and I on our last morning in the hostel. We decided to have a little pictorial but ended up desperately trying to hide our chubby arms. Hehe. I miss these girls, and I cannot wait for more backpacking adventures with them!