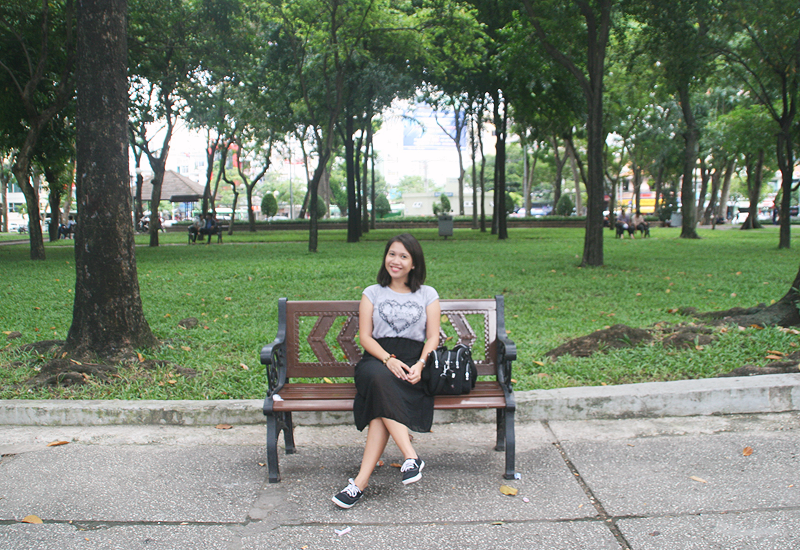 My love for Vietnam is no secret.
When I first visited Hanoi in 2013, I instantly fell in love with the chaotic streets filled with hundreds of motorcycles and the cheap Vietnamese coffee you can buy anywhere. Aside from the fact that I obsessed over the food, I met quite a lot of nice people in Hanoi.
I recently went back to Vietnam, but this time I visited Ho Chi Minh City. I had a great time roaming the city and nearby provinces with Aika and Mariel. But we can't possibly expect everything to always turn in our favor, right?
Luckily, I don't encounter much misfortune when going on trips. Well, there's that one time I had to climb Pico De Loro with broken shoes. Then another time I got sick while camping in the beach. Then there's my recent Vietnam trip.
Vietnam reminds me a lot of Philippines, be it the countryside or the city landscape. Though there are a lot of warnings when traveling in the country, it didn't really seem that different from where I come from. I wasn't really expecting the trip to be perfect, but I wasn't prepared for what we went through in the three short days.
Right from arriving in the country, we ended up riding a taxi that charged us way too much. For one, we knew that the fare from the airport to our hotel was only 15USD, but the driver asked us to pay 15USD per person. The ridiculous amount startled us and we asked to return to the airport. Thankfully, the next taxi we rode in charged us fairly.
On our first day in Ho Chi Minh City, we decided to just roam around the city by ourselves. While walking leisurely at the park near the backpacker district, three cycle drivers approached us and offered to tour us around the city. After offering us a cheap price of 15,000 VND, we agreed. We thought it was really cheap and had to ask a couple more times just to make sure. We repeatedly ask if it's really just 15,000 VND and they repeatedly said yes.
We felt guilty that we'd pay them for such a low price so we even thought of tipping them. When they said we'd stop by a sidewalk coffee shop, we didn't argue even when we were asked to pay for quite a lot for our iced coffee. I think they tripled the price. They also made us sign on their notebooks filled with testimonials from other customers. We figured that it's their way of earning more since the cyclo fare was so low.
When it's finally time for payment, we were shocked when they said we actually had to pay "fifteen hundred thousand" VND. Wow, they definitely forgot to mention that hundred in the middle of fifteen and thousand. Now, they can speak English pretty well so I'm sure they heard me correctly and they didn't make a mistake the numerous times they mentioned the 15,000 when negotiationg. We were almost in tears because that would already be a fifth of our budge for the entire trip! It was too much.
It was only when we started bargaining that they pulled out a laminated price list. So it's apparently 50,000 VND per hour. The tour took us three hours. Despite one of the cyclo's little monologue on how hungry he was and how we'd pay them too little for our offered priced, the two nicer cyclo drivers agreed to bargain with us. We still paid a hefty price, and it was the most we paid the entire trip.
We feel wronged and tricked, but we also realized that we were too complacent that we appeared gullible. It's not a fun memory to remember, but I think instead of my cyclo driver's interesting stories about Vietnam, Ho Chi Minh, and his family. If I don't think of that, I'll get upset all over again.
The worst experience I had happened in our last night in Saigon. We were advised by a taxi driver and our hostel manager that we must bargain at least half the price when shopping at Ben Thanh market. So we did exactly that, and I, specially, received so much flak for it. The sellers were really pushy. If you walk away without bargaining, they'd force the calculator in your hands and beg you to bargain. When they don't like the price you set, they get mad. So it's really better to just walk away.
A most upsetting thing happen in our last night in HCM when we did our last-minute souvenir shopping in Ben Thanh. My friends were bargaining when buying a lock while I was merely standing by. I had no need for it and didn't participate in the haggling. Yet, one of the two elderly sellers kept forcing the calculator in my hands. I kept saying that it's my friends who are buying and not me. When they didn't like the price my friends asked, one of the sellers who had her back turned from me faced me and pushed me. She kept shoving me away that I could only stare in shock and insist that I didn't do anything. My friends were just as startled at what happened.
Even now, I still couldn't wrap my head around the whole thing. I kept trying to replay what happened to see if I was at fault. I can't really think of what I could have done so wrong to ignite the anger of the seller. Is it because I looked like a local? I've been mistaken to be Vietnamese quite a few times. Maybe it's because I was just standing there and not haggling? I don't know. But it upset me so much that after that I only entered kiosks that had a fixed price for their items. I think I'll swear off haggling for a month or two more.
I have met a lot of nice Vietnamese people that I can't let what we've experienced cloud my judgment of the country and its people. Though I had some of the worst experiences during our HCM trip, I also met kind and interesting individuals. I cannot just forget the welcoming warmth of our hosts and the friendly Vietnamese folks we've met in our travel tours. I may have met some locals who scared and upset me, but I also met some who only showed me kindness.
It took me weeks to properly sit down and write my experience. I had no idea how to phrase our little misadventure in Saigon. I still had a lot of fun and I still look back fondly. But sadly, I didn't leave the country wishing to go back as quickly as possible. I do not long for the country the way I did after I went to Hanoi. I guess it did affect me in a negative way. I'll just think of it as a lesson I need to learn. But I definitely won't be back anytime soon.
We'll meet all kinds of people in our travel. There's be the good ones and the bad ones, and we can never really judge anyone. In every place I go, I always think of myself as the visitor and I'm the one who needs to follow the rules. Back here, I'd probably stand my ground and wouldn't back down in a fight. But since I'm the foreigner, I had to know my place.
As someone who always fights for what she believes she deserves, it feels uneasy to just let things go. So here I am writing it all out, since it's a process I've always believed serve as a way to cleanse the soul and to clear my mind. I let go of all my ill feelings towards the country.
It's such a beautiful country. I'd rather think of its iced coffee, pho, and bun cha, than all the bad things that happened.