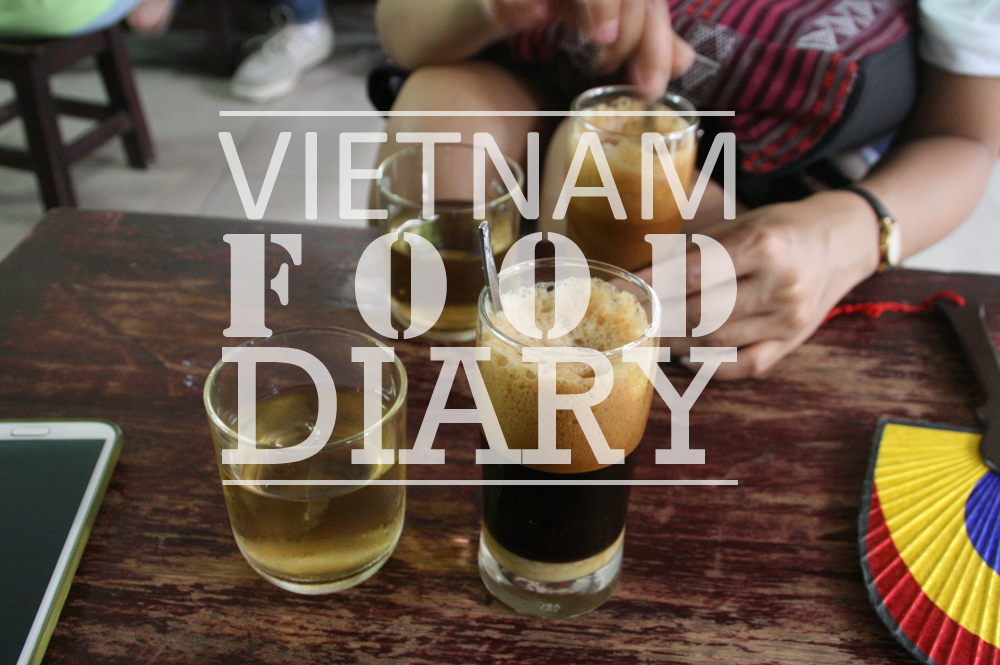 Four months after I visited Vietnam, I'm still not done blogging about it. And believe it or not, there's still a few more posts queued for writing. I took a lot of photos that time, maybe because it was just Jinky and me. Traveling in small groups allows for more leisurely time. We spent a lot of time just walking around Old Quarter, and it was definitely one of the best things I enjoyed in Hanoi.
And of course, there's the food. Suffice to say, we ate a lot of good food for really cheap price. Pigging out in Hanoi, specifically, was inexpensive. We opted for traditional restaurants with huge crowds. After all, it's not the interior that people try again and again but good food, right?
Dining is truly a unique experience in Vietnam. I love how it's so low-maintenance and unpretentious. Most restaurants have wooden interiors, a very basic menu, and seating that extends to the sidewalk. Yes, every store has little chairs and tables outside where customers can eat. But being shy people (heh), Jinky and I usually sat inside.
It gets kind of awkward because they thought we're Vietnamese, too! They end up asking for our orders in the local language, and we didn't know how to respond. Haha. I guess Filipinos and Vietnamese have the same facial features and skin tone? 🙂
DAY 1
We just stayed and roamed around Hanoi during our first day. We were also unsure of where to eat so our meals were quite simple.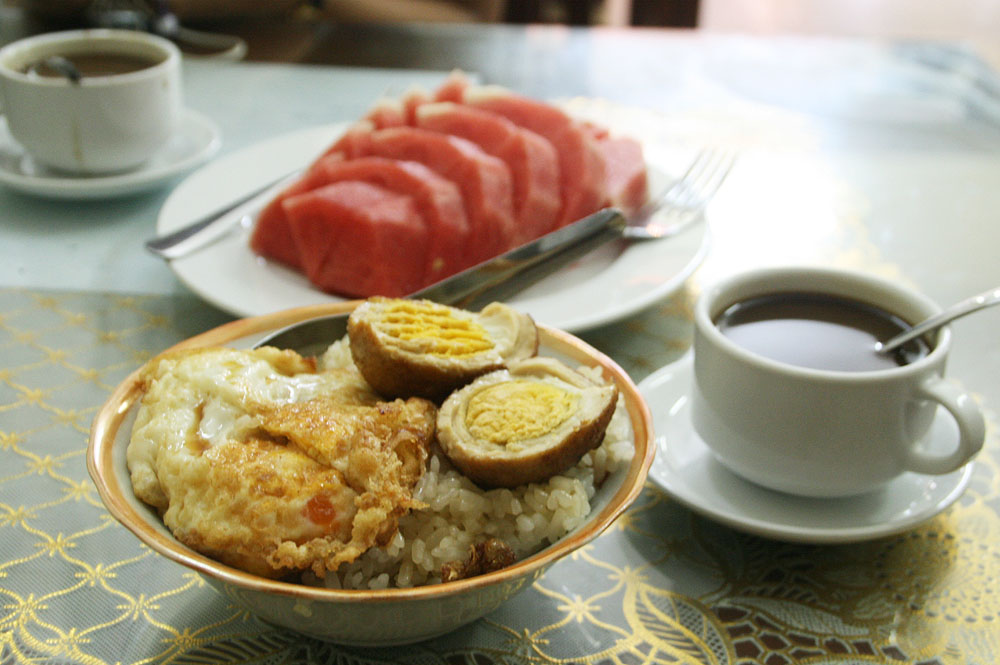 Breakfast: Ah, this is probably my favorite breakfast in my entire stay. Breakfast is included in our hotel and they have a fixed menu everyday. For the first day, I tried Xoi rice (sticky rice) with eggs. I though I'd only be served an egg, but I had sunny-side up and hard-boiled eggs. It was pretty yummy!
It was also the first time I tried Vietnamese coffee, and it was love at first sip. Basically, it set our expectations high. Good breakfast, indeed.
Lunch: We headed to the French Quarter for lunch because there's supposedly a famous street full of affordable restaurants. That street is Ngo Trang Trien and it's quite easy to miss. Just know that it's in front of the Opera House so you won't get lost. Jinky and I were daunted by so many people having lunch. But we were mostly intimidated by the gigantic amount of vegetables served in each table. Though I eat veggies, I'm a self-professed lover of meat.
When we reached the end of the street, we decided to eat this one place that has BUN CA in their menu. I thought it was the same as Bun Cha but apparently not. We ordered a serving of Bun Ca each and was shocked that it's a noodle dish. We were expecting beef. LOL. Apparently, Bun Ca is a vermicelli fish soup. I liked the fried fish topping but not so much the soup.
After lunch, we went to Trang Tien street (still in French Quarter) which is the home of the famous Trang Tien Ice Cream. How did I know it's famous? Well, I Googled it! Haha. It's a really cheap ice cream but absolutely delicious. It's a must-try when you drop by the French Quarter. It's actually the best thing about it. Hahaha.
Snack: We had quite a lot of time to kill in the afternoon, so we walked around Old Quarter to look for an authentic coffee shop. It's weird because during our walk in the morning, we saw a lot. But then when we intentionally looked for it, we had to ask for directions. I can't remember the name but there's a street in Old Quarter that's just lined with tons of coffee shop! Just take your pick because the one we chose had no name. We ordered ca phe da (iced coffee), and it's the best ever. It's also served with tea. I don't like tea, but I enjoyed drinking that one. I think it's called cha da?
I love how in Vietnam, anyone just grabs a chair and sit on the sidewalk. They may be wearing simple everyday clothes or corporate outfits or trendy pieces, but they opt for the old and simple cafes instead of the new and well-decorated ones. It's curious, really curious.
Dinner: We walked so far to reach 1 Hang Manh Street, because they apparently have the best Bun Cha in Hanoi. However, the puppet show ended quite late and when we reached the street, it was already close. We were hungry and devastated, and we went back to our hotel quite desolated because we couldn't find a restaurant that serves rice!
I didn't know they don't serve much rice in Vietnam? Maybe not in restaurants, but probably at home? Anyway, our hotel owner pointed us to a restaurant that serves rice. Good thing it's a bit near our hotel. Jinky and I ordered steamed chicken with rice. And no, they don't serve extra rice. Love the cucumber side dish. 🙂
DAY 2
I'm not sure why I can't find a photo of our breakfast, but I have a feeling that we didn't eat breakfast? We went to Halong Bay and we were kind of late. So maybe we really didn't eat that morning.
Lunch: It was the best meal of our entire stay. It was a gastronomic feast of food I cannot name. It was so worth it, and just thinking about it makes my mouth water. It's part of the Halong Bay tour. We were told that lunch was included in the package, but we didn't know that something so incredible will be served! There were more than five viands. Okay, it's probably about ten? I don't know, I lost count. You can also eat as much rice as you want, and not the sticky kind, too. Just plain ol' rice.
However, don't take the softdrink-in-can they'll offer you if you don't want to pay. We thought it was included in the meal so we accepted it, but apparently you'll have to pay. The price is a lot more expensive than when you'll buy it outside. But the food more than makes up for it.
Dinner: Ah, finally! We finally got to try Bun Cha (vermicelli with grilled pork)! It met my expectations and went beyond it. Yum!
We arrived back in Hanoi quite late so there were very few stores and restaurants open. We went back to the restaurant we ate at the previous night, and surprisingly they also have Bun Cha. So Jinky and I ordered a serving each, and we were once again surprised that it's served with noodles and not rice. Haha! I love pork but I usually eat it with rice. It tastes a bit like Filipino's traditional pork BBQ and the soup tastes like the vinegar mix that goes along with your usual BBQ. It's weird. It's the first time that I tried a soup that tastes like that, but I like it. I love it even. Eat them all together-noodles, pork and soup-and it's daebak!
We also ordered a serving of Goi Cuon (spring rolls) but we didn't really like it. Maybe it tastes better elsewhere?
DAY 3
Again, we were running late on our third day since we're going to Ninh Binh quite early. The hotel staff was nice enough to wrap our sandwiches for us (mine's French Toast). But we had a bit of miscommunication that they end up thinking we're asking for the bread to be recooked. We just laughed it off when they realized that we wanted it wrapped and not cooked again. Heh.
Lunch: Ninh Binh's famous for their goat meat, so the tour guide took us in a secluded restaurant that serves sizzling goat meat. It's apparently something they really love, and sufficed to say, I ate a lot. Like, a lot. I think I'm the one who finished it off. It has a different texture and the dish was a bit oily, but I love eating it with rice and dipped in a spicy sauce. So I'm a bit shocked that among the foreigners (there were mostly Vietnamese in our tour group) I'm the only one who genuinely liked it. Jinky only took a bite and said adieu to goat meat forever. I have peculiar taste, I guess?
I enjoyed the other dishes, too. There's a french fries-like thing, a tofu soup, chicken dish, etc. But it's the goat meat that lingers in my memory. I'm such a carnivore.
Dinner: For our second to the last night in Hanoi, we didn't have a formal dinner. I guess we were too full. Before heading back to our hotel, though, we tried Chè! It's a term used for any traditional sweet beverage, dessert soup, and pudding in Vietnam. When Jinky told her the name of the food she thought I was mocking her. She thought I was saying 'Tse' haha! It took a while before we understood each other.
Jinky and I ordered two varieties, and they pretty much taste the same but mine has more ingredients. It reminded me of bilo-bilo. I like it! I have a pretty strong stomach so it didn't affect me in any way, but I think it didn't sit too well with Jinky. 🙁
When we went to Dong Xuan night market, we also bought hotdogs we saw being sold everywhere! Huhuhuhu I love it so much. Next to coffee, it's second when it comes to the food I miss the most. 🙁
DAY 4
Our last day! Obviously, I didn't want to go home because I was enjoying my stay in Hanoi. For our last day in Vietnam, we also only stayed in Hanoi. We saved all the museum tours for the last day, and had no particular plans on what to eat that day.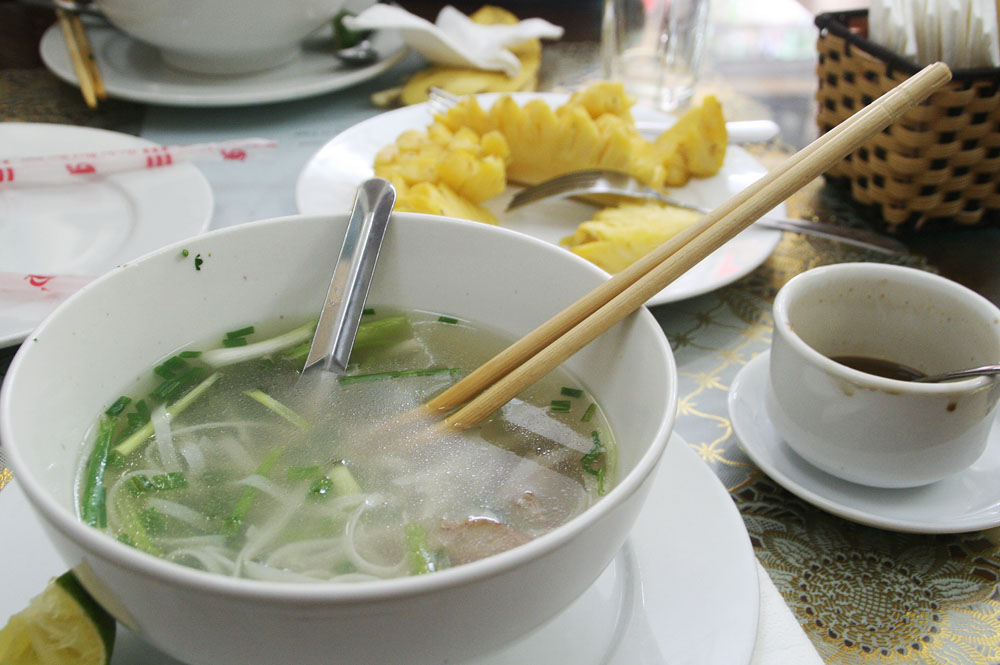 Breakfast: You can't visit Vietnam and not try Pho, or so they say. Jinky ate Pho for breakfast on our first day, so I decided that I should at least eat it before we go home. Even though we ordered Pho from our hotel, they actually buy it from the restaurant next door. Hehe. It was really good. Quite a refreshing soup, and the noodles just melts in your mouth.
I really love the service in our hotel, Camellia 6 Hotel. From our arrival down to the last, they've been nothing but helpful and accommodating. They also serve amazing breakfast, and it always comes with fresh fruits. Also, they serve the best coffee I had in Hanoi. So if you stayed in Hanoi, I recommend it! 🙂
Lunch: We were at Temple of Literature around mid-day and had no idea where to eat for lunch. Good thing there's this restaurant just right across the temple. I am just glad to see the sight of rice. They sold a variety of fried rice and I forgot which one we ordered. We just pointed at the menu (with pictures!) so we won't be misunderstood. They once again mistook us for Vietnamese and conversed with us in their dialect. Haha. Anyway, the fried rice was pretty good and a pretty filling lunch, too.
Dinner: For our last meal in Hanoi, we tried KFC! There aren't that much fast food in Vietnam which is surprising. There's no McDonald's and no 7/11. But there's KFC, and I'm just glad we went there for our last meal because the one who served us was really cute. Haha /landi The place was packed, because there were so many kids that night. It's probably due to the free ice cream for kids. A pretty good marketing gimmick if you ask me.
Look at that huge serving of salad. The salad served in our KFC looks pitiful next to it. I ordered chicken with rice, and surprise! There's no gravy. It was shocking.
–
I miss Vietnam, and I'm not sure how many times I've said that already. I like their very simple and traditional approach to dining. Yes, it may lack some pretty amazing interior and the plating is pretty basic. But the food always comes in big serving with a very affordable price.
I miss the coffee in Hanoi, and I especially miss it on cold mornings. If ever I'd come back, I want to try other local dishes and look for the best spring rolls and banh mi. If luck and money permits it, I might go back to Vietnam this year. Woot woot! Coffee, wait for me~