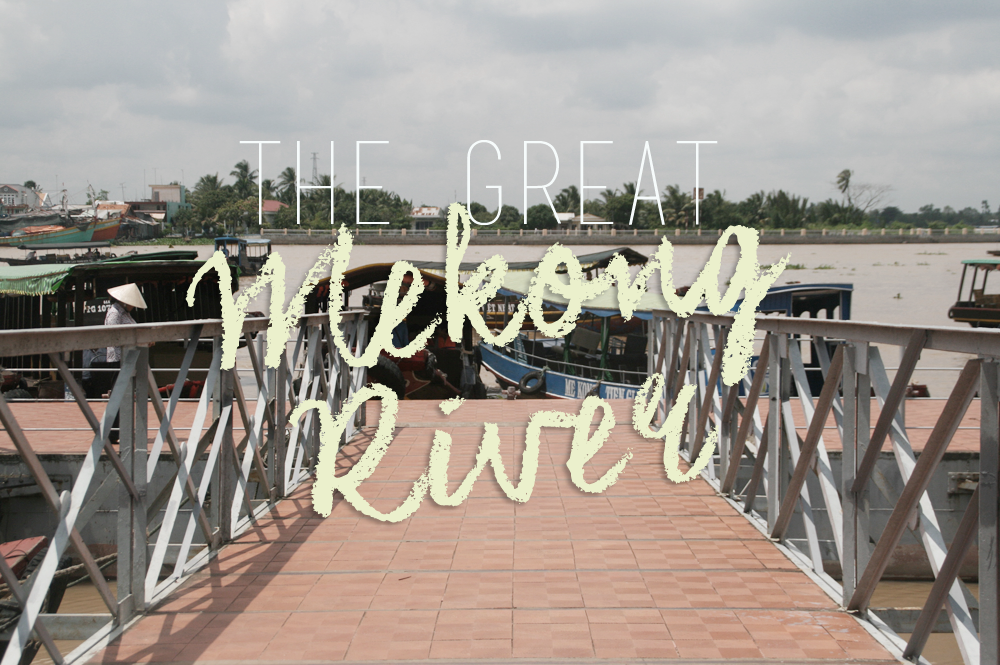 Geography isn't my strongest suit, but I have heard of the Mekong River. Who hasn't heard of the great Mekong?
No visit to Ho Chi Minh is complete without taking a side trip to the river that crosses Vietnam, Cambodia, China, Burma, Laos, and Thailand. Knowing that it traverses six countries makes it hard to believe that it's only the 12th longest river in the world!
On our last day in Vietnam, we joined a tour group that will visit the river for a whole day. We traveled around two hours to reach our destination, and I'm sorry that I can't remember which province we stopped over. I was asleep half the travel period.
There's no standout memory from our trip down the Mekong, except for the little bursts of laughter my friends and I shared. It's a bit underwhelming, but I guess you have to appreciate it for the novelty.
In our destination, there were numerous islands in the river we can easily visit. However, we only visited some, with odd names such as Unicorn island, Dragon Island, etc., etc. I now realize that I should really start taking notes in my travels so I won't be Googling stuff when blogging. Oops.
On the first island we visited, we were given the chance to see the process of making coconut candies! It's interesting for me because I grew up surrounded by coconut trees, but I haven't tried a coconut candy before. Maybe I should start my own coconut candy factory or something. Heh.
It was fun watching the lady mold and cut the candies, because she does it so expertly. There's no stopping, only an ongoing creation of sweets. What's amazing is how the candies come out in the same size even though it's all made by hand.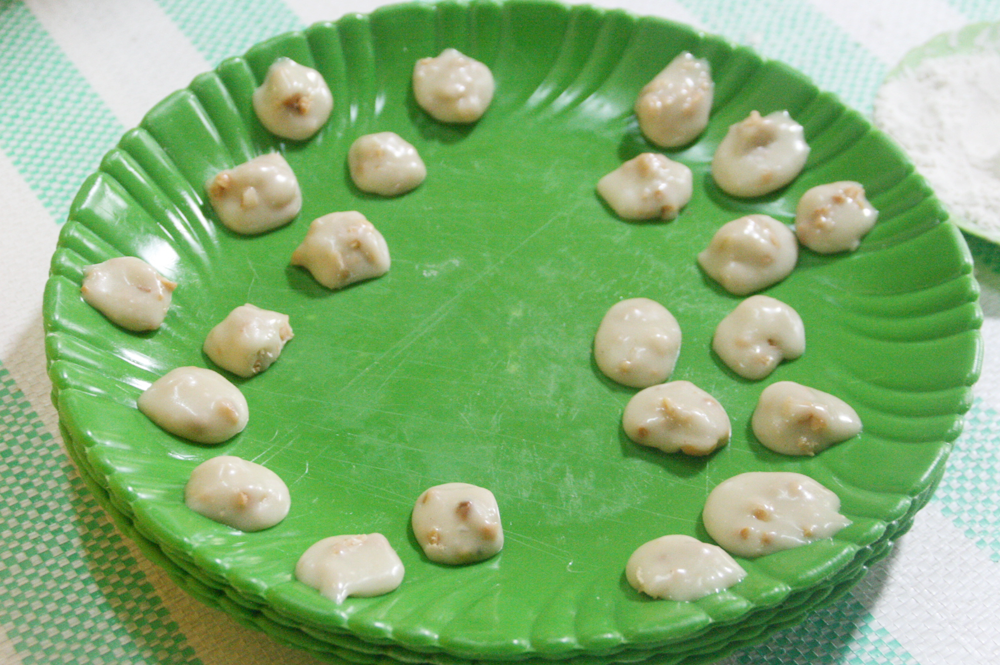 There were free samples, and I shamelessly took more than one. I love the coconut candy variety with peanuts. Yes, there were flavors! We could buy directly from them, and that's where I did my pasalubong shopping. My lola loved it very much.
We got in a little bit of trouble from our tour guide, because we were carrying too many plastic bags and we had more activities in the island. He was adamant to carry it for us and stored it in the boat when we went back.
We road a horse-pulled carriage and had the chance to roam around the residential area of the island. It was funny because Mariel was so scared of the horses. The elderly couple from Malaysia who rode the carriage with us were kind enough not to judge us. But they laughed along when Mariel was freaking out. Hehe.
Even in an island, there were so many motorbikes!
After our short adventure in the coconut candy island (I forgot its name, sorry!), we sailed again. This time, we visited an island that has a dilapidated attraction, dining restaurants, biking route, and a clearing filled with hammocks. We were given an hour to have lunch and explore the place.
Our lunch was inclusive of the tour, and sadly, it's not that satisfying. The Korean in our table couldn't even finish it. I was famished, though, so I managed to eat just fine. Then again, I like anything fried. I think most Mekong Delta tours stopped over in the area, so there's not much choice for dining.
After lunch, we had a short time to roam around the island. Even though it's not obvious in the photo, we were sweating so much because it was so hot! And please ignore our matchy-matchy outfits. It was planned. Heh. We bought the comfy pants from the Ben Thanh market, and I wish I bought more!
Many tourists/travelers were wearing pants like it so we decided to join the bandwagon to be full-fledged tourists.
There's a place where tourists can rest in the hammocks tied to the trees. It was refreshing, and we wanted to lie down, too, but no more hammocks were available when we passed by.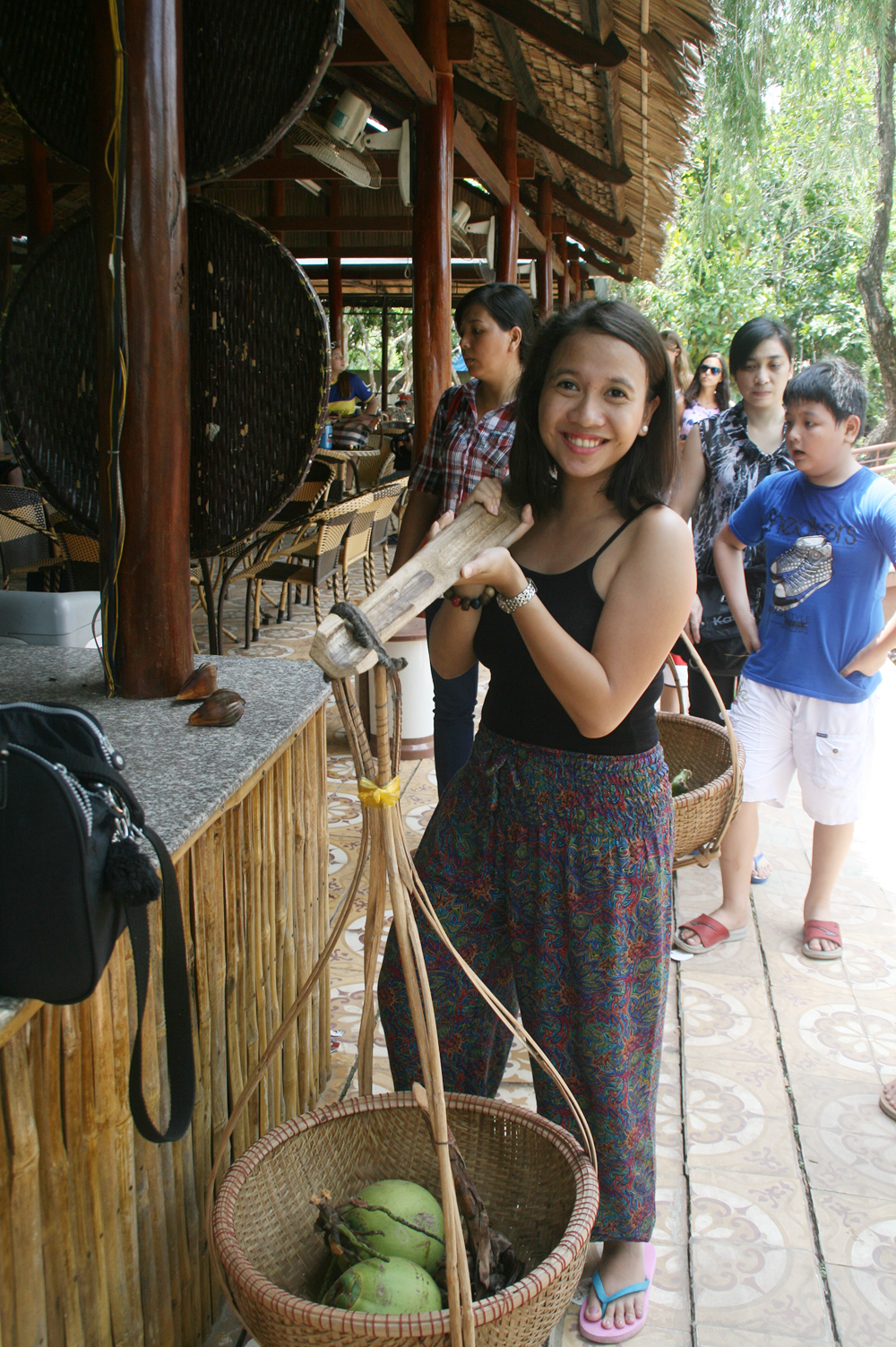 They sold fresh coconut juice, served directly from the shell. It was hot, and it was tempting. But I wouldn't pay more than 30PHP for a buko juice!
The next island was my favorite, mostly because it was the first time I actually enjoyed tea. They served us tea mixed with locally-produced honey and calamansi. It was great! So good that I wanted to drink more. But they didn't leave the honey in the table and only left the tea.
There was a garden out back, full of orchids and flowers of all kinds. I tried asking the girl what the name of the purple flowers is, but our conversation was lost in translation. We couldn't understand each other, which was too bad! Sadly, I've been to Vietnam twice but I haven't learned a single word. I find their tone and syllables more difficult to remember than Korean, Mandarin or Japanese.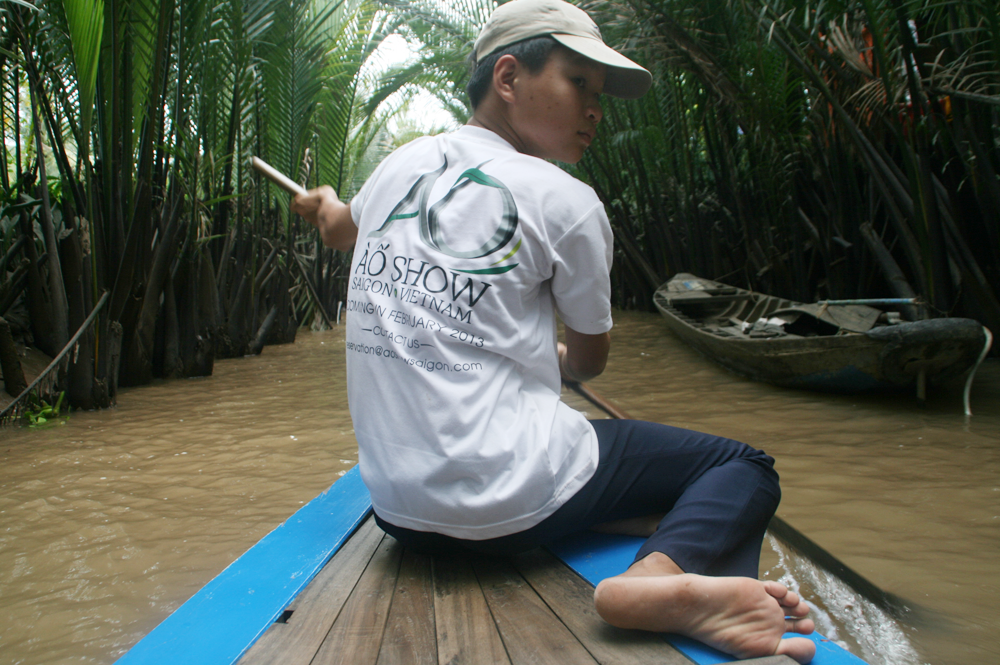 For our last stop in the Mekong, we rode little boats, which was included in our tour package. It was scary!!! I think the water was shallow, though, so falling in it wouldn't be too bad. However, it still wouldn't feel all nice falling waist-deep in murky water.
The boy who rowed our boat seemed new in the business. The older rowers were instructing him what to do sometimes. He was friendly enough to start conversations. He struggled with English, but what's important is that he tried! We asked him how old is he and he answered, "I'm fine, thank you." It reminded me of the movie Welcome to Dongmakgol. (If you haven't watched it yet, you should!)
He's wearing an A O Show shirt, which is one of the best theatrical performances I've seen! I haven't seen a lot, so it may be an overstatement, but it's really good! If you're going to Ho Chi Minh, you might one to check out this article I wrote listing my favorite activities in Saigon, including the A O Show.
To end our tour of the Mekong River, we were served fresh fruits and serenaded with traditional Vietnamese music. The fruit was pretty great, though they're all available back home. I love the salt dip, though! I bought myself a bunch of Vietnamese condiments back in HCM. Hehehe.
It was a pretty great and relaxing way to end our trip to the Mekong.
Before heading back to Ho Chi Minh City, we stopped by a golden temple. I didn't catch the name of the temple nor the name of the town or province. I was so sleepy and tired from the long, hot day that I wanted to go home. But that feeling disappeared when I saw how lovely the temple is.
We ventured away from our tour group and made friends with the local kids playing outside the temple. I've noticed that locals outside HCM were friendlier and a lot more approachable. Maybe because locals in the city are already weary of foreigners, while those in the province are still curious. The kids were really cute, though! 🙂
And we finally reached the end of my travelogue in Vietnam. It was our last day, and the last thing we did back in Ho Chi Minh was shopped for more trinkets to bring home and to savor more Vietnamese food. This is not the end of my post about the country, though. I'll come back with another food diary, because Vietnamese food deserves the spotlight.
Now, I'm suddenly craving for some pho.