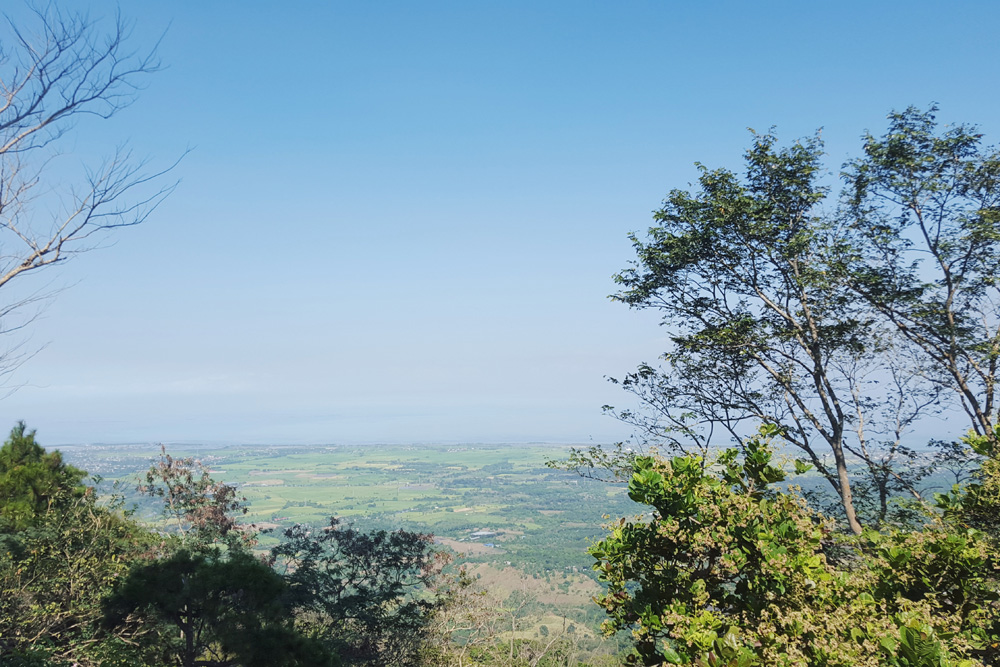 This year, I decided that I will climb as many Philippine mountains as my weak and physically inactive body can. When Ate Marco suggested we go to Bataan for a day trip to climb Mount Samat and visit Dambana ng Kagitingan (Shrine of Valor) in Pilar, Bataan, I immediately said yes.
We originally planned to go last month, but our plan didn't push through. It almost didn't materialize again when Ate Marco couldn't make it, but Kimpee, Ayessa, and I decided that we have to go no matter what! So without our trip organizer, off we went to Bataan.
Last Saturday, we met up early in Pasay to board the bus going to Balanga, Bataan. After misunderstood landmarks and missing each other, we ended up leaving Manila at around 7 in the morning. We were an hour late in the itinerary, but it was okay.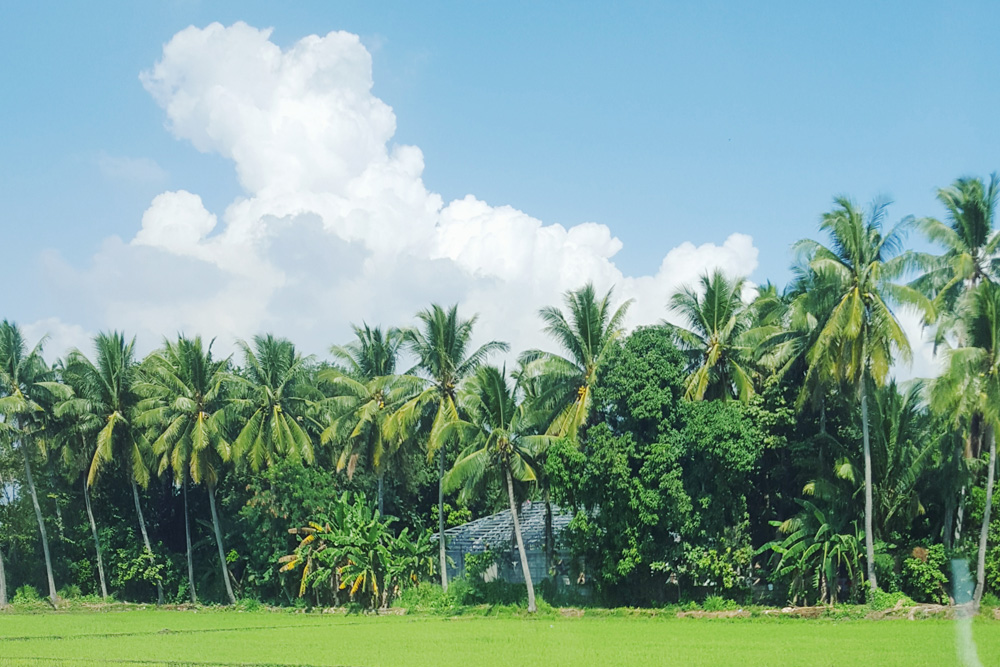 From the main station of Balanga, we rode a Cabog-Cabog-bound jeepney. We passed by amazing sceneries of rice fields with vivid colors. I couldn't help but take a photo, because look! Our coconut trees are so Instagram-worthy.
It turned out that most passengers are going to Mt. Samat, too, so we had no difficulty finding our way to the jump-off.
Before starting our hike, we decided to look for a karinderya first. We were hungry, and we needed all the energy for the two-hour climb. Yes, do not believe that blogs that tell you it's just a one-hour climb. It fooled us into thinking that we're real mountaineers, too. Heh.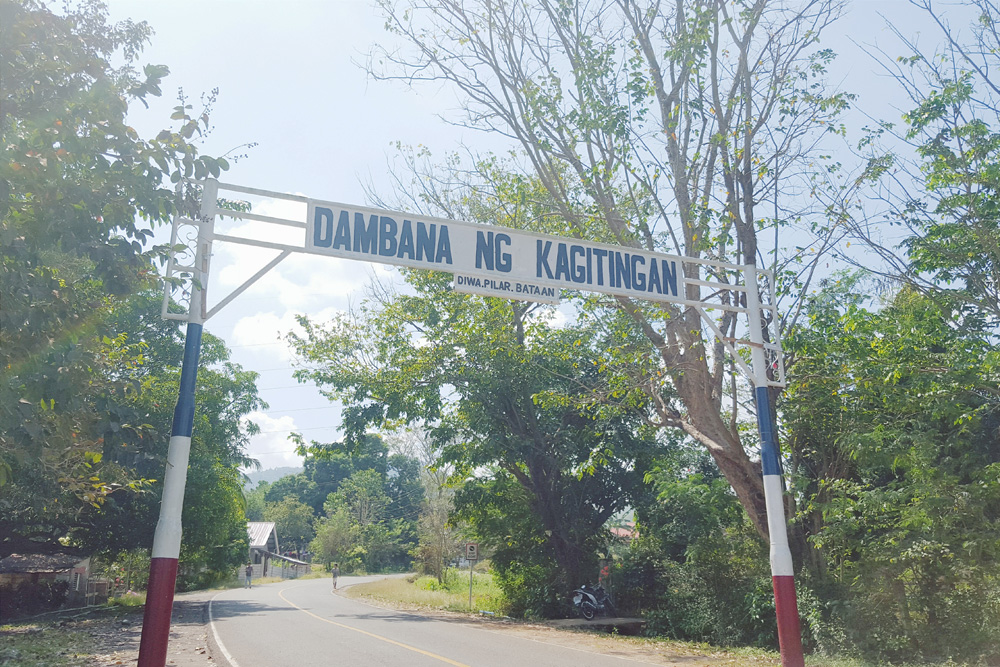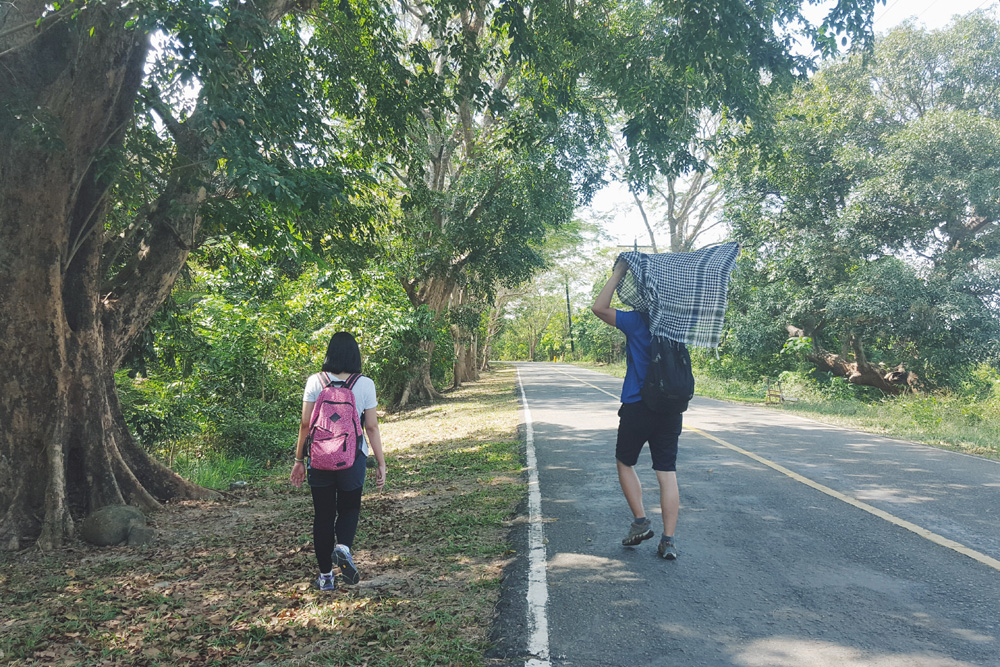 Due to the paved roads, it was definitely my easiest hike yet! We also didn't have to worry about vehicles, because only cars and tricycles heading to the Shrine of Valor pass through the road.
There also weren't many hikers, and it really felt like the road belonged to us! We had no trouble zigzagging our way to the mountain, and taking snapshots in the middle of the road. It was a hot day, but the shade of the trees protected us.
It was still a tiring climb, but we enjoyed every bit of it. Though some people we met on the road questioned our decision to climb instead of hire a trike, I still didn't regret it!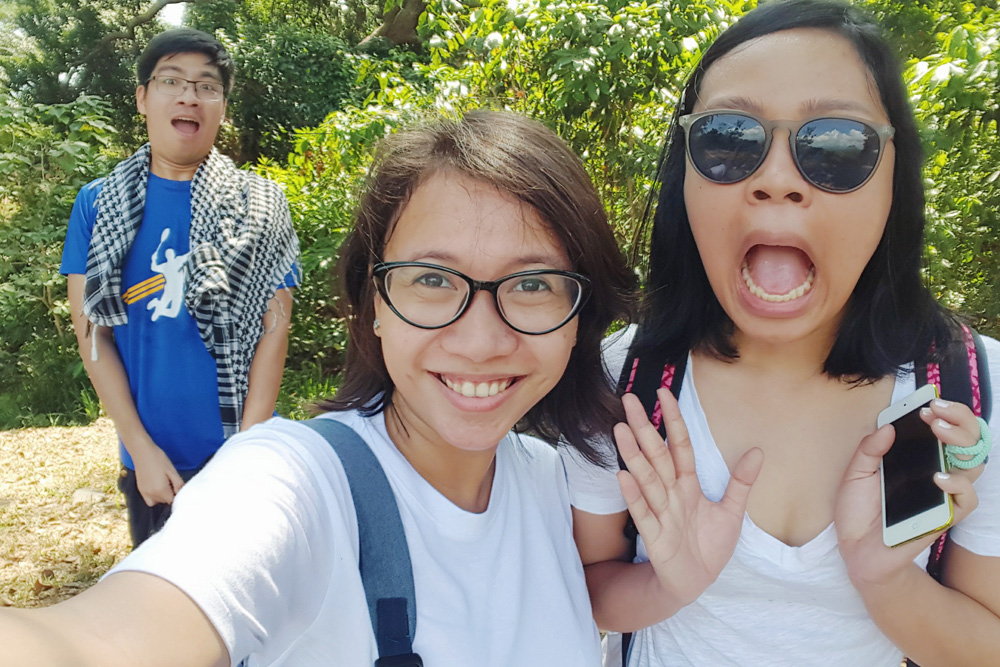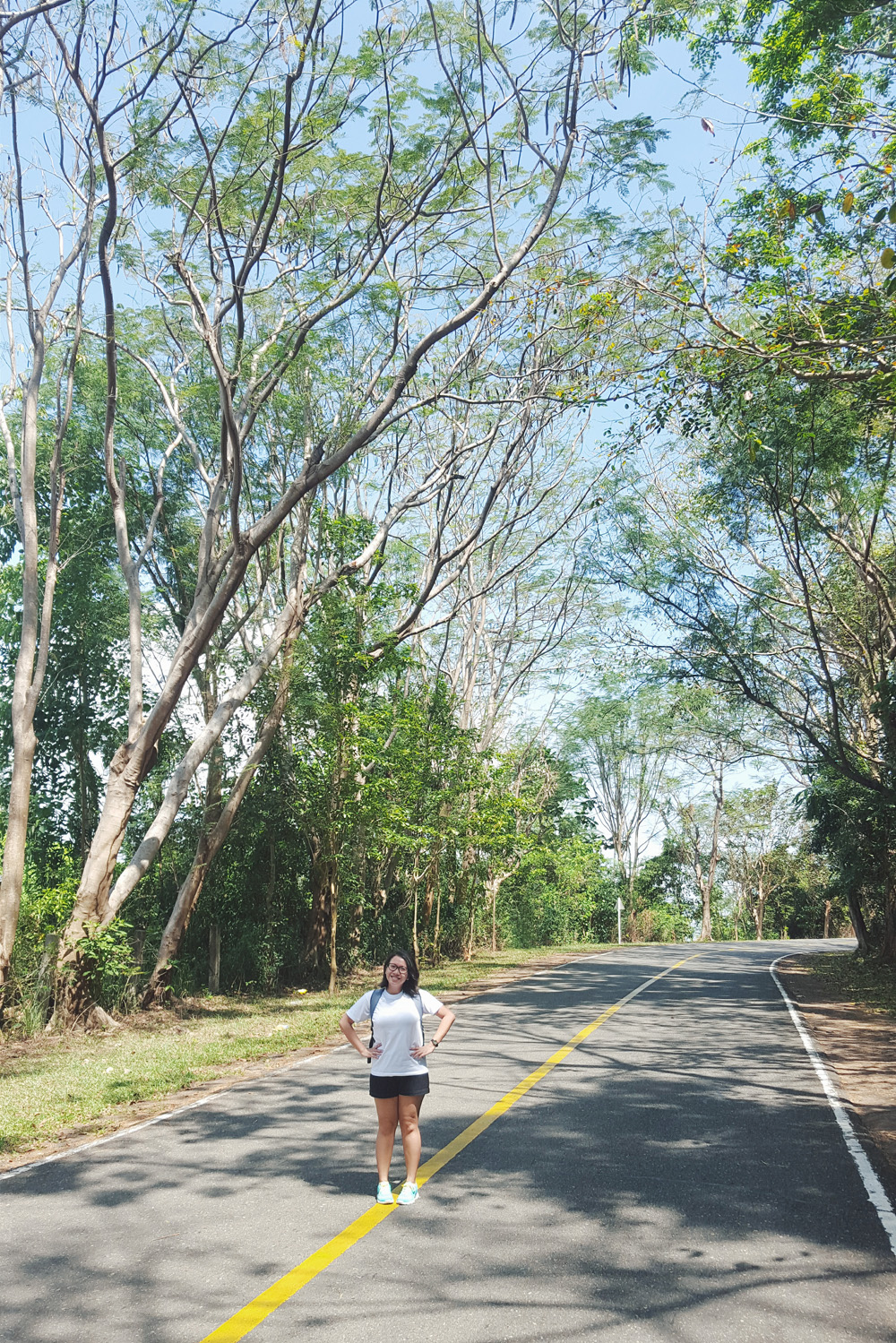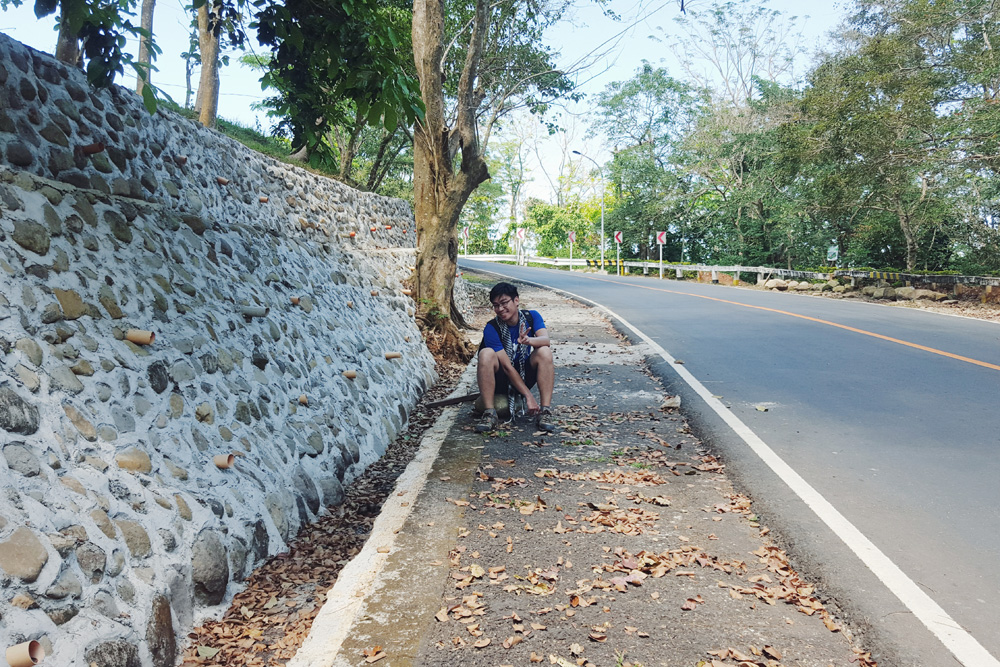 There weren't any markers telling us how farther we needed to climb. There were no arrows nor signage directing the way to the shrine. We realized after reaching the shrine that there's no need for it, since only Dambana ng Kagitingan can be found at the end of the road. Just follow the road and you'll end up reaching your destination.
When we reached the gates to the shrine, the tricycle drives had no qualms jeering at us. "Sa baba kanina mestiza pa, ngayon black beauty na!" And they also mistakenly thought Kimpee is Ayessa's boyfriend or mine. And that's the biggest joke oft he day.
It was easier to roll my eyes and rebut at their side comments, but we just took it all in strides and bickered with Kimpee. How dare he, our dearly beloved boyfriend, let us go through so much suffering!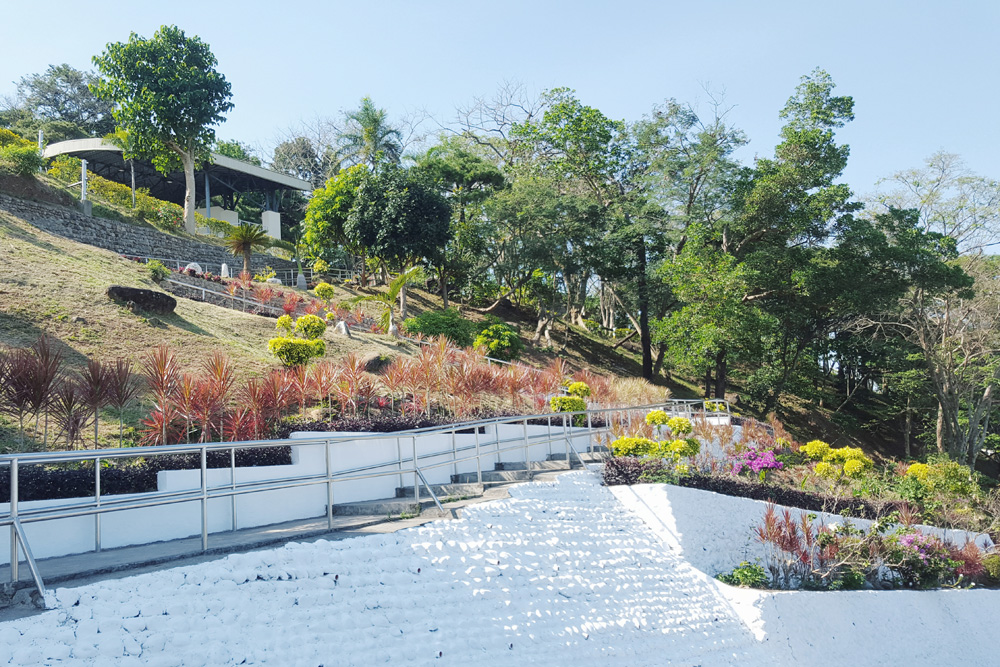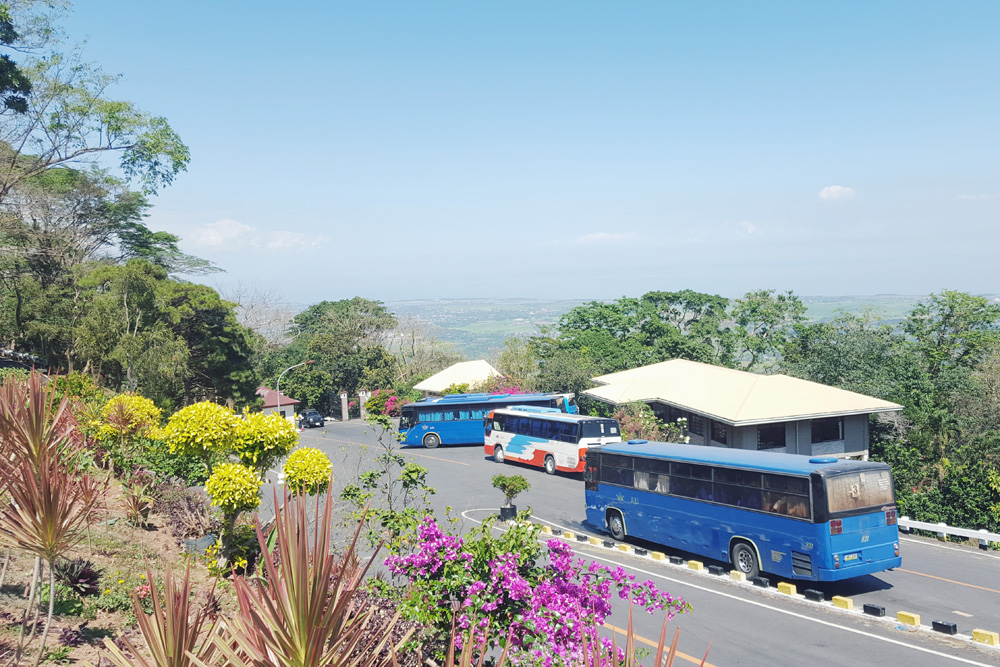 One of the greatest disappointments on this trip was learning upon the gates that the elevator going to the top of the cross was closed for renovation! So if you're planning to visit Mount Samat soon, push it back to April to have a complete experience. Our trip wasn't a waste, but it would have been perfect if we managed to ride the elevator.
We spent approximately two hours taking photos, snacking, resting, and soaking in everything. There's an awesome wall-engraved narrative of the Battle of Bataan. We kept wondering who wrote it, because it's an engaging piece of history, and the way the writer told it made us swell with pride for our ancestors.
I do not know much about history, and it was never my favorite subject in school. I was turned off with how our curriculums focused more on the memorization of dates instead on the importance and relevance of the little beats throughout history. But for it to be presented this way, it moved me into learning more about Philippine history. Maybe a trip to the bookstore is in order.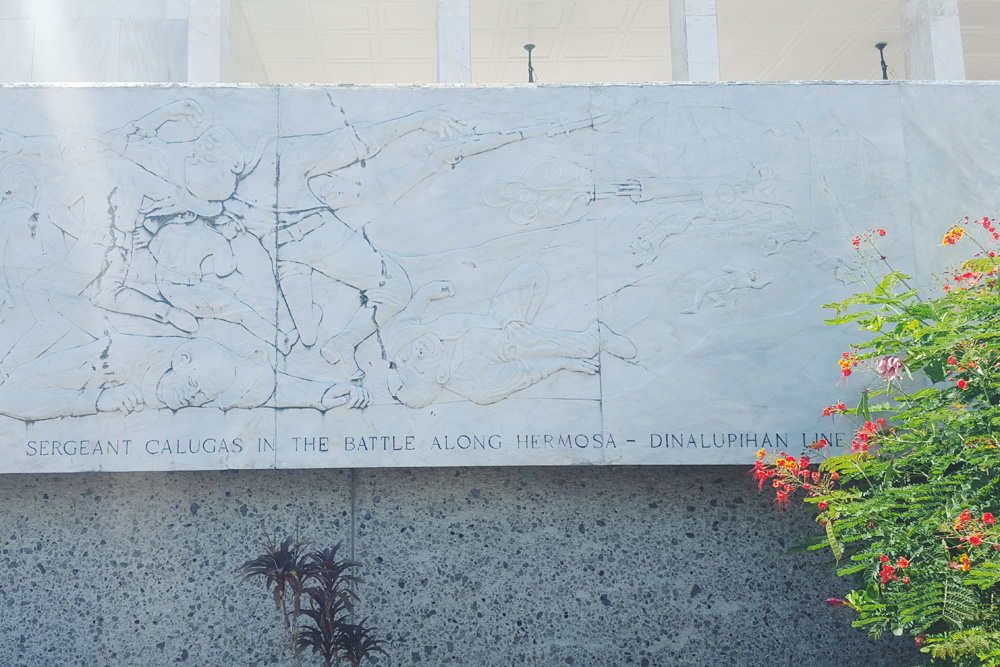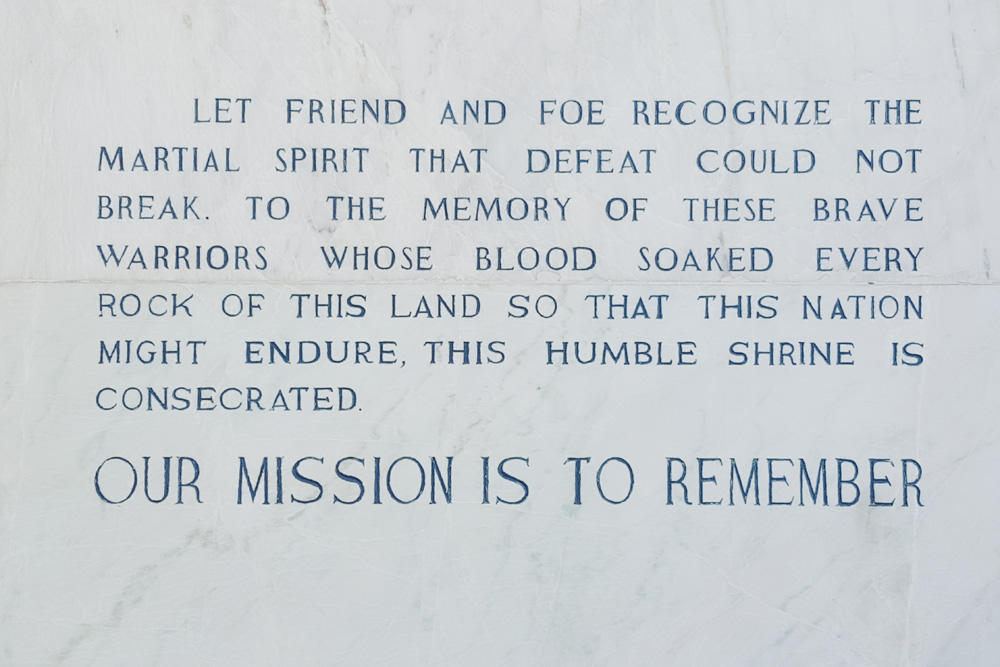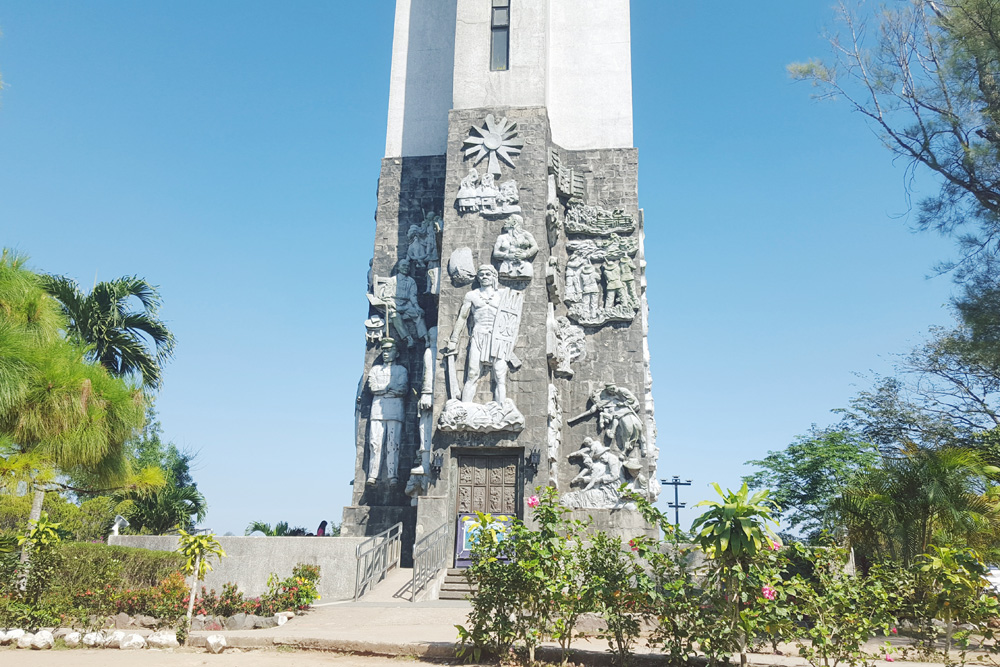 After spending an approximate of 30 minutes lounging around, drinking Mountain Dew and snacking on energy bars, we decided to finally climb the stairs leading to the cross. The path offers an even greater view of Bataan.
Though we couldn't get up the elevator, it's still pretty amazing to see the cross up close. I guess I just have to go back once they finished the renovation.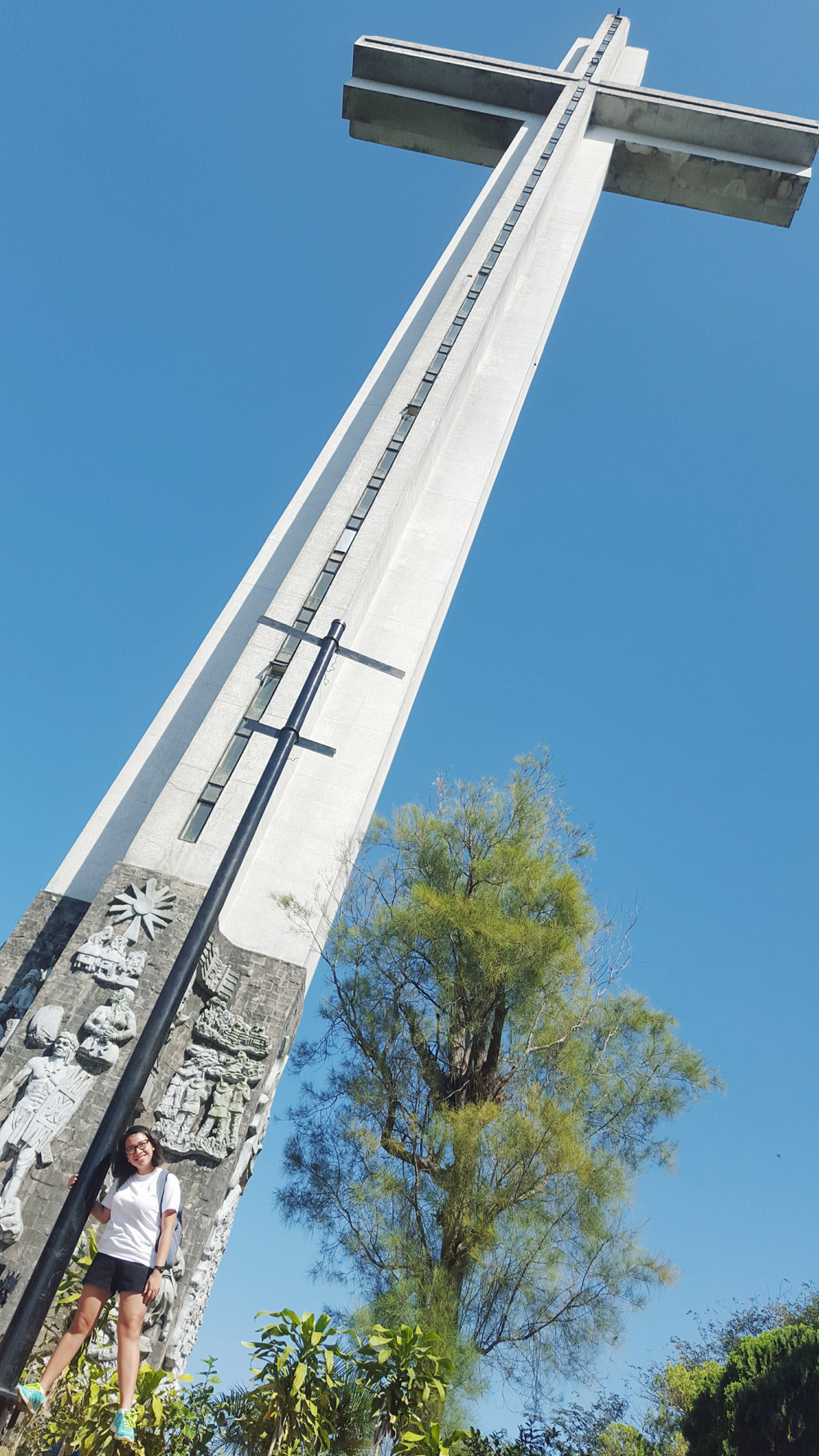 We finished our little Mount Samat tour at around 3 in the afternoon. With so much afternoon sun left to spare, we decided to go for our next destination. But to save time and energy, we decided to ride a tricycle down the mountain. It would take us another two hours to climb down, and we'd barely get enough sunlight by the time to reach the jump off. And we were just so tired!
After a quick tricycle ride to the jump off, we hopped on another tricycle that will take us to Dunsulan Falls. It's also in Pilar, Bataan, but we decided against trekking. As I mentioned earlier, at that point we'd reach it by late afternoon (and we were tired!!!).
Actually, you can ride the zipline from Mount Samat to Dunsulan Falls. There's also a Tree Hopping Adventure at Dunsulan Falls, but we were only there for the view and to relax a bit before heading back to Manila.
And what a view it was! With the sun's flare providing a spotlight and basking the little opening with warm light, it was the perfect way to end our little Bataan day tour.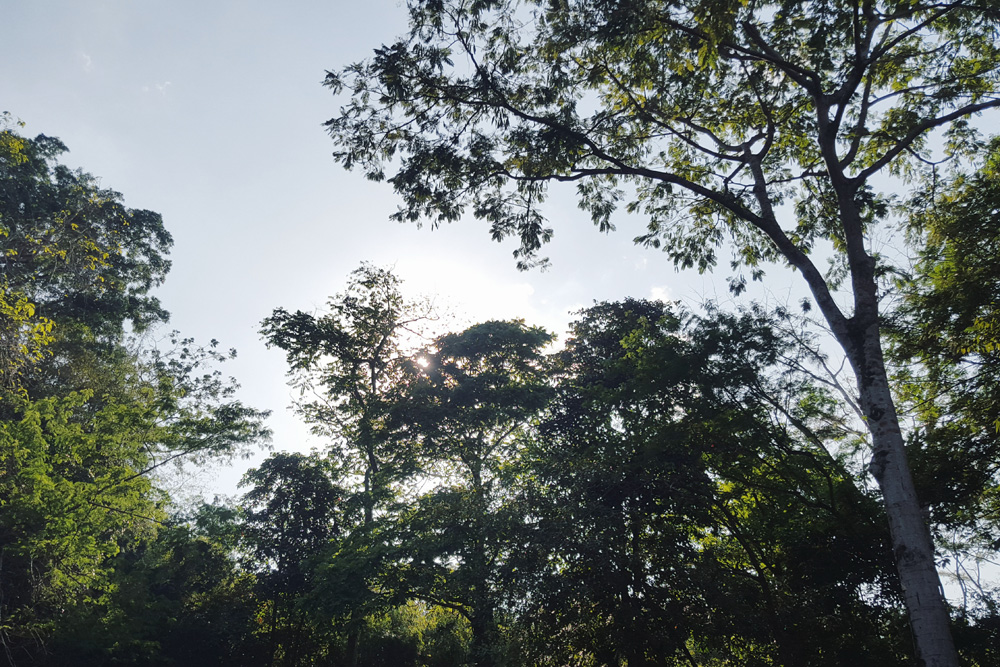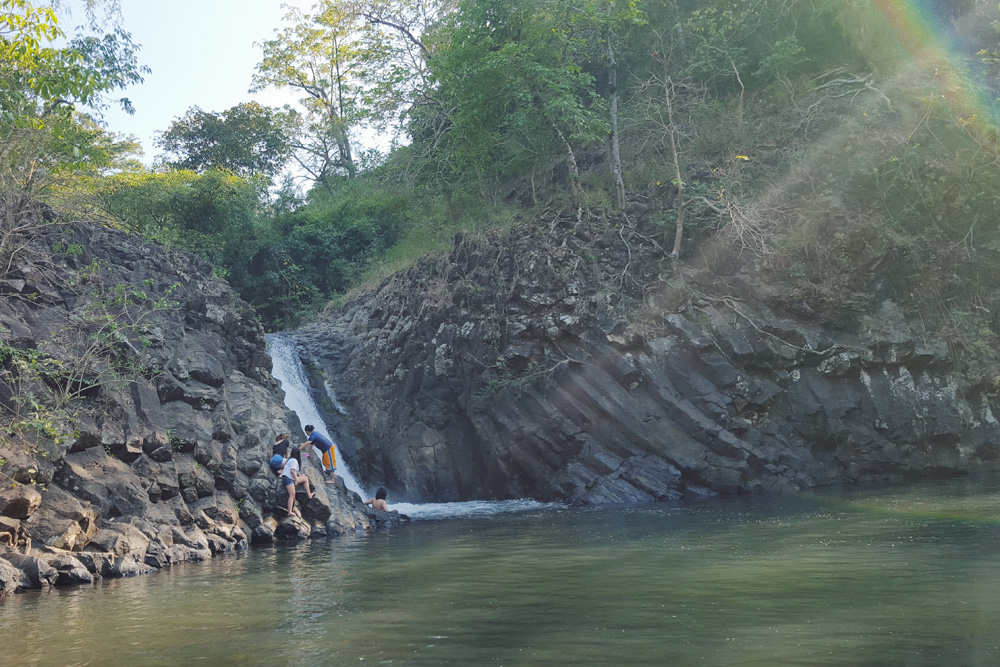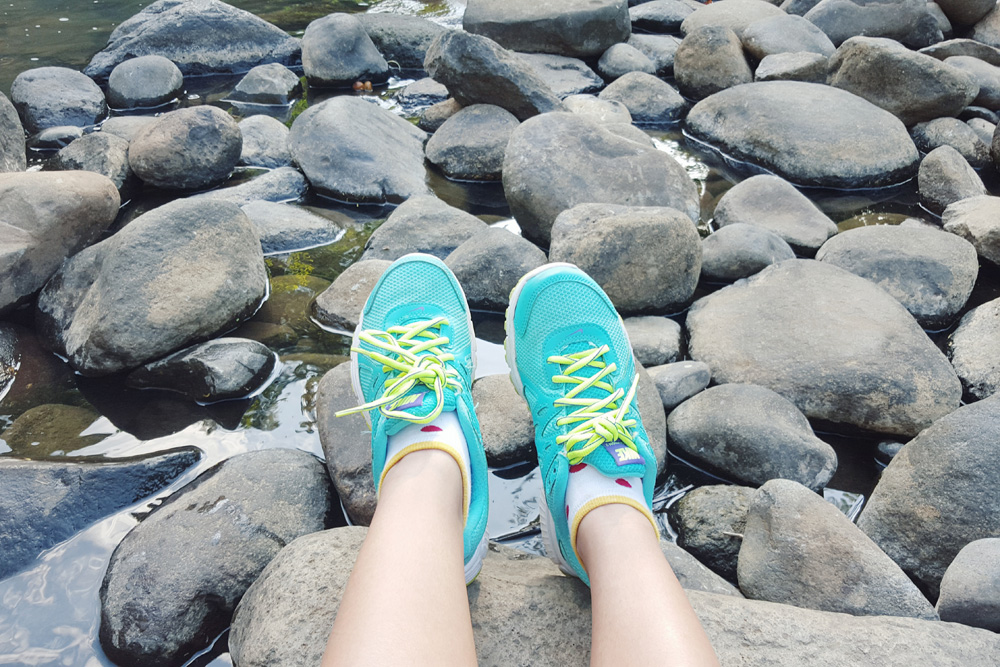 There were only two group of visitors when we got there. A group of guys were already swimming by the waterfalls. The shade plus sound of splashing waters were so tempting. I wanted to jump right in but I didn't bring a change of clothes nor slippers. I obviously wasn't prepared.
Only Kimpee was prepared to go swimming, though. He brought swimming clothes, so he was the only one who went for a swim. So while he was swimming around, Ayessa and I sat at the banks while we poked fun at him.
We only spent around an hour before finally deciding to go home. We had hours of traveling left to do.
Since our last meal was more than 5 hours ago, we were already famished. It's no surprise that our last agenda in Bataan was to grab a meal. But instead of a simple merienda, we decided on a proper meal. I ordered sisig, and I now conclude that a tiring hike is best rewarded with rice and my favorite ulam.
Bataan Day Trip Itinerary:
7:00 – ETD from Pasay Terminal (Balanga-bound Genesis Bus)
10:00 – ETA at Balanga terminal
10:30 – ETA at Mount Samat jump-off point at Pilar, Bataan via jeepney bound to Cabog-Cabog
10:30 – 11:00 – Early lunch at a roadside carinderia
11:00 – Start of climb to Mount Samat
14:00 – ETA at Shrine of Valor, Mount Samat
14:00 – 15:30 – Shrine of Valor tour
15:30 – 16:00 – ETA at Dunsulan Falls
16:00 – 17:00 – Hang out at Dunsulan Falls
17:30 – Arrive at Brgy. Alauli to ride back a bus to Manila
17:30 – 18:00 – Quick meryenda / early dinner at a local restaurant
18:00 – ETD from Bataan
20:30 – ETA in Manila
Budget:
Breakfast: PHP 55
Bus Ride from Manila to Bataan: PHP 210
Lunch: PHP 55
Dambana ng Kagitingan Entrance Fee: PHP 30
Mountain Dew: PHP 25
Tricycle Ride to Jump Off: PHP 70
Two-Way Tricycle Ride to Dunsulan Falls: PHP 200
Dunsulan Falls Entrance Fee: PHP 50
Tricycle Ride to Alauli: PHP 15
Dinner/Meryenda: PHP 109
Bus Back to Manila: PHP 209
Total: PHP 973
Oh look! I didn't go over budget! But alas, it's really my uncontrollable hunger that always get me spending too much on trips, hehe. I'm definitely going back to Bataan, because there are way too much more places I need to visit.