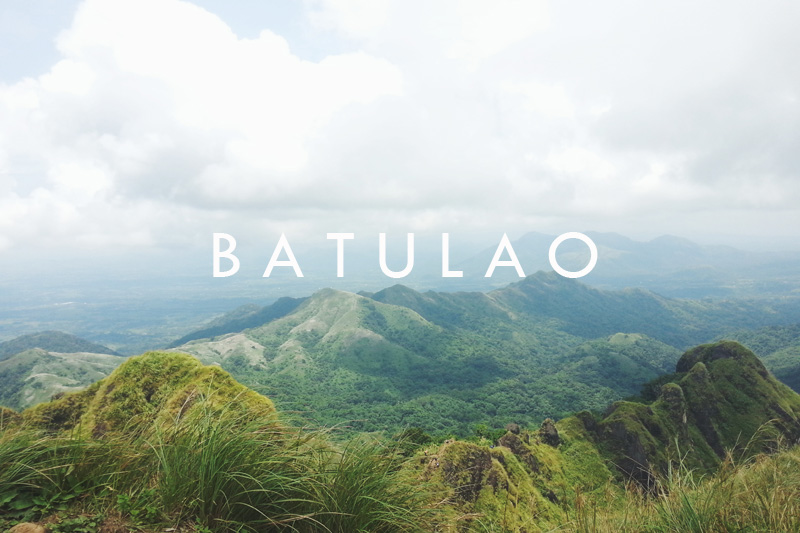 These days, weekends are meant for resting and falling asleep in the most awkward places. But two Sundays ago, I braved to leave the comforts of my bed and went for a day hike up Mt. Batulao, the ever popular destination for newbie hikers. I haven't traveled much this year, so I was itching to go back on the road again. It was the best decision I had in months, but I almost regretted it halfway up the trail.
While Mt. Batulao is often regarded as the mountain to climb for beginners, it was still physically exhausting and challenging for me. However, the view from the top, and even from the trail, was more than worth it. I realized that if you wanted to be rewarded with pretty sights, you need to work hard for it.
Good thing we pushed through with the climb, because the night before, it was raining heavily in Manila that we almost postponed the hike. Luckily my friends have better instinct than me, and they foresaw that it wouldn't rain the next day. And it didn't! Though it was cloudy and most of the mountain ridges were obscured with fog, we were blessed with a great weather condition all throughout the day.
After a two-hour bus ride from Manila to Nasugbu, we started climbing at around 9 in the morning. We decided to take the New Trail back and forth for prettier views and shorter route.
Though Stan and Elzer thought we'd arrive at the summit at 3PM because Tihn, Erika and I were taking too many photos (mostly Tihn) and taking too many rest (mostly me), we actually arrived before lunch!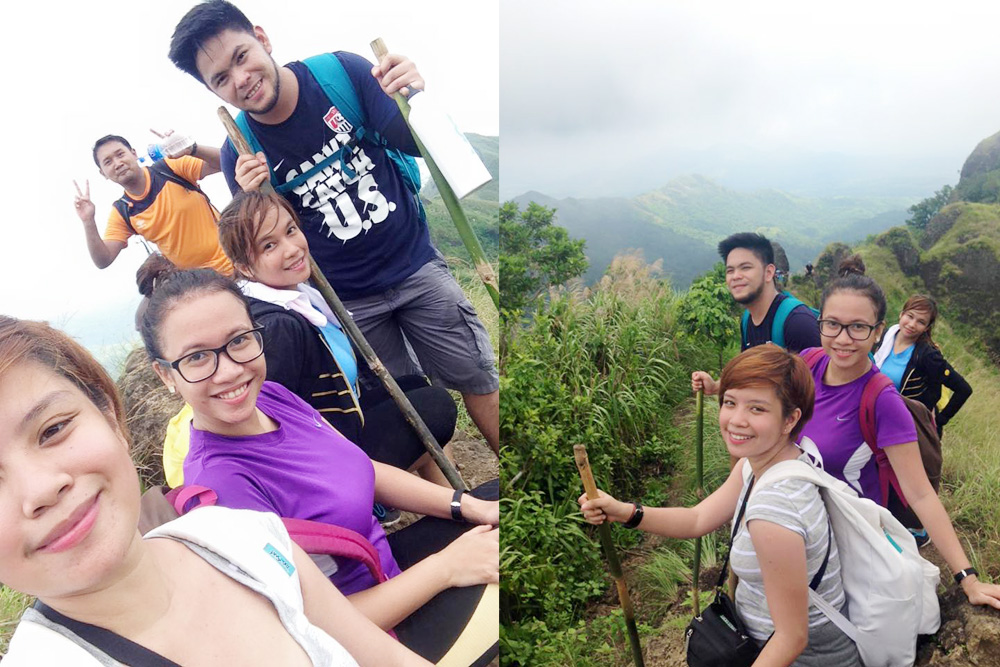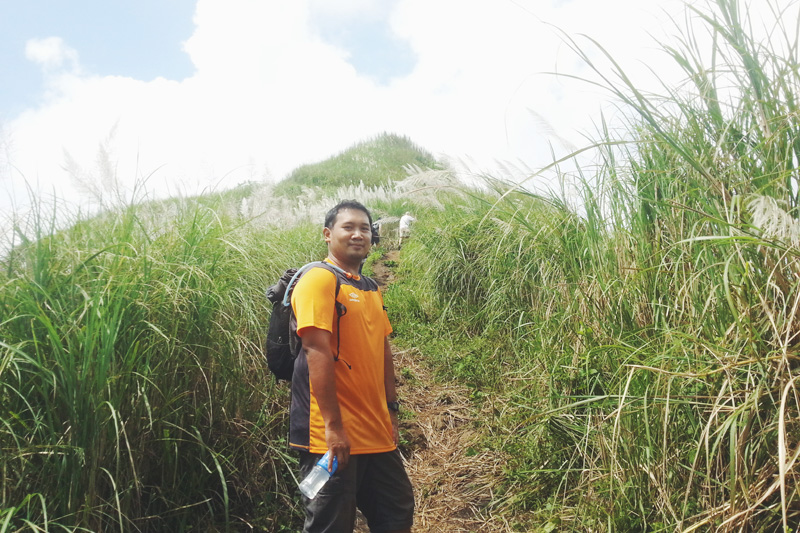 One of the best things about Mt. Batulao was how cold drinks were available throughout the trail. Be it a refreshing glass of milky buko juice (PHP 10) or an ice cold bottle of Mountain Dew (PHP 30), the trail was dotted by little stores ready to serve hikers. Though the refreshments were pricier than the normal, it's understandable because they are scarce commodities high up in the mountain. Yes, Mountain Dew was sold in the summit!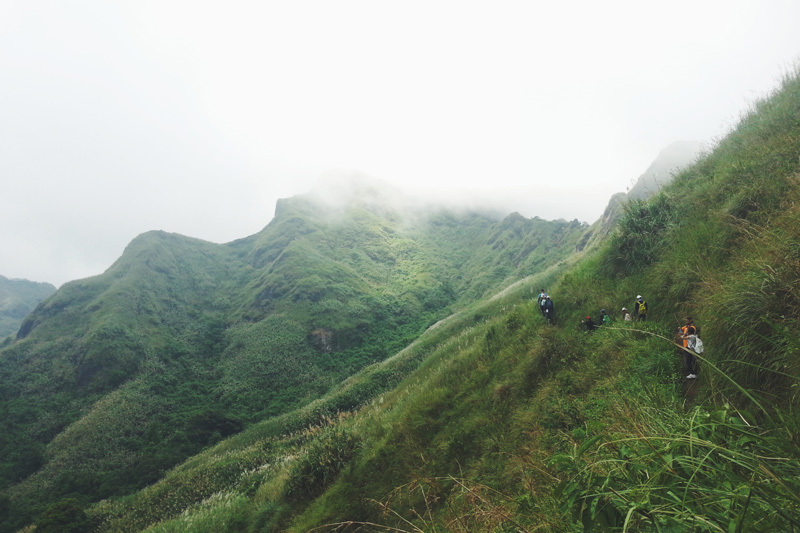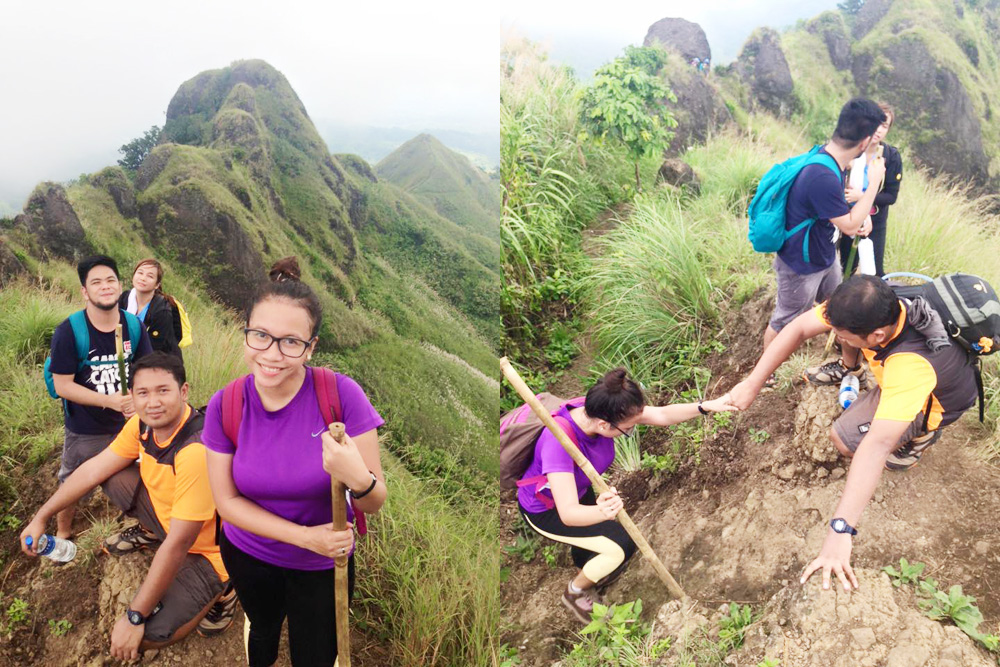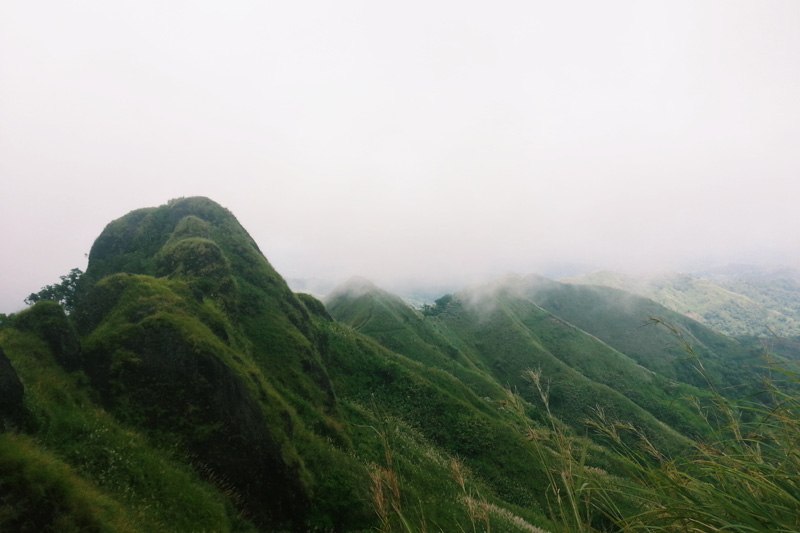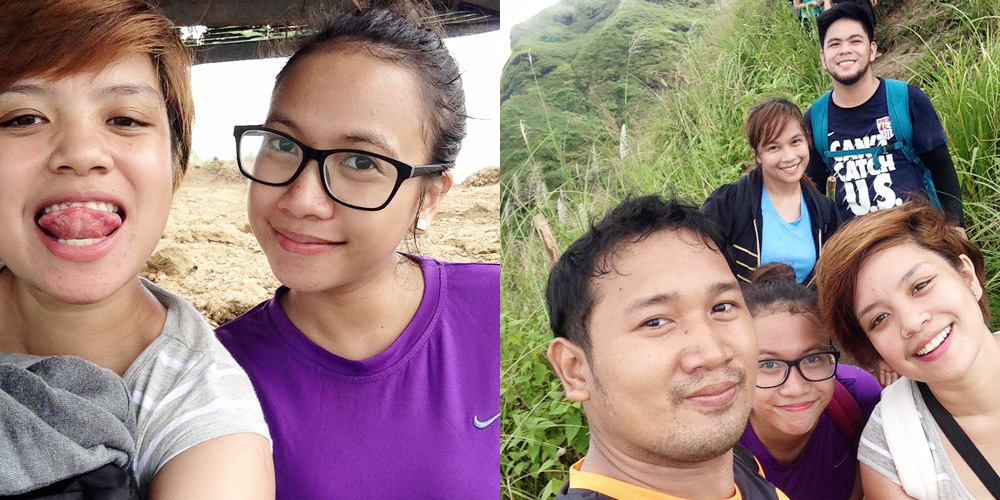 More than a couple of times I wanted to quit because I got so so so tired! I only realized how physically unhealthy I am when barely an hour in and I was already near the point of collapsing. At one point, I was more than ready to give up! We had only reached Peak 2 by then, and there were ten peaks! Stan exchanged bags with me, because being the heaviest packer on earth, my backpack was too heavy for me to carry.  It had only been six months since my last climb up Mt. Manabu, but I already felt so inexperienced! I guess this is the result of my extremely lethargic lifestyle.
I got so exhausted that after reaching the top of a small hill, I just slumped down on the dirt path, with no care in the world. My friends didn't jeer at me for like a minute. They were kind enough to let me rest for a bit. And that was the last time they were kind to me, haha.
They reminded me that I really had no choice but to finish the trail. So I drunk some water, wiped my sweat, and pulled myself back on my feet. I couldn't quit then!
They said Mt. Batulao is for beginners, but us girls couldn't really believe it. There were so many challenging parts in the trail. Thank goodness there were parts where you can grab on ropes to easily heave yourself up. I no longer cared about how I looked nor how dirty my clothes were. I climbed steep parts on all fours, and sometimes hugged boulders just so I could easily navigate my way. Good thing I was born classless, so I didn't mind looking silly.
And alas, at long last, we reached the summit! It only took us two hours or so, and I thought it would take us forever.
We were gratified with one of the most amazing views. Anywhere we looked, we saw the clouds looming over wide expanse of green fields hundreds of feet below us. I was thankful to not be scared of heights and for not having the heart to give up and let my friends down. I was thankful because I have new friends to go on adventures with, because that's always something to be thankful for.
We spent quite a lot of time in the summit just hanging out and having a good time. It was hilarious how we all ended up not preparing food for lunch. Stan brought his tiny cooking set, and we shared among the five of us a can of spam and the one rice I bought in McDonald's. Surprisingly, it was enough to fill us up.
The summit was a bit small, so yes, it was a bit cramped. But still, we had all the energy to conquer the way down after our little rest. I was ready to conquer anything.
Corny Joke of the Day:
Me: Anong tawag sa Batulao kung puro bato lang yung daan?
Everyone: Ano?
Me: Edi Batolang!
Everyone: *jumps off cliff*
Our way down was definitely a lot easier, and my bag was also a lot lighter. We stopped by this one store that sells goto and buko juice. It really felt like finding an oasis in the desert. Just when we thought relief could only be found at the end of our hike, there were little stores/rest stops that saved us from starvation.
I realize now that it's probably my most expensive hike, because I ended up buying whatever's sold in the mountain. From buko juice to mountain dew to goto, just name it and I've tried it.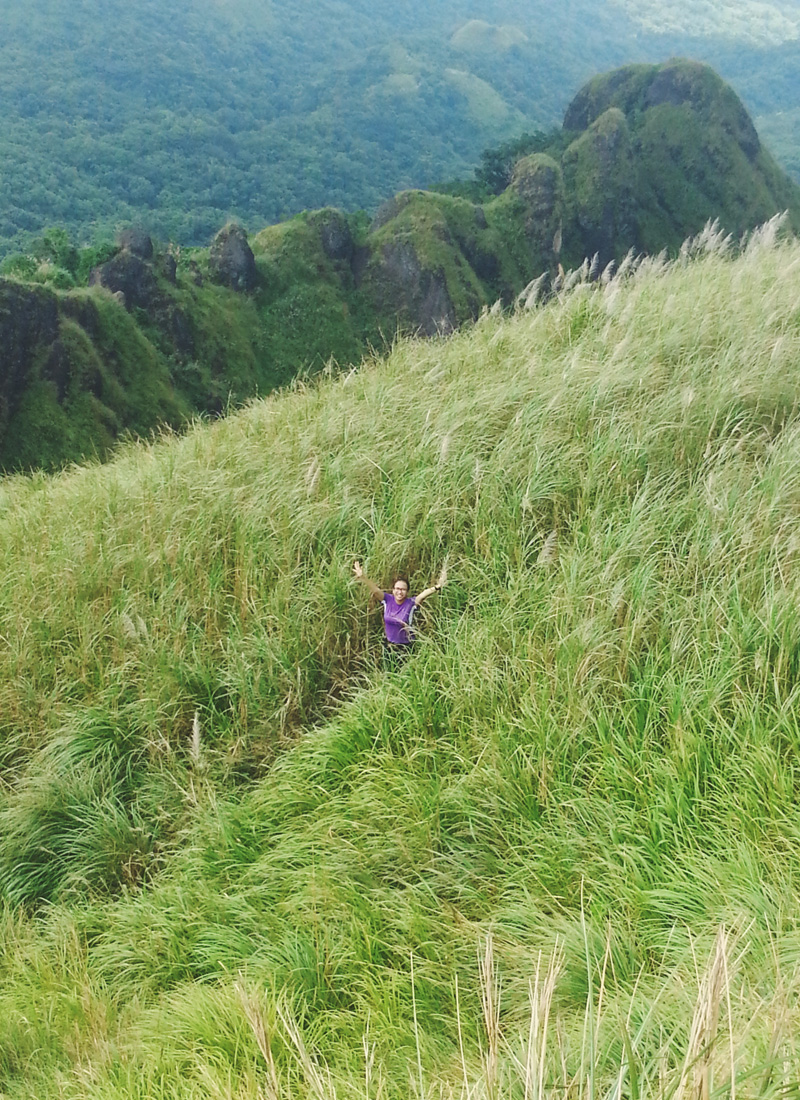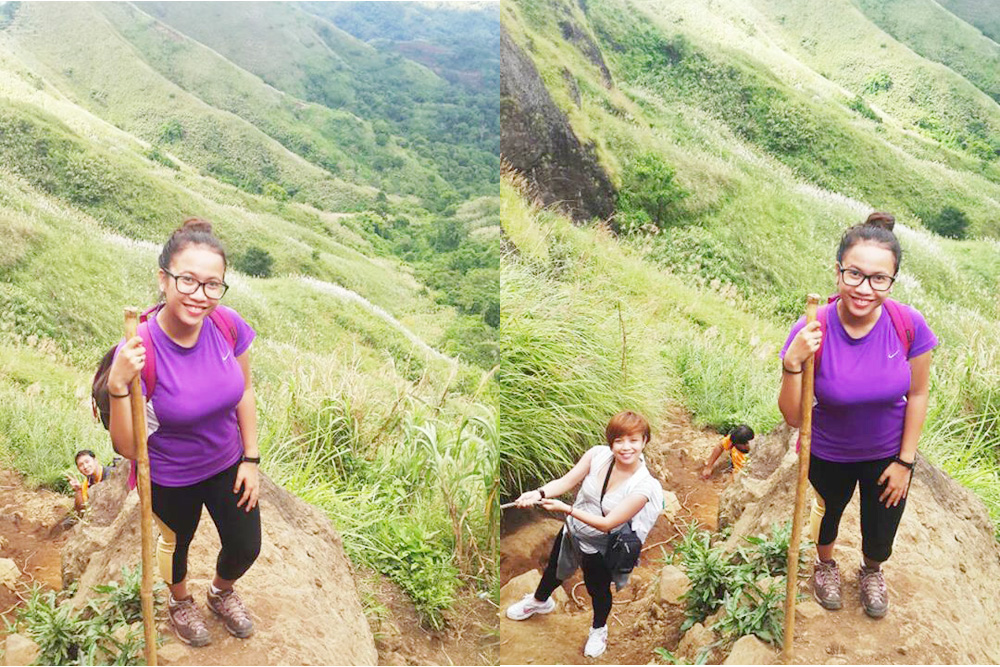 My sister scolded me when I told her stories of crossing cliffside trails and ruler-thin pathways. But I'd really rather go on these "mindless" adventures than sit at home wasting away my youth. I have come a long way from the Jane who only knows how to sit in front of her laptop all day, everyday. (But I still do that on most days, so.)
At least now I have a story to tell. At least now I know that I'm not simply letting the years pass by. At least now I have another blog post! Ha! I don't mind toiling away my weekdays in my office job, but I'm happy that I get to spend my weekends like this.
I'm far from being a self-proclaimed mountaineer, but I hope that before the end of my 25th year, I already climbed my 10th mountain. Seven mountains to go!
How to get to Mt. Batulao:
From Buendia, hop on a bus going to Nasugbu. Travel time can take up to 2 hours.
Inform the driver to drop you off at Evercrest.
From there, either walk to the jump-off point or ride the tricycle. Prepare for a bumpy ride.
Register your names at the drop off point.
(For the registration/environmental fee, stop by the house at Peak 8 and pay PHP 30.)
Walk a long way from the drop-off point to the start of the trail.
Breakdown of Expenses:
Bus ride from Buendia to Nasugbu (PHP 111)
Tricycle to the drop-off point (PHP 100 for the entire taxicle)
Registration fee (PHP 30)
A glass of buko juice (PHP 10)
Fresh buko juice (PHP 40)
Goto (PHP 25)
Mountain Dew (PHP 30)
To cap off your exciting day, drop by Tagaytay for a hearty bowl of Bulalo. Yum!
P.S. Thank you Erika and Tihn for some of the photos!
Happy  hiking!