Almost three years since my traumatizing experience climbing Pico de Loro, I decided to give hiking another try. They promised me that it'd be easy, and besides, it would only be a day hike. So off I went with my former officemates to give mountain climbing another shot.
Mt. Manabu is located in Sto. Tomas, Batangas, and I foolishly didn't realize that it's just a stone's throw away from my home in Laguna. I've been surrounded by mountains all my life, but I didn't really know the names of these mountains surrounding our town. At least now I know Manabu!
Coined from the words "mataas na bundok," Mt. Manabu is actually not that high. Though it's listed as the highest mountain in the Calabarzon area, it only took us about two hours to reach the top. Please note that we are amateur climbers. It's definitely perfect for beginners (like moi) and for those who are only looking for a leisurely climb.
On Saturday, we met up in Buendia to ride a bus to Lipa, Batangas. From SM Lipa, we only had to ride a tricycle to reach the foot of the mountain. We didn't plan to hire a guide, but since none of us had been there before, we decided to get one.
Gilbert, whom we called Gibo and his friends and family called Kulot, was quiet but he lead us well. He introduced us to his family, too, because incidentally, Station 2 is actually his house.
During the first part of the trip, I walked near the front with Jinky and Iris, while Ate Karen, Ate Marco and Bren held up the rear. The first four stations were an easy trek, as we walked mostly on flat terrain. The ascent was gradual, so we didn't get tired easily.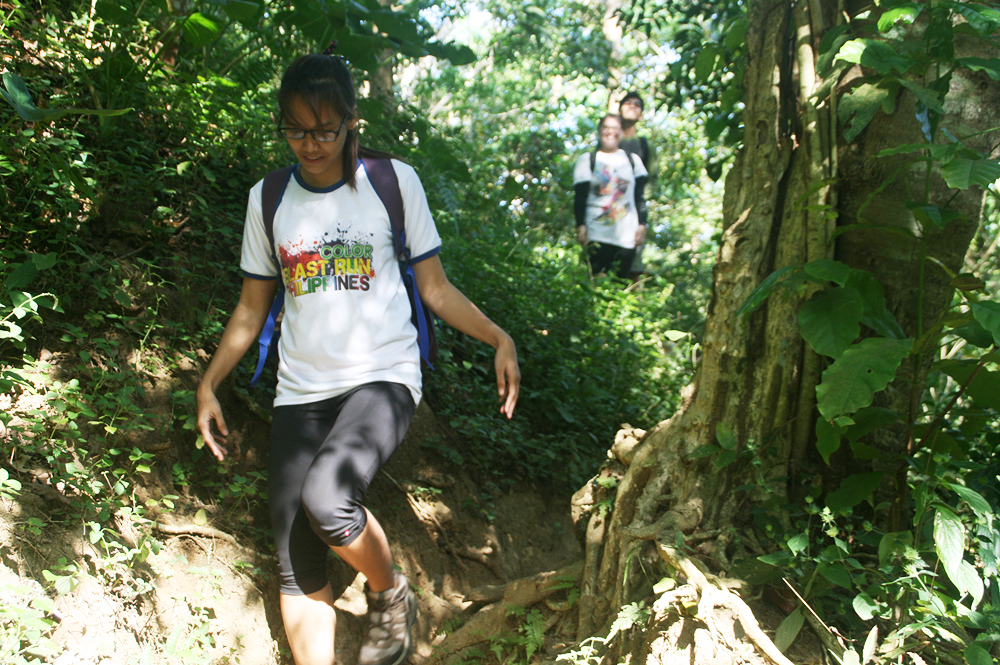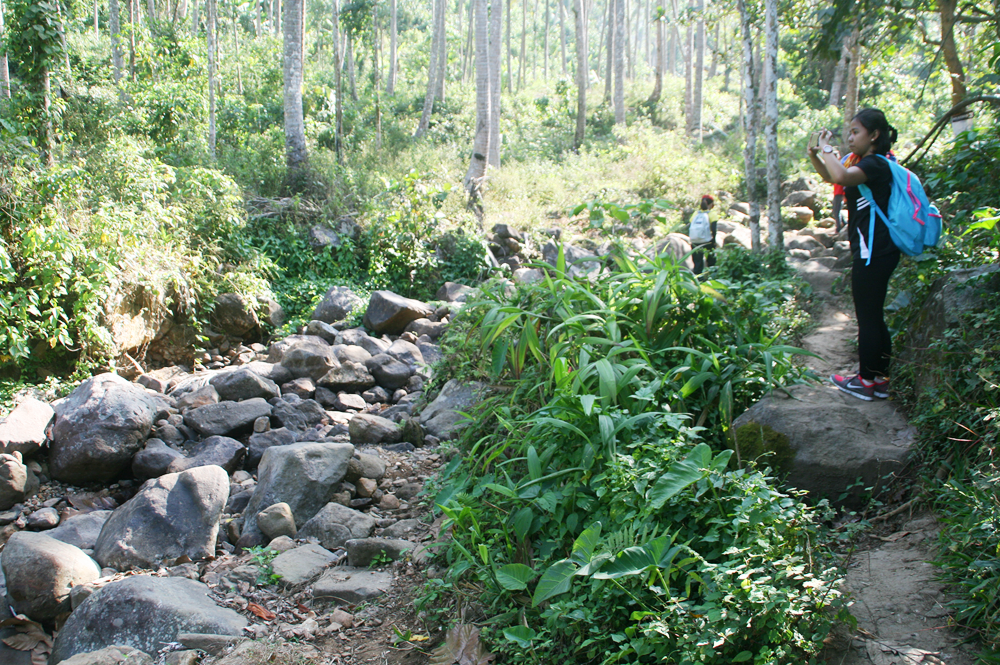 Among us six, only Jinky works with our original company. So yes, we missed each other so much that we were chattering the entire time we were hiking. But of course, once we reached the more difficult part of the trek, we talked less and less.
Still, Mt. Manabu was still a fairly easy climb. Since we were newbie hikers, we weren't dressed from head-to-toe with the best climbing gear. But we still survived the climb alive and happy, and that's what matter. However,  I remember  one  of  us  getting  minor cuts due to the rocky paths because we weren't fully prepared and wore the wrong shoes. So I guess, having the right climbing gear is still the best gift  for  hikers. You  can't  just  wear  any footwear  when  hiking or you'll get yourself hurt.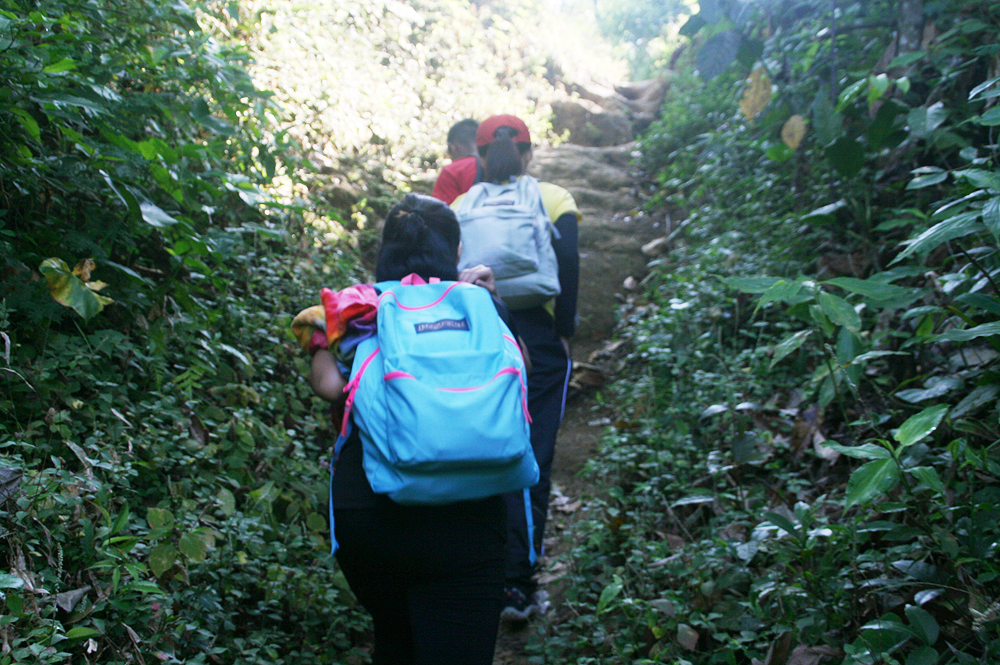 I'm not sure why, but I didn't take a photo of the famous Mang Prining's coffee house, which was also considered Station 5. I wish they charge for the cup of Alamid  coffee, too, and not just for the bags of ground coffee. Anyway, you should definitely try the coffee!
Kapeng Barako flows through my veins. But wow, I have to say that Alamid coffee probably tastes a bit better! Actually, it tastes hella good. If you love good coffee, this is one must-try experience. There's nothing quite like taking a drink of hot coffee after a tiring hike.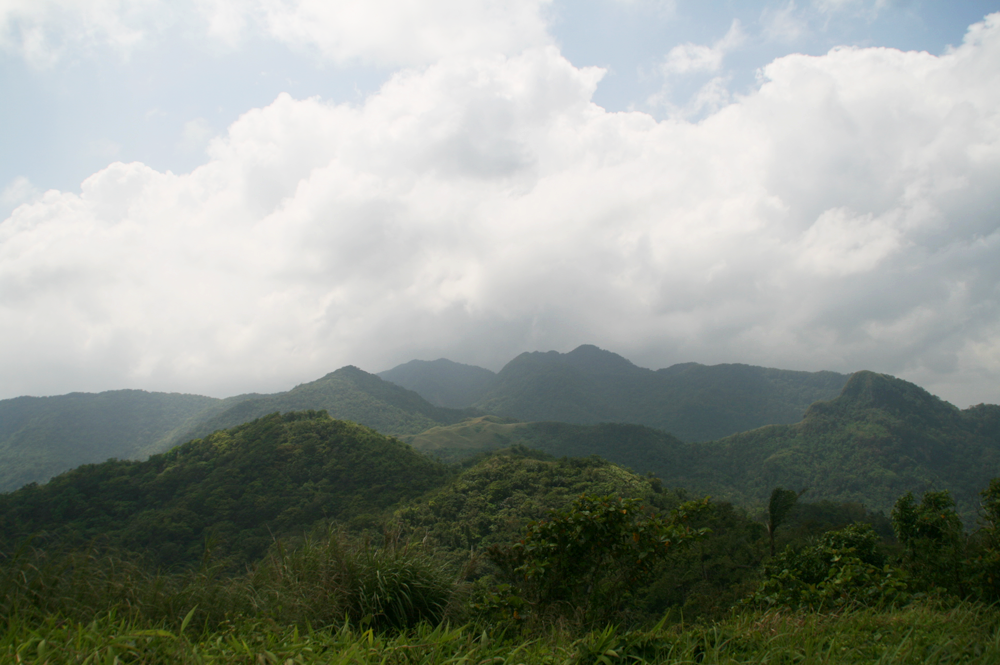 The climb from Station 5 to the top was definitely the most difficult part of the hike. If during the first part I was leading with Jinky and Iris, at that point I was unsurprisingly struggling behind. Bren was kind enough to wait for me. I am thankful that there's always someone kind enough to wait for me.
One of the guides leading another group also saw me trudge up the mountain. He saw my struggle, my hardship, my difficulty. For that, I am thankful. He probably felt pity that he offered me his walking stick, which was a sturdy bamboo that helped me from that point onward. It even helped me on the way back that I had half a mind to bring it home with me.
Bruises, sweat, tears and all, the view that welcomed us was enough consolation for that hot and tiring morning. I couldn't believe I was eye to eye with the mountains that I could only stare at from afar since I was a kid!
The path that will lead to a wide clearing is paved with wild flowers. I read somewhere that it was like a garden, and it sure did.
It was only a little past 10 in the morning, but after looking for a shade, we decided to have our lunch first before climbing to the peak. While the rest of them had home cooked meals, Bren and I had to cry while eating our take-out lunch from McDonald's. After throwing myself a pity party, my kind friends decided to share their lunch of hotdog, spam and corned beef with me. I win.
Gilbert disappeared for a while, and when he came back, he had a handful of sampinit (Philippine Wild Raspberries) with him! It's a kind of wild berries, and I only get to try it when I'm in Laguna. It's hella expensive in San Pablo, so I was so happy to try Sampinit in the wild for free! I might just climb Mt. Manabu again just for sampinit.
After lunch, we spent some more time just lounging around and taking photos. We took a lot of jump shots and didn't even get a perfect one.
Dear Iris and Ate Karen, sorry that I just have to post that one. Hehe.
When we noticed that the clouds were darkening, we decided to make our final ascent to the top. There's a cross at the peak of Manabu, which makes me wonder why and how they brought it there.
The way up was definitely the steepest part of the trail, and it took me forever, mostly because I was scared of slipping. We were all in agreement that I am rather clumsy. Hey, better arrive safe than fall smack on my face.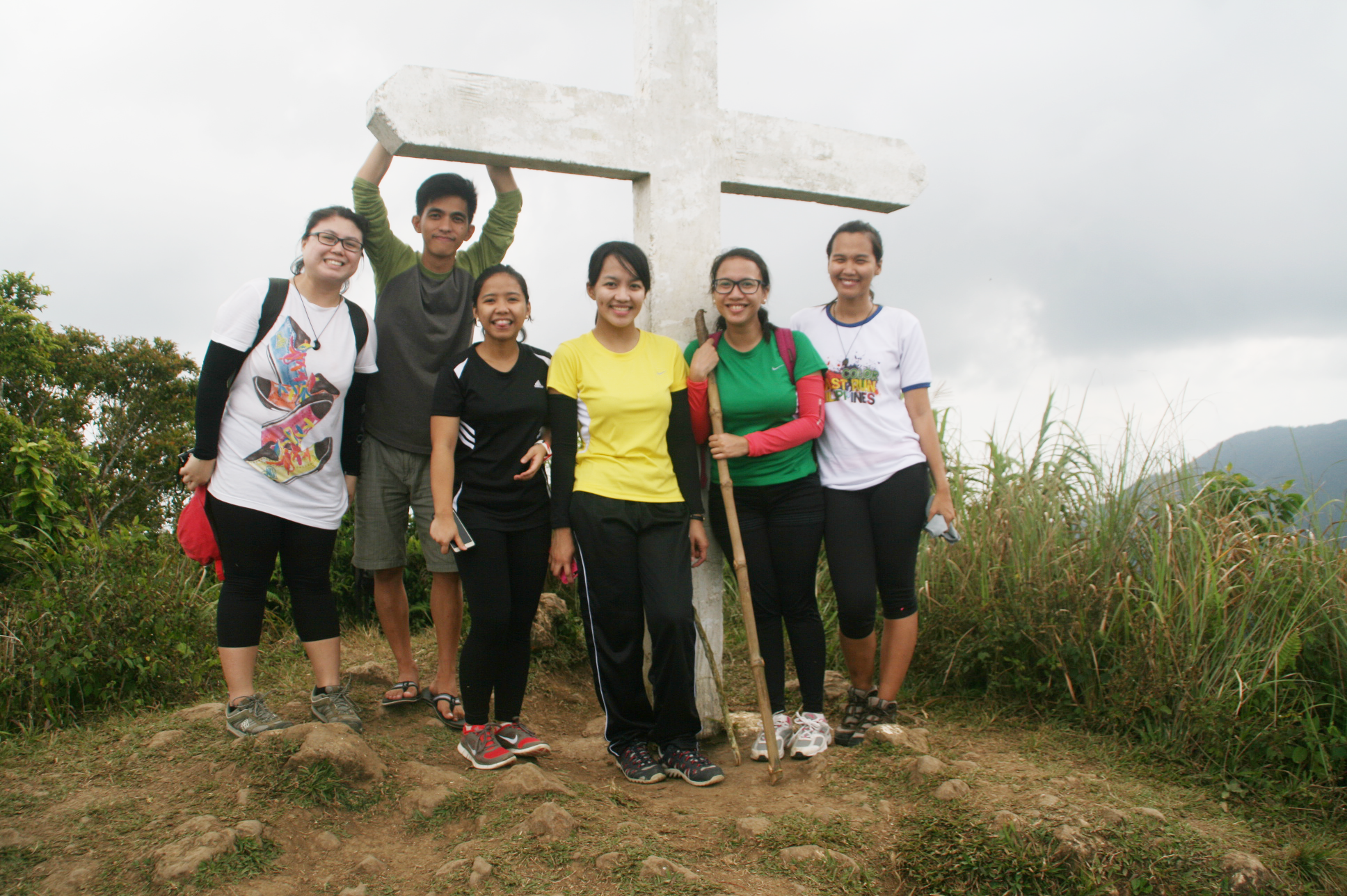 We didn't spend quite a lot of time on the top since it got pretty crowded. We snapped quick photos and tried to achieve some winning shots, lol. They hated me for my photography skills, or lack thereof.
Anyhoo, it was a pretty great day. Though we did encounter rain on our way back, we still managed to reach the foot of the mountain quite early. We finished our climb at around 2 in the afternoon. So basically, it took us around 6 hours in total. I have to say that I wouldn't want to find myself again in a situation when I had to climb down a mountain while it's raining and I don't exactly have the right mountaineering gears with me.
Surprisingly, I look back at our Mt. Manabu hike fondly. Maybe because I didn't suffer (that much) like I did in Pico. Maybe because my shoes weren't an embarrassing mess by the end of it. Maybe because my body didn't really ache all over, despite not having enough exercise lately. But maybe, mostly because I had great company, so the memories are definitely worth remembering.
Mt. Manabu is definitely an easy climb that even a newbie like me can do it.
Will I climb another mountain again? Definitely yes. Am I ready to camp out again? No, not yet. Can I already call myself a mountaineer? Of course not.
To end this post, here's me posing awkwardly me while a bunch of people arrive and wait for us to finish our turn.
How to get to Mt. Manabu:
Ride the bus going to SM Lipa in any bus station in Buendia. We opted for DLTB.
Drop off at SM Lipa and look for the tricycle station.
Just tell the tricycle driver that you're going to Mt. Manabu. First, they'll take you to the Barangay Hall where you have to pay the environmental fee. Then they will drop you off at Sulok in Sta. Cruz, Sto. Tomas, Batangas.
Alternative routes:
Ride the bus going to Lucena (from Cubao or Buendia) and drop off at San Pedro, Sto. Tomas, Batangas, and then ride the tricycle to Sta. Cruz.
If you're coming from Alaminos or San Pablo, I'm pretty sure you can ride a tricycle from Kilometer 69 (see: 7/11 in San Agustin, Sto. Tomas, Batangas) to reach Manabu.
Breakdown of Expenses:
Bus ride from Buendia to Lipa (PHP 124)
Tricycle from Lipa to Sta. Cruz (PHP 200 per tricycle)
Environmental Fee (PHP 20)
Guide (PHP 500)
Tricycle from Sta. Cruz to Lipa (PHP 50 per person)
Merienda / Meal at SM Lipa (PHP 100)
Bus ride from Lipa to Buendia (PHP124)
Happy hiking!