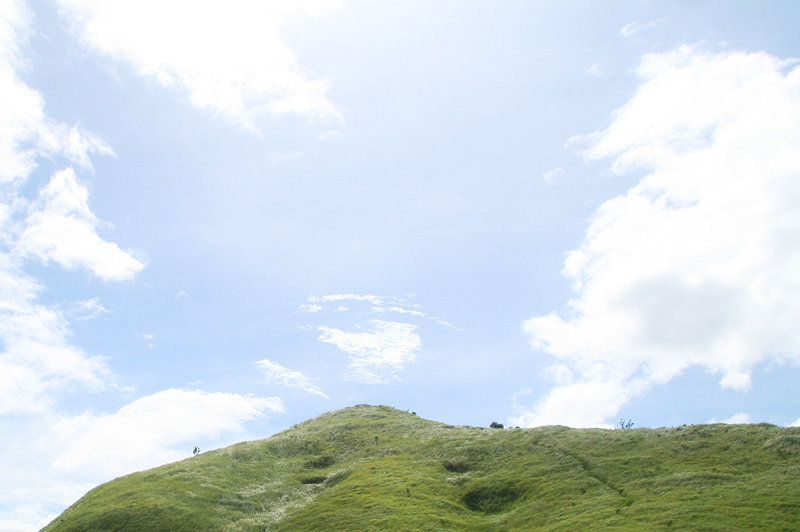 After weeks of planning and rescheduling, our Mt. Tagapo day hike finally pushed through. Though it was just Ate Marco, Ate Ninay and I, I'm still glad and thankful for our short climb up the mountain located at the center of Laguna de Bay.
Mt. Tagapo, also called Mt. Susong Dalaga, is definitely one of my most memorable day hikes, partly because it was the smallest group that I joined! Years ago, I wouldn't have went if I knew majority of my friends weren't going. But my desire for the great outdoors and beautiful sights are now greater than my introversion. For that I am thankful. Besides, I really missed Ate Marco and Ate Ninay, so a day with them will always be well spent.
We met up at Starmall in Shaw to ride a van going to Binangonan, Rizal, but our supposed 6:00 AM start was delayed. They had to wait for me, because I got lost in Shaw Boulevard! Yes, so early in the morning and I was already getting lost in the metro. Thankfully, we still managed to leave the terminal at around 6:30.
Our hunger couldn't be tamed that we decided to have breakfast first upon arriving at Binangonan. Unfortunately, we reached the ferry port a little past 8:00 AM. We were already behind schedule, and the passersby not-so-kindly informed us that the ferry going to Tamil Island left the moment we got off the tricycle. We were the first ones on the next ferry, and we had to  wait for more than an hour before the ferry got moving. We kid that the ferry ride takes almost an hour, because it moved at a turtle pace. It seriously didn't feel like moving at all! But of course, I'm still thankful for the safe travel.
It was already 11:00 AM when we reached Brgy. Janosa, the drop-off point of Mt. Tagapo. There's also another group of hikers on the boat with us, and they're pretty much the only people we encountered during the duration of the trip.
After registering at the barangay hall and a quick, our guide, Kuya Willy, finally lead us to the mountain.
I was told that there are many open areas in Mt. Tagapo, but there was enough shade along the trail from start to finish. Though the sun could be harsh at times, there was ample cover to protect us from the heat.
The trail of Mt. Tagapo greatly reminded me of Mt. Manabu! But the latter was definitely an easier day climb. After 30 minutes of following in the dust my friends, I was already tired and dying. As expected, few minutes of walking could already exhaust me so bad. My legs didn't just hurt, I was really on the brink of fainting.
Ate Marco and Ate Ninay were kind enough to wait for me every time I'd stop for a break. It was a blessing that there were very few hikers whom I'd interrupt with my numerous stopover. In fact, we were just the second group to hike up Mt. Tagapo, and we only saw two or three other groups that Saturday.
We passed by a bamboo cave in one part of the trail, which was both terrifying and terrific.  Terrific because the bamboos bended over so much that it formed a cave-like pathway, probably due to the weather, and terrifying because I almost stabbed myself a couple of times because of the bamboos jutting out everywhere.
After two hours of leisure hiking and a little rainfall, we reached the base camp! Being unprepared for everything, we only had biscuits and bread to fill our stomachs for lunch. We had great views of the lake and the grassy slope to the summit, though, so our little lunch was still enjoyable.
After a 30-minute break, we heaved our bags again and braved the grassy slopes leading to the summit. The grass was taller than us! It was pretty challenging, because it kept caressing  (more like slapping!) our faces, and I was worried that it would cut my cheeks.
Unsurprisingly, I had leg cramps while climbing up the slope. I blame it on the grass for forcing me to hike sideways! Kuya Willy encouraged me to go on and on, because it was really just a 10 to 15-minute climb. I was just being a weakling, hehe.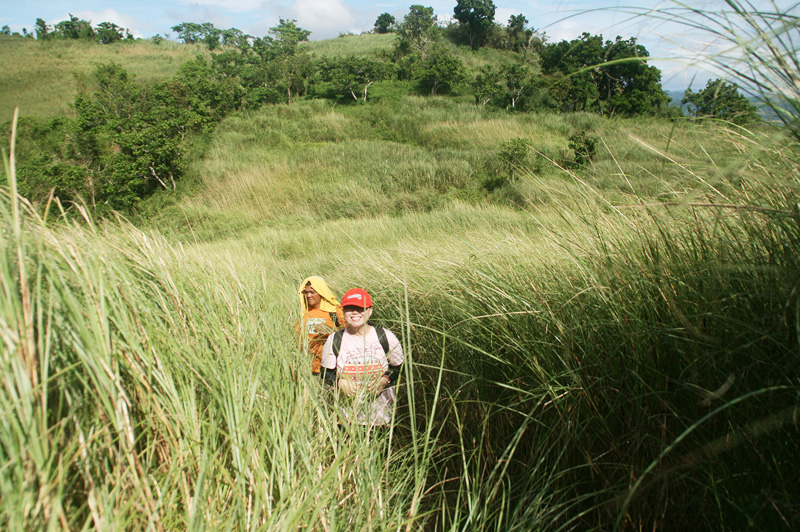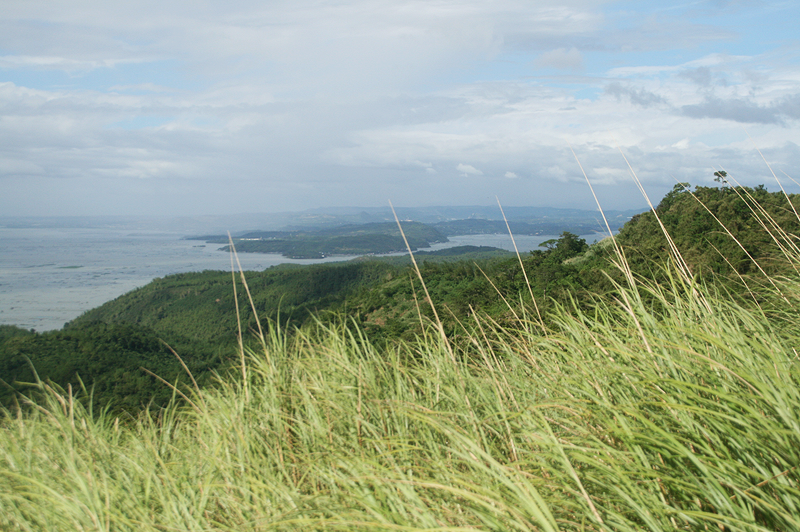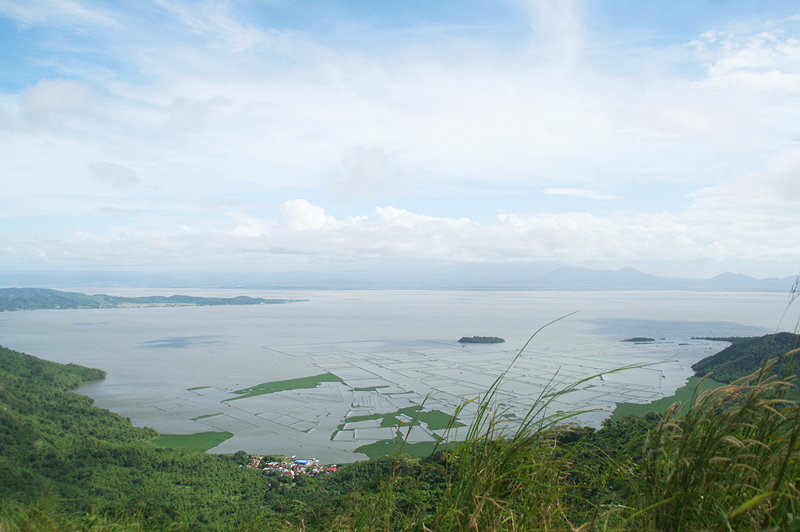 Isn't it lovely? Again, I was mesmerized with the beauty of my country.
The summit of Mt. Tagapo offers a 360-degree view, where you can see a little of Manila, Laguna, and Rizal. There's also the neighboring Mt. Sembrano and the far off Mt. Makiling.
It was windy at the summit, and we relaxed while eating gummy worms and talking about life and whatnot. We waited quite a long time for another group to finish taking selfies and videos with their action camera before we had our turn to stand at the cliff. We wanted a photo at the pretty spot, too! I also wanted a GoPro, but we cannot always get what we want, right?
I would have loved to stay longer, but Kuya Willy told us that the last boat trip leaves at around 4:30 or 5:00, and not 21:00 like what we've read in other blogs. We didn't want to get left behind, so we dragged our feet away from the summit and down we went the mountain.
This time, I didn't hold them back as much, even though the trail was slippery. I really prefer the descent, because I grew less tired and more animated as I near the end of a journey. Just the thought of cold drinks and yummy food waiting for me was enough to keep me pushing on. All the way down we couldn't stop talking about Mountain Dew.
It was already 4:00 when we reached the bottom of the mountain, and we could hear the blaring of an alarm. Kuya Willy said it's the boat calling for passengers. Instead of dropping by the barangay hall to change clothes, we decided to be buzzer beaters and jumped on to the pump, muddy shoes, dirty shirts, and all.
We were afraid to wait another hour for the next trip, that's why we decided to endure the dirt and sweat, and got on the boat. Besides, there was a public bathroom by the ferry, where we could change our clothes and refresh a little.
The best part of it all? We witnessed the sunset just when we were reaching the port. The boatmen were also kind enough to raise the tarp, so everyone can see this beauty. I was asleep almost the entire trip due to a terrible headache, but I woke up just in time to see the sun set and painted the lake and sky in brilliant hues.
We were hours late in our itinerary, and we almost missed the ferry ride. Yet, we somehow still managed to have a perfect end to our day.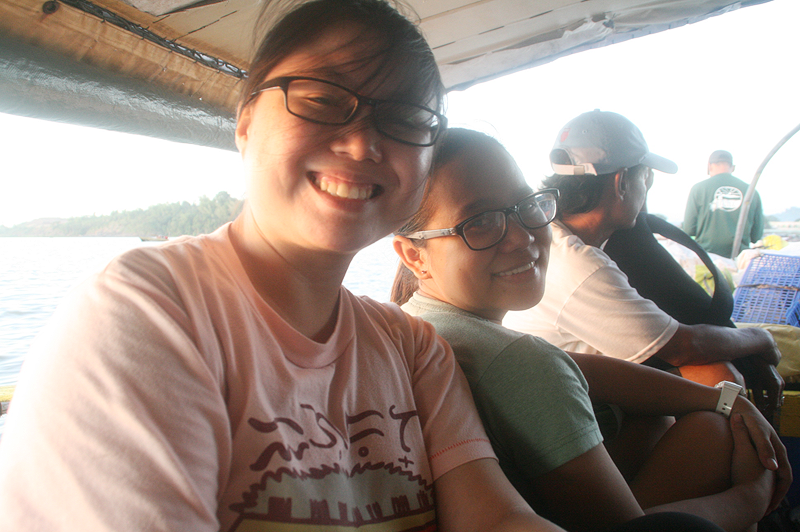 Mt. Tagapo Day Hike Itinerary (Ideally):
6:00 AM – Meet up at the van terminal at Star Mall Shaw to ride a van going to Binangonan.
7:00 AM – ETA at Binangonan. Ask the FX driver to drop you near the ferry port. Ride a tricycle going to the ferry port.
7:15 AM – Board the ferry going to Brgy. Janosa in Tamil Island.
8:30 AM – After a couple of stop overs at other barangay, finally reach Brgy. Janosa. Head to the barangay hall for a quick registration and to get a guide.
8:45 AM – Start hiking!
10:30 AM – Arrive at the base camp. Rest for a bit before climbing the summit. Have lunch.
11:30 AM – Climb up the grassy slope to the summit.
12:00 PM – Start descent
2:00 PM – Back at the jump off point. Freshen up at the barangay hall—which we didn't do—before waiting for the boat that will take you back to the port.
2:30 PM – Arrive back to Binangonan ferry port! Ride a tricycle to take you to the van terminal to Manila.
4:30 PM – Hello Manila!
FYI, we were more than two hours behind schedule. So yes, we ended up not following our itinerary.
Breakdown of Expenses:
Van / FX going to Binangonan (PHP 50)
Tricycle ride to ferry port (PHP 15)
Ferry ide to Brgy. Janosa (PHP 30)
Registration fee (PHP 20)
Required guide (PHP 300 per group / 3 = PHP 100)
Ferry Ride back to Binangonan ferry port (PHP 30)
Tricycle ride to van terminal (PHP 10)
Van / FX going to Manila (PHP 50)
Food (PHP 150)
For a total of PHP 455! This is definitely one of my most budget-friendly trips so far. It goes to show that visiting awesome places doesn't have to be heavy on the wallet. Cheapskate me is very pleased.
I haven't traveled much this year, but for some reason, this is my third mountain since March. That's quite a lot, thinking prior to Mt. Manabu, it was in 2012 when I first and last went mountain climbing. I'm not sure what the travel fairy cast on me, but I'm more than grateful for the chance to see more of my country.
Happy hiking!