Before the country's bombarded with one typhoon after another, our company trooped all the way Anilao for two days of fun under the summer sun. I was extremely excited for two reasons. First, it was my only beach trip this summer! And second, it was my first outing with the new friends I made in my new company. I heard it's the grandest outing in the company's history, so I am more than glad to be a part of it.
Coming straight from our shift and from a week of cheer dance practice, I thought I wouldn't enjoy the outing and would only sleep it off due to fatigue. But there were too much activities from the moment we arrived at the resort in Batangas down to our last hour in the island that skipping the activities wasn't an option. It sure made the event memorable, though, and it's probably the best company outing I ever had.
My night shift loves ❤
Olympic Point Island Resort is a 45-minute ferry ride from the Talaga Port in Mabini, Batangas. It's an isolated resort at Tingloy Island, and mobile signal for some networks is non-existent. Our weekend really felt like a retreat, except the running and dancing around part. I rarely feel so far away from civilization.
We had the resort all to ourselves, and there's a certain kind of freedom in exploring a wide expanse of land and knowing every face you meet. Though we had to climb several flights of stairs, we were rewarded with pretty amazing views and the sunset was no joke, too.
I'm glad that even though we had a two-day, action-packed itinerary, we still had enough time to explore the resort and try the amenities.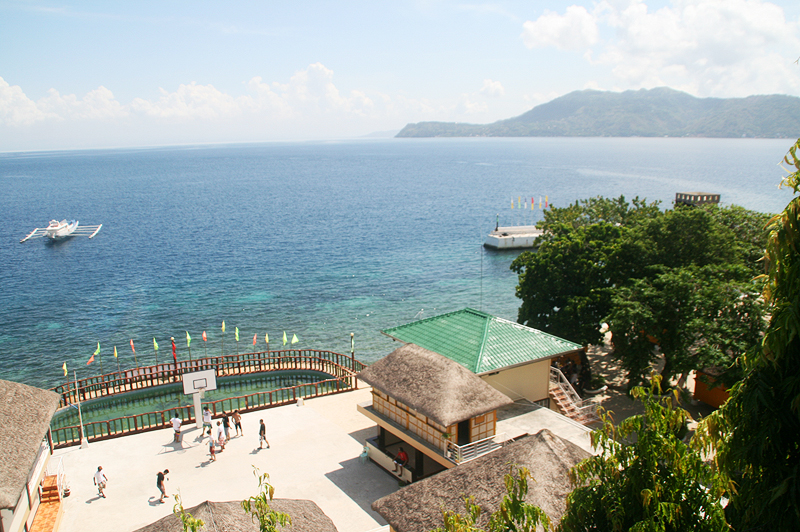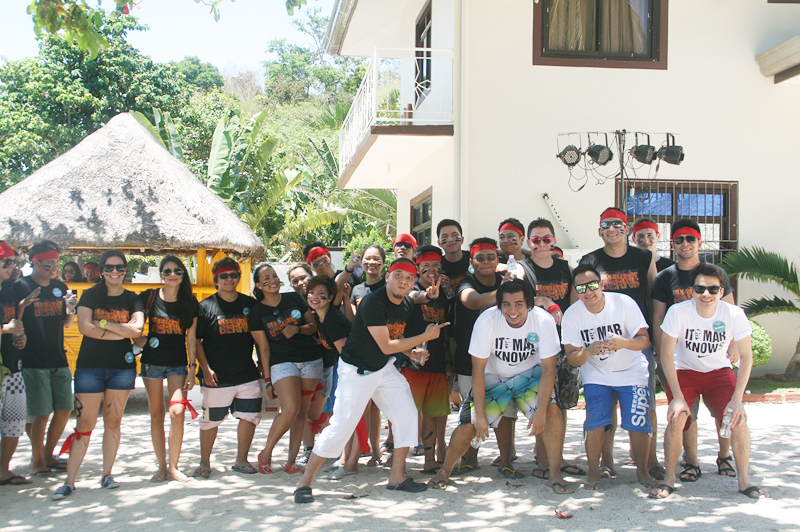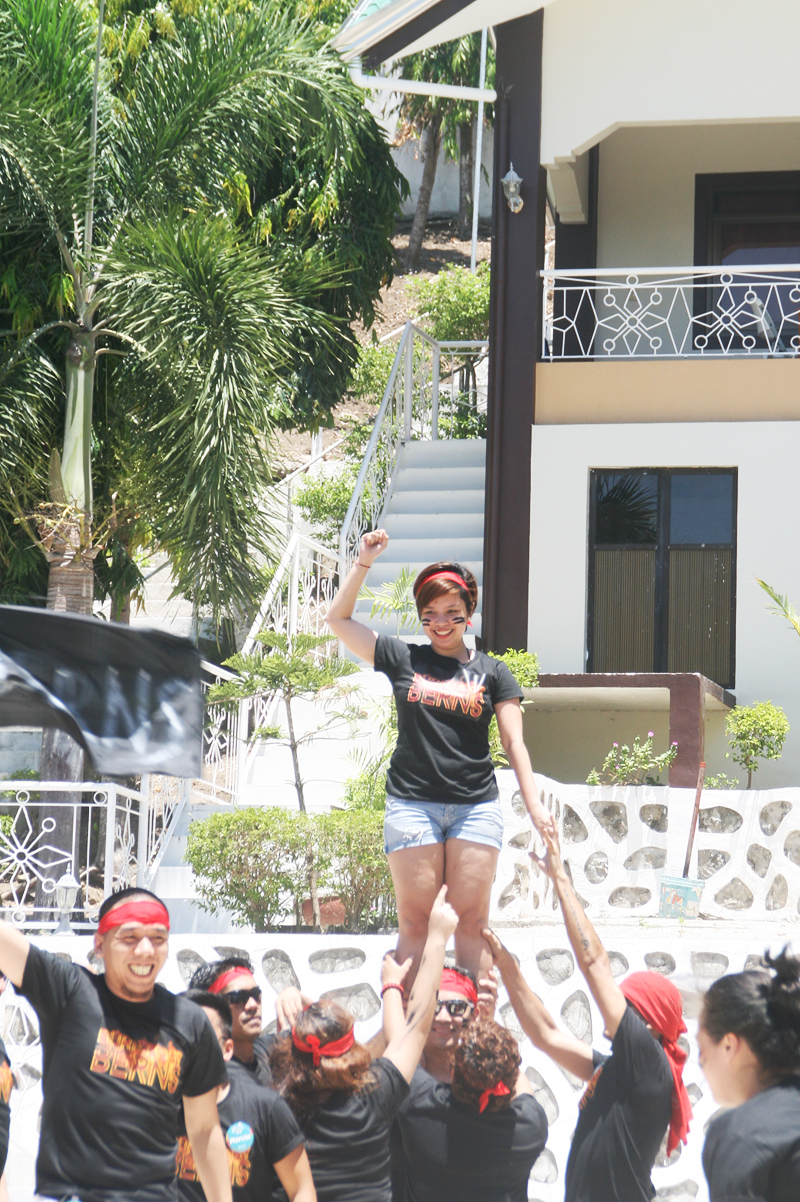 Things got exciting after a quick lunch. The war was on the moment #TeamItamar and #TeamBernard regrouped for a last-minute cheer dance practice. The week prior to the outing was definitely tiring because of the pre and post-shift practices. The morning and night shift folks had to find a time suitable for everyone. Though we were lacking, I am still proud of #TeamItamar for pulling it off! Also, the winner of the event is not worth mentioning, heh. #ItamarKnows
The fun didn't stop with the cheering, though. We were once again grouped, and this time into four teams. We had a series of team building games that got everyone riled up. It was a good way to make people from all department mingle and form instant team work. Definitely wasn't easy, but we made it work!
I didn't think I could do it, but my partner and I tried kayaking for the first time and thankfully didn't embarrass ourselves or our team. It was the only time in my life that I didn't make a fool out of myself in a sporting event. Even though it felt like my arms would fall off, I was so happy I almost cried, if only we didn't have to rush off to the next relay game.
Our team only won second place, but it doesn't matter. We still got a prize!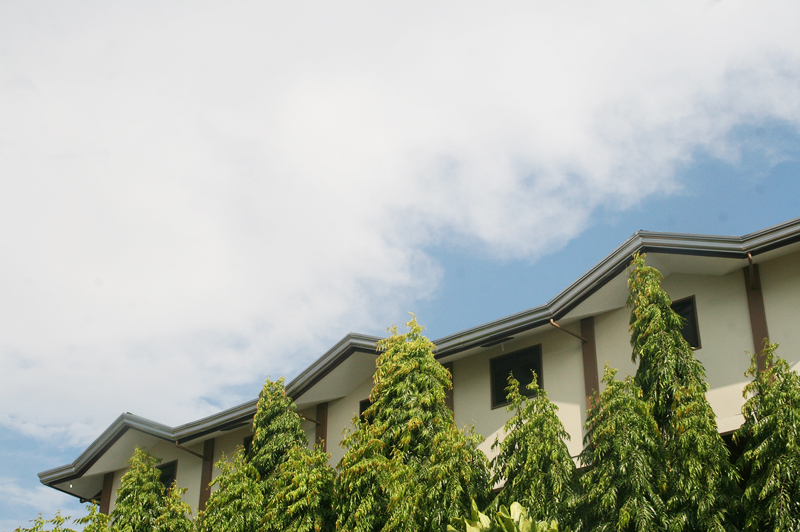 After the team building games, we had the afternoon all to ourselves. The infinity pool was calling our name so we immediately donned our swimsuits and spent the rest of the day swimming. Tihn, Kaedi and I promised we wouldn't eat rice week before the outing to achieve a beach body. But two days in and I was already wolfing down rice from the nearest Jollijeep. Thank ye, rash guard, for concealing all the fats and the extra rice I ate for lunch.
We had an awesome time watching the sun set, doing the Nae Nae dance, snacking while exchanging stories, and taking underwater photos courtesy of Malorie. Though I'm no swimmer, I missed just hanging out in the pool! Since I didn't go anywhere last summer, I seriously spent so much time swimming even on our last day. I went home with an uneven tan (because I fell asleep in the pool haha), but it's okay! There's nothing petroleum jelly can't fix.
Aside from swimming, we spent the entire Saturday night drinking and dancing! I'm not much of a drinker and I'm definitely not a dancer, but that didn't stop me from having fun. The night concealed how horrible I am at dancing, and I didn't need alcohol in my system to be silly and to dance like crazy.
We were shy at first, but we realized that no one's watching so might as well make the most out of it.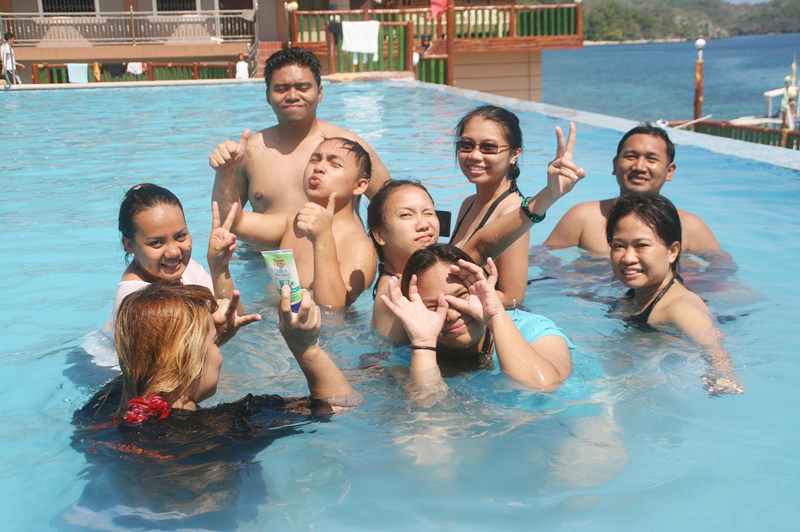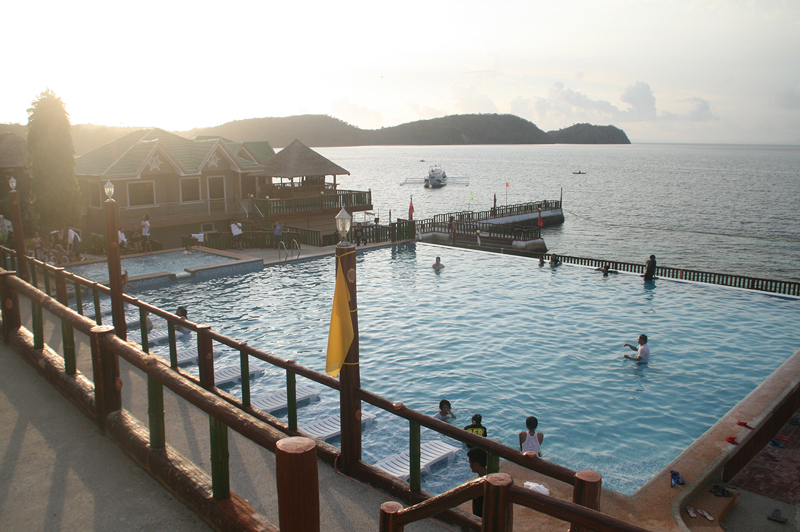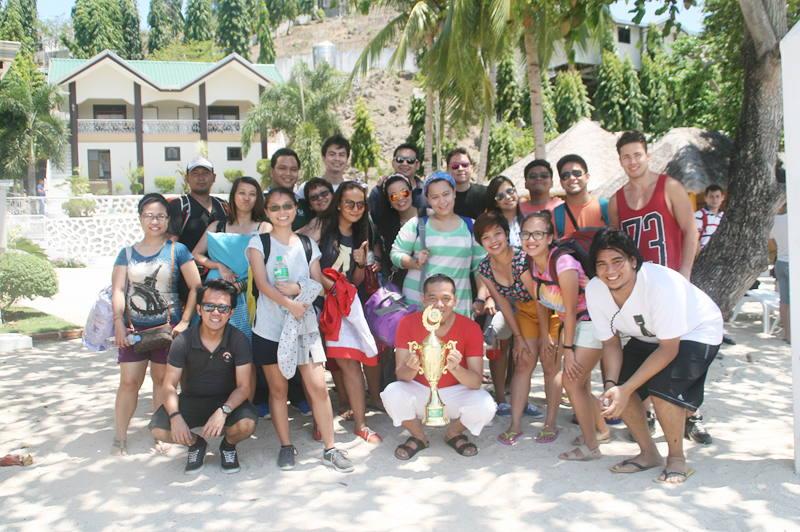 It's quite hard to believe that yesterday was only my fourth month with the company. After all the impromptu Binondo lunch dates, zombie-mode mornings, late-night Malate food trip, and shared terrifying and hilarious moments, it often feels like I've known these people for more than four months.
I still find it surprising how I feel comfortable and chummy with these people. Before resigning from my previous company, I was worried that I wouldn't fit in anywhere else. As someone who had trouble fitting in in college and even in my first job, it came as a surprise how quickly I bonded with my night shift friends.
As someone who finds making friends a challenge, I can't help but be thankful to find myself in the company of people who are crazy and wild and just infinitely fun to be with. Being friends with them and coming out of my shell are the only sensible things to do.
Tihn said it doesn't show that I'm the shy type. But when I'm with people who do not hesitate to extend their hands first, why in the world wouldn't I reach back to them?
Though there are times when I am still awkward and shy and most green jokes fly over my head, I cannot think of a better company to keep me awake up when the rest of the world is sleeping. Despite being bullies and meanies at times, I am just really glad to have found my people.
Hopefully, this is just the first of many company outings I'll spend with these people.