September is the happiest month for bookworms.
First, the Manila International Book Fair is held annually in the first Ber month. And second, bookstores tend to have sales during this period as well. For example, Powerbooks had a sale a week before the MIBF, and National Bookstore offered discounts on the same week of MIBF.
You guess it right, I went on a book shopping spree last month. Heh heh. This is the second time this year that I splurged on books! I try to only hoard books once a year and saved all the splurging on September for the book fair period. But the unprecedented National Bookstore Warehouse Sale caught me off guard and there I was hoarding more books than I could read in a lifetime.
Anyhoo, I went to a lot of book sales last month. I am a happy banana.
Chapters and Pages
My first hoarding was unplanned. I was on a date in Glorietta when I saw the unassuming Chapters and Pages kiosk, my favorite! They offer tons of books for only 29php or 39php and usually I only look at those shelves.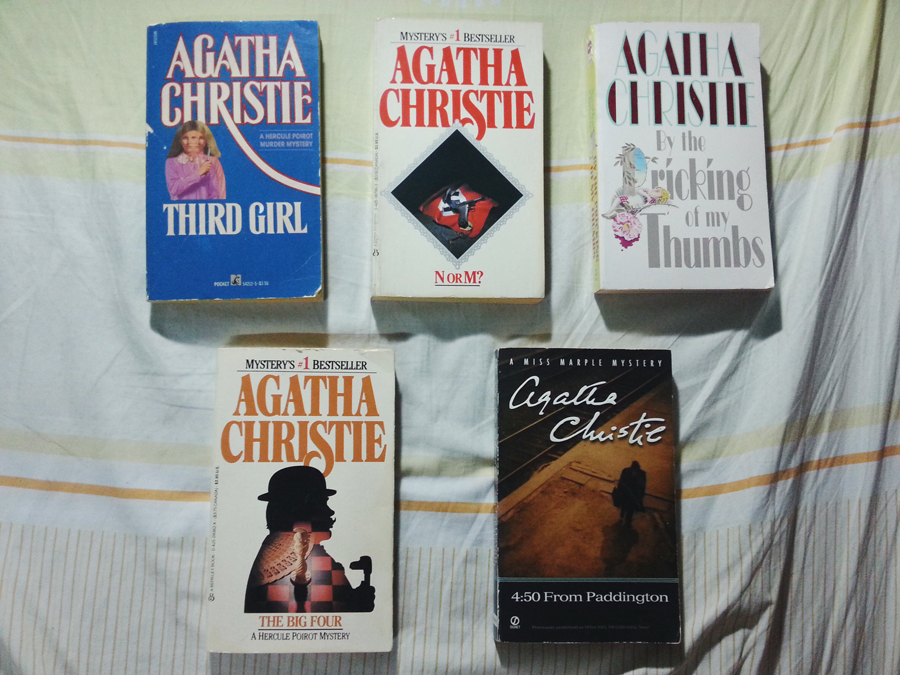 I don't drop by Chapters and Pages without going home with a book or two or five Agatha Christie books. I swear it's the only secondhand book store/kiosk that offers Christie books! Reading all her novels is part of my 30 Before 30 list.
So I bought Third Girl, N or M?, By the Pricking of My Thumbs, The Big Four, and 4:50 From Paddington. I specifically picked some Tommy and Tuppence ones because I haven't tried that series before.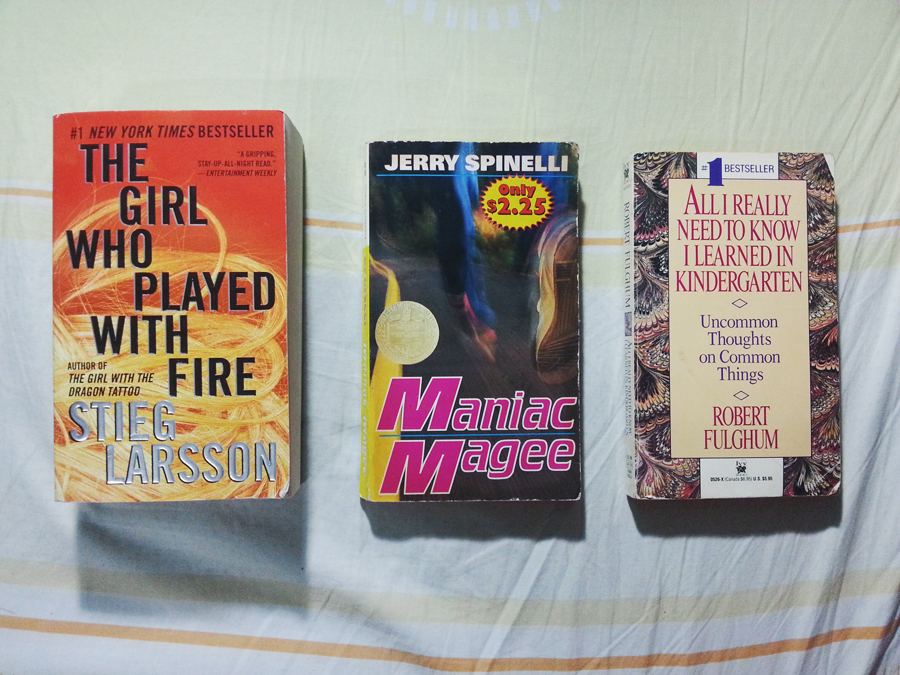 From C&P, I also bought Stieg Larrson's The Girl Who Played With Fire, Jerry Spinelli's Maniac Magee, and Robert Fulghum's All I Really Need to Know I Learned in Kindergarten.
Alex could only laugh at the sight of me carrying a stack of books to the counter and that I was actually reading Christie's Hickory Dickory Dock that time. I just really like her. Also, a week later I asked him to download 180+ Agatha Christie ebooks, because I can get pretty obsessive.
Powerbooks
Going to the mall in September is so dangerous because I ended up seeing the Powerbooks sale! I just wanted to have dinner with friends, but the hanging sale signs over the store tempted me to enter.
So, I went home with a copy of two books I'd wanted to buy for the longest time! Quite beyond my budget but I'm just glad that I finally have Jenny Han's To All the Boys I've Loved Before and Gillian Flynn's Gone Girl.
I'm reading Gone Girl right now, and I'm loving every bit of it. I just want to skip ahead to learn what happens in the end.
Manila International Book Fair
I went on the second to the last day of the MIBF. It was a Saturday so it was packed! I almost didn't go anyway because it was the week Glenda submerged the metro. But I didn't go last year and I don't want to miss it two years in a row.
Ayessa accompanied with me and it felt weird being I was the only one who bought anything. Back when we lived and worked together, we'd frequent bookstores every payday and go home with five books or more each. We've toned down a bit, but I'm jealous of her will power to not buy anything last time.
Even though there were tons of participating bookstores and publishing houses, I still went to National Bookstore first. They offered 20% for almost everything.
Yay, another Rainbow Rowell book! I'm a fan of her writing, but I haven't read her adult novels yet. I loved Eleanor & Park and thoroughly enjoyed Fangirl. I decided to start with her first novel Attachments since I've heard its her best work, too. Once I find the budget for it (like in ten years huhu), I'll buy Landline next.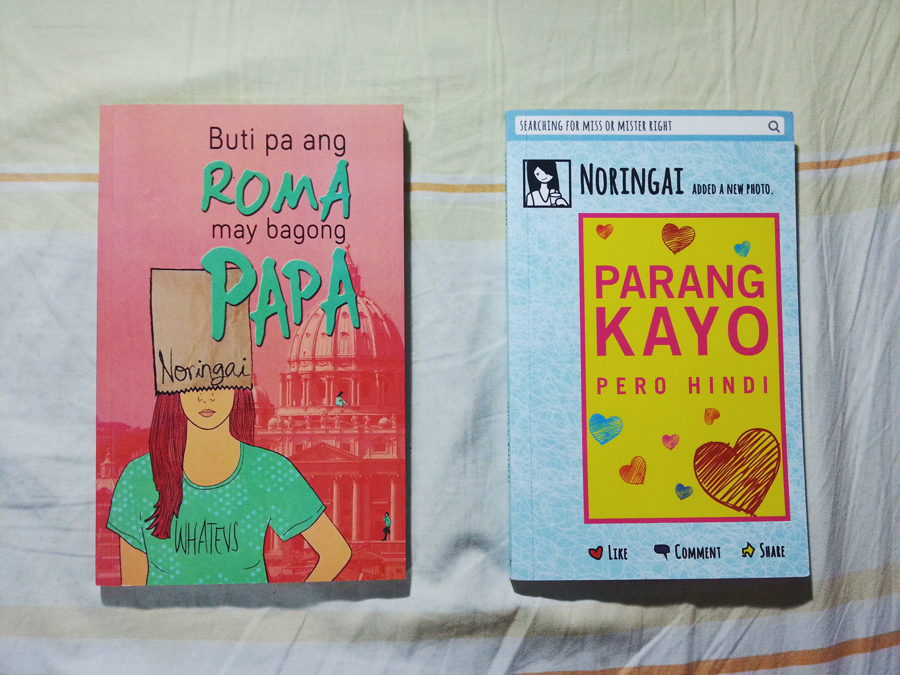 I wanted to try to read Noringai's books since I see it a lot on Facebook and Instagram, heh. Also, it's everywhere! It's rare for Filipino lit to go on sale at NBS so I decided to buy her two books, Buti pa ang Roma May Bagong Papa and Parang Kayo Pero Hindi. Hopefully, I won't regret it!
Adarna House
After walking around for half an hour, I thought I was done with buying books till we saw Adarna House. I love Adarna. It was a vital part of my childhood and possibly the main reason why I enjoy reading so much.
I was delighted to see that they now offer not just children's books but also young adult books! Before, they only sell books suitable for first to third graders. But now, they carry titles that even an adult like me can appreciate.
I lament the fact that there aren't enough Filipino young adult novelists, because I adore young adult fiction. Then again, we're not exactly know for publishing a varied range of genres. It's changing though, and I'm glad to see more aspiring writers be given the chance to publish their works.
There are so many titles I wanted to buy, I almost turned rabid. Good thing I was carrying very little money with me so I was forced to stick to my budget.
I bought Edgar Calabia Samar's Si Janus Silang at ang Tiyanak ng Tabon and Annette Acacio Flores's Mga Tala sa Dagat. To say that I'm excited to read them is a bit of an understatement. I've been caressing the covers because I'm having a hard time believing that I'll be reading young adult novels written by a Filipino authors! Feels a bit surreal.
So I interviewed some of the Adarna guys and asked why it's the first time I've seen the books. I visit major bookstores regularly but why did I not see these awesome books before?
It turns out they only sell it in schools and book fairs. That's sad! I'm pretty sure tons who are far from being school kids would love to read these books, too. I get sad just thinking that I'd have to wait another year before I can buy the other books. Displaced by Aneka Rodriguez and Una & Miguel by Lilledeshan Bose looked pretty good, too. Good thing these books are available online.
I'm very happy with my haul because for the first time, I didn't include books just for the sake of including them in my purchase. That's pretty much what happened in my last book hoarding. Heh.
Right now, I'm not sure where I'll find the time to read all as I'm currently struggling with work, some extra writing jobs, and blogging. I also have an upcoming trip so I'll try to achieve quite a lot this month to compensate for the time I'll be away.
Also, I think I should try to finish my Vietnam backlog before the end of this month. But here I am blogging about my impulsive book hoarding adventures.