It's been more than a year since my last book haul, so I went a bit crazy when National Bookstore had a Warehouse Sale. I admit I haven't been reading much for the past two years but I really plan to read more this year! Gone are the days when I spent every payday at a book sale. So when given the chance to hoard books for a very low price, I became rabid and ended up bringing home two big paper bags of fiction and non-fiction books that'll take me years to finish. Hehe.
Due to the amount of incredulous stares I got from the lady at the counter and my sister who saw me carrying my paperbacks, I think I have a bit of explaining to do. It's ridiculously cheap! Even though I went during the last day of the warehouse sale in SM San Pablo, I still managed to buy tons. I made a rule not to buy any book priced for more than 50PHP and managed to buy about 30 books. Hehehe. I'm so happy with my purchase, and I really think it's worth it. I mean, a Roald Dahl book for 10PHP? Hell yeaaaah.
Let's start with the non-fiction books first!
I have the habit of collecting books on writing but not reading them. I think my Journalism professors in college will cringe if they read my works now. It's a bit sad that I trained to be a good writer for four years, but after four more years of unsupervised writing, I feel like I've let my professors down. I do write a lot for work, it's pretty much the only thing I do all day. But it's different in a way because I'm not writing for myself nor for anyone in particular. I do want to take my writing further, but I'm in a rut. Maybe it's the reason why I started Manillenials and why I juggle two personal blogs. Maybe I just want to create writings that can be attributed to my name and not some pseudonym.
I plan to read Letters to a Young Poet later. Hopefully, I can finish it in one sitting! Frommer's China is the only travel book that I bought. I regret letting go of the Anthony Bourdain book! I'm still beating up myself for it. Prize Journalism is the only Filipiniana from my loot. I wanted to buy more but I couldn't find anything else. Filipiniano books rarely go on sale.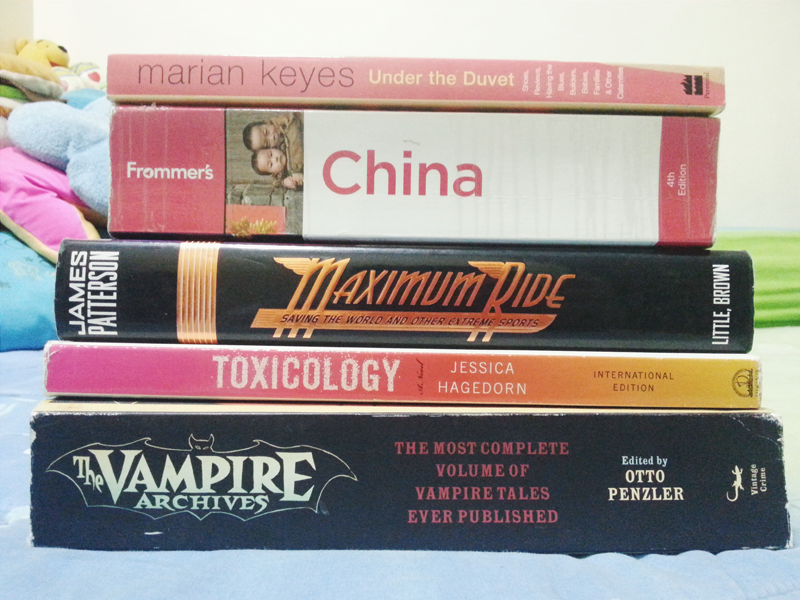 Now on to the fiction!
I like James Patterson so I was jealous of that guy on Instagram who hoarded James Patterson novels!(!!!!!) Since it's already the last day of the warehouse sale, the only Patterson novel I found was Maximum Ride and it's the third book from the series. Oh well. Only bought Toxicology because I see it often in the bookstore shelves and bestseller lists, so I'm a bit sad for its low user rating on Goodreads. As for the vampire book, I think I hit the jackpot! I haven't read much on vampires, but I have a feeling that I'll love this one. Twilight seriously gave vampires a bad name, but I swear they aren't so bad.
Mystery novels are my favorite, okay. I almost wailed when I saw the Agatha Christie novels.
I rarely see Agatha Christie novels in book sales so it was a glorious day! I still can't find a copy of Murder on the Orient Express and The Murder of Roger Ackroyd so I'm always on the lookout. Reading all her novels is in my bucket list!
Have only read one Sidney Sheldon and I liked it so I want to try more.
More, more!
Finally bought Love Story! I bought it out of curiosity because it's always mentioned in best book lists, but it's too thin so I didn't feel like buying it. Found a 15PHP copy so why not? I'm happy to see a Christopher Moore novel! Too bad there were no A Dirty Job and The Stupidest Angel. I wanted to buy Newberry books but only found Hattie Big Sky so that will do.
And then the classics.
My pretentious attempt to be a voracious reader. I find it difficult to read classics but I should at least try, right? I can't remember the last time I read one that's not a Sherlock Holmes or Hercule Poirot novel.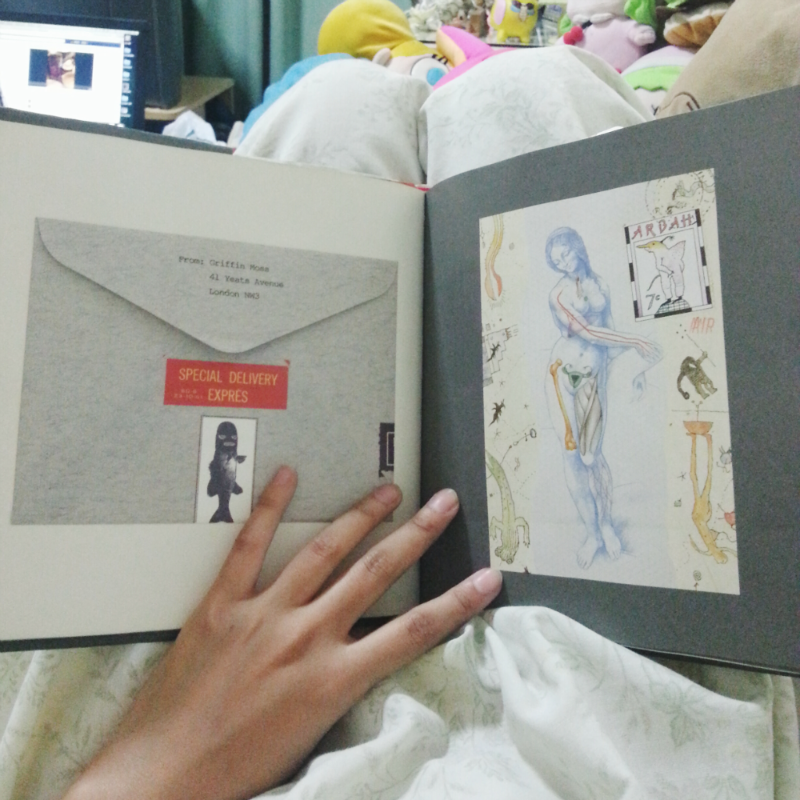 Aaah, definitely my favorite from the loot. I read it immediately the next day and devoured it in all its goodness. It's a short read but it took me right in between the pages. Such a steal, too, because it's a really good copy. It offers a unique reading experience as you can pull out the letters from the envelope and be lost in the words of Griffin and Sabine. A perfect read during a cold night. I now pass it among friends. It's now my life mission to find the two other books from the Griffin and Sabine Trilogy. Please, please wish me luck.
Other personal thoughts on reading and blogging
Currently, I'm reading Arthur Conan Doyle's His Last Bow, a compilation of Sherlock Holmes short stories. I'm enjoying it and reading it in between a couple of books. Hopefully' I'm also reading the manga Yankee-kun to Megan-chan, which I enjoy tremendously. I'm tempted to buy a tablet, preferably a secondhand one, just so reading a manga is a lot easier. Also, just think of all the ebooks I can download and read!
For the past few days, I've been visiting a lot of great book blogs. I particularly love Pretty Books, which I've been following faithfully since my Tumblr days. Water Painted Dreams is a recent discovery, and her book hauls and reviews inspire me to read more. And Hira's book reviews of supernatural YA fiction makes me jealous!
Basically, what I'm saying is that I'm thinking of starting my own book blog. I know, I know. I already have too much stuff on my hands right now, and managing three blogs already takes up way too much of my time. But I miss talking about books as much as I did before. I also miss reading, and I'm glad that I've been reading quite a lot for the past few weeks.
I'll keep you posted on whether I push through with the book blog. I feel like this blog is way too personal and focused on travels and adventures that I need another outlet for books alone. As for now, I have some crucial career choices to make that may or may not include leaving behind my comfort zone and going on a grand adventure.
Till the next book haul, everyone.