Archives for May 2014
It's been over a month since I went to Baguio, and I admit I've been lazy to finish my posts about it. Some would say that it's an overrated travel destination, but I loved our 3-day stay there! The cold weather plus the festive atmosphere during February made our visit quite memorable. We loved it so much that we're already planning to go back next year.
Iris, Eunise, and I are not just travel buddies, we're also food trip buddies! I swear, we ate a lot in Ilocos, and we did the same thing in Baguio. Most of our travel budget went to food, and I don't regret it one bit. I love to it, and I'm pretty adventurous when it comes to eating. I don't have any qualms to try my hands on anything, even when it sounds exotic to some.
Anyway, I'm pretty sure some of you are planning to go to Baguio some time soon. After all, it's summer in the country and it's just annoyingly hot in Manila and even in Laguna! I think it's not that cold in Baguio these days, but I'm also pretty sure that it's not as hot as in Manila.
(Note: This isn't a complete list of the restaurants we tried in Baguio. Our first meal was in Cafe Sabel, which I already blogged about here.)
50'S DINER
I am happy to report that 50's Diner didn't disappoint. It's one of the main reasons why I wanted to go to Baguio! I heard such good reviews and almost everyone I knew who went there ate here. I know they're famous for the pancakes, but when I saw HOT AND SPICY CHICKEN on the menu, I just had to get it.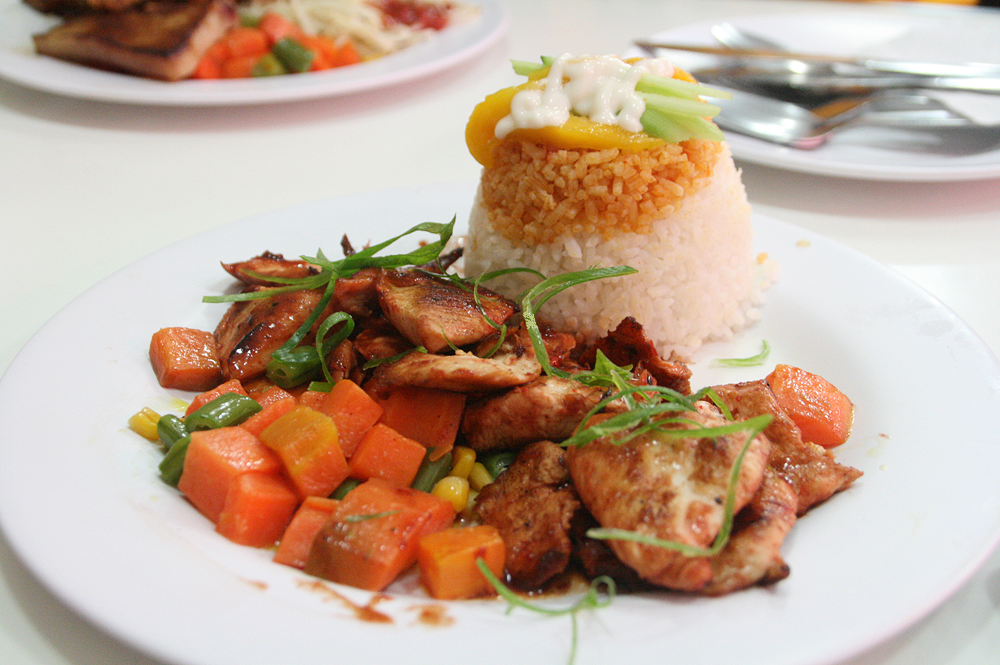 Hot and Spicy Chicken
I loved it so much, I almost cried.
Guys on the Hood
Eunise and Iris had Guys on the Hood which is fit for big guys. It has chicken, pork chop, a slice of pizza, garlic bread, spaghetti and fries, and my friends finished them all. They may be petite but they eat like a man hahaha.
You can find 50's Diner at 92 Upper Gen. Luna Rd. cor Brent Rd.Baguio City, Benguet. It's within walking distance from where we stayed but we got lost! It was so cold (around 15 degrees celsisu, I think?) that I wanted to cry. We were so happy when we found it. We asked directions from the students we met on the way. It's actually quite near and along the high way. But I don't think I can direct you there. Heh.