It's been over a month since I went to Baguio, and I admit I've been lazy to finish my posts about it. Some would say that it's an overrated travel destination, but I loved our 3-day stay there! The cold weather plus the festive atmosphere during February made our visit quite memorable. We loved it so much that we're already planning to go back next year.
Iris, Eunise, and I are not just travel buddies, we're also food trip buddies! I swear, we ate a lot in Ilocos, and we did the same thing in Baguio. Most of our travel budget went to food, and I don't regret it one bit. I love to it, and I'm pretty adventurous when it comes to eating. I don't have any qualms to try my hands on anything, even when it sounds exotic to some.
Anyway, I'm pretty sure some of you are planning to go to Baguio some time soon. After all, it's summer in the country and it's just annoyingly hot in Manila and even in Laguna! I think it's not that cold in Baguio these days, but I'm also pretty sure that it's not as hot as in Manila.
(Note: This isn't a complete list of the restaurants we tried in Baguio. Our first meal was in Cafe Sabel, which I already blogged about here.)
50'S DINER
I am happy to report that 50's Diner didn't disappoint. It's one of the main reasons why I wanted to go to Baguio! I heard such good reviews and almost everyone I knew who went there ate here. I know they're famous for the pancakes, but when I saw HOT AND SPICY CHICKEN on the menu, I just had to get it.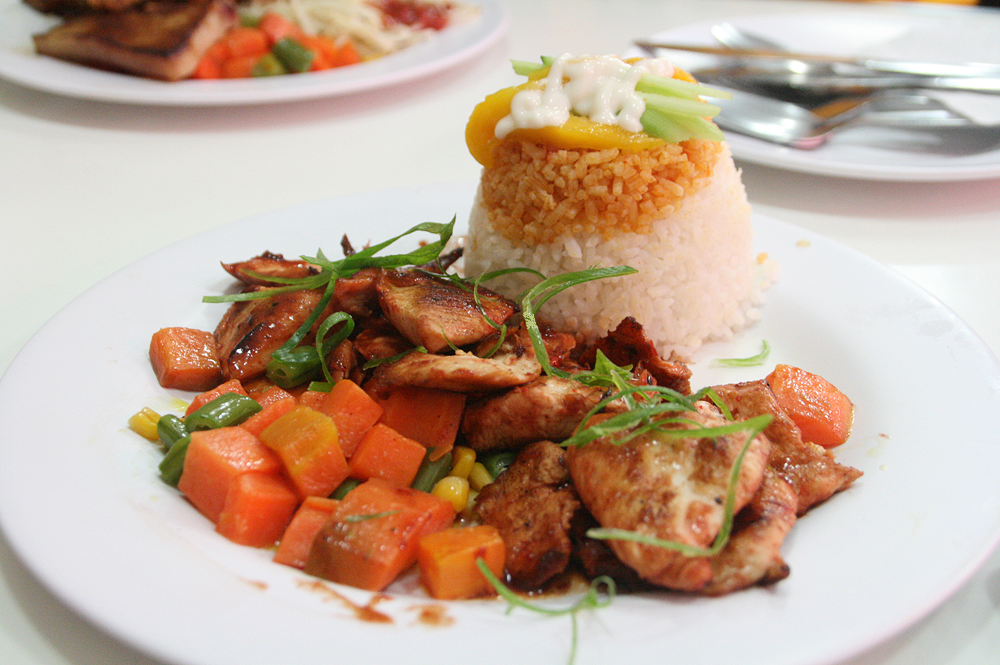 Hot and Spicy Chicken
I loved it so much, I almost cried.
Guys on the Hood
Eunise and Iris had Guys on the Hood which is fit for big guys. It has chicken, pork chop, a slice of pizza, garlic bread, spaghetti and fries, and my friends finished them all. They may be petite but they eat like a man hahaha.
You can find 50's Diner at 92 Upper Gen. Luna Rd. cor Brent Rd.Baguio City, Benguet. It's within walking distance from where we stayed but we got lost! It was so cold (around 15 degrees celsisu, I think?) that I wanted to cry. We were so happy when we found it. We asked directions from the students we met on the way. It's actually quite near and along the high way. But I don't think I can direct you there. Heh.
GOOD TASTE
I know, I know. They should have come up with a better restaurant name. But who cares about the name when they serve good food with big servings? The place is so incredibly well-known that there are two floors already but it can be filled in an instant. We went there early since we didn't finish the parade during the Panagbenga Festival. We got sits quite easily, but after eating, there's already a line outside the restaurant. It's really popular.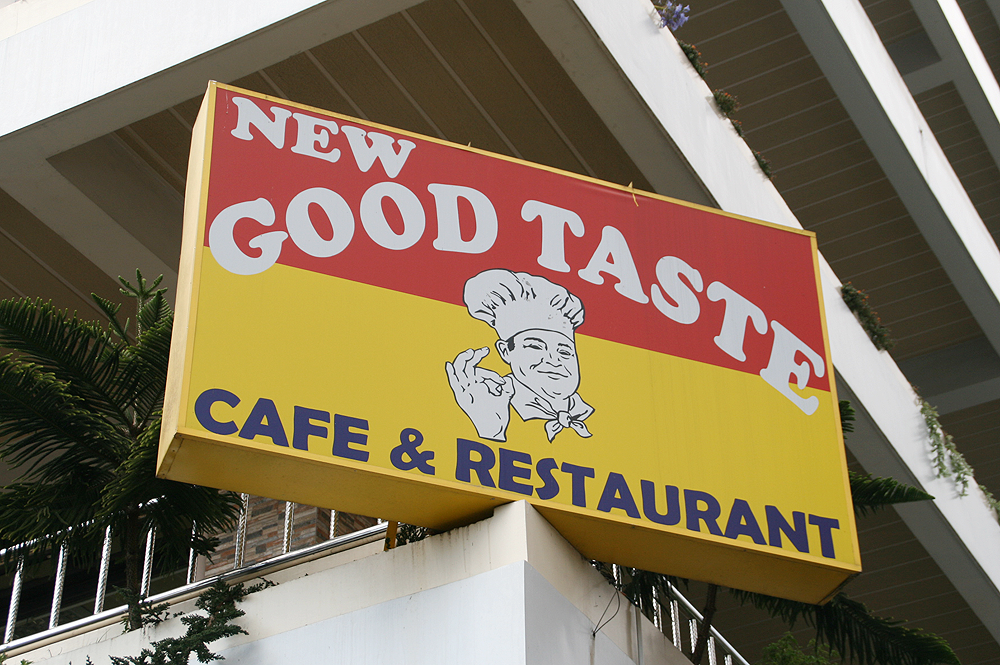 Litson Mami
Good, but nothing remarkable.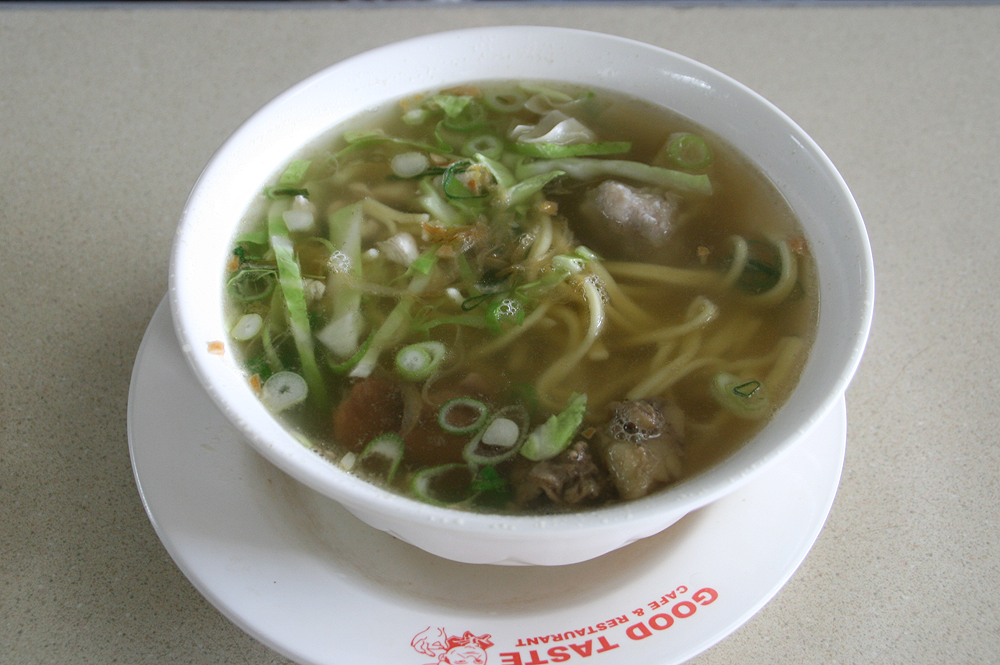 Beef Mami
Eunise's order~ I think it tastes the same as the Liston mami. Hehe.
Iris's Chicken with Chopsuey Meal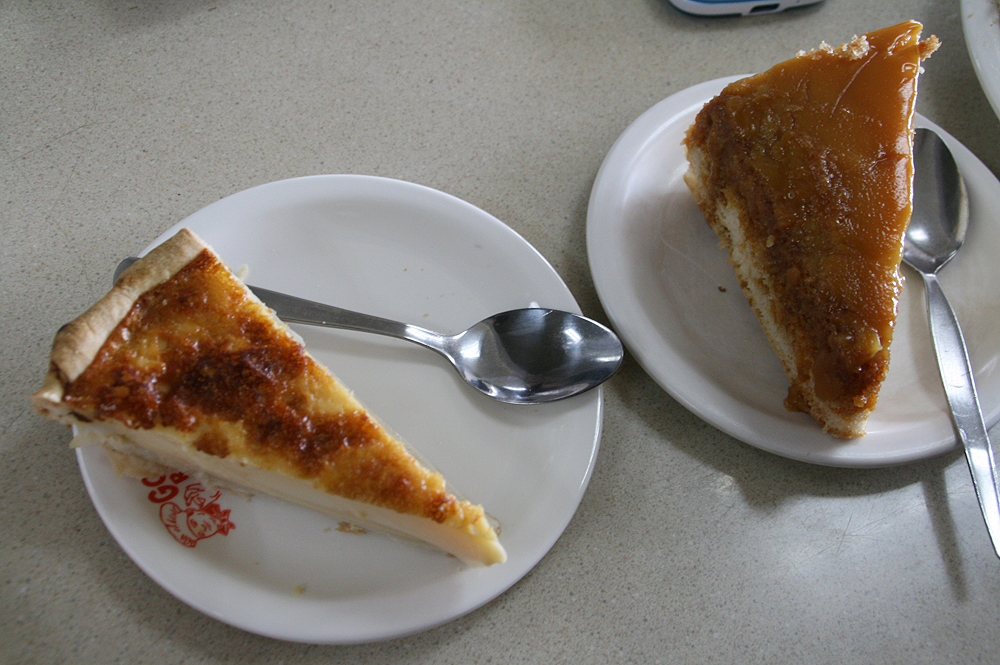 Egg Pie and Custard Cake
The food isn't exactly memorable, but we didn't order their signature dishes. I wanted to try their Buttered Chicken but they don't have solo meals! It's really for group servings, so I guess I have to try that next time. Also, I didn't get to take a photo of the coffee, but it's the best I tasted in Baguio.
It's really near Burnham Park and you won't miss it due to the large sign. But to find it better, just head near Rizal Park and you'll locate it easily!
HAPPY TUMMY
Just right across from Wright Park is the Ketchup Community, a cluster of restaurants with different specialties. As much as we'd love to try all, we opted for Happy Tummy which specializes on Thai cuisines. I never had Thai food before so I was pretty excited. We went there around lunch time only to be told that they wouldn't open till 5PM. We almost cried! Good thing we weren't that hungry.
So we walked around Wright Park and even dropped by Mine's View (we walked all the way and almost died)!!!!! Suffice to say, we were really hungry when we went back.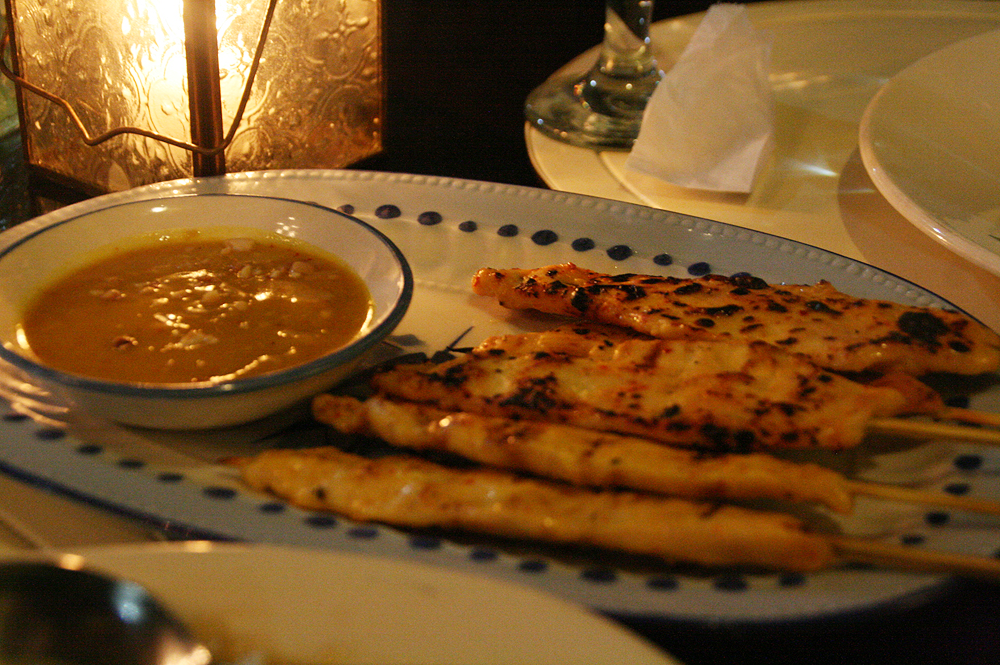 Chicken Satay!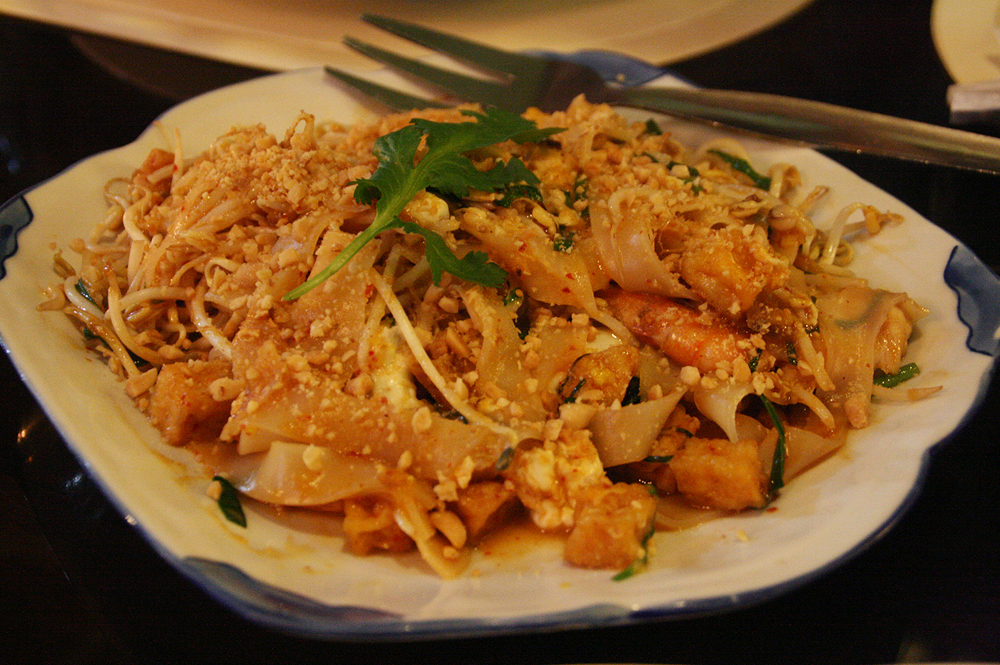 Pad Thai
Finally, I got to try Pad Thai. Hmmm, good enough.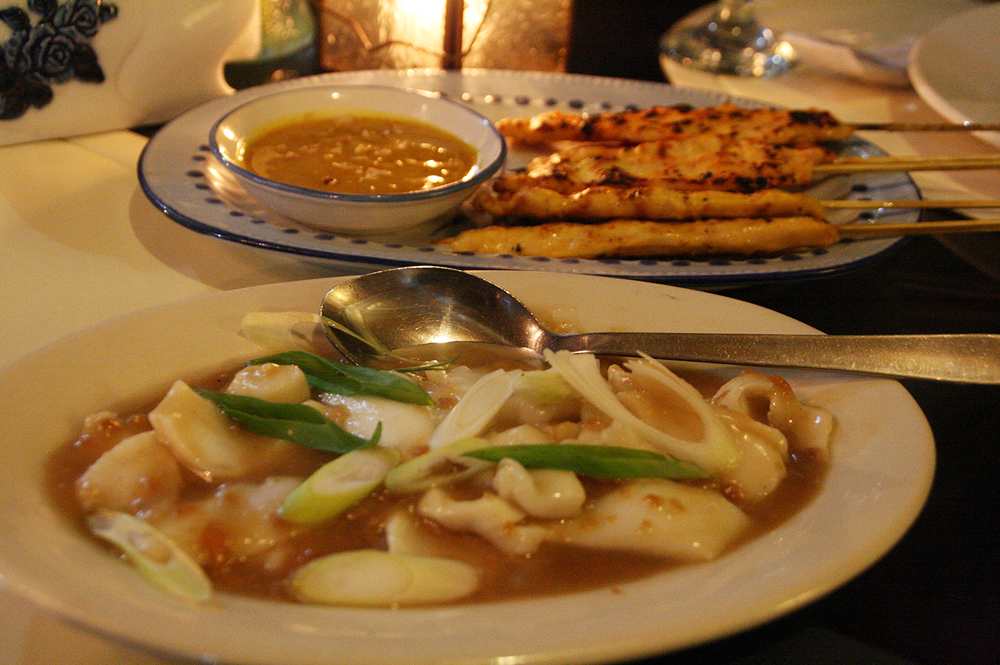 Garlic Squid
I enjoyed the food but it's not my favorite. I don't know. Maybe because it's incredibly cold in Baguio that time but the food was served not that cold. I don't want to say cold because it's not. But it's not hot either! I still loved it, though, but next time I'll probably try other restos in the Ketchup Community.
VIZCO'S CAFE
There are tons of restaurants in Camp John Hay but they're all franchises of fast food chains so we skipped that. However, Iris got lured in by Vizco's Cafe because of the pretty display of cakes.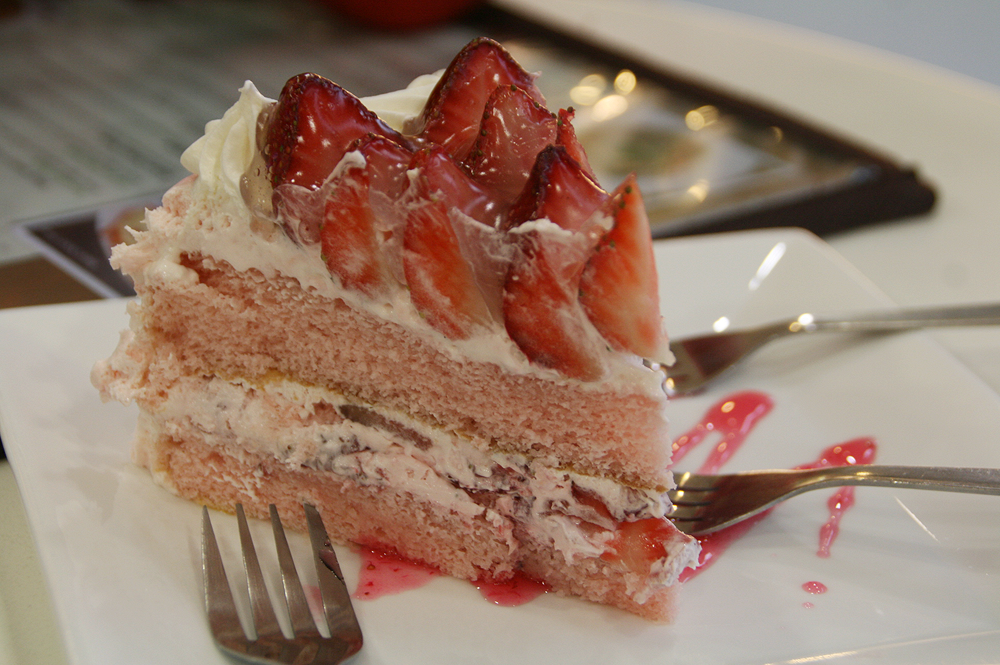 We only tried Strawberry Shortcake and we were lost for words. It's seriously so good. The strawberry's so fresh because after all, the neighboring town has a strawberry farm! Aaaah, I love it so much I want to go back and try it again.
GLYCO SWEET SHOP
Just a few steps from the Victory Liner station is this neighborhood sweet shop. It's so quaint and looks so lovely during the day and even at night. It also reminded me of the Korean drama Coffee Prince because all the servers are men, and they don't look so bad either. Hehehe.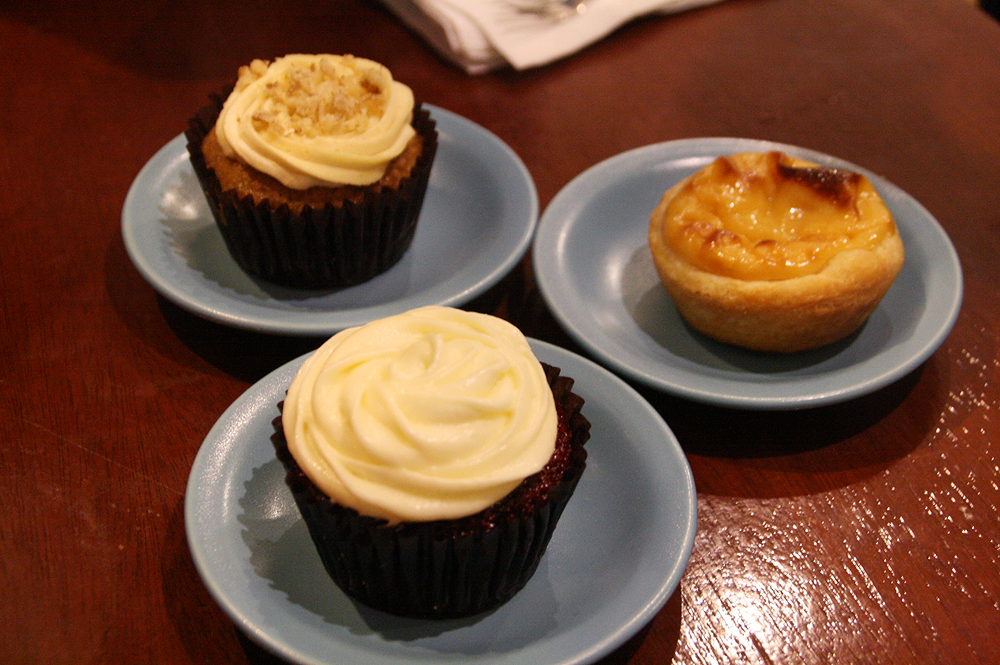 The cupcakes are about 30php, more or less, per piece, and I liked it. But I ordered egg tart because I'm a big fan of egg tart! I don't always get to see egg tarts available in the country, you see. And if they do, it's hella expensive but this one's quite cheap for only 26php. It tastes like you're usual egg tart, just a bit smaller.
PIZZA VOLANTE
I think there are many Volante branches in Baguio, since I also saw one in Camp John Hay, but we went to the one located on Session Road. The food isn't spectacular but it was filling enough. I don't know. Maybe we were just so hungry and maybe we didn't order their best offerings, but it's not something to write home about. Heh.
I forgot the name of what I ordered but it's basically Baconsilog with some kind of special rice. I loved the rice, but the serving of the bacon was too small and a bit overcooked. My hungry tummy wept a little. Oh wait, I think it's part of their Breakfast Starter in which you can decide the viand and the rice and the eggs, or something.
Sorry for the bad picture, but I don't think this photo did it justice! Iris opted for the Hannah Sausage and she said it's good.
Since we were already have rice, we just decided to try the 6″ Pizza Volante. And again, nothing special. The ingredients are fresh  but I really can't say much about it. Pizza is pizza and I love it, okay!!
As you can see, we spent a lot on food but no regrets. There are so many other restos I'd love to try more such as Oh My Gulay and Cafe By The Ruins. See? I really have to go back!