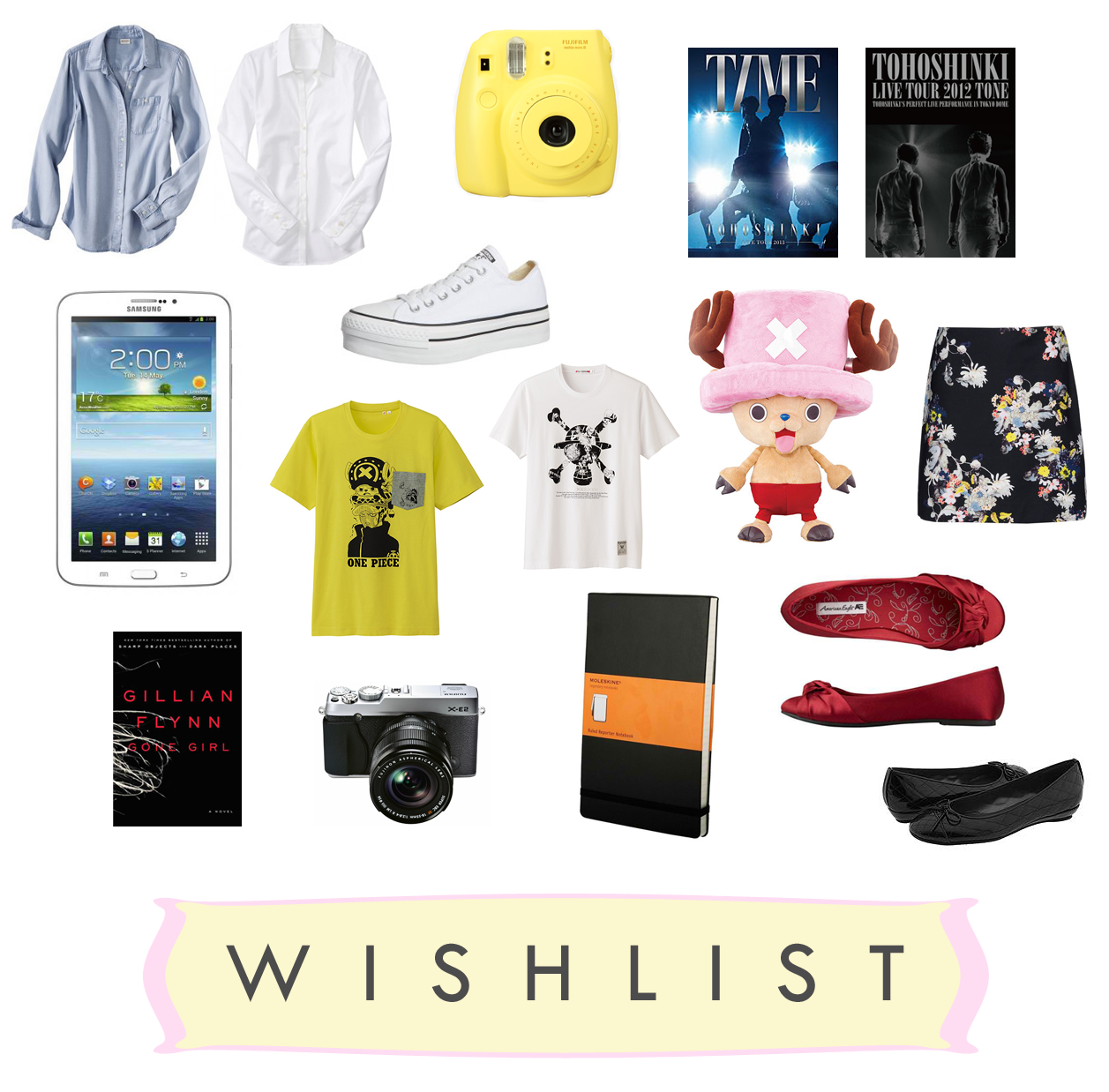 I didn't spend much on material stuff this year. Thus, this is probably my longest wishlist to date!
White/Chambray button-down shirt – It's on my list every year, wth. I need a thrift shop visit soon.
Yellow Fujifilm Instax – Another one that's on  the list every friggin' year.
Tohoshinki's TONE and TIME tour DVDs – So expensive!
Tablet – Any tablet really, as long as it has an expandable memory that I can fill with movies and ebooks.
Platform white Chuck Taylors – Where can I buy one?!
One Piece UNIQLO shirts – It's no longer available in MOA! 🙁
Tony Tony Chopper plushie – I love Chopper. 'Nuff said.
Bandage skirts – Or skater skirts. Whichever will do.
Gillian Flynn's Gone Girl – Also, Neil Gaiman's Ocean at the End of the Lane, Arthur Conan Doyle's Complete Sherlock Holmes collection, and so much more.
Fujifilm X-E2 – I NEED a new camera.
Moleskin – Too effin' expensive. Any notebook that can serve as a journal is okay. Hee.
Ballet flats – A black and a red pair please.
The Daykeeper 2014 – It's a journal/datebook and it's so pretty!
Scholarship in Korea – I don't knooooooow. I really really want it but so many objections lol.
Brazilian Blowout or a Brazilian Keratin treatment, too. My hair needs to be saved from all the frizz. Heuheu.
It probably sounds selfish to still have a materialistic wishlist this year, but I can't help it! It's not like I'll end up having all of these anyway. Most of the time, I only get 1/4 of the things I list down every year. And almost everyone of them I buy with my own money. I don't mind, though. Wanting things makes me work harder, despite my constant complaints that I don't like my job. Haha.
Also, I'm perfectly happy as it is. I won't go moping around if I won't have any of these in the next year. I mean, my family, friends and boyfriend are more than enough to be happy. I can travel from time to time, and I get to watch as many Korean dramas and movies, too! The only thing left I can really wish for is a career I can love. A career, not just a job. But I'm trying to take little steps to achieve that. This year is the most I've been writing, really writing, what I want since I graduated from high school.
Anyway, enough about me. What do you want for Christmas? 🙂