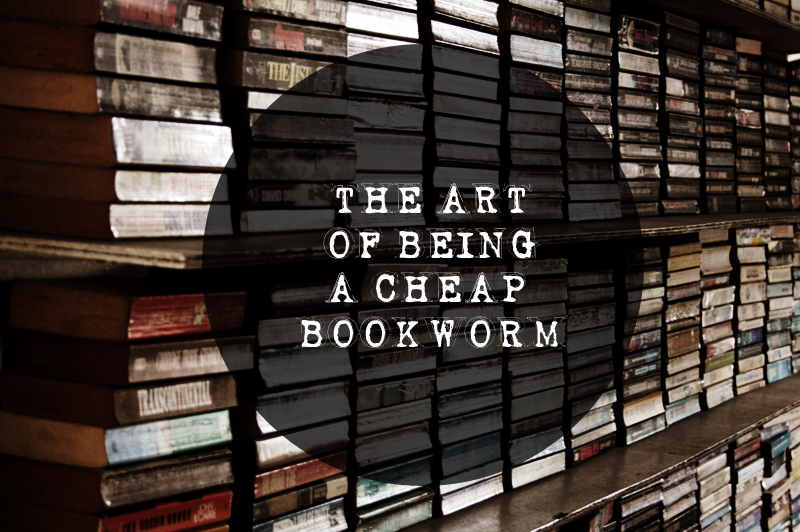 We all know that books aren't the cheapest goods in the market. A paperback costs roughly around PHP300, and if you're stingy like me, that's not exactly cheap. Over the years of wanting books that are far too expensive for my budget, I learned that there are a lot of ways to acquire books on your to-do list without spending too much. I decided to share my book hoarding skills to other bookworms even though no one asked me to do so. Because I have nothing better to do, I might as well spread my love for books.
However, the following tips aren't for people who are very particular with the condition of books. If you're looking for really low-priced books, then you should understand that the condition of the book may not be the finest you'll see. Expect creases and a little tear here and there. But if you look hard enough, you can see seemingly brand new copies for a really low price. Also, most of the tips here are only applicable in the Philippines.
BOOK STORES TO VISITS
1. Secondhand bookstores
There are a lot of secondhand bookstores in the country but the most well-known, I think, is Booksale. Based on experience, the price of books varies depending on the branch. Of all the Booksale branches I've visited, Mall of Asia and San Pablo City offer the lowest price. You can see paperbacks for as low as PHP5, and they are still in good condition. If you're looking for more recent works of fiction, you'll have a little trouble finding it in a secondhand bookstore. If you do find what you're looking for, there's a big chance that the price will be higher than PHP100.
Books by authors like Stephen King, Danielle Steele, John Grisham, and James Patterson, are remarkably more expensive than others. Many of their works in paperback, especially recent ones, sometimes cost at most PHP180 but there are (rare) instances that the price's lower than PHP100. Hardbound copies (even books by authors besides the said four), on the other hand, sometimes cost PHP200 or up. If you'll ask my opinion, these aren't cheap at all in the world of secondhand books. If you look hard enough (again), you'll see a harbound and a paperback copy of the same title with the same price. But on good days, you can actually see hardbound copies for less than a hundred bucks. That, I think, is a good bargain.
Another secondhand bookstore (stall, more likely) I like is Books and Bags. The problem is, I'm not even sure if that's the real name of the store. I often see stalls like this in Glorietta and Robinson's Manila. I love Books and Bags because they offer paperbacks for a really good price. The books are shelved according to price. I observed that the prices are often PHP39, PHP29, or PHP15. The books are in good condition but the pages are yellowing already. But do you know a bookworm who doesn't like the smell of old books? I've found really good copies of old books without a single crease! The only catch, really, is you'd have a hard time looking for a copy of a book published in the 90s or later. I have bought books published as early as the 60s.
If you're from or near Los Baños, Laguna, I suggest you visit the thrift shop near UPLB. All their books are less than a hundred pesos. Their second floor is dedicated solely on books. You'll have fun looking at the ancient secondhand books. It's still worth a visit even if you can't find a book you like, which happened to me a lot.
2. Franchise Bookstores
Okay, I don't know what to call these bookstores.
When you're still desperate to buy a brand-new book for a lower price, then you should watch out when bookstores like Powerbooks and National Bookstore hold a sale. When the books aren't on sale, National Bookstore offer books for a lower price compared to other bookstores.
National Bookstore often has a BELOW 100 table of books. Most books in the BELOW 100 are secondhand hardbound books but they also include brand new paperbacks, plastic covered and all.  Most of their paperbacks are new, though the book edition's not always the most recent one. NBS sometimes has discounts but it doesn't include all the books. I have yet to see them give discounts for books published in the Philippines but they certainly give discounts on imported books. This rarely happens but they frequently has a BELOW 100 table. Their SALE table isn't so bad, either.
Powerbooks also often offer discounts for a period of time. They once had an up to 80% off on their books.  Also watch out for clearance sales offered by bookstores like Powerbooks. Powerbook's clearance sale on MOA attracted so many customers that many shelves were emptied out. Depending on the publication of the book, they offered 30%, 50% and 80% off discounts. Books published in the country aren't also included in the discounts.
OTHER BOOKSALE HOARDING TIPS:
It took a while before I got the hang of finding good books in Booksale. After going through shelves upon shelves of mass paperbacks and still relatively expensive books, I finally know how to find good (or not so good)  copies for the lowest price possible.
1. Be patient
Since the books are rarely categorized, you really have to search carefully. The search may be painstaking, depending on the size of the bookstore. However, there are times when they categorize the books by best-selling authors. Sometimes they also have shelves for classics or the novels by Mills & Boon and the likes. But if you're looking for something really cheap, there's a chance that they're located in the shelves with no category. You are, after all, paying for a low price. You can't expect the books to be handed to you on a silver platter. The search for books is really fun, though.
2. Forget about being classy
If you're looking for books for less than PHP20, you can check the lower bunk of the "tables" of books. The books on the shelves on the wall rarely offer really cheap finds. Sometimes you really have to get down on your knees or do something you don't usually do in public just to sift through all the books in the lower bunk. But I'm telling you, it's amazing to find good quality books for only PHP10 and even PHP5!
3. Compromise (a little) the book condition
As I've said earlier, you can't really expect to find books in extraordinarily amazing condition. There are books that sometimes have torn cover yet they still sell it for more than PHP50. But I can assure you that not all books are like that. There are some books with barely no creases (even the spine!) and no little writings for less than PHP50. Even those I've bought for PHP20 or less are still in good condition.
4. Look for the cheapest copy
Something I discovered a few years ago is that a franchise of Booksale can have multiple copies of a book, located in different shelves and having a different price. One time, I saw two exact copies Toni Morrison's Song of Solomon. One is priced PHP70 and the other is PHP45. I think this is merely sheer luck, though, but this doesn't happen just once.
5. Think first before buying Penguin classics
On principle alone, I'd rather buy a Penguin classic in National Bookstore than in Booksale. Usually, the classics in Booksale cost around PHP70. A Penguin classic in National Bookstore is only PHP99 and you can be sure that you'll get a copy of a book in perfect condition. However, the thin copies of Penguin classics (or any classic, for that matter) in a Booksale cost around PHP40. When that happens, I just  buy the one in Booksale.
—
I visit a booksale about twice a month and end up hoarding more than I can read. Sometimes I can buy seven books and spend less than PHP300. That's already one paperback from NBS. Yay. So yes, I haven't read more than half of the books I posted.
I'm not sure if you got anything from this annoyingly long article, but I do hope that you did learn a thing or two. Happy hunting!