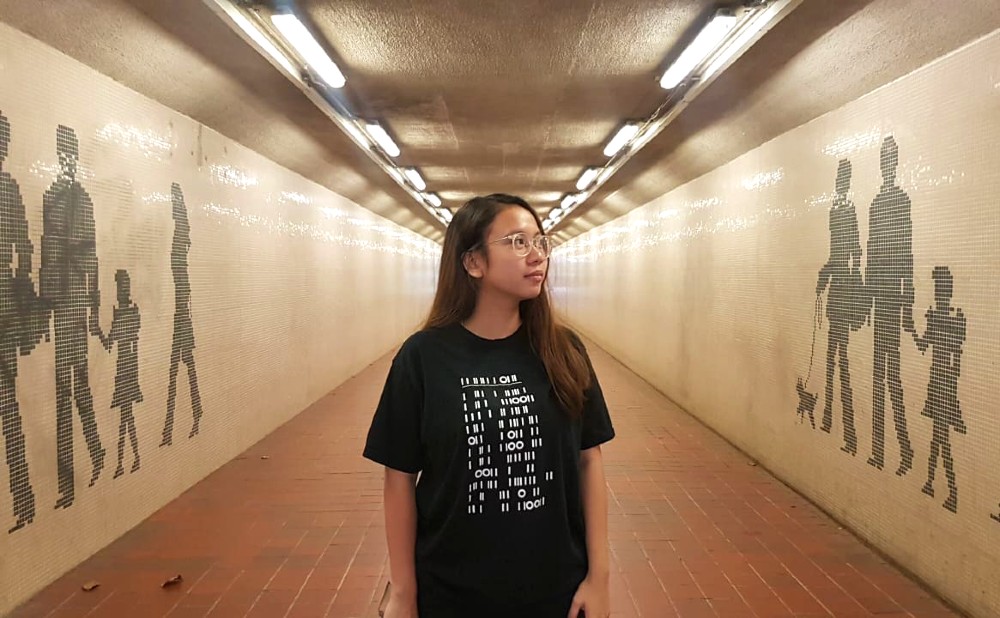 For someone who's not creative at all, I tend to have shirts customized for whatever reason I could think of. Sometimes, I just make lame excuses so I could customize shirts. Be it to attend a KPOP concert and show my bias for my favorite KPOP artists or to wear couple shirts on our anniversary (29-year-old me is cringing, but it was cute then!), I have always enjoyed customizing shirts.
So when Printcious Gifts approached me for a collab, I got excited because it's been so long since I last had shirts customized. Aside from shirts, they have tons of other products that you can also give as gifts, such as tote bags, caps, lanyards, cushions, phone cases, mugs and so much more.
Ready-made designs are already available on the website, but me, who's a wannabe artist, opted to have my own designs printed. Well, I technically didn't create ~designs~. Anyway, you'll see later what I'm talking about.
The website is pretty easy to use, because once you choose to create your own design, you'll be lead to a page where you can either create your own design using the editor or upload a photo of your design. I chose the latter because I prepared a couple of designs I wanted to print on my merch. I think even non-techy folks would find the personalization page pretty easy to use.
But if you prefer pre-made designs, that's perfectly okay, too. The website is pretty easy to navigate, and there are also designs grouped into Gifts for Her or Gifts for Him. This can be pretty useful if you're looking for potential presents for your partner or your family, or even if you're looking for the perfect gifts for your bridesmaids and groomsmen. If you're in the middle of wedding planning and thinking of gifts for your entourage, this is pretty neat since they accept bulk orders, too.
In my understanding, the merchandises are printed in Malaysia, but they deliver internationally. I am based in Singapore, and I received my items within six business days. It was pretty fast since those six business days already included manufacturing and delivery. I checked the site and even for international shipping (aside from Singapore), it will only take 5-10 working days, depending on the weight. You can also track your order on the Printcious Gifts website itself so you'll have a better idea when you will receive the product.
My package was pretty big since I had a couple of stuff delivered, including a rectangle cushion that I now cuddle to sleep everyday. My shirts and bag were placed inside a simple cardboard box, so I was assured that my goods were secure.
I had three shirts customized—two cotton tees and one Graphic tee (95% polyester, 5% spandex).
I prefer the cotton tees, but the graphic tee is also pretty comfortable. I am satisfied with how the prints came out because it was pretty much how I imagined it to look. It's pretty satisfying how my expectations are actually met!
I had ABCIX printed on the white cotton shirt. ABCIX is a mix of AB6IX and CIX, lol. I stan them both, okay, and I cannot choose so I had ABCIX printed. Someday, the two KPOP groups would attend the same event here in Singapore and I will wear this shirt. I hope that someday comes soon!
For the other black cotton tee, I had the Code Mode of Wanna One and its members' names printed. I like how it doesn't look like a KPOP shirt, because I could wear it to work, to church, everywhere, and no one would know I'm wearing a KPOP merch.
For the Graphic Tee, I had TVXQ's logo printed on it because I realized that I didn't bring a TVXQ shirt here in Singapore so I should have one, of course.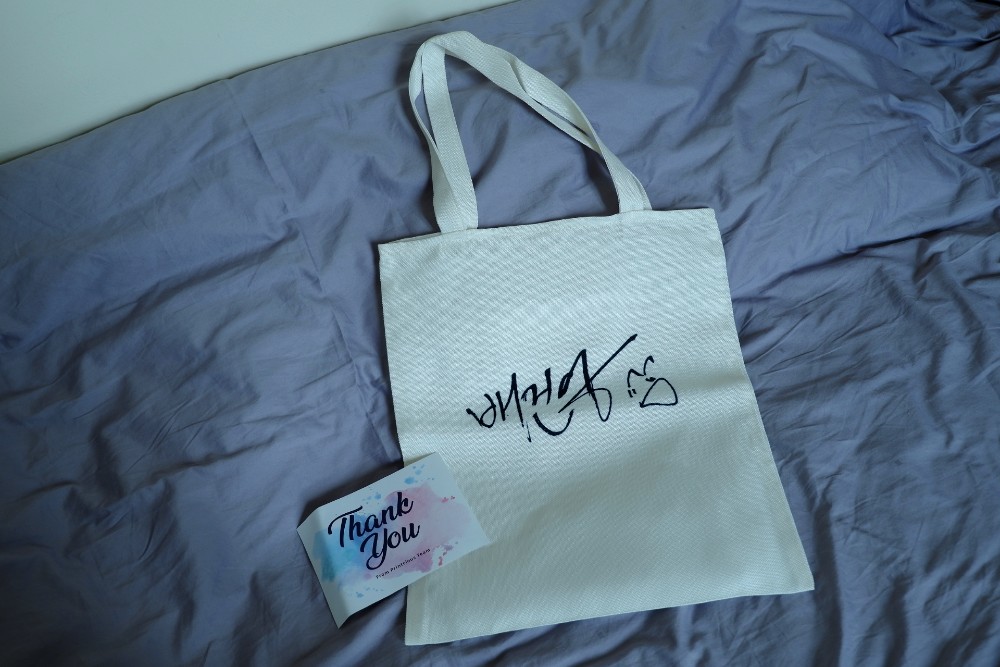 I was the most excited for my tote bag!
When I was thinking of a design for a bag, I just thought it would be nice to keep it as simple as possible. I remember liking stickers of idol signatures and I wondered how it would look on a canvas tote bag, and I really liked how it came out.
After scouring the internet, I went for my ult Bae Jinyoung's signature during his Wanna One days. I actually saw one before where his signature looked a bit like my nickname Janey, but I couldn't find it!
Anyway, I really like this one and I see myself using it for a long time.
And of course, I just had to have stickers printed, too! I just had the logos of AB6IX and CIX printed as stickers as well so I stick it on my laptop. I told you I'm loving these groups recently. (Stream Blind for Love. Stream Movie Star.)
There are a couple of cushion shapes and sizes available on the website, but I went for a rectangle one. I asked my friend Pauly's permission if I could use her design for this one and she agreed. She commissioned sticker designs for me last May, and I love it so much so I just want to use it for everything.
I was supposed to just use three designs, but I couldn't decide which one I like best so I just used all six. Well, I thought I used all six but I ended up repeating one design huhu (upper right and lower left).
I had fun coming up with the designs even though they're all quite plain and simple, but that's to be expected since I'm no designer at all. I like how everything turned out, though.
I was supposed to do an unboxing since it was the first package that I received now that I'm based in Singapore, but something came up so I couldn't film it. Anyway, the products came out really really good, and I'm just glad that I have more shirts to wear now! I didn't pack enough clothes when I moved cities, unfortunately.
Thankful for Printcious for this collaboration and thankful that I can confidently wear custom KPOP shirts and no one would even know.
**********
For personalized gifts such as shirts, mugs, and bags, follow Printcious.com on Facebook and Instagram.