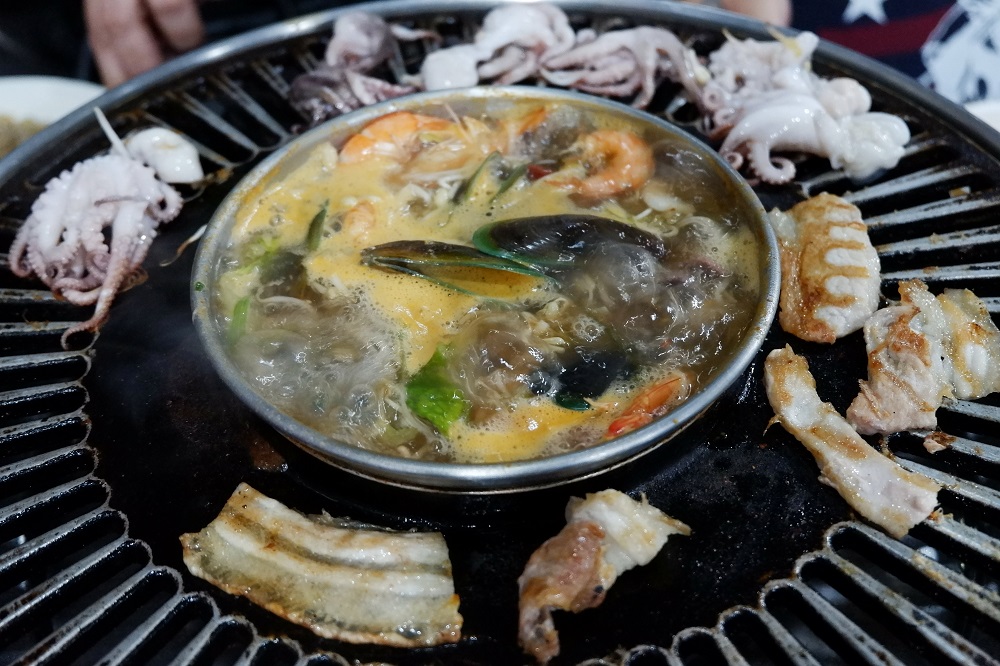 Apgujeong Grill & Shabu-Shabu is one of the Korean restaurants that dot the busy streets of Malate. What makes it different is that besides offering unlimited samgyupsal, there's also unlimited shabu-shabu and a buffet spread of side dishes and other traditional Korean food.
Having dinner at Apgujeong was definitely the perfect end to an incredibly tiring day. We spent the entire afternoon in Divisoria, shopping for supplies and materials for my sister's wedding, and a buffet dinner was such a satisfying reward. It was the first time in a long time since we had Korean dinner in Malate. We used to try different ones around the area when my sister used to live in Manila. But now, going to Korean restaurants is such a rarity!
I was honestly so tired that day that I could just go straight to bed without eating dinner, but knowing we'd be eating at a Korean buffet, I was energized. I try not to eat too much lately, but there's no stopping me when it comes to samgyupsal.
We arrived at dinnertime on a Saturday night, and I was quite surprised that it wasn't swarming with diners. The place is pretty huge though and could probably accommodate more than 100 guests at a time.
The moment we sat down, the servers immediately set up our grill and poured soup for our shabu-shabu. Actually, it was my first time to try shabu-shabu, and I had no expectations whatsover. But for my first shabu-shabu, it was pretty gooooood.
The buffet spread was the typical Korean buffet setup with all the side dishes laid out. They had varieties of kimchi available, and there were also different sauces on the table.
There's a lot to choose from! When eating at a Korean buffet, I usually start with the basics and start with the side dishes first. Then I get the twigim, tempura, and other Korea dishes. I whisper a little thank you to K-drama faries if there's a bibimbap station. Thankfully, there's one at Apgujeong! I love bibimbap so I didn't miss out on this one. But of course, I didn't get that much to save my appetite for samgyupsal!
I also love the bulgogi in Apgujeong. I think I ate more bulgogi than shabu-shabu, which basically defeated the purpose of having shabu-shabu for dinner. But whatever. Bulgogi is one of my favorite Korean food, and no one can stop me.
It wasn't our lucky day, though. The meat station took a long time to be refilled, because apparently their meat slicer malfunctioned that day so they had to slice everything manually. The beef and pork were still thinly sliced, but we sometimes had to wait a long time for the beef and bacon, which was sad since I think I ate more squid than samgyupsal that night. I love squid anything, though, so I guess it wasn't really a shame.
Apguejong Grill & Shabu-Shabu is my sister's favorite Korean restaurant, and she said that the service is usually better. I guess we just have to go back and experience that better service next time.
I lied. I didn't feel so bad that I didn't get to eat as much samgyupsal as expected, because I absolutely loved the grilled squid! We also added squid in the shabu-shabu.
Oh, aside from squid, there were also mussels and shrimps for the shabu-shabu.
Despite the slow service due to the meat slicer, I cannot say that I absolutely loved my first Apgujeong experience. I can, however, confidently say that I love my first shabu-shabu experience!
I had very little expectations and had no idea what to expect. But we loved the shabu-shabu and it was definitely worth it. I think it elevated my enjoyment of eating samgyupsal since I had steaming hot soup to go with it. I cannot say it's the best shabu-shabu ever, because I have no point of comparison. It's definitely worth a visit, though.
We also got free iced tea just because we liked their Facebook page! Just like other Korean buffet restaurants, drinks weren't free so we were quite happy with our free iced tea, hehe. They also don't sell Korean ice cream, but there's coffee jelly for dessert!
I loved everything I tried that night, but due to the slow service (not poor, just slow), I didn't enjoy it as much as I thought I would. Or maybe my sister just hyped it up so much!
I would definitely love to try Apgujeong Grill & Shabu-Shabu again. I didn't expect to like shabu-shabu, and it was never something I craved nor wanted to try. But now that I had a taste of it, I don't think I can say no. Shabu-shabu went pretty well with our samgyupsal, too.
Apgujeong Grill & Shabu-Shabu
Overall Rating: 8/10
1004 L.M. Guerroro St, Malate, Manila, 1004 Metro Manila
5280231
https://web.facebook.com/apgujeong/