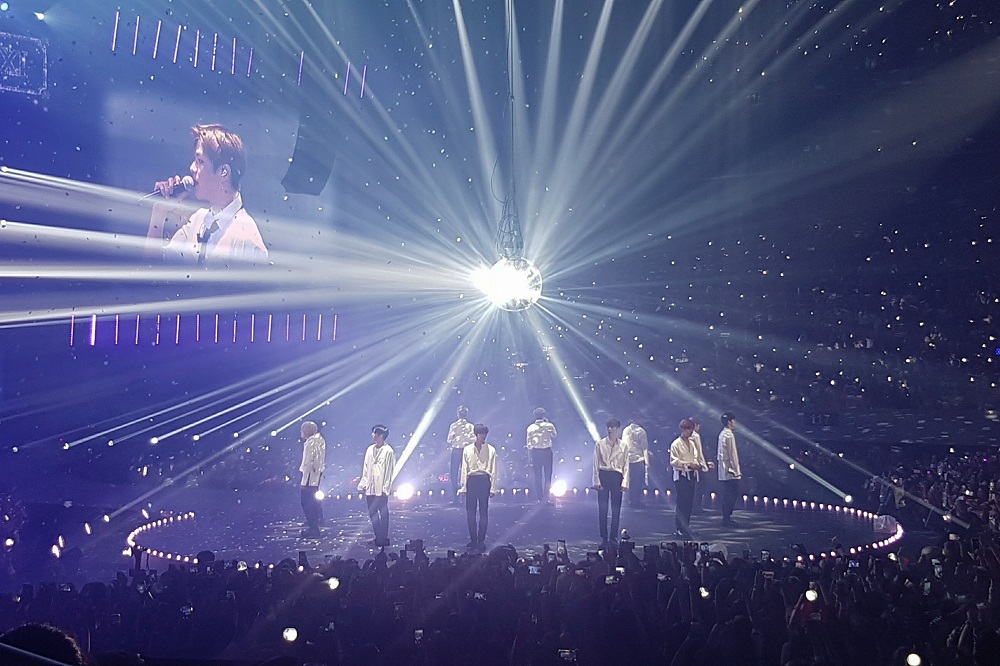 If you told me last year that I'd be watching a concert of a rookie KPOP group this year, I'd laugh at your face. I'm too old for rookies, I'd say. No one's good enough to hold my attention, I'd add.
But guess what, I ended up watching Produce 101 Season last December, and it's been a whirlwind of fangirl feels ever since. So I don't know how to start this post without explaining how much I love Wanna One (and PD101 boys in general!), and how the past eight months have been a happy comeback to KPOP for me.
I didn't really want to be too attached to Wanna One, because their contract lasts for only a year and a half. I had enough heartbreak over KPOP groups, and I didn't want to have another one. But seeing them repeatedly on my Twitter and IG feeds, watching their variety shows, and having my sister become a bigger fan than I am, it was bound to happen.
It took awhile before I fully admitted that I love Wanna One! My top two Produce 101 trainees didn't make the cut (JongHyun and YoungMin!), so even though I love the eleven Wanna One boys, I didn't immediately get hooked. It was only these past few months that I eased my way into the fandom, getting to know the boys one by one, playing their songs on loop while I work, and eventually becoming a Wannable. This is actually the first time I called myself one! I love every member almost equally, and it was difficult for me to pick a favorite.
When they announced that Wanna One's having a concert in Manila, I just had to see them live. Knowing it would be their last concert here before they eventually disband by next year and the last stop of their world tour, I wouldn't miss it for the world.
I am so glad that I decided to see them live, because it was definitely one of the best concerts I attended so far.
The Day of the Concert
My sister agreed to meet at MOA at around noon to have lunch before we braved the throngs of fangirls around the arena. I got so excited when I saw Wanna One fans wherever I looked—in the shuttle, at the restaurants I passed by, at every corner I turn to.
First, we had lunch at Kyochon with our cousin and her family, and half of the diners seemed to be Wanna One fans based on the paper bags they were carrying. My cousin was surprised to see that there were actually fans who seem to be our age, and even older ones! So yes, my sister wasn't the oldest Wannable who attended the concert but I loved to tease her about it.
After our quick lunch, we went to claim our tickets, but they unfortunately ran out of photo cards already. We went to the arena to try our luck since there was a chance that Pulp still had extra photocards.
When we arrived outside the arena, we were surprised at the amount of fans already waiting outside. It seriously felt like a festival. There were vendors selling merch such as shirts, headbands, and posters. There were also fans giving away banners, stickers, photo cards, and post cards for free as fan support. Wow. Filipino Wannables are so nice! This is actually my first time attending a concert here that's like this. The local KPOP community has evolved so much, and this noona fan is shookt.
My sister got lucky since she ended up meeting tons of Woojin fans and received a bunch of free stuff. I wasn't so lucky because it started raining before I had the chance to meet Baejin stans. We sought shelter elsewhere because there really wasn't enough space when all fans avoided the rain by flocking at one spot
We had a couple more hours before the concert and we figured that we'd just stay at a coffee shop while waiting. At around 4:30 PM, we decided that it's about time that we headed back to the arena again and lined up. But before that, we had to change into our custom-made Wanna One shirts first!
Yes, there were tons of online shops selling Wanna One shirts but we wanted to be extra and printed custom ones instead. We had such a hard time deciding on the print, and finally, we just went for a huge PICK ME print in front to celebrate the song that started it all and the name and number of our bias at the back. Jinyoung (00) for me, Woojin (99) for my sister.
My sister, being crafty and all, also made hand fans with the faces of our bias printed on it! It was all last minute since she just finished the fans night before the concert. Her proudest moment was when a fan approached us asking where we bought the fans. We proudly answered that they're handmade. (There are too many "fans" in this paragraph but I hope you understand what I meant.)
We only had to line up for about an hour, and it was neither tiring nor boring at all. We were starting to feel incredibly excited, seeing all these fans dressed to express their love for their bias and hearing Wanna One songs being blasted from the speakers. I don't watch that many performances nor do I watch that many fancams. But I listen to their songs a lot especially when I'm at work, so yes, I was so excited to know that I'd be hearing the songs live!
My Overly Detailed Impression of Each Member
First, I just want to say that they have exceeded all my expectations. I knew they're amazing performers. They were after all voted into the group out of 101 trainees! But I was still blown away by their performances.
Even though I was watching Bae Jinyoung 50% of the time, each member still left a pretty big impression on me. As my sister put it, I pretty much screamed for everyone.
Also, can I just say that Wanna One is such a visually pleasing KPOP boy group? It honestly makes me cry how they managed to put in one group 11 good-looking boys, who managed to have their own distinct charms and also look distinctly different from each other.
I love them, I love them, I love them.
Kang Daniel
Make way for the nation's center, everyone. He's definitely the king of fanservice, and I now understand why South Korea is the name of his fanbase. Seriously though, Kang Daniel is just meant to be a star. Despite being sick that day, he still gave his best and no one would have known that he wasn't feeling well if he didn't say it!
His solo performance was soooo amazing, and I wish we can see more of his modern dance skills. For me, that's when he shines the brightest.
Ha SungWoon
Somebody give this boy a hair commercial! He should be a Pantene model or something. Out of all the Wanna One boys, his hair looks the best everytime he dances. His hair was flowing with his every dance move.
Ha SungWoon looked so good on-screen and he sounds so amazing live! I always view him as a vocalist, so I was genuinely shocked when his solo was a dance performance. He was seriously amazing, and he brought the house down everytime his face appeared on screen.
I think apart from Jihoon, Guanlin, and Daniel, SungWoon has one of the largest fanbase in the country.
Yoon JiSung
Honesty time! I didn't care much for Jisung before the concert. You can hate me for saying that, and I'll gladly accept it. Wanna One is a large group, and it's difficult to love eleven boys equally, especially when I told myself that I will not be too attached to the group to protect myself from the impending heartbreak.
But everytime Jisung talked during the concert? I was thisclose to tears. I now fully understand why he was voted to be the nation's boy group's leader. He genuinely cared for the members, for Wanna One, and for the fans. He seems to be so genuine, and I love him for that. I was passionately screaming for him, too. And the fact that he seemed to receive the longest and loudest screams proved that everyone just loves Yoon Jisung.
My sister asked me if I noticed Jisung counting the members everytime they line up. I didn't, but apparently, he was doing it every freaking time, making sure that no member goes missing. We cannot ask for a better leader.
His stage as DJ Hankki is also the best one out of all the solos! It was literally a party on stage during his solo when the member suddenly rushed to the stage and started dancing freely to his music. He DJ'ed for Guanlin and SungWoon solo performances, too!
After the concert, he slowly climbed my bias list!
Hwang MinHyun
Is he even human?!?! Hwang MinHyun looked like a very handome wax figure, whispered to life and decided to be a KPOP idol. Out of all the members, he's the one who looked the most unreal. It's so hard to believe that he's human and not some earthly being who decided to grace the KPOP scene.
The first time a closeup of his face shown on screen, I gasped at how good-looking he is! I seriously have no complaints! Except why didn't he show his abs for his solo performance? The fans seriously don't care if he no longer has abs.
Hwang Emperor is not my bias, but my stares ended up going to him everytime they're standing together because his posture, his physique, and his physical are A++++.
Park JiHoon
How dare you, Park JiHoon, to look so insanely good? Everytime he was shown on screen, I had to remind myself that my bias is Bae JinYoung and not Park JiHoon. HUHUHUHUHU. He looked so good.
Can you believe I used to think that he looks ordinary? Yeah, I was insane.
I think Daniel and Jihoon had the most fans, and you can seriously notice it the way the arena was shaking everytime he was shown on screen as the fans go wild screaming. Half of that scream probably came from me.
Jihoon had such an amazing command of the stage, which I seriously didn't expect! His dance moves aren't showy and his parts in songs aren't the killing parts, but when it was his turn to take the spotlight, he delivered and he took full command of the stage. His stage presence was seriously no joke.
Lee DaeHwi
I was so surprised with Daehwi's visuals in real life. He looked amazing!
After watching the concert, I now understand why DaeHwi was chosen as Pick Me's center. He was born to be on stage, and he knew perfectly well where to look, how to project, how to entertain, and how to give his best in every performance.
I have to agree with other fans on this one, beause yes, DaeHwi was glowing that night. Maybe it's because it was the last stop of their world tour. Or maybe he was so happy that the Filipino fans are singing along in pretty much every song. But he looked so happy, and a happy DaeHwi is always welcome in my book.
I didn't like him when I first started watching Produce 101 (shame on me!), but he grew on me and I eventually realized that he truly deserved a sport in the top 11.
DaeHwi is a sweetheart and he deserves the world.
Kim JaeHwan
My sister said that JaeHwan is probably my true bias and I should just really accept this truth. Well, JaeHwan isn't my bias but I love him!
Obviously, he sings amazing live. He sounds like an angel and his voice sounds so angelic. It's crazy how his voice seems to change and transform to fit any type of song. He sings ballad songs really well, but his voice sounds great in pop songs, too. His voice is definitely the one that adds flavor to Wanna One songs, and to hear him sing live made me want to cry.
It's surprising how his face looked so slim in real life, because I was expecting mochi-like visuals. But wow, he's so handsome! I find it difficult to take him seriously after seeing his personality in variety shows, but he's a true artist and I can respect him sometimes, hehe.
https://www.youtube.com/watch?v=zMyY-50v_ZM
Ong SeongWoo
Ong was the reason why I started watching Produce 101. His face kept popping up on my Twitter timeline and I couldn't believe a face like him existed on KPOP and why the hell don't I know him? I felt so blessed that I finally saw his gorgeous face in person.
He was the first person I liked in Produce 101, so I already knew he'd be amazing live. His dancing and singing were so spot on.
Aside from Daniel, I think he's the other member that just kills it when it comes to fanservice. He knows exactly what the fans want and what can make the crowd go wild. When he sat at the middle of the stage so he was almost at eye leve of the audience, I almost died just imaging how the fans in front were probably feeling at that moment.
And let's not forget his "Akin ka na lang" moment that most definitely caused heart attacks among the fans at the venue.
Park WooJin
I want to make a bet that Woojin asked their stylist to change his hair color to blond so that he'd stand out at the concert. And stand out he did, because he's seriously the one member you wouldn't miss the entire time. But I also want to bet that even with black hair, it's impossible to miss this hyperactive child.
He was everywhere. He's definitely the moodmaker of the group, even at the concert!
I love Woojin the best when he's dancing because that's when he transforms. The shy kid in Produce 101 becomes a monster when it's time to dance. The silliest Wanna One member becomes a charismatic performer on stage. He has a switch that he easily turns on and off when the situation calls for it. Honestly, I love both sides of him.
His rapping also improved so much, and his voice is so distinct that even amid the noise and screams, his voice slices through everything.
When my sister is sending me Woojin pictures, dancing videos, and silly anecdotes at least twice a day, it's kind of difficult not to acknowledge his charm. And to witness all of it live? I had to stop my Woojin bashing for like two hours.
Lai Guanlin
Baby chick grew up so well. I felt like a proud mother every time Guanlin is being shown on screen.
Guanlin baby didn't look like a 17-year-old child on stage. He looked like a man, and he acted like one. The way he carried himself on stage was so charming and manly, so different from the Guanlin who couldn't dance Nayana. I am crying.
His skin was flawless, and I honestly think he has the best skin among the boys. I know it's weird to comment that, but he's just so good-looking in real life! It doesn't hurt that he's incredibly tall, too, so it wasn't easy to miss him.
But more importantly, he's shaping up to be a pretty good rapper. His rapping also sounded so distinct. It seems like when it's finally his turn to sing or rap, the arena quiets down for a bit to let his voice shine.
His presence commands attention. It was hard to believe that this is someone who couldn't even grasp the choreography of one dance at the start of PD101. See how much he has grown?
Bae JinYoung
Oh, Baejin. Where do I even start? If there's one word to describe Bae Jinyoung, it's INTENSE.
He was a captivating, exhilarating, wonderful performer. I get teary-eyed when I remember his stages where he danced as if it was his last chance to be on stage as a performer. Knowing how much he worked to be where he is right now, he probably considers every stage as precious as the previous one, as important as the next one. He loves the stage and you can see it with the way he gives his all in every performance.
There were eleven boys on stage that night. But like a true blue stan, my eyes kept following Baejin anywhere he went on stage. He's not the best singer (that's JaeHwan!) nor the best dancer (that's WooJin!), but I honestly believe he's (arguably) the most passionate member. I know it's not something that can be measured, but he gave his all in every song and it showed.
The boy who couldn't lift his head up during the skill test is now an artist who stirs and touches hearts through his performances. Every time his closeup was shown on screen? My heart went wild at how intense he looked. He was just so into it.
There were times when he looked too lax on stage when they were just talking, but then they show him on screen and he was all smiles and crinkly eyes. He didn't talk much, but once the music started, he transformed into a different Bae Jinyoung.
Bae Jinyoung slowly crawled his way into this noona's heart. I didn't want to get too attached to the boys because I know they'd eventually break up, but seeing his passion live was enough to make me be a #Wannable4Lyf.
Ikaw rin ang aking mahal, Baejin!
My sister asked me if I now love Baejin over MXM's Youngmin (my PD101 one pick!) and I couldn't answer. But even my number 1 KPOP bias Shim Changmin is shaking right now, because I love Bae Jinyoung so much. Heeeeeeelp.
Five Favorite Stages
If every stage was burning with passion, is it really possible to pick just five that I love? I tried and it's probably the most difficult thing to do when I'm still feeling high because of the concert. But still, here are the five songs that made me feel feelings.
Always – Maybe it's the Produce 101 fan in me that made me choose this song as my favorite stage, but I got so much chills when the fans sang along with them. When they sang this one, I felt it. All the joys and pains they went through since they were a trainee to now that they're dominating the local and international KPOP scene.
Boyeo (Day by Day) – This isn't one of their title songs, but I think anyone will agree that Boyeo is one of the best things that happened during the One the World tour. Whoever made the choreography surely knew what the fans would like, heh. Also, can I just say that this song is made for Bae Jinyoung? Thank you, dear choreographer!
Burn It Up – Knowing the meaning of the song and witnessing the journey of these boys, it was befitting that it was the first song in the setlist. I only cried once during the concert (DON'T JUDGE), and it was during this song. I felt so so so proud of Wanna One and how much they have achieved and will continue to achieve.
Eleven – I find it funny that among the unit songs, they decided to give the sexy song to the maknae unit. But they delivered! Guanlin, Jihoon, and Baejin were out to steal noona hearts that night and they succeeded.
Energetic – This remains to be my favorite title song, because it fits their image so well! To see it performed live was so exciting because it's their debut song! And they're performing it at a solo concert, just a year after debut! To see it performed on such a big stage was overwhelming! More exclamation points to express my feelings!!!!
Pick Me – Okay, so I lied because I cannot pick just five, and I definitely cannot leave out Pick Me from the list. It's the song that started it all, and it will always be a memorable stage.
Runners up include: Kangaroo, Twilight, Gold, DJ Hankki solo, and IPU. I loved every stage, and I wish I can talk about each one but we'll reach 10,000 words if I do that.
It's crazy how they managed to pull off a successful concert when they'd been attending events three nights in a row. They also landed in Manila in the morning of the concert! The energy and passion they put on every stage that night amazed me. With every dance move, every high note, it was evident how much they love and value the stage they stand on.
Post-Concert Depression is Real ㅠㅠㅠㅠㅠㅠㅠㅠ
Almost a week has passed since the concert and the post-concert depression still hits me hard on random hours of the day. But don't worry, it didn't get bad enough for me to need counseling! Just enough to make me lost focus at work because I wanted nothing else but to be back in the arena.
A part of me kind of wish I didn't watch the concert because there's no turning back now. It kind of cemented my love for Wanna One, which I should have known would have happened. But who am I kidding, I am so glad that I got to watch their concert before they go separate ways by next year.
When the boys finally exited the stage and the arena finally opened the lights, reality finally sunk in that it's over. I was there. I felt it. I heard and saw everything. But it still felt surreal, the way it always does after you watch a concert. And it still feels surreal a couple of days later.
I will always love and be proud of Wanna One, and I consider it a privilege to have attended their concert. I wasn't even active in KPOP when I decided to watch Produce 101 in December, and look where I am now?
It's kind of hard to explain what these boys mean to me, because I started liking them during a weird time in my life when I pretty much struggled to look for reasons to be happy and positive. Then I discovered that pesky reality show that pretty much contributed to my overall happiness the past few months. What can I say, KPOP saved me again, the way it did a dozen of times before.
It'll never be easy to explain how watching a reality survival show about KPOP idol trainees working hard towards their dreams, doing anything and everything, motivated me that if other people have the will power to make the impossible possible, then maybe I do, too. Their passion moved me.
I guess that's why I particularly love Bae Jinyoung and Lai Guanlin. At the beginning of the show, who would believe that they'd debut and become amazing performers that they are today?
To see these boys be successful and deliver one amazing stage performance after another made me cry happy tears. After all the hardships and struggles, they were finally standing on the world's stage. I will always be thankful and proud of Wanna One.
It might sound silly for non-fans how a 28-year-old professional like me would spend three nights just typing this blog post about that one KPOP concert. But it'll never be easy to explain what KPOP has brought to my life and how it continues to bring me joy years after I became a fan.
That night Wanna One caused so much inexplicable joy and love for every fan in that arena. It hadn't been a year for me since I got to know them, but I'll forever be thankful that I got to have that memory.
So thank you, Wanna One. Thank you for one memorable concert.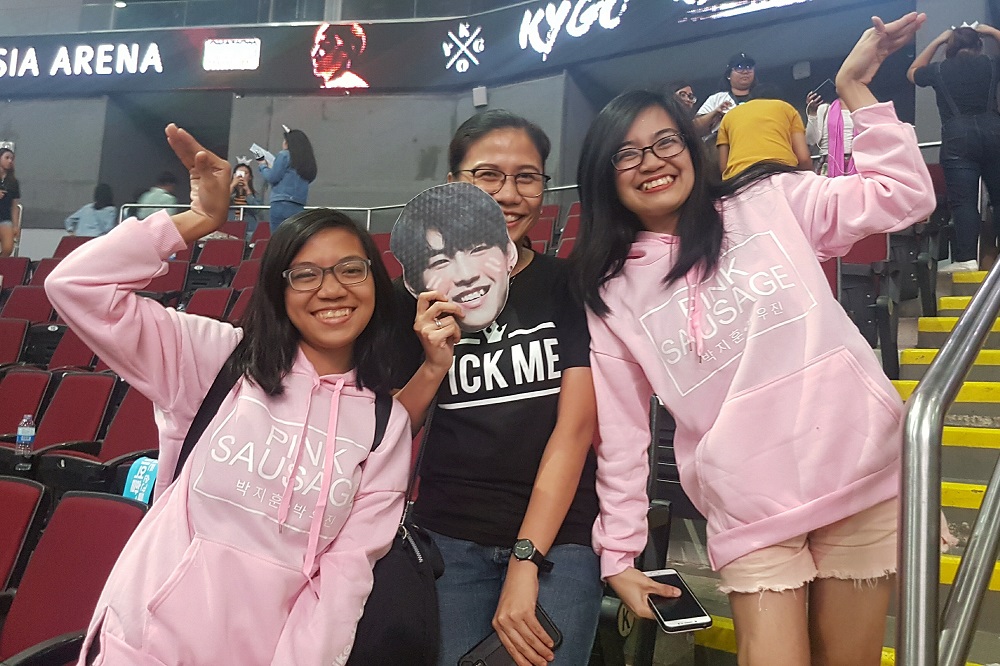 Ate posing with Pink Sausages fans. We love sweatshirts!