[UPDATE 04/14/2018: Hello! I've been receiving messages telling me that the National Taiwan University wasn't used as filming location for Meteor Garden. I doubt this post is popular enough to drive hordes of MG fans to the university just to take photos. But if my post, in some way, has contributed to that, then I apologize. Taiwan has recently been visa-free for many countries, and that might have contributed to the influx of tourist? I'm not sure.
In my defense, I did some research before going and some blogs did say that the university was used for filming. I'm still not sure what's true and what's not, so if you plan to visit the school, then please note that there's a likely chance that it really wasn't used for filming. Thank you and apologies for the confusion. 🙂
UPDATE 07/21/2018: A friend recently visited Taiwan and came back with proofs that the university was indeed used as one of the filming locations of the first Meteor Garden. She visited the exact spot used for this scene, and yes, it was in NTU. :)]
It was May 5, 2003 when a local TV channel first aired Meteor Garden. I was 12 and prepubescent and was deeply attracted to the four Taiwanese boys who ruled Ying De University. So when people asked me why I decided to travel to Taiwan, I wasn't joking when I said it's because I'm a Meteor Garden fan.
Surely, San Cai, Hwa Ze Lei and Pineapple Head no longer roamed the grounds of the fictional Ying De, but there's no stopping us from visiting National Taiwan University, one of the campuses used to film Meteor Garden. It's in Taipei and easily accessible from the subway, that's why we opted for this instead of going all the way to Chiayi County for National Chung Cheng University.
It was our last day in the country when we visited National Taiwan University. After spending the morning at Yeh Liu Geopark in New Taipei City, we rode a provincial bus en route to Taipei that passes through NTU. It was a long and bumpy ride, and we almost fell off our seats a couple of times. We almost missed our stop, too, because we all fell asleep!
Since we had a flight to catch that night, we could only spare an hour to roam around the grounds of F4's Ying De University.
I didn't know what to expect before we got there. We had no plans on what to do once we get there, because I couldn't find enough information online.
Will we blocked at the entrance? Will I remember any scene from the drama?
Those are just some of the questions on my mind when we got off the bus. To our relief, it was an open university. It was a Sunday and not a lot of students were around. Still, there were no guards to avoid nor gates we had to trespass to get inside the campus.
Our first thought when we got inside was that it looked a lot like our beloved UPLB! Marianne, Cherith, Dex and I are all  UPLB alumni, and we cannot help but be reminded of our alma matter. I posted a photo of the long driveway and college friends thought it was Elbi. I would have thought so, too, if I didn't know better.
Also, it's where F4 first appeared in Meteor Garden! Remember the car scene in the first episode?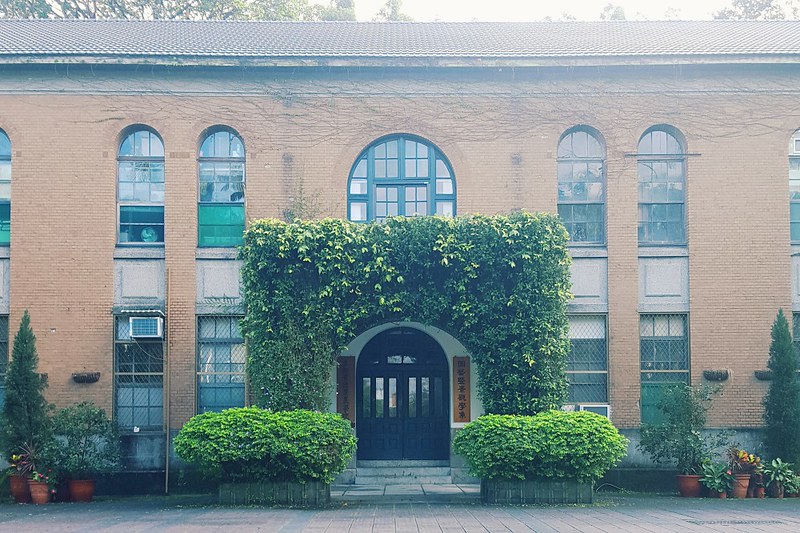 I honestly cannot remember much from Meteor Garden, but Marianne is obviously the bigger fangirl (haha!). She kept pointing places where some scene happened. I should have watched Meteor Garden before my Taiwan trip.
We weren't the only tourists that day, too. There were other people walking around and taking pictures. Some tourists were even on bike! But I have to admit that we were probably the only non-locals touring the campus. I bet they're not there because Meteor Garden was filmed at NTU.
Prior to the trip, I read online that even non-Meteor Garden fans will adore the place because it's a beautiful campus. And I wholeheartedly agree. It was a big campus with a soccer field, tennis and basketball courts, and a lake!
An hour wasn't enough to explore the whole campus. We only followed the trails and didn't get to enter any building. I wanted to but we were pressed for time.
Bicycle seems to be the main mode of transportation because there were more students riding a bike than walking. I was particularly fond of this one moment when a group of college balls all riding bicycles passed by us and they were singing Adele's "Hello." It honestly looks like a scene out of an anime or a coming-of-age Taiwanese move (see: Blue Gate Crossing).
Oh youth, such a sweet, sweet thing.  And yes, I know saying that makes me sound old.
Thank you to Cherith and Dex for cajoling our fangirl tendencies. Marianne and I first bonded over our love for Zai Zai (Multiply days, heh), and it was exciting that we got to realize our teenage dreams! After all, it was also our love for Meteor Garden that prompted the trip to Taiwan.
I hope I made my 12-year-old self proud. I thought growing up and adulting would turn me into a corporate robot who only thinks of working, paying the bills, and being super serious about life. Though I worry about the usual adult stuff, I'm quite glad that I'm still passionate about my hobbies (watching Asian dramas and movies, lol) and likes (chinito boys, double lol). I'm also still very silly.
Our winter trip to Taiwan was perfect in all levels, and this detour to NTU is just the cherry on top. But still, I'm so happy that I got to visit Ying De University!
National Taiwan University (Ying De University)
No. 1, Section 4, Roosevelt Rd, Da'an District, Taipei City, Taiwan 10617
+886 2 3366 3366
http://www.ntu.edu.tw/english/index.html
Directions to National Taiwan University
Via subway: Subway (Green) Line 3, Gongguan Station, Exit 3
From Taipei Main Station, drop off at Chiang Kai Shek Memorial Hall Station (Red Line) to transfer to the Green Line.
Gongguan Station is just three stops from Chiang Kai Shek Memorial Hall Stn.
Via bus: There are many buses that pass through NTU, and the nearest bus stops are the ones that stop at MRT Gongguan, Gongguan, NTU, NTU Sports Center, and NTU Science and Technology Department. Below are just some of the buses you can take when going to the campus.
MRT Gongguan Bus Route: 1, 52, 74, 207, 208, 236, 251, 252, 253, 254, 278, 280, 284, 290, 311 505, 530, 606, 642, 644, 648, 660, 668, 801, 907, G1, G13
NTU of Science and Technology Bus Route: 1, 207, 275, 650, 672, 673, 907, 1032, 1552
Gongguan Bus Route: 1, 207, 275, 650, 672, 673, 907, 1032, 1552, Dunhwa line
For more travel posts about Taiwan, you can follow this Winter in Taiwan tag. 🙂