Some travel stories start on the first day of exploring the city. But let me begin my Taipei travelogue with a post about our lovely little hostel. Sunny Hostel may look simple from the outside, but from the moment we stepped inside the hostel, we knew that we'd love our stay. Some hostels meet expectations, and then there's our accommodation that exceeded all of it.
We booked quite late, and we were already panicking a little because looking for an affordable hostel in Taipei wasn't an easy feat. Rare are those that offer free breakfast, and we had little idea about the locations of the accommodation. So you can say that we chose Sunny Hostel just based on the photos on Airbnb. And I'm so glad that we judged it by its cover.
We arrived in Taiwan a little past midnight, and we arrived in Taipei later still. It definitely wasn't easy navigating our way around a cold city in the middle of the night and with streets devoid of people and cars. And there's really no better place that could welcome and offer shelter from the cold than Sunny Hostel. Though we didn't have the easiest time locating it, we still found ourself safely inside the place we'd call home for four days.
We finally arrived at our hoste a little past 3AM, with all the lights, saved from ones in the pantry, already closed.  The hosts weren't there to welcome us, but we received special instructions on how to let ourselves in and how to make ourselves feel at home. Immediately, I knew I'd love it there.
Sunny Hostel opened late last year, and our hosts told us that we're one of their first guests. Despite being new in the industry, they've already shown top-notch hospitality. I have no qualms recommending it to anyone visiting Taipei.
Numerous reasons why I love Sunny Hostel:
Our hosts were awesome!
Nothing beats having hosts who will write you handwritten notes and offer to send your postcards for you. From day one to day four, we only received warmth and hospitality from our dear hosts.
They were keen to help us with every dilemma. Just ask them anything and they'll willingly assist you. And when they did not know the answers to our questions, they researched the answers for us! I know it's their job to be helpful, but they do it in a way that make you feel like they're just really happy to help you. I'm not one for big conversations with people I do not know, but they're fairly easy to talk to.
We had the best room ever.
I kind of hate myself for not taking a gazillion photos of our room. It's too bad since it's one of the best features of the hotel. I fell in love at first sight with my bed, because it's all white and soft and comfy! Unsurprisingly, waking up every morning was the greatest challenge I faced in Taipei. It's seriously one of the most comfortable beds I ever slept in, and can someone please take me back?
There's a double deck in our room that could easily sleep 6 people–8 guests maximum. There were only four of us, so it's like sleeping in a queen-sized bed. Sinking in my comforter after walking around the cold city all day was the best ending to an awesome day. I seriously miss my bed and my duvet and everything.
We also had a great view of the 228 Peace Park! We basically base what to wear and how cold it was judging on what the people walking outside were wearing.
Aside from the bed and the view, the room also has amazing features:
It has its own bathroom that's cleaned daily. Heater is also available.
Toiletries are provided.
Towels are changed daily.
There's also a hair dryer!
Night lights are available.
There's an abundance in power sockets. In fact, there's one next to every night light.
Rooms are cleaned daily as well.
The room was spacious enough for four us, but using the bathroom could be a challenge if there were 6 guests sharing. Other than that, I have no complaints.

The pantry is well-maintained.
Breakfast isn't included in the room package, but it's okay. We enjoyed having breakfasts at cafes, anyway. Still, we spent quite a lot of time in the pantry. It's small, but it's never full that you wouldn't have any place to sit.
Coffee and tea were also provided to the guest. We also refilled our water bottles everyday. Kitchen utensils are available, and the guests are welcome to cook, too. It all feels so homey.
The hostel has really nice interior.
Despite the modern architecture, the hostel is styled perfectly for every budget traveler to feel right at home.
There's a giant chalkboard with cute doodles, and it's also where the wifi password was written. A cabinet right next to the reception was also peppered with photos of their previous guests. Before checking out, they took a photo of our group, too!
Aside from the long dining table at the pantry, there were high tables and chairs for those who prefer to dine solo. Of course, sharing is caring, so don't hesitate to share the tables with other travelers, too.
The lighting was pretty much perfect, too. It sets the atmosphere of the hostel. It's homey, welcoming, and warm. Yet, it also has an industrial look to it that gives it a little edge.
Sunny Hostel can be found in a convenient location.
The closest MRT station is NTU Hospital station, but Taipei Main Station is just a couple of minutes away. From Sunny Hostel, you can also reach famous landmarks on foot!
Some of the tourist hotspots within the vicinity are:
The Presidential Palace
Chiang Kai Shek Memorial
228 Peace Park
Ximending
You can imagine how much you can save on transportation!
There are also tons of restaurants and cafes nearby. You're never too far away from your daily dose of bubble tea or coffee. The nearest convenience store is a 7/11 just right around the corner. The neighborhood is perfectly safe that we felt comfortable walking around outside at 3 in the morning.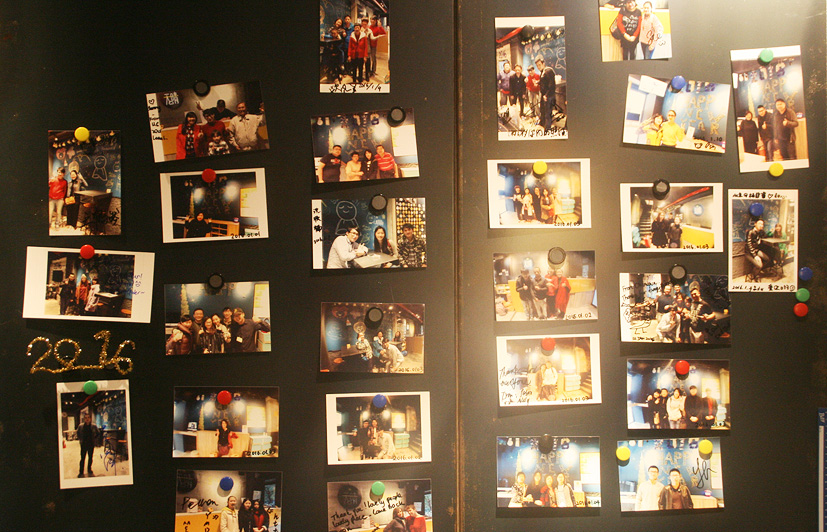 Other notable features:
Two desktop computers are available for guests to use anytime.
The wifi is available in all rooms and communal spaces. It's also pretty fast!
You can't wear shoes inside the rooms and the common rooms. Shoe lockers and slippers are available in the lobby.
The only cons I can think of:
There's no elevator! But it's okay, since it's a hostel after all.
No breakfast. I do wish they have a breakfast option for guests. Bread, cereals, and eggs can go a long way.
The walls were pretty thin, and voices from the lobby can be carried all the way up to the rooms! So yes, it's best to avoid making unnecessary noises. (But they were pretty nice about it when our laughter got way too loud! Haha!)
Coin-operated washers are available for all your laundry needs.
For a very new hostel, they're doing a lot of things right! So yes, I cannot think of other downside in staying here. In fact, I also don't mind staying in this hostel again the next time I visit Taipei!
We definitely enjoyed our stay, and I will gladly recommend this to anyone visiting Taiwan.
Sunny Hostel
Huaining Street, Zhongzheng District, Taipei City, Taiwan
Service@sunnyhostel.com.tw
+886 2 2331 9391
http://www.sunnyhostel.com.tw/
https://www.facebook.com/sunnyhostel23319391
https://www.airbnb.com/rooms/10042751