Back in October (I think—I'm old and my memory's terrible), my family had a late Sunday lunch  in San Pablo. Instead of going to our usual (Si Christina!), I suggested we head to PatisTito Garden Café, a café and restaurant owned by the awesome Patis Tesoro.
PatisTito Garden Café, previously known as Kusina Salud, is part of Viaje del Sol, a culinary excursion  involving a number of artisan cafés and restaurants in Laguna and Quezon. Apparently, Viaje del Sol is Patis Tesoro's brainchild!
Upon stepping inside the place, we were immediately awed by the quirky and antique displays. The mix and match style of the tables and chairs, combined with the larger-than-life paintings and furniture probably decades older than me, makes the restaurant a worthy visit.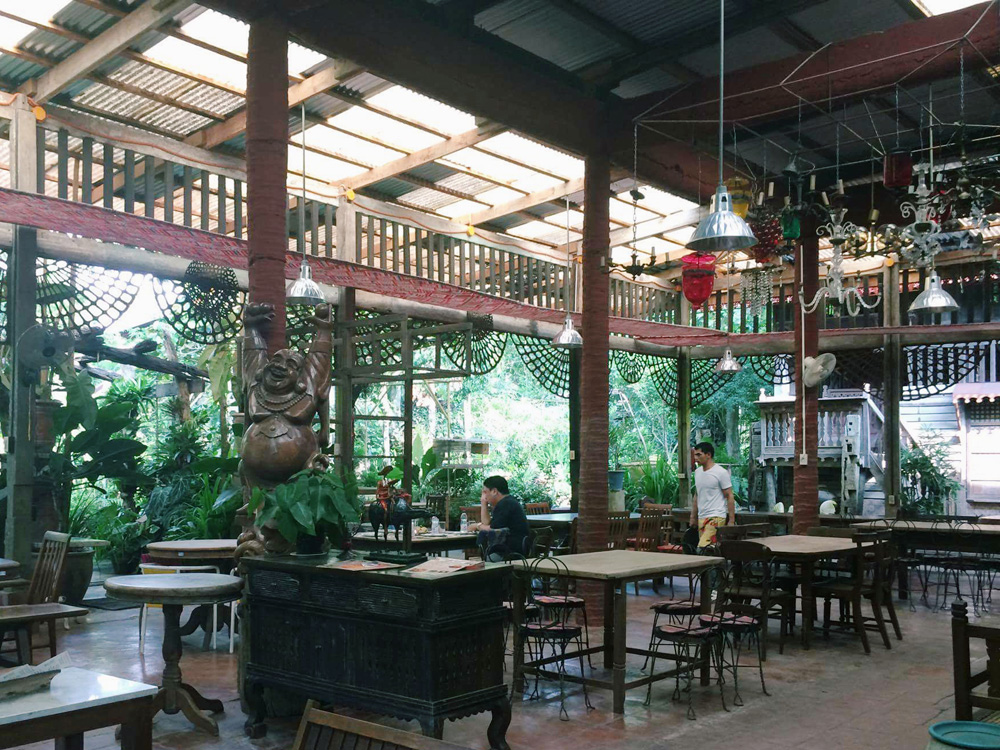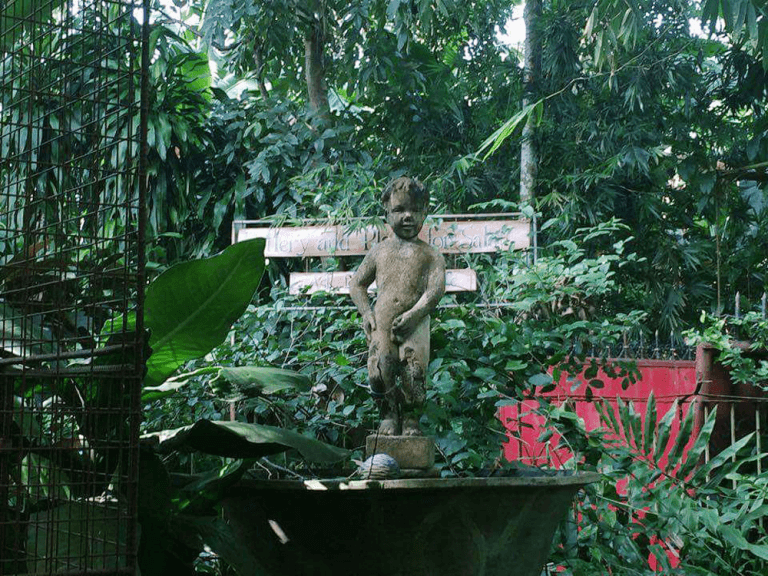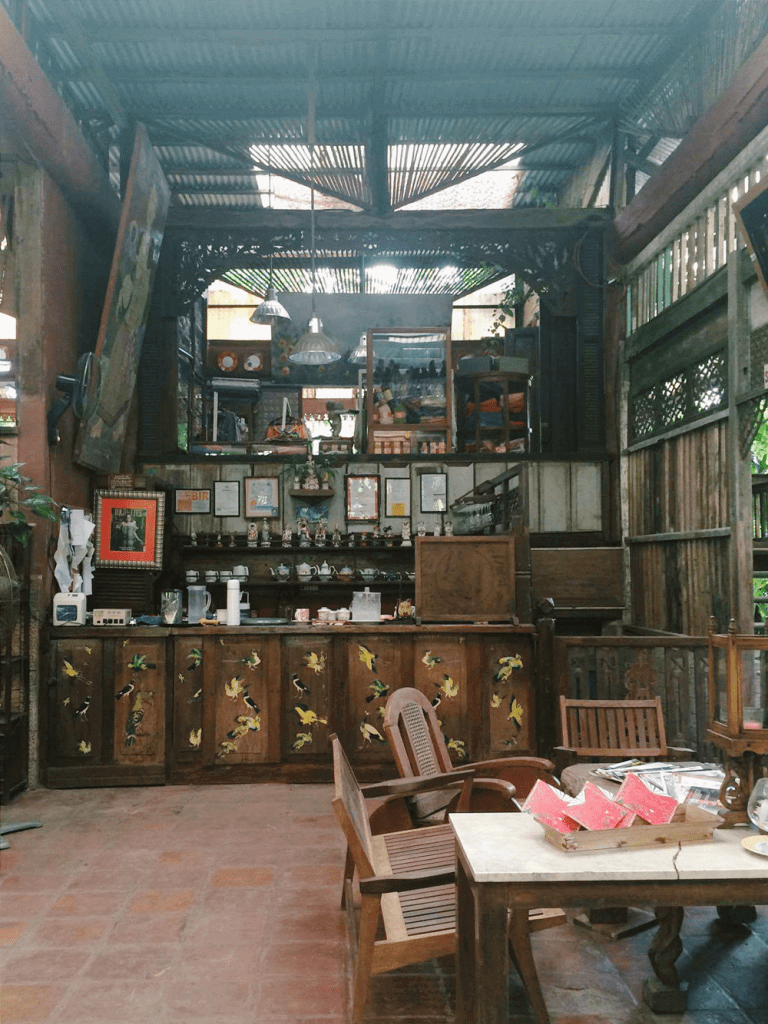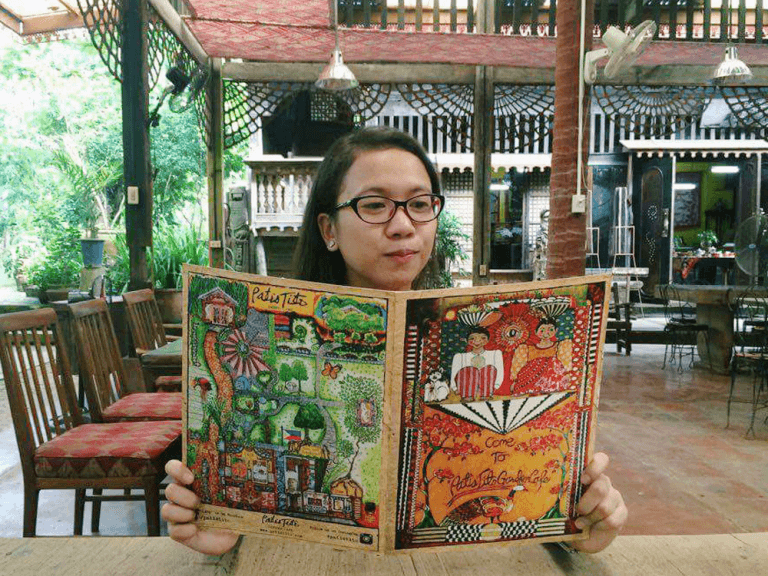 It was easy to forget that we were there to have lunch and not just to look around. Since it was already around 2 in the afternoon, we were the only ones there. We chose our own seats, and we were presented with one of the most artistic menus I've ever encountered.
Unfortunately, a lot of items one the menu weren't available! After a few quick selection, we were back to exploring every nook and cranny of the place. But of course, we had fun posing "candidly" for the camera, too.
It's moments like this that I wish I have a compact camera I can lug around anywhere. Phone photos just wouldn't suffice. But I doubt even with a good camera I'd be able to give justice to the charm and mystique of the restaurant.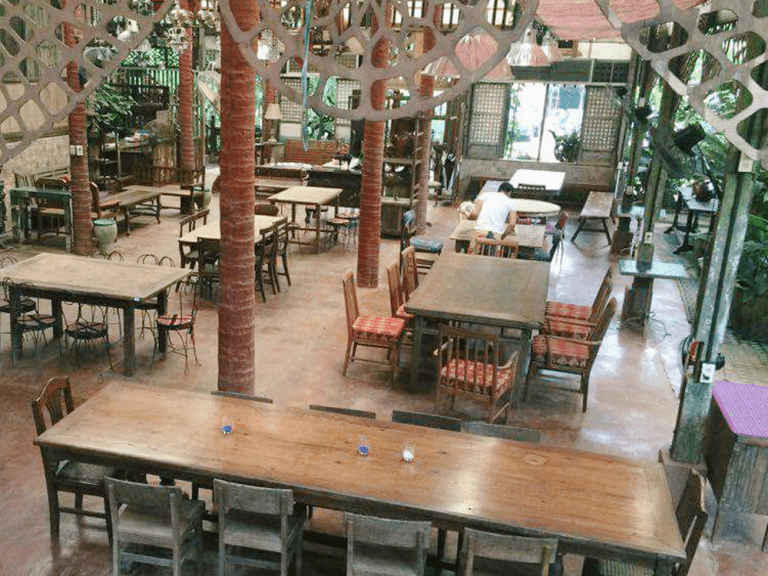 Aside from the restaurant, they also offer bed and breakfast! It was actually quite cheap, but stepping into the living quarters gave me chills. Though old houses are wonderful to visit and photograph, I don't think I can sleep in one! I'm too much of a scaredy-cat to sleep in an old ancestral house, no matter how grand or comfortable it is.
Further exploring lead us to the workshop, too! Patis Tesoro is one of the most renowned fashion designers in the country. It was pretty amazing to see the busy ladies making the clothes designed by her. We didn't stay long enough to watch, and everything was too expensive for us to buy, anyway.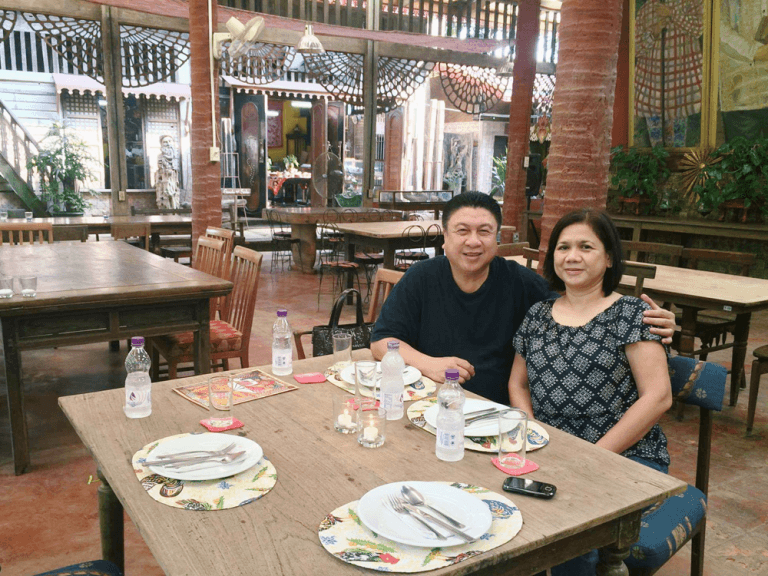 After waiting quite a long time, the food finally arrived!
I heard great reviews about the food, but I'm really sorry to say that we were disappointed. None of it was good enough to justify our bill. Though we enjoyed some dishes, overall it felt lacking.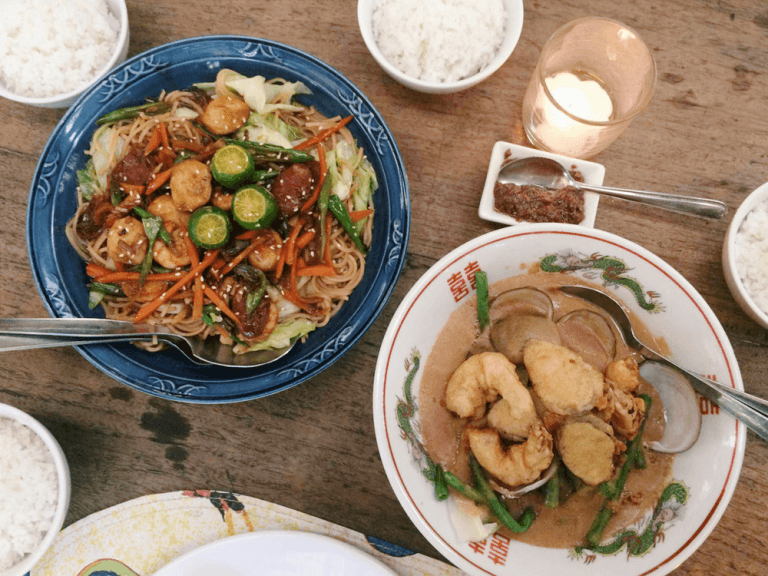 Pancit Canton, Seafood Kare-Kare
The pancit canton was delicious, though, and thankfully, it's the first one we tried. The seafood kare-kare, on the other hand, left little to be desired. It also didn't taste like kare-kare! Maybe it's because I like my kare-kare very peanut-buttery, but this one just really didn't meet the grade.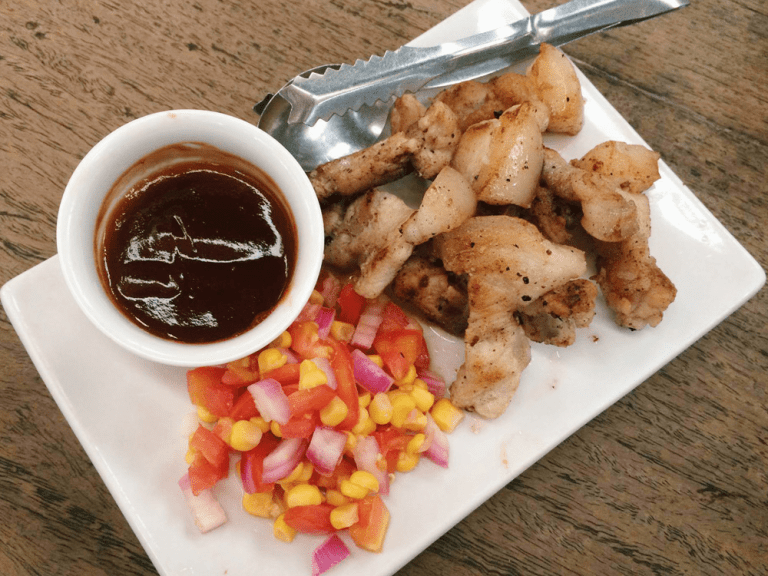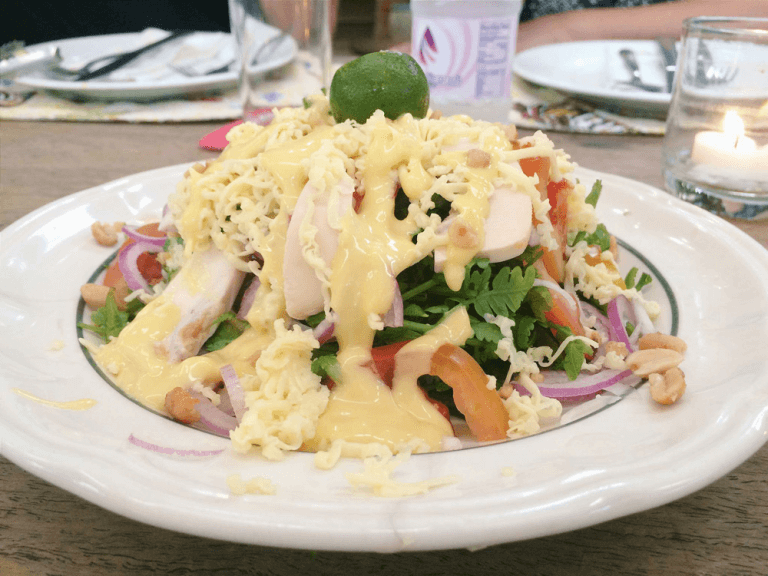 The pork chop was bland!  Presented nicely, yes, but it was very unsatisfactory. The Paco Salad saved the day, though. It was tasty, crunchy, and memorable. If ever we'd go back, I'll definitely order it again.
I have a feeling that my write-up is the only thing negative you'll read on the internet about PatisTito. Maybe our expectations were too high, or maybe it was just a bad day for the kitchen staff. But for hungry folks, the lunch wasn't filling nor satisfying enough.
To lift your mood after the meal, ask for their guyabano ice cream! It was the best thing we had, which I also failed to photograph.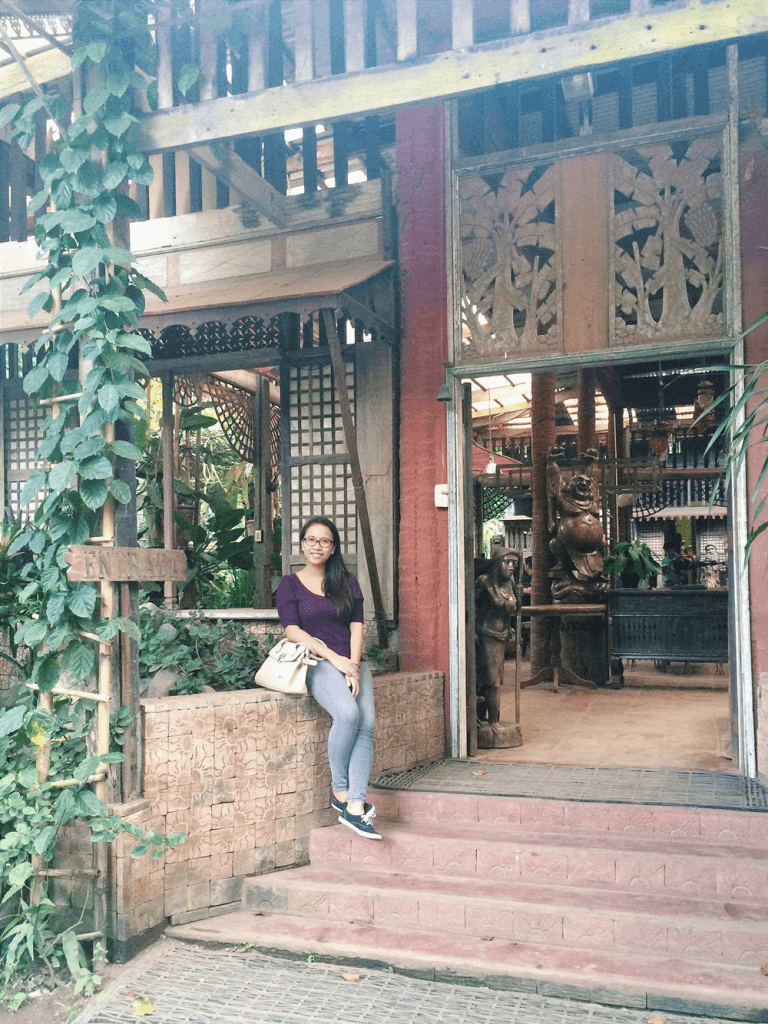 Despite the lackluster lunch, we still had a pretty good time. The restaurant itself is worthy a visit, and it was surprising to find such a charming place in our little city.
I used to think that there's not much to do in San Pablo, but there are new chic cafes popping out recently, and there are hidden gems like this one. I'm rarely home, but I'd love to explore more of my hometown.
PatisTito Garden Café
285 Putol, Barangay Sta. Cruz, San Pablo City, Laguna
Tues – Sun 8:00AM – 6:00PM
+63906-443-9092
http://www.patistito.com/