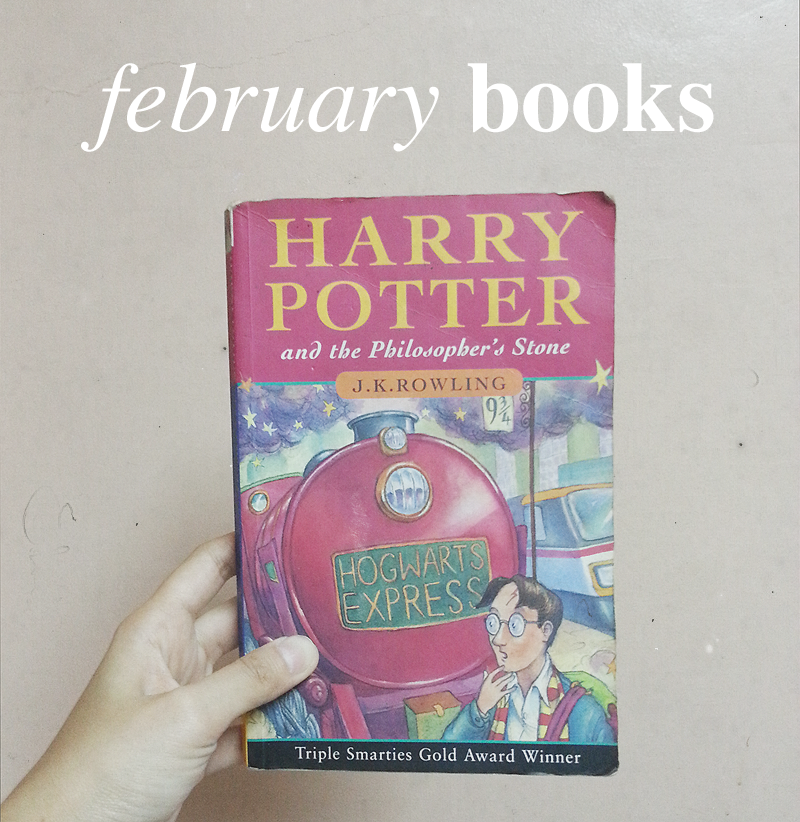 In the movie About Time, a time traveler confesses that he uses his power for reading. When he suddenly has so much time in his hands, he opts to read books. If I also had such power, I'll probably do the same. I seem to have not enough time to read lately. And February was a testament that I'm a slow-reader, and probably a "busy" person who procrastinates.
I only read two books last month, and it was a s t r u g g l e to finish them. To think that one is a Roald Dahl book that I can finish in one sitting, it actually took me weeks. So I'm either really busy or just really distracted. I think it's the latter mostly because of this crybaby namja. I promise to do better this month! I try to squeeze in at least 30 minutes of reading everyday. Heh. Probably not enough but hopefully it gets me somewhere on my 52 books challenge!

Harry Potter and Philosopher's Stone
by J.K. Rowling
This year, I decided to re-read the series because I haven't done that since the last book. I used to read the entire series before the release of the latest book and before the premiere of a new movie. But since the last, a re-read of the entire series hasn't happened. But I'm making it happen this year no matter what it takes.
It's amazing how after years and a hundred re-reads, the book has the same effect on me. The old jokes are just as funny. Harry's first visit to the Diagon Alley is still as awe-striking as the first time. Everything still feels fresh, and everything still feels magical. But somehow, reading the book is a bit more emotional than the previous times.
Here's the Harry Potter who fought the Dark Lord, who quit school to fight for his beliefs, who lead a group of rebel students, who protected friends, who  got tortured, who got ostracized, who went through so much. But that's years later, not in this book. Right now he's just Harry who discovers he's a wizard. Here's Harry who makes friends for the first time. Here's Harry who realizes that he can be loved and deserves love. One too many times I got teary-eyed for non-emotional scenes.
Ah, this book still affects me way too much. I guess I'm doomed to be a Pothead for the rest of my life, and I definitely don't mind.

George's Marvelous Medicine
by Roald Dahl
Sometimes, I wonder if Roald Dahl is drunk when writing. How in the world did he come up with incredibly weird and perverse plots? Also, I don't think he should be writing for children. Okay, that's not true at all because I love majority of his works. In fact, it's when I first read some of his children's books that I decided I want to write one myself. Anyway…
One day, George can no longer take the complaining of his old and nasty grandmother and decides to make a medicine to cure her. He takes all the liquid in the house and combines and boils it in a pot. He makes his grandmother drink it and the effect is instantaneous. It sounds like a dangerous plot, something no children should read without a parental guidance. What if children who read the book think of doing the same thing to their grandmothers?! It's a rather interesting story, but it certainly has me raising my eyebrows one too many times.
And just like other Roald Dahl books, I wonders what I'm supposed to make out of the story. I kinda felt like George when I finished the book. It starts with feeling nothing then gradually thinking that it's not so bad. Definitely not the best, but it's still a book full of wonder.

I'm in the middle of reading Neil Gaiman's M Is for Magic, and I don't understand why it's categorized as a children's book when the content is too mature, chincha! But I love it so so so much. Since it's just short stories, I read at least one a day, and I end up going to bed sad as a muffin. The stories are beautiful but many of them are hella sad.
Hopefully, I'll spend more time reading tomorrow. Happy weekend, everyone.