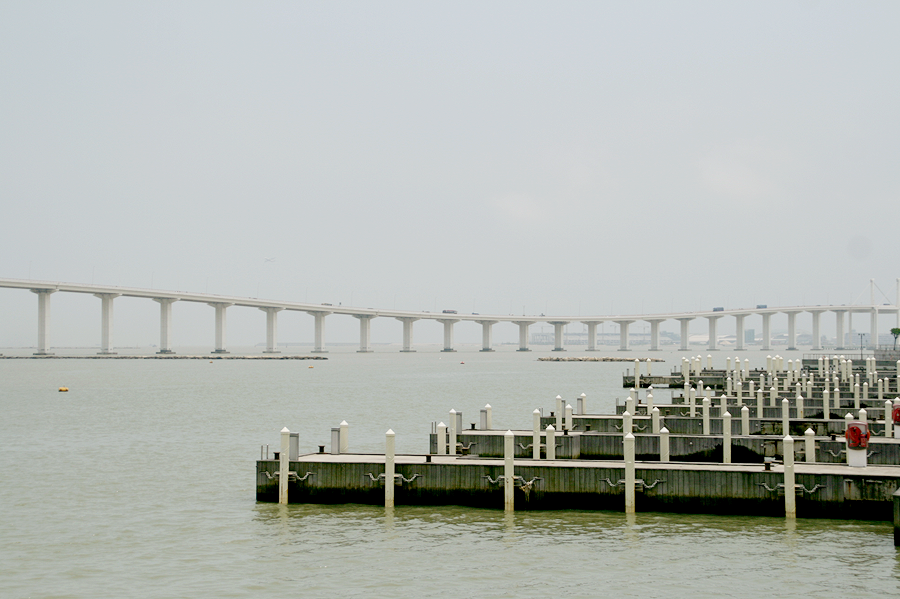 Macau had been one of my dream destinations ever since I started dreaming. Hee. It just seems to be such a quaint place full of fascinating history. And the fact that it mixes Asian and European architecture was enough to convince me that it IS a place to visit. And finally, after years and years of dreaming I finally went to Macau. I only spent a day in the place, and it really was lovely.
Macau is really small so I think a day is enough to see the best of the region. I didn't have an exact plan on how I could go from one place to another. I was in-charge of the itinerary (and pretty much everything else /sobs) so I was worried how we'll actually get anywhere! I couldn't find a decent how-to online on how the bus system works. But somehow, we managed because of the free shuttle services hotels provide. Yay.
So if you're also just planning to spend a day in Macau, you can use our itinerary for reference. We travel in a group of five adults and 3 kids so we were pretty slow. Haha.
Traveling from Hong Kong to Macau
To get to Macau by ferry, we went to China Ferry Terminal at Tsim Sha Tsui. From Mongkok we rode the bus 3C. Other buses that can take you to the terminal are  buses 14 and 238X. When we arrived at the terminal, we didn't have a hard time looking for the ticketing booths. We asked around the stores and just chose the one selling the cheapest round-trip tickets. (The ticketing booth we bought from looked like this.) The ticket we bought would leave in 30 minutes and for our return trip, we could choose any trip as long as it wasn't later than 10:30. It was a pretty quick ride and rather comfortable, too.
For a more detailed instructions on how to travel from Hong Kong to Macua, check out HotelsCombined's How to get to Macau from Hong Kong: A Family Guide, which also offers tips on transportation and accommodation in Macau.

Fisherman's Wharf
Our first destination was Fisherman's Wharf. We just walked there from the terminal. You'll reach it in about 10 minuts, I think. On the way to the Fisherman's Wharf, we also passed by many replicas of famous sites in Europe. Fisherman's Wharf is really pretty! I actually didn't know what to expect and was surprised when I realized that it was the first shooting location of Running Man when they were in Macau! There were less people, though, and by less, I mean there were VERY FEW people in the area. It's a bit baffling because it's the perfect place to dine and shop but I guess the fact that the weather wasn't very good was enough to turn off potential shoppers, locals, and tourists.
At around 2PM, we finally had our lunch! There were so many restaurants but not that many cheap-looking ones. Haha! So if you're on a budget, be prepared to spend a bit on dining in Fisherman's Wharf, or wait for the next destination to look for a place to eat. After lunch, we went to the Sands Hotel which is right across Fisherman's Wharf . They offer free shuttle service to Venetian. Yay for free bus rides! It's the first of many free rides that day.
It was incredibly rainy so I was a bit sad because these horrible fog was hanging around the city all day. It was gloomy and not even the type of rain that you'd think would disappear in a minute. It's not so bad though because it gives a pretty dramatic feel to our bus rides.
Venetian Hotel
We finally reached the Venetian hotel and it was crowded! I think it's one of the most popular destinations in Macau. It's the Venice in Asia after all, and it definitely lived up to the hype. I usually don't like crowded places but the hotel was just soooo pretty. From the lobby, to the food court (with affordable dining choices!), to the gondolas, everything was lovely. There were tons of shops, too.
A lot of shows were going on when we arrived but the crowd of people was too thick already that we couldn't see anything. We just walked around and still enjoyed it! We saw tons of people walking around in costumes and performing tricks. By this time, my camera's battery was dying I almost cried. Haha.
Isnt' the place pretty? I dream of staying in that hotel because the place was really pretty. It has everything!
Senado Square
Our next destination was Senado Square, but sadly, there's no direct shuttle service from the Venetian to the Senado Square. But one of the ushers in the Venetian said that we could take a shuttle from Venetian to Wynn Hotel, and from Wynn Hotel take another free shuttle bus to Grand Lisboa. And we did just that!
Wynn Hotel is another grand hotel, but since we were already running out of time, we could barely spend more time there. But we id look around and they had this show that's worth TOO MUCH. Haha. So we skipped it and just went downstairs to the bus stop. The bus took awhile to arrive, and we even befriended a Filipino working in Macau. The bus won't take you directly to Grand Lisboa but just near it. Instead of heading to Grand Lisboa, we took a left turn and went to the Senado Square. It was quite far, but maybe we were just really tired that it took us quite some time to get there.
Senado Square is basically a long cobbled streets with old buildings that lead directly to Ruins of St. Paul. There were so many people but the beauty of the place shines through. There are actually a lot of attractions such as historical buildings, museums, etc., but it was already late afternoon and wanted to reach the ruins before the sun sets.
We entered St. Dominic's Church, though, because it was a sunday! We just couldn't decide whether the mass was in English, Spanish, Mandarin or Latin. Yes, I think we heard the mass differently. Haha! There were tons of other churches we would have visited if only time wasn't running out.
I was on the lookout for a very special store that sells egg tarts because it appeared in Boys Over Flowers and because I love egg tarts. Good thing it wasn't hard to miss because of the big egg tart with the smiling face and the TV playing Boys Over Flowers. Heehee. We bought at the store a couple of times because once wasn't enough.
Don't the tarts look yummy? Whether you've watched Boys Over Flowers of not, you MUST try these egg tarts! It makes me want to cry just by thinking about it because I know that it's somewhere far from where I am right now. I now it sounds overly dramatic  but it just really tastes heavenly. I brought home a box and it still wasn't enough. /crying
Sadly, the life of my camera battery couldn't even last till we reach the Ruins of St. Paul! I luckily snapped a photo of this couple who's probably having a pre-nuptial photoshoot in the middle of Rua de Sao Paulo. That day, I actually saw THREE pre-nup photoshoots! I guess it was pretty common in Macau? I'm not sure. Haha.
Anyway, I love Rua de Sao Paulo! It's just basically a street full of stores that allow free tasting! BEST STREET EVER. I swear, every store offers free taste of their products and you can just basically taste everything then come back for more. Can't remember how much I did that. Haha. It's pretty shameless but I swear I ate some pretty awful tasting food, too. Fortunately, I tried more amazing stuff than awful ones. You'll either be tasting beef jerky (which I love!) or pastries from Koi Kei. It was my favorite part of the entire trip. Hehe.
At the end of Sao Paolo, you'll finally see the ruins of the cathedral. Too bad that we reached the Ruins of St. Paul when it's already dark, but it has its charm at night as well. You'll have a pretty grand view of Macau at night! Also, the ruins was still pretty even at night. 🙂
That concludes our Macau trip. It was already pretty late, thus, we had no more time for dinner. Besides, we were already pretty full from the food-tasting we did. We initially planned to walk back to Grand Lisboa to take a shuttle bus ride to the Macau Ferry Terminal but my little cousins were too tired already. We just headed to the nearest bus stop and decided that maybe for once, we could pay for the bus ride. Haha.
If you really know how to utilize the free shuttle bus rides, you can go anywhere and everywhere in Macau for free! You can check out this blog for a more detailed guide to the free shuttle buses.
I want to go back to Macau because I know that there are tons of other things I can do. I want to see the ruins at daylight. I want to visit Galaxy Hotel. I want to have a tour of all the old and historical churches. But I think I'll be moving it down a few notches in my list of destinations. But I don't think I'll be taking it off my list. Macau is pretty amazing, and I really won't mind going back.