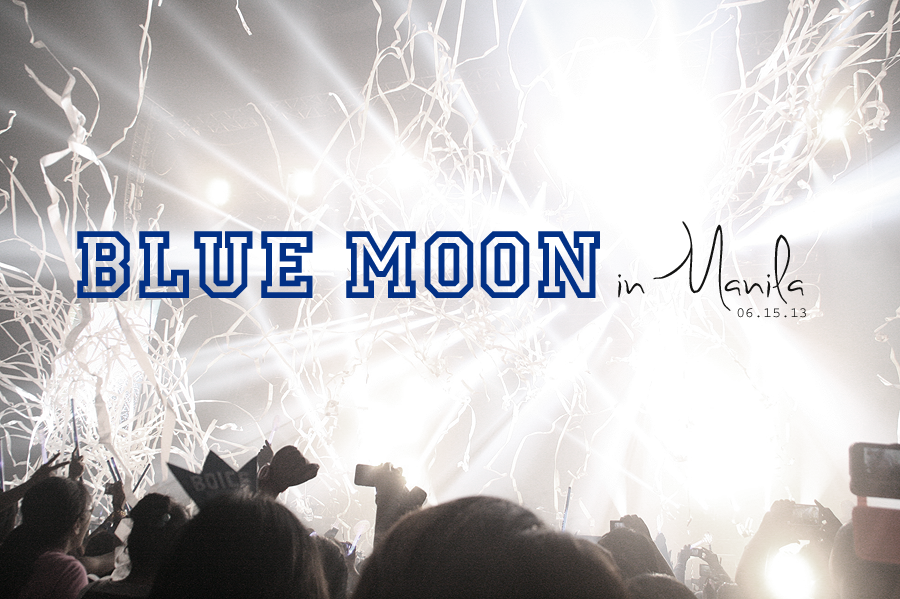 It was a lucky, lucky day when Ate Karen convinced me to watch YongHwa's stint on We Got Married. If not for WGM, I wouldn't have been properly introduced to CNBLUE. After the rather painful thing that happened to the old DBSK, I promised to never love another boyband. Heck, I even laid low from KPOP for awhile. Then there I go spiraling down another KPOP love. CNBLUE brought me back to KPOP, and I can't be happier about that!
All biases aside, Blue Moon is DAEBAK! I seriously can't think of another way to describe the concert. The boys are amazing live. I know they're amazing live, I've witnessed it before. But they're in a completely different element when they perform in a solo concert. It feels like they're not holding back on anything. Maybe it's because they know that the audience is full of Boices already, so they no longer have to think about upholding their image or even about gaining new fans. We're wholly captivated already.
It's such a precious memory to me, especially that Iris and I were moved from lower box to VIP. It upped the excitement and the level of experience by a mile! I just want to bottle up the entire experience and bring it with me wherever I go. And whenever I'm feeling bored with life, I can just re-watch the entire concert without having to miss a single detail! However I didn't take a single video, but it's enough for me to remember everything! The feeling of being there, anyway.
I was a bit sad when I learned two of my favorite songs, Lie and Love Rides the Rain, weren't included in the setlist, but that night, I at least got to love a few more songs. Some of them are really meant to be sung live before you appreciate them! I also realized that I haven't heard some of their songs before.
Though I sat closer to JongHyun, it was really YongHwa that caught my attention the whole time! Or maybe because he's my bias? Haha. But seriously, he was just so freaking hot when he performs. He has the type of charm that knows how to liven up the atmosphere. He just knows how to raise the energy of the crowd! His dance steps should also be applauded. It had me in stitches everytime he'd dance. It's just so awkward. But cute and choding-ish. Dear YongHwa, please dance more!
But it's not just YongHwa who knew how to interact with the audience. The four of them really tried to connect to the crowd despite the language barrier. They introduced themselves in Filipino saying, "Ako po JungShin" or "Ako ay JongHyun" and even "Kami ay CNBLUE!" and it was really an effort that paid off. They shouted "Sigaw!" and asked "Masaya ba kayo?" Seriously cute.
JongHyun, oh JongHyun.
There's something about JongHyun and his quiet personality that makes the fangirls scream. Mehehe. He's so quiet. The three were talking and chattering so much during the concert, and JongHyun's being his usual self. Just smiling and laughing in his corner. But once he plays his guitar, damn.
Can I just, omg. I don't know how to even describe his passionate, burning performance. He's like possessed or something and you can do nothing but listen and stare and cry because he's so beautiful. Too bad there are too many cameras in front of me I could barely get a single shot. I can't even see him sometimes. Doesn't matter.
Feeling is a song I heard only days before the concert. Feeling is the song that cemented my love for YongHwa. I was just mesmerized the entire song, and I only took photos for posterity's sake. This is the song that made me love CNBLUE more.
JungShin Chingoo is as cute and funny as expected. I swear he was just so entertaining during their spiels! At first he wasn't being focused in cameras but due to his bubbliness (is that a word?), he was being shown more and more in the screen. My friend who was sitting right in front of JungShin said she fell for him even though MinHyuk was her bias. Haha! Jungshin just really knows how to entertain!
When they started playing Love Light, I had this sudden swell of emotions that I just wanted to cry my eyes out. And cry my eyes out I did.
How do I even explain Love Light? It's the song Jung YongHwa supposedly composed with SeoHyun in mind. It's the song that Hyun sang to Yong during their birthday episode in  WGM. Next to Banmal Song, it's the song that best represents the YongSeo. While listening to the song, I had this surge of emotions that I couldn't contain.
So I cried and cried and cried. And I was still crying even during the next song. Iris was there to witness it all. LOL. But I can't help it. I also couldn't stop saying, "Kay SeoHyun yun! Kay SeoHyun yun!" My gahd, I'm delusional. Haha. No shame, though. I'm a self-proclaimed Goguma!
I just love the song so much. I was hoping that YongHwa would sing the rap part. But he didn't. Then he joined in rapping during the "I'm a genie for you boy" part. That's when I cried. /le sigh
I didn't see it, but I heard from other fan accounts that the Gogumas sitting in front wore a Hyun senorita mask during the performance and that makes the entire thing just funny and memorable and kilig-worthy. Haha. You can watch the performance of Love Light here (0:02 to 0:05) and Yong's reaction when seeing the masks. Haha.
Iris and I kept checking the setlist and once they played Intuition, Oetoriya, and I'm Sorry, I knew we were reaching the ending. It was going too fast! It can't be twenty songs already! But they closed the curtains and the boys disappeared. Six songs left then.
We were supposed to do the birthday project that time, while waiting for them to come back for the encore. Everyone wore the party hats already but no one was singing! I was a bit sad about that, really. Then the boys came back on stage and they're already wearing the Blue Moon shirts, too.
But you see, it's not a shame that the Happy Birthday song didn't push through during the break. After singing Hey You, their first encore song, MinHyuk, JungShin, and JongHyun pulled out a piece of paper and read a Tagalog message! Basically, they're telling the audience that someone's going to celebrate his birthday soon and we should greet him! It was so cute. Heehee.
You can watch the entire thing here. The boys even went near Yong and danced around him. Ahaha.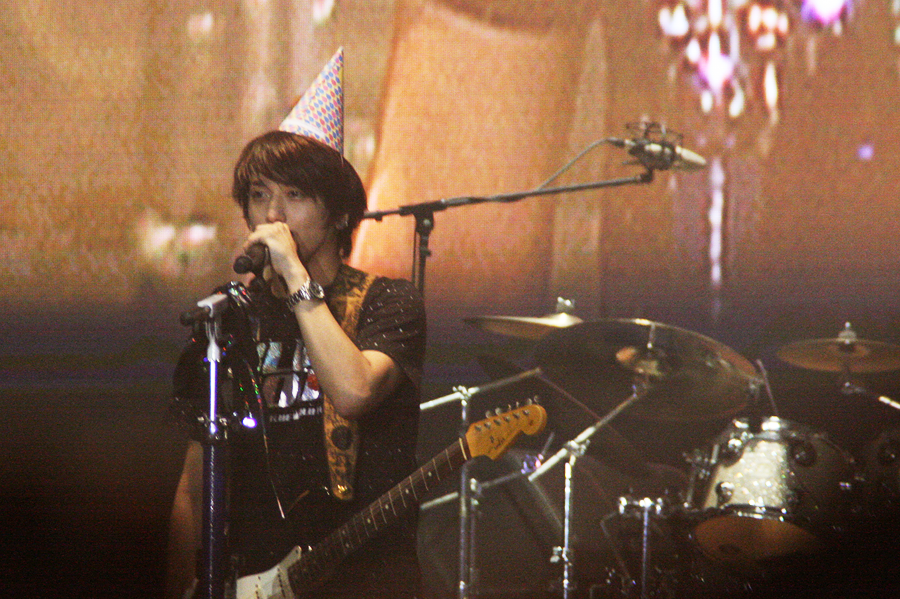 After the mini birthday party, Yong was telling the audience to say "Clap Clap" and "Love Love" and even parted us. But we couldn't really understand the instruction. So JungShin butted in oh so adorably he suddenly became my bias. Wahaha. He went, "No no no! Wrong! We're right. They're left." Kekeke. It was so cute. Apparently, they're going to sing Love. Ahaha.
After singing Love, YongHwa was being playful and saying some things I really couldn't understand. Then out of nowhere, he accidentally said Singapore instead of Philippines! It was all caught on tape, but Iris and I actually didn't hear it! Hahahaha. Only after the concert did I heard about the mistake. So that's why he was laughing so much during I've Fallen For You. He couldn't even sing properly and had JungShin help him in the singing.
We have forgiven him already. Hehe.
Just like any other concert, it has to come to an end. They finished with Try Again, Smile Again, and I just didn't want them to leave the stage! It was emotional for me. They may not be the first band I loved. Heck, not even the band I love the most. But CNBLUE is very, very special to me, and this is one of the best concerts I've been, too.
Thank you to PULP and Ms. Happee Sy for bringing CNBLUE to the Philippines. I haven't really fully appreciated KPOP's popularity in the country before. But now that a band I really love came here, I now love how KPOP seems to have its own life in the country. Almost a decade ago, no one I knew even know what KPOP is. Now, you can hear it on the radio and it even dominates the MYX countdown at times. Now, I can even watch the concert of my favorite band here. Who would have thought, right?
It truly was an amazing concert, and I am pretty sure that the Philippines will once again be considered in the itinerary for their next world tour. I cannot wait. I cannot wait for the Blue Boys to once again say, "Masaya ba kayo?"
And I'll answer, "Yes, I'm very, very happy."