(09/06/2017: Pandin Lake budget and travel itinerary updated at the bottom of the post!?)
On my last day of being 22 years old, I spent it with friends at Pandin Lake in San Pablo City. Just a 30-minute drive from home, it's nestled in an area surrounded by coconut trees. It's one of the seven lakes of San Pablo, and in fact, its twin lake, Yambo, is just a couple of minutes away.
It was my second time at Pandin Lake, and the last one's more than four years ago. I can tell that tons of things have changed (and increased!) such as the number of rafts in the lake and the amount of visitors coming and going on a weekend. But you know what hasn't changed? The fact that it's still so pretty, so pristine, so idyllic.
I cannot imagine a different way to celebrate the day before my birthday.
It was actually raining pretty hard that day, but you know what, I actually loved it! And I know I'm not alone because my friends also preferred that it's raining. I know how vacations can be ruined when it rains, but in Pandin Lake, the rain is a welcome surprise! It made our swim a lot more fun.
So what exactly can you do in Pandin Lake?
Well, for my group, we went there for a swim. We paid 180 pesos each for the rafting tour. It includes a two-hour tour of the lake, the use of life vest, and fresh buko for everyone! Was it worth it? Definitely! You can pay another 180 for a set meal but in our case, we brought food. It started pouring hard when our raft started moving but instead of being scary, it was pretty calming. We were having lunch in the middle of the lake while it's raining cats and dogs! Now, that's something you don't experience everyday. The trip to the other side of the lake took approximately 30 minutes, just in time for us to finish our meal.
And right after we got there, we wore our life vests, posed for a photo, and jumped right in! It was pretty deep and it was pretty scary at first but the life vest will save you. (Yay for me who can't swim and can only dog paddle for about a minute. Hehe.)
Because it really was raining so hard, our photos made it seem like we were in the middle of a rescue operation. It seems pretty funny to me! Haha. But seriously though, it's one of the best swims I ever had. There's no icky feeling I get from swimming at a beach, and there's no annoying sand that sticks to me the entire time! The water wasn't too cold, wasn't too hot either. I actually preferred it when it's colder!
Anyway, it was so deep that they don't allow anyone to swim without a life vest. The depth of the lake goes up to 183 feet so they basically don't let anyone swim in the middle. But a friend once said that they were allowed as long as they hold on to the raft. But I won't even dare do it. Haha!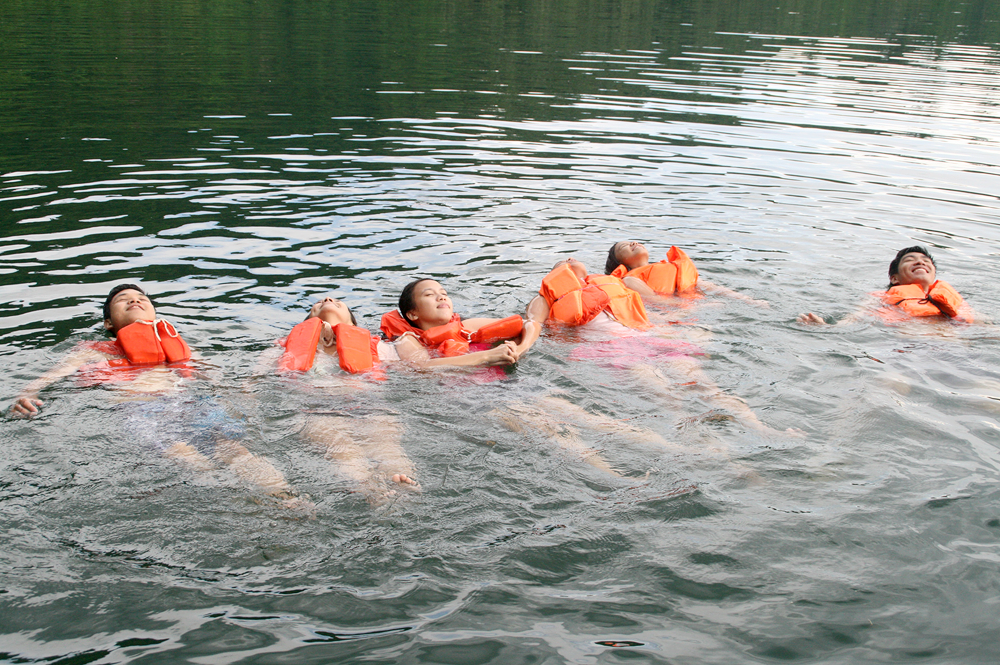 We tried jumping from the lake and as much as it sounds so easy, it's actually quite fun! Too bad I didn't get to try the baging swing but waddling in the water and having some crazy laughter and talking around me were enough to complete my day.
Like what I said earlier, the tour should only last for 2 hours but since we were one of the later customers, they extended our tour! Thank you Ate Tina for making our stay a lot longer that it's supposed to. It was definitely one of the best days I've had this year. I also have to note that there's a mini groto at the rafting destination and that's also basically the swimming area. There's a small falls (not really! haha) which was nice but I think I'm the only one who enjoyed staying under the mini falls. Hehe.
We made our way back to the port (lol, I don't know what it's called!) a few hours later. We were exhausted but it was so worth it. We spend the entire time dangling our feet in the water while enjoying our buko juice, straight from the shell! It was a very native experience, to say the least.
What I also love about Pandin Lake is how they don't ripoff their customers! They make sure that they get their money's worth, and at least have the best of times in the lake. Just make sure that you make an appointment before going because you might end up waiting hours before getting accommodated. There may be tons of rafts already but it's not yet enough to accommodate thousands! I made my appointment through Ate Tina and you can reach her at this number 09079952983.
I was born and raised in Laguna, but sadly, I haven't explored most of its many wonders. However, I am glad that I can finally cross off Pandin Lake on my list (but I'll definitely come back!).  It's sad that tourism in Laguna isn't promoted well, except for Pagsanjan, the hometown of our incumbent governor. But you see, there are so many other places to see in Laguna! I wish I could do something to promote local tourism because it really gives a decent livelihood for the locals.
Take Pandin Lake for example. The wives in the community felt the weight of responsibility when the earnings brought by fishing  aren't enough to sustain them. That's how they come up with the idea to hold rafting tours for tourists! And despite the flock of tourists, they manage to sustain the cleanliness of the place. I'm not sure what the city  of San Pablo is doing but I do hope that they're extending support to something so amazing. It may be packed with tourists every summer but once the rainy season rolls in, it's almost definite that it quiets down. The local government can take part in attracting and promoting the lake even during those times.
Ecotourism do have some awful for mother nature but as long as the local government and the community are partners in making sure that it will leave as little impact on the environment as possible, then it can serve as one of the anchors to enrich the community.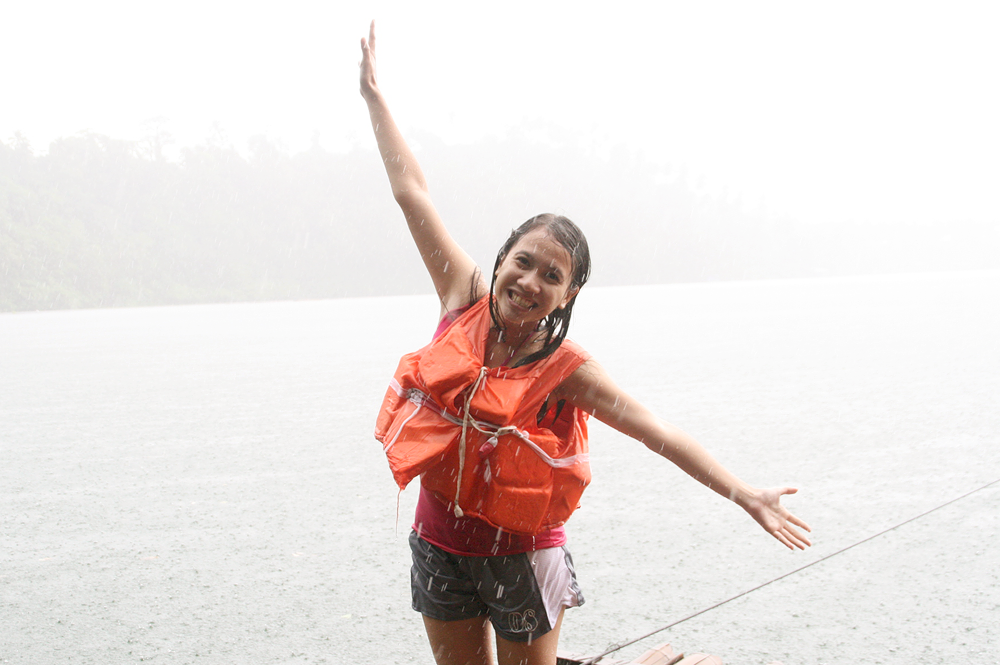 It was a really good day, and I was happy that the day itself can symbolize my life as a 22-year-old. I'm in a really happy place right now, and it's all thanks to my family, my friends, and Alex who keep giving me numerous reasons to be happy. And of course, to our Creator who's pretty much the reason why I'm so blessed.
Last year was pretty good to me, and now that I'm 23, and I'm also expecting grander and more amazing things. The way things are going, I cannot help but be positive and be hopeful. I may be a 20-something who's still unsure what she wants to do with her life, but I know that as long as I have people who love and support me, I won't be lost.
Pandin Lake Budget + Itinerary
Visitors can spend two hours max on the boat, but travelers can stay at Pandin Lake for as long as they want. Aside from riding the balsa to go to the middle of the lake, you can also camp and fish at the lake. Your itinerary is completely dependent on what you plan to do here.
Before going to Pandin Lake, make sure to make a reservation first so that they can prepare your lunch for you. This way, there will also be a boat waiting for your arrival. To make a reservation, text Ate Sonia at 09299789565.
If you're only planning for a day tour, here's a sample itinerary and how to go Pandin Lake:
8:00 – Meet up at the JAC station in Buendia
8:15 – Hop on a bus going to Lucena and wait for 15-30 minutes for the bus to fill up
8:30 – Bus leaves for Lucena, and tell the bus conductor you're going to San Pablo (ask to be dropped off at 7/11 and not Medical)
10:30 – Reach San Pablo
10:45 – Hire a tricycle to take you to the 7/11 near the Cathedral
11:00 – Look for the jeepney terminal next to the 7/11 and ride one going to Ilog (ask to be dropped off at Pandin Lake)
11:15 – Arrive at the jump off
11:15 -11:45 – Walk for 20 to 30 minutes to the lake
12:00-2:00 Enjoy your lake tour!
Here's the breakdown of the budget:
Bus Fare from Buendia to San Pablo and vice-versa – PHP 127 x 2
Trike fare from 7/11 Highway to 7/11 Cathedral – PHP 40 per trip x 2
Jeepney fare from Bayan to Pandin Lake – PHP 13 each x 2
Lake tour with Lunch – PHP 360 (w/o lunch – PHP 180)
Buko – PHP 25
Total Budget = PHP 745
For questions about Pandin Lake, you can leave a comment below, or send me a message on Facebook, Instagram, and Twitter! You can trust me on this. I've visited the place thrice.?